Cleaning Supplies: Where I shop for Farmhouse Cleaning Supplies
I've had this question multiple times about where I get my dish soap or hand soap, and since I've been excited about having a clean home this Summer, I wanted to share what I use in my home. Which I feel is not only great for cleaning, but also great smelling and definitely pretty to look at. I can't lie, I still use my Fabuloso for my floors…but when it comes to dishes, carpets, laundry, and hand soap, I have steered away from the commercial cleaning supplies route! I love lavender or rosemary smells, that makes me feel like I've gone back in time to a little home in the country side of France. It's how I like to feel when I'm cleaning, and if you're like me then you're going to LOVE these cleaning products!
This post contains affiliate links that I earn a small commission for, with no added cost to your purchase.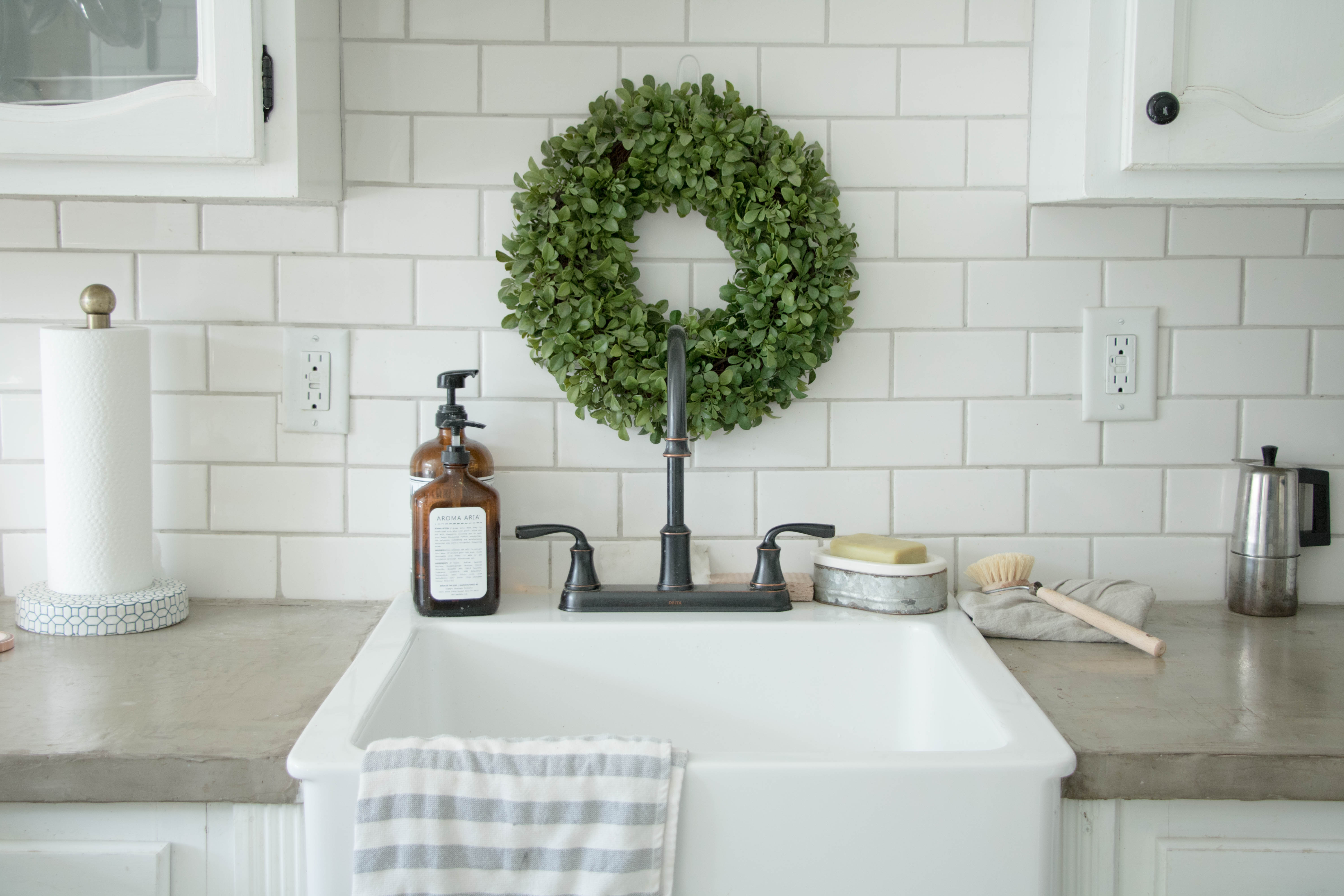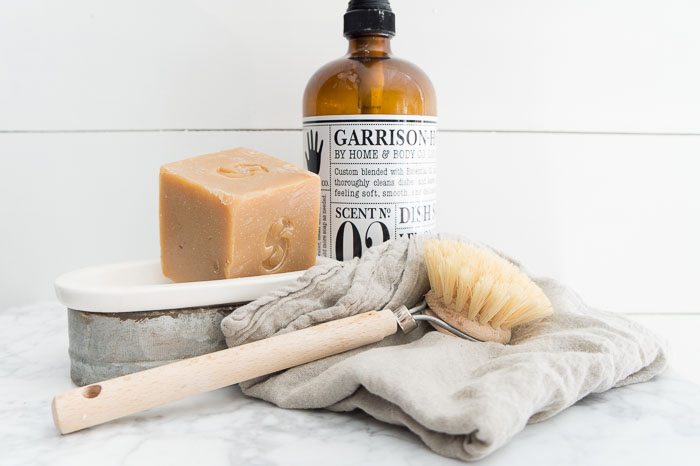 Source:
Garrison Dish Soap: TJ Maxx
Soap: Homegoods
Soap Dish: Magnolia
Dish Brush: TJ Maxx
Dish towel: TJ Maxx
Now, I am sure you have seen the Garrison dish soaps and hand soaps around on IG land. They are all the rage with us farmhouse bloggers, and how can you blame us? The bottle is so adorable and the scents are fabulous! I've tried a few of the fragrances out so far and have loved each one. Sometimes they are hard to get a hold of, so you want to make sure you are stalking those TJMaxx or Homegoods aisles. Of course World Market another fav store of mine has some amazingCleaning Supplies including hand soap and dish soap selections too. I even love buying some bars of soaps from there which fill my powder room with the scent of lavender every time you wash your hands. See, it's all about sensory for me and when something smells amazing it's so inviting! Now, for a cute little scrub brush if you're lucky you can find one of these at your local TJ's and Homegoods too. My dog actually ate this not long after I shot these photos…so on the hunt for a new one. Found this cute wooden dish brush here.
So on to, my new fav find! If you all remember a few weeks back I presented at the Country Living Fair in Rhinebeck. Of course it was a blast, and of course I did a ton of shopping! I ran into this booth where they had all Environmentally friendly "lavender" scented products (you know I was engaged) and I had to give a few of their products a try. Well, I'm hooked! The company is Called The Old White House and when I say their products smell amazing, they smell A-MAZING!!!! I got the carpet freshener (lord knows I need that with Mr. Luca around here), and then the natural Lavender Laundry Detergent, the adorable dryer sachet, and the room spray! What an investment I am sure you will not be disappointed in. My clothes smell amazing, my laundry room smells amazing, my area rugs, and even my vacuum! Any time something is stinky around here…I just use a little lavender room spray to get the room smelling good! Nothing like cleaning your home with good smelling cleaning materials.
PLEASE PIN