Hi All, Thanks for stopping by! I'm so excited to take part in this thrift store makeover challenge, hosted by my friend Kendra, from Joy in our Home. A few of us bloggers have decided to take on a challenge where we take a thrifted find and give it new purpose or life. The exciting challenge is taking place all week, so be sure to see all the other participating bloggers below and stop by their amazing makeovers as well. I felt like I was craving to do something Boho inspired and when I was helping a friend out with her home I knew I wanted to give a pair of lamps a Boho lamp makeover.
So, this challenge began when I was asked by my friend Erika to help her out with her living room space. Of course as a designer that's always a thrill to be able to help others…and even more so when it's someone you know. They moved into their colonial style home about a year ago and her and her husband are married just under a year now. They are the cutest couple, and of course that made it even more fun to help them create such a cozy space for them to call their first home together.
Well, during the process I was looking to find some lamps to makeover for them for their space, 1 to save money…and 2 to be able to have it part of this challenge. Well…unfortunately I really could not find a thrift store lamp that would work with the space and they all seemed to be still too pricey. I was hoping for a deal like two for $15 or something. So, I had to think outside of the box on this one and knowing that Erika still had her lamps that were in the room prior to the on-going makeover,  I decided to try to use these for the makeover challenge.
Well, here is how the lamps started as…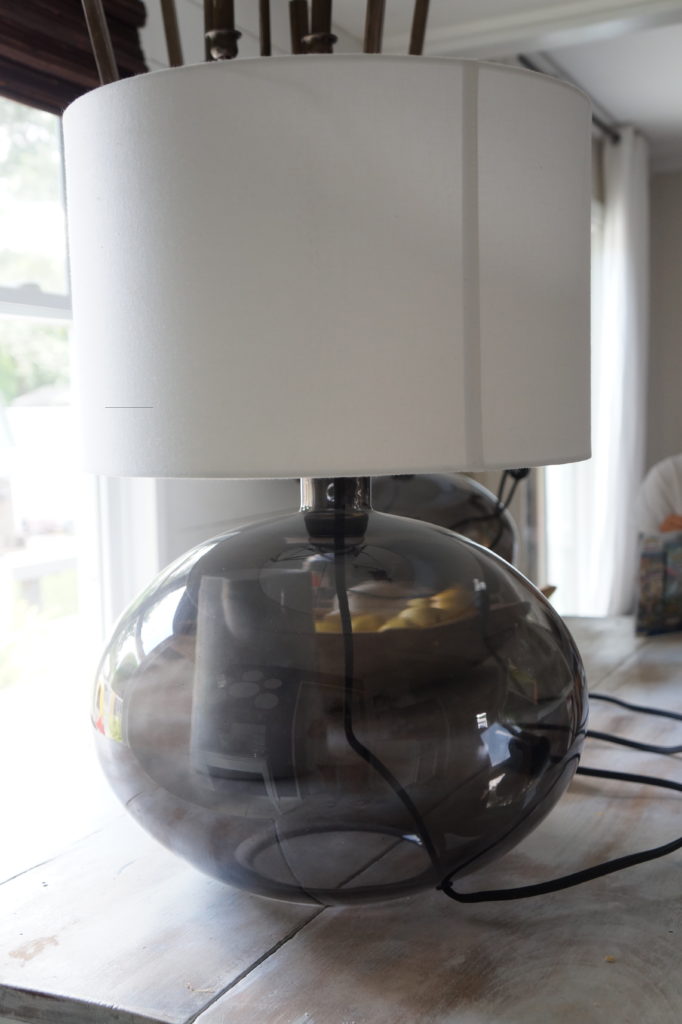 a pretty lamp, with it's clean lines and glass base. Though this worked in their previous apartment, it needed more character since their space has been transforming with farmhouse charm.
Materials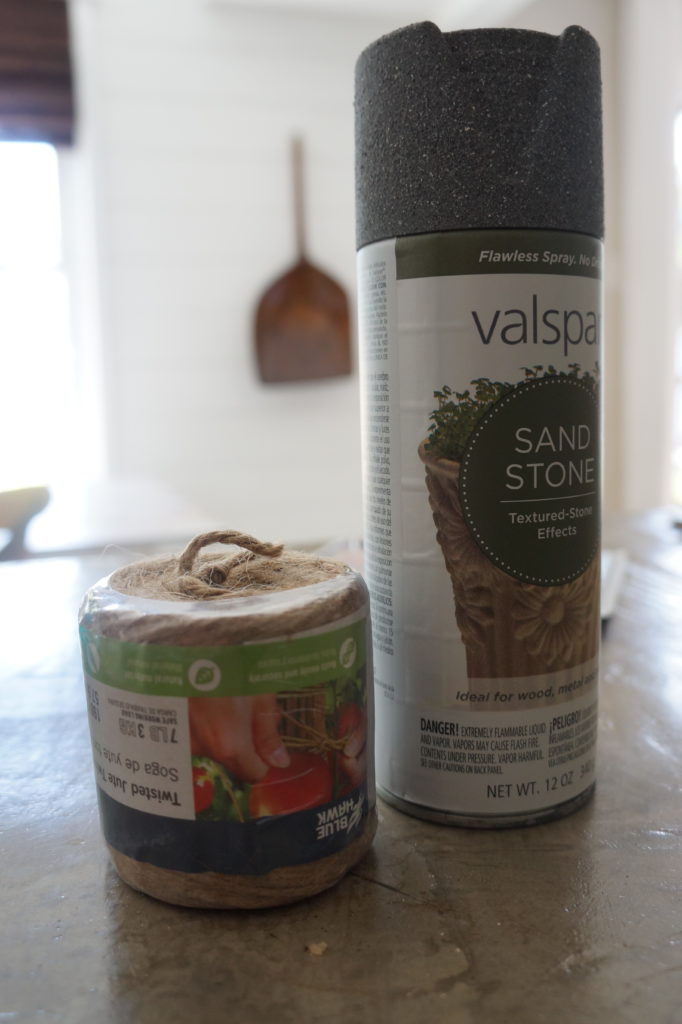 Valspar Sand Stone
Twine
First separate the lamp shade from the base and spray paint the base using the Sand stone paint. The paint actually has a grain to it, to give the surface a true texture (so cool!)
Once base is painted, let dry!
Start adding twine to the lamp shade with a geometrical pattern.
Tie knot under lamp, and begin wrapping in "triangular" formation. Coming back down in the inside of the shade every other time. (I did create a video…but I had my son hold the camera and it was so shaky) If I get questions on this part maybe I'll make another one. Fortunately, since no glue is used in this step, you can always unwrap the shade if desired or to re-do.
And that's it! Easy, cute…and definitely boho chic that works in the farmhouse space.
Though her living room is more farmhouse style, we've added some boho pieces so the lamps should tie in well. Can't wait to share more of that space with you all.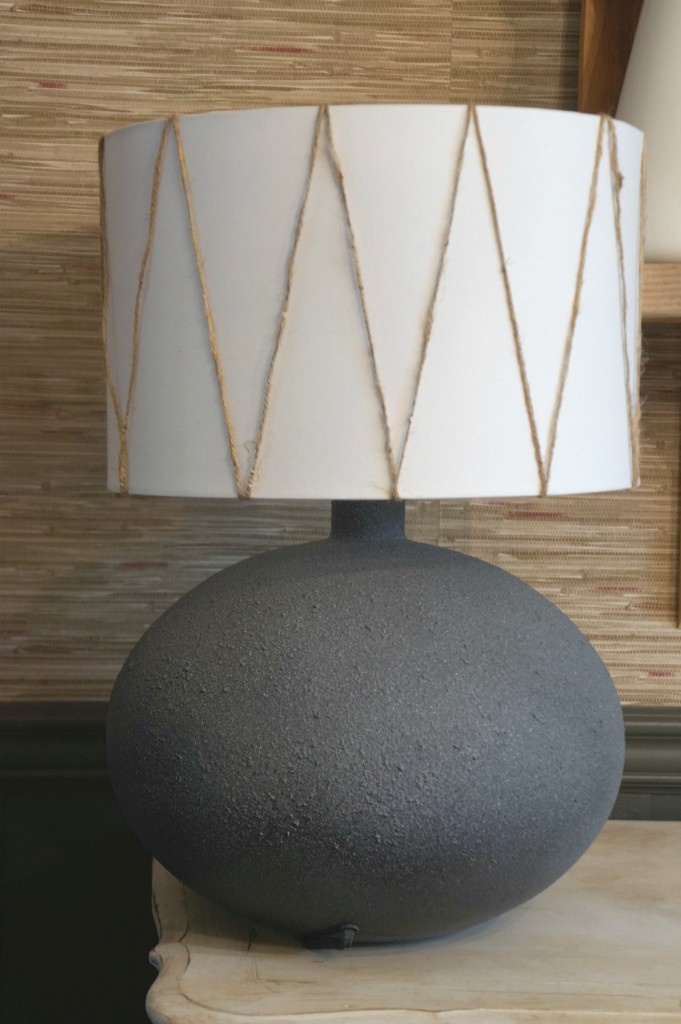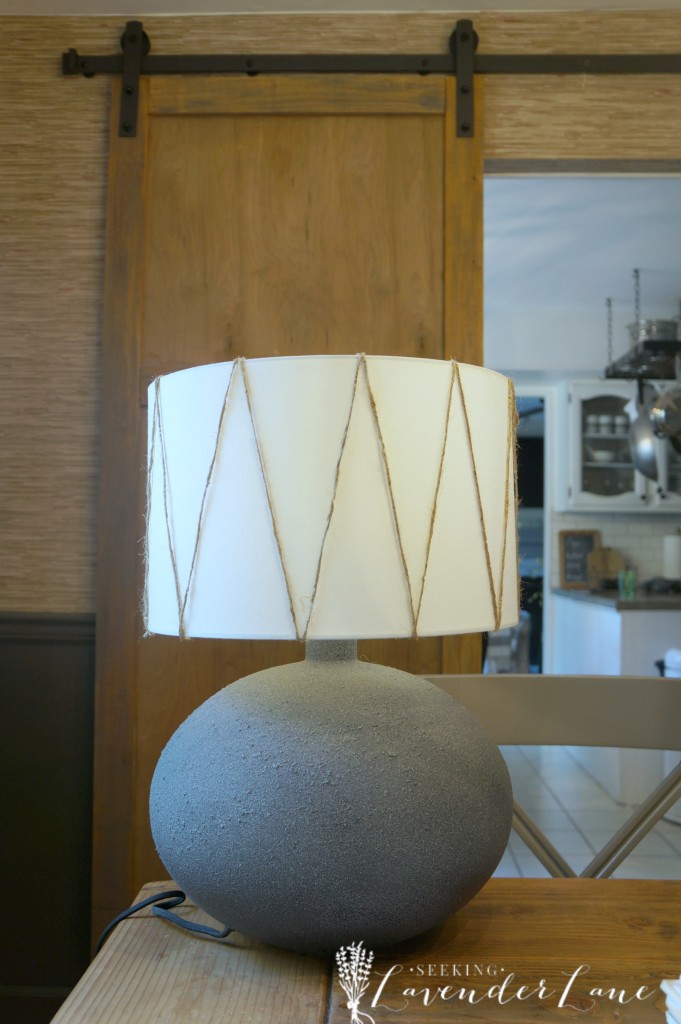 Just imagine this with some white shiplap walls behind it..YESSS!!! The lamp has so much boho style and it only cost me $12


Monday
Tuesday
Wednesday
(Visited 3,453 times, 1 visits today)