Halloween!!!! Oh gosh I  said it, did that get you excited or angry? I know it can sometimes be tough reading things so far in advance here but remember you can always pin and save for later. I skipped over Fall to present a really fun idea for Halloween. I've been trying to embrace the Halloween holiday more as I know the years are short and my kids will be over it soon. They are also at the age now where they really want mom decorating for it, so I'm doing my best : )
Well, this year I think I may do a Halloween party! It's still not 100% but I think it would be a lot of fun for the kids and parents all around. Not to mention I haven't dressed up-dressed up since my first Halloween as a mom. That's 10 years!!!! So, I think it would be fun for everyone. Of course that means Halloween decor! I may not do a formal Halloween tablescape for the party but re-use the decor I am sharing here to inspire for your Halloween dinner party. I loved all of these pieces I picked up from Christmas Tree Shops and That! So fun and so affordable! This  is a collaborative post with Christmas Tree Shops all opinions expressed are my own. 
First, take a look at my shopping experience at my local CTS, it was so fun and they have sooo much stuff for Halloween right now!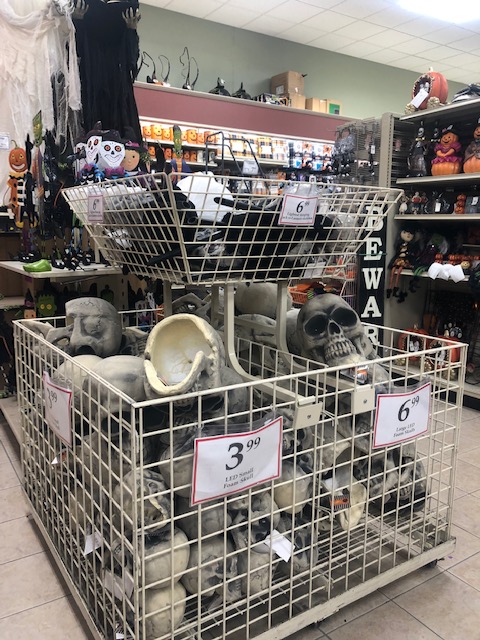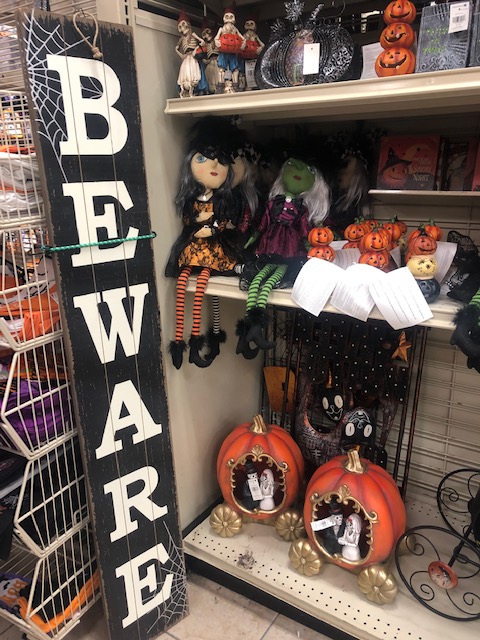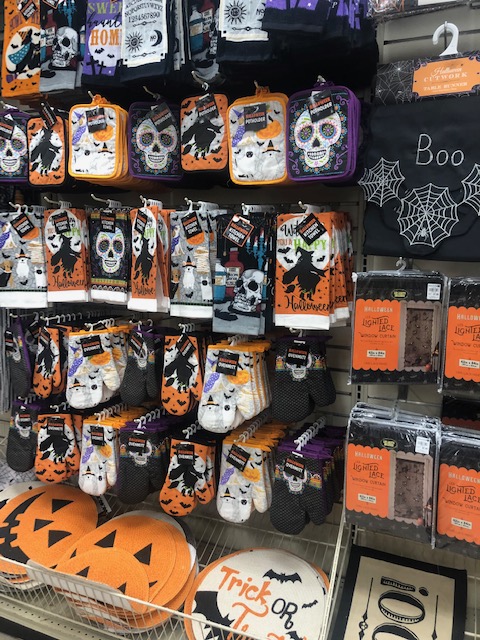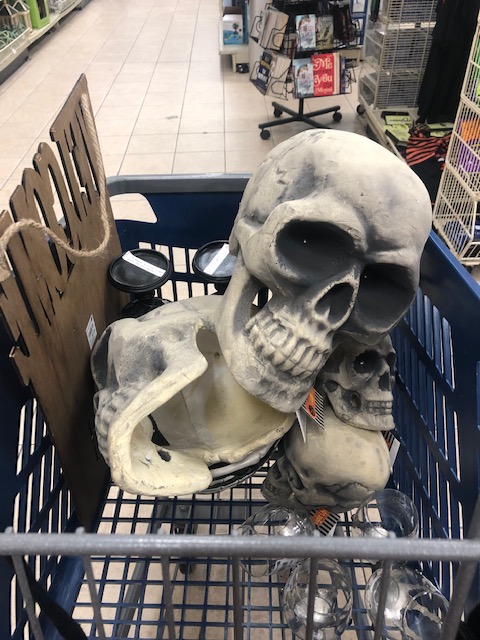 And now for what I used for the Halloween tablescape…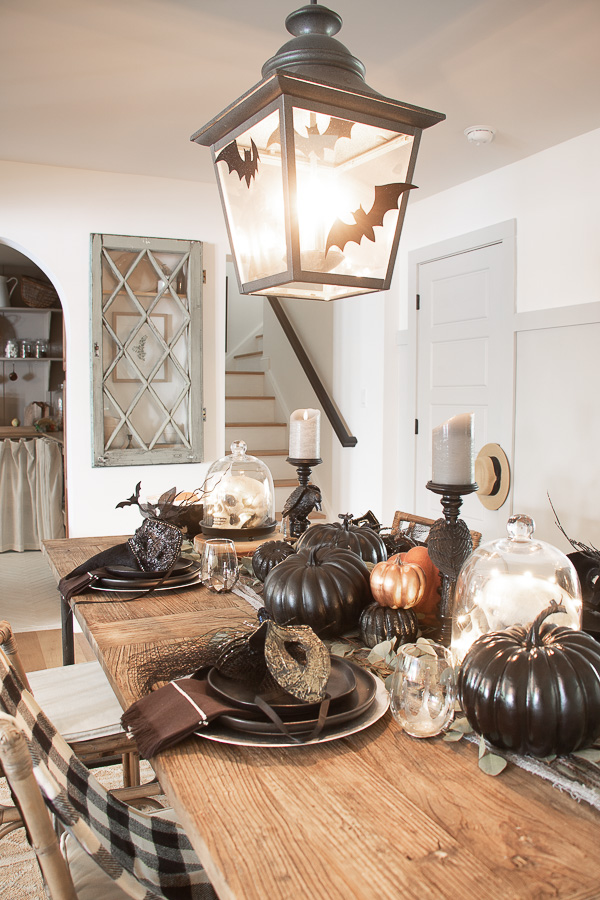 I spray painted some faux pumpkins I had black and some in copper. I wanted the colors to be black and metallic for this. The runner is with Halloween gauze and dried Eucalyptus.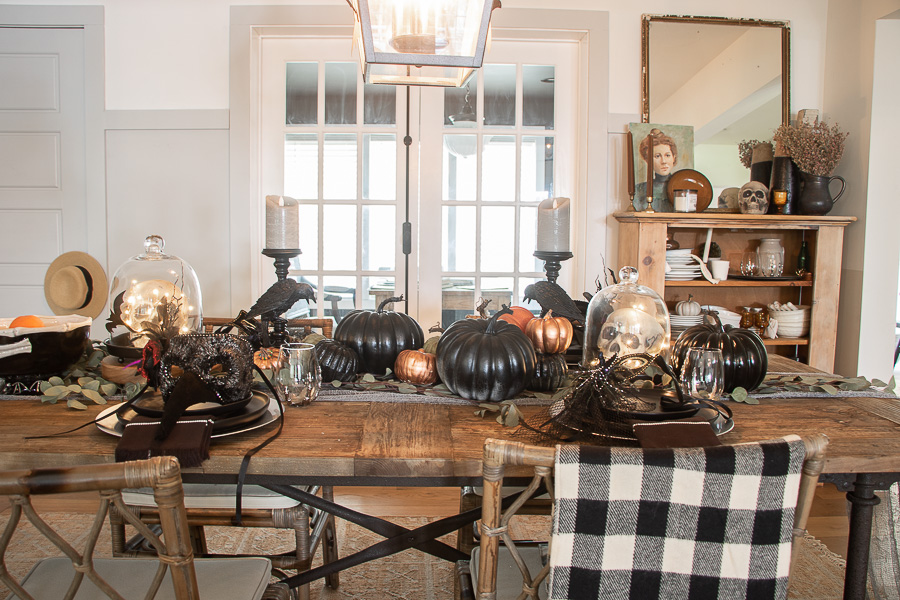 One of my favorite details were the foam skeleton heads. They were so cheap and so fun! I can't wait to re-use these each new Halloween. I decided to make them look even creepier by having them in this lit up cloches also from CTS. The twinkly lights  inside made for good ambiance especially at night.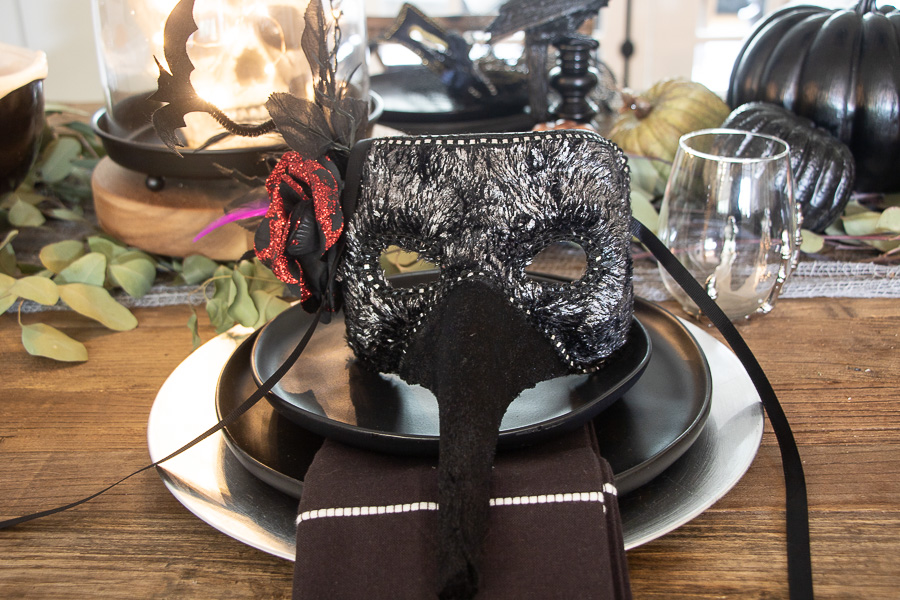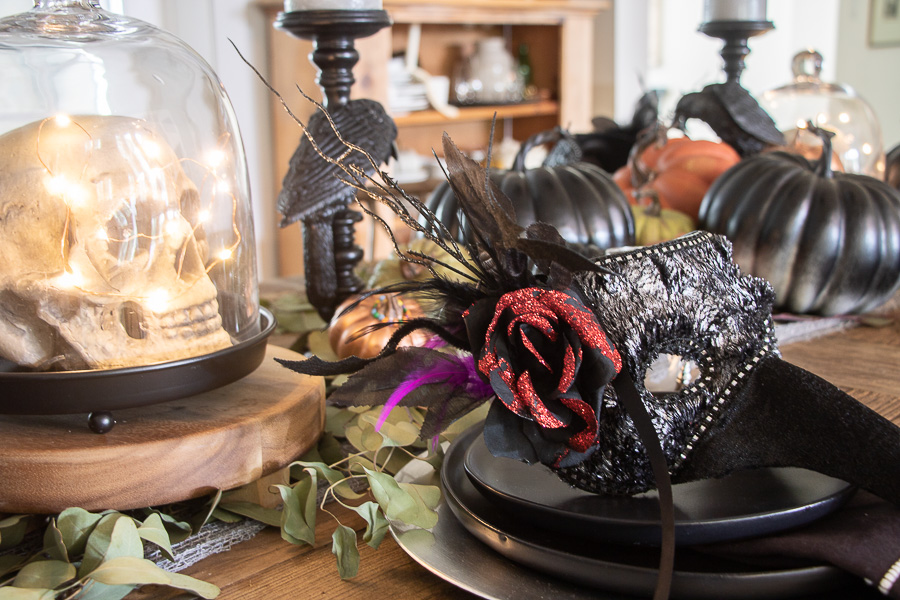 These masks stopped me in my tracks while strolling through Christmas Tree Shop's aisles. They were $4.99!!!! How fun would these be for  a masquerader party? Super creepy idea, require your guests to put them on before your Halloween toast.
Which brings me to the amazing skeleton glasses. I looove these so much! Serve a fun little punch and put these out for guests to grab.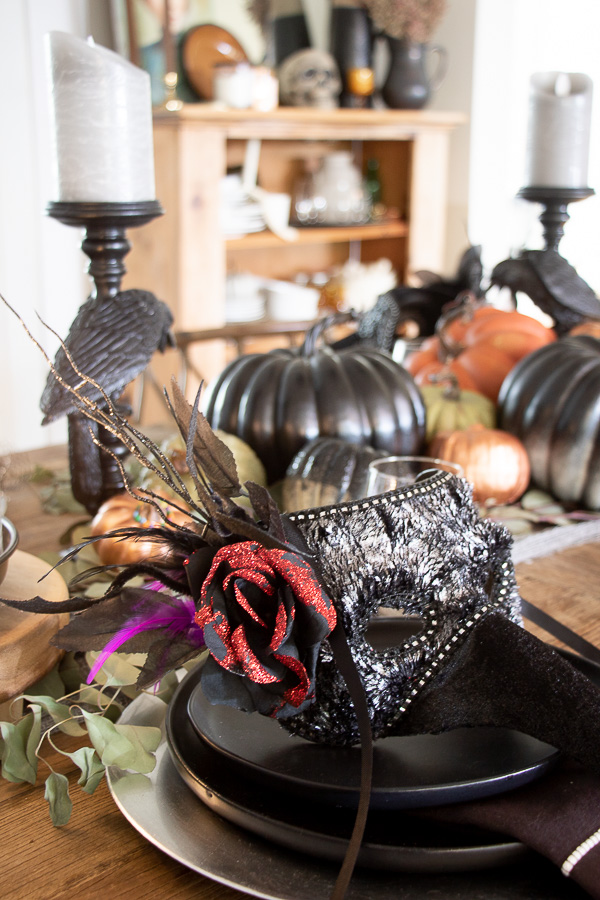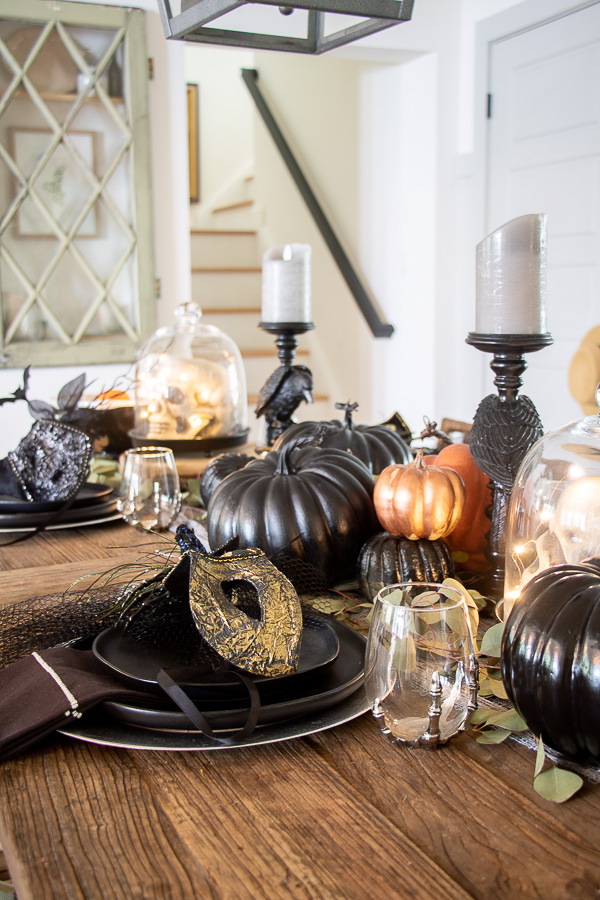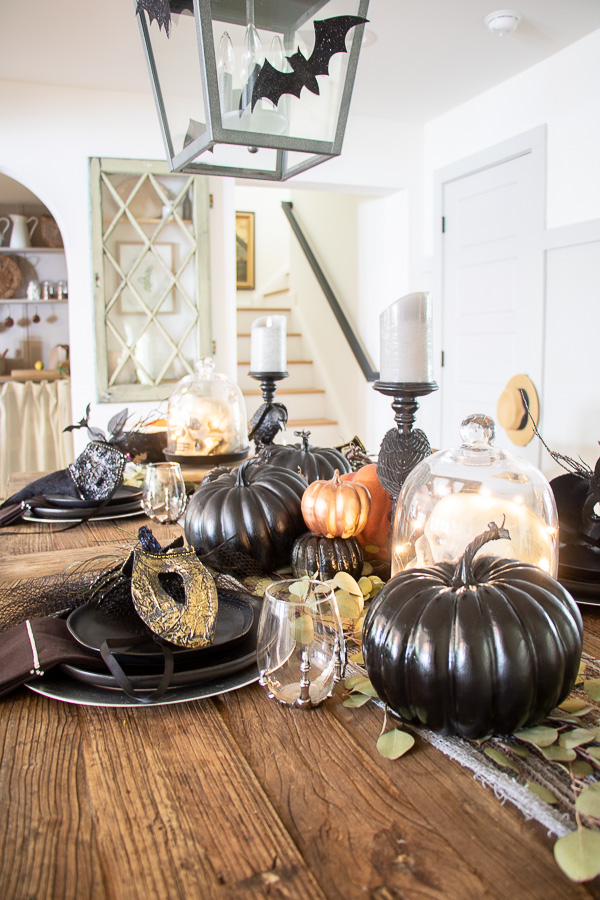 So, a good Halloween table is all about ambiance and these crow candle holders provide the perfect elevated lighting. Though, I was running low on batteries for these photos.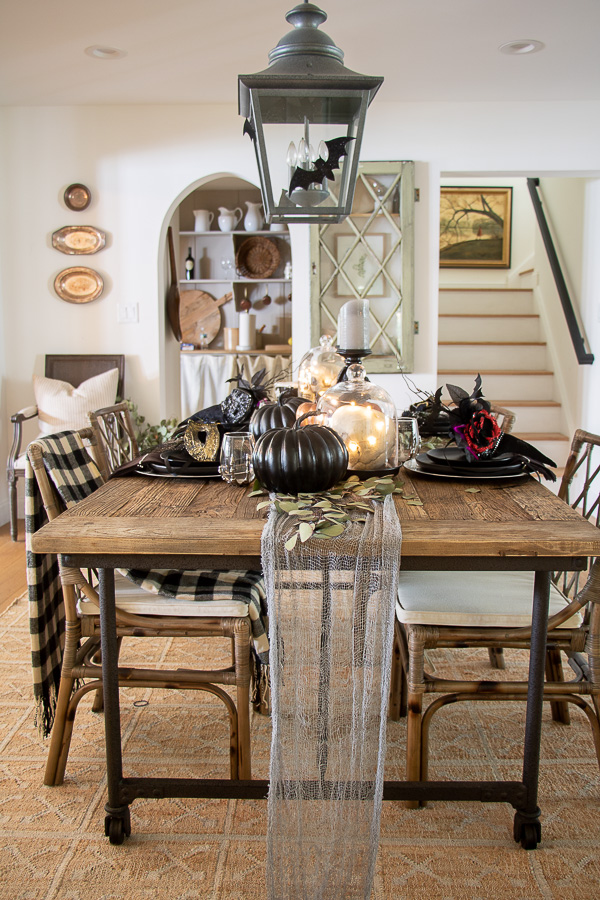 To finish the look I brought the decor up and added some foam bats to the lantern above.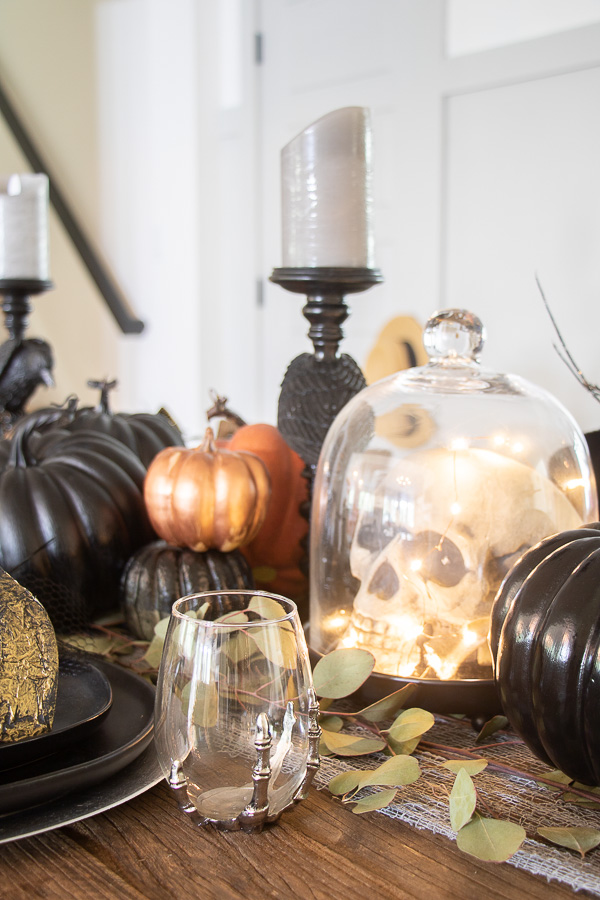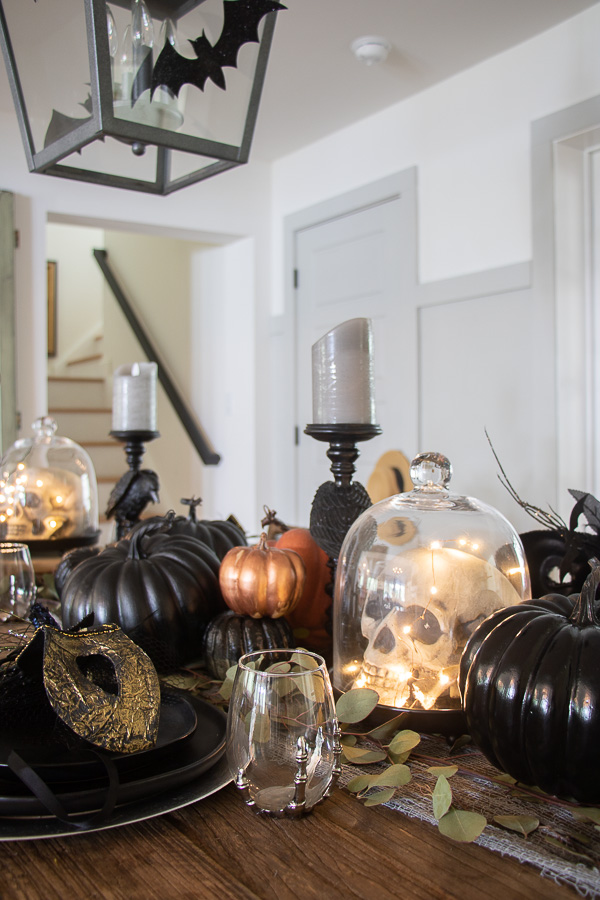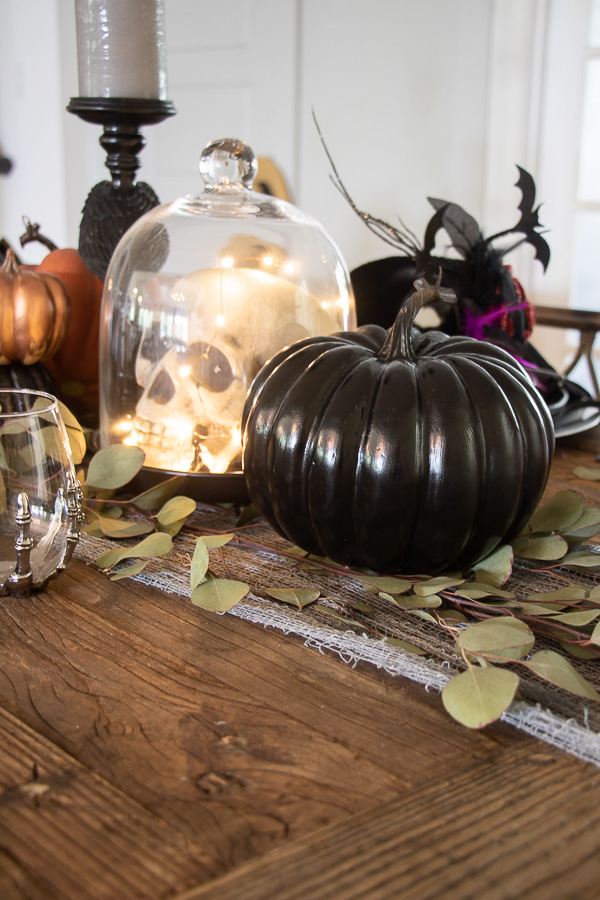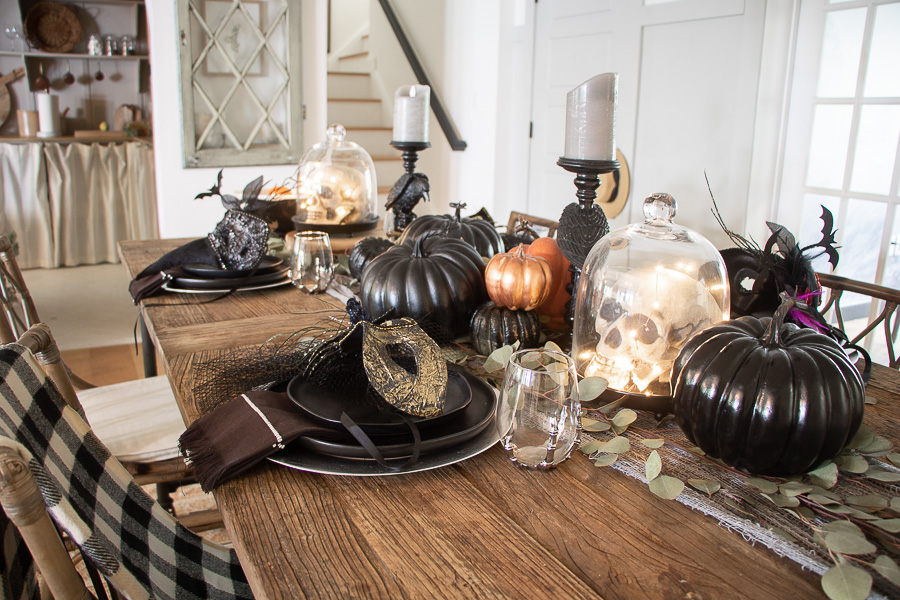 Overall a creepy and fun tablescape for Halloween to surprise your guests. Create some Halloween inspired recipes to go along with this and you'll have a true Monster Mash (hahaha okay  I went too far).
Pin for Later
(Visited 2,483 times, 1 visits today)