Welcome back this week! I hope you loved my Friday Features, this past Friday. I especially was drooling over the Black and White room with the gold frame. If you're not sure what I am talking about…definitely check it out! Or you can follow me on Pinterest to see all my features there. It definitely made me think twice about my blue and white room, but as it is all coming together I think I am loving it!

As you all may or may not know we have been working hard on our Master Bedroom (finally) and our DIY mantle is all finished. Excited to show all of you that…possibly tomorrow ; )

I am also making some plans for the kids rooms…if you remember I shared a few posts back in the summer of the "finished" look of my son's Industrial Style Transportation Room and my daughter's Vintage French Princess Room. Of course nothing is ever final around here. I've switched a few things around in Anthony's room and once I create an artwork project (that's in my head) then I'll definitely show you the slight changes we made in there. My daughter's room will be getting a closet door update too. I had not shown her closet in the photos…since it is sooo bad!

Speaking of my daughter Gemma's room, we had this really great DIY growth chart ruler that we had added. The ruler was one of the easier projects I had done (no hubby needed) and all it required was a ruler decal from Little Acorns by Ro. A great decal company I had found on etsy. Ro is so great and she offers many options to do in your home and multiple options for creating a Growth Chart for your growing family! Below is a picture from Gemma's room wich I used a chestnut colored stain to match the floors in her bedroom.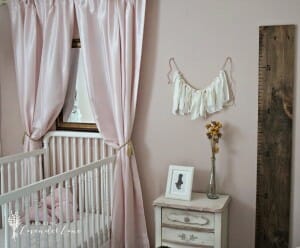 Ro shows some charts on her page that are much lighter…which I also LOVE! I even thought about staining the chart in a grey-wash, but stuck with the brown to bring in more of the color of the floors.
Well…lucky for you guys….I am hosting a giveaway to make your own growth chart at home for your little ones, or any other beautiful decals that she offers. I especially love the over sized scrabble letters! Such a fun decor idea for any room.
So here is how the giveaway is going to work…like both Little Acorns by Ro facebook page as well as Seeking Lavender Lane's facebook page on the below raffle.
The giveaway will be going on for one full week…so as of Tuesday, February 17th at 12:00 a.m. the giveaway will be over and I will be picking the winner! Good Luck…excited for someone to win the coupon code of $10.00 to their favorite pick from Little Acorns by Ro.