Summer Decorating is easy peasy add some flowers, and blue and white decor and you have a fresh look to your Summer Entry.
So happy to have you all here today, if you are joining me from Renew my Home , welcome to Seeking Lavender Lane, and welcome to my Summer home. Can you believe Summer is here? I am so excited, it really is my favorite season and I can probably live in Summer all year long. I especially love the way the house feels in Summer. The rooms are brighter and the summer home decor just brings a happier feel to it all. I especially like blue and white for Summer, so I've added some blue and white to my summer entry. Be sure at the end of the post to see more links to Summer Decorating ideas at my lovely IG friend's homes.
Summer Decorating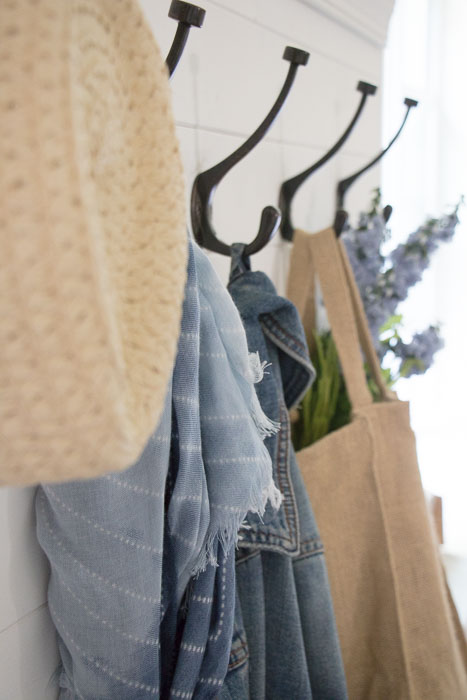 Now, this is probably as far as I have made it for Summer decor, besides some flowers outside. It's just been a struggle with all the unfinished projects around here. To start, my living room is in the completion stage…all the furniture is here, but I still have to finish one wall and add some throw pillows to the new sofa. The dining room is half done, I officially starting painting the table yesterday since I disliked the stain I put on it. I felt a white table you can never go wrong with anyway.  Then my family room is desperate for a makeover itself. I need new sofas (badly) and though I bought a new rug, I still have no coffee table. Not sure if it's just me…but do you ever just get bored of your stuff. I seriously could switch my furniture and decor every year in my house (too bad the hubby is not so on board with those feelings). Then the outside spaces are coming together but I'm sure that still will take a few more weeks. And then of course my new tiles which were fabulous until the grout started getting dirty. We found out that the guy rushed the grouting process and now has to come back tomorrow scrape it all down and re-grout. So yes, that's where I'm at. Fortunately my entryway is all ready for Summer…and you can pretend the house behind it is all put together and perfect for Summer too.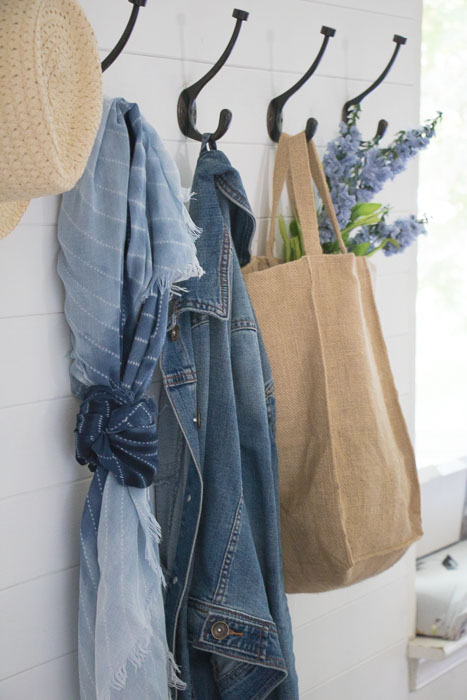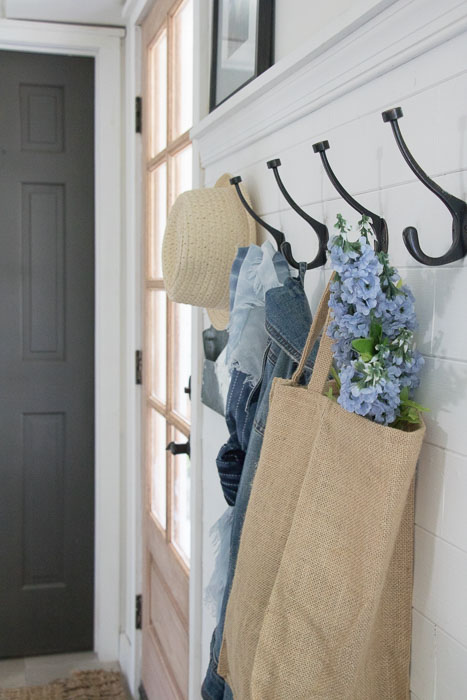 Materials You will need for Summer Decorating
In our entryway I chose a few key items to get the look of Summer…
Accessories in the same color pallet: scarf, denim jacket
Burlap bag (which ties into the straw hat)
Some faux florals
Here's an easy one for Summer decorating ideas, start with a cool color pallet that feels like summer. For me I chose blue and white. It could be yellow and white, pops of pink, greens, etc. To get a perfect Summer entryway it's simple, add some faux florals (any color), a burlap bag, a hat, and add matching accessories like I did here a denim jacket and a blue scarf (which I still have yet to wear). It becomes the perfect pretty spot and of course blue always has that summery feel. Some how this space actually has stayed this way too…since the kids are still in school around here I've got one more week to dodge backpacks here. I've done good so far. I truly believe when a space looks pretty it's easy to keep organized and clean..and so far that this is the neatest my entryway has looked all year!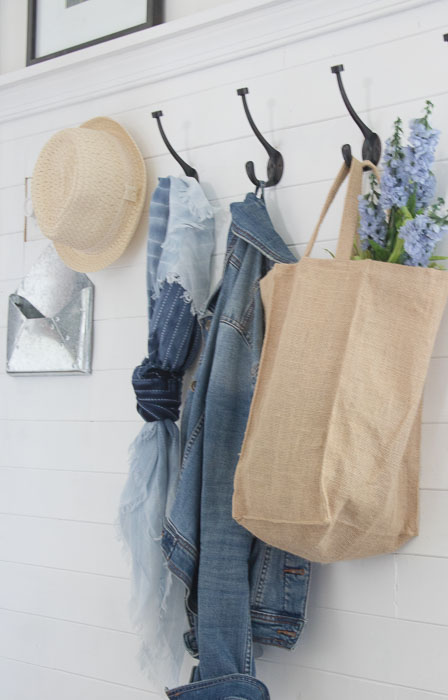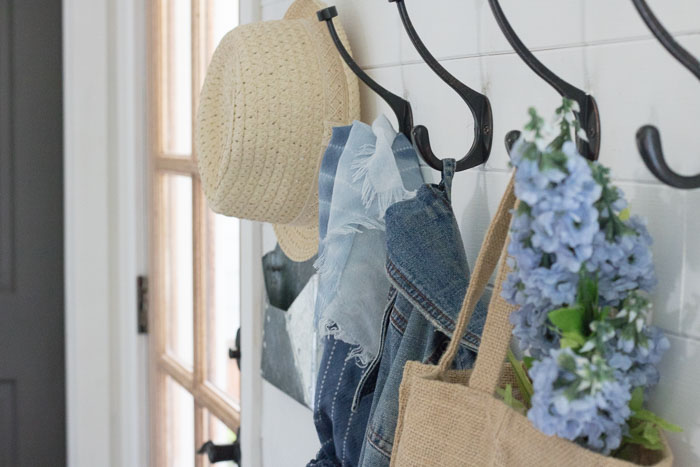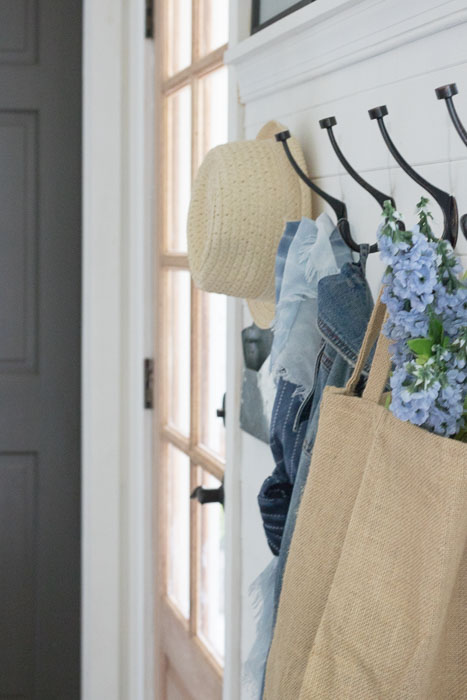 Have a beautiful Summer friends! Whether you're doing a million projects around the home, running around with your kiddos or grand-kiddos, vacationing in the tropics, visiting family, or spending some quiet times at home. I know I'm ready to embrace all that Summer 2017 has to offer.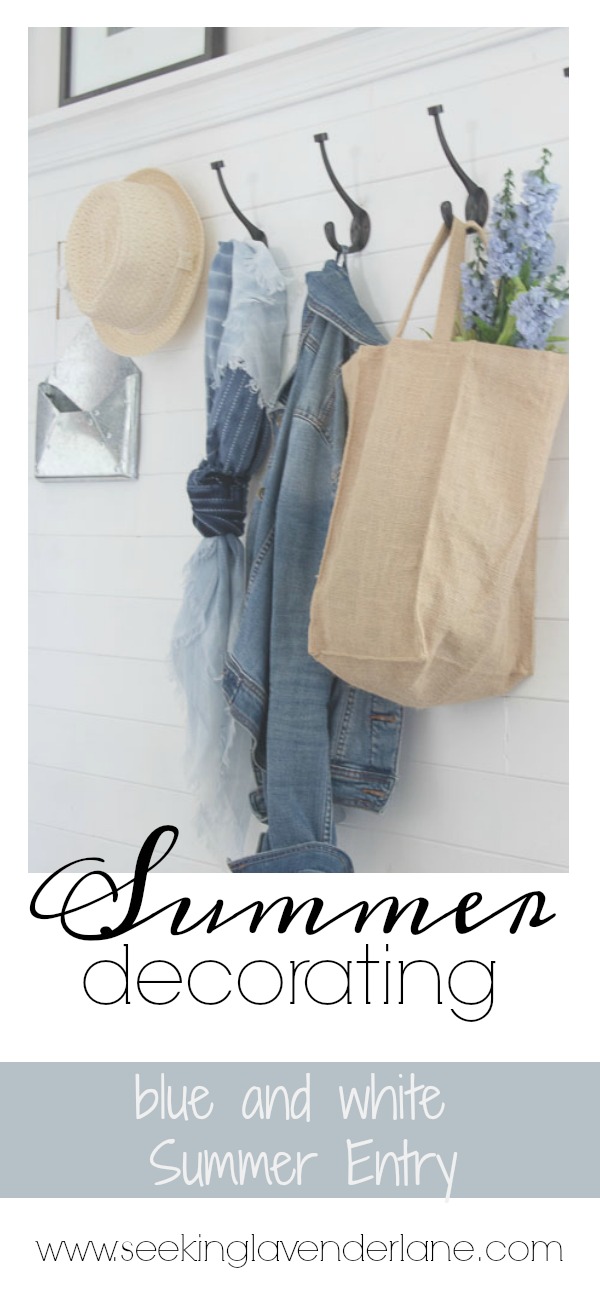 Next Stop, This Rustic Cottage! You're in for a treat…
Also, see all the blogs on this Summer Home Love Tour…
Now check out these beautiful posts below!
Almafied Bees N Burlap Creekwood Hill Don't Disturb This Groove
Farmhouse For Five Honey n Hydrangea Hood Creek Log Cabin Love Your Abode
Niña and Cecilia Noting Grace Renew My Home Seeking Lavender Lane
The Gray Cottage This Rustic Cottage
(Visited 516 times, 3 visits today)