So, I think as I've been browsing more flea markets, following up on vintage stores online, and adding my own touch of vintage to my home I feel I've got a good grasp on what's in for vintage style trends this year and what's going to stick around next year…cause guess what? we are half way through the year already!
Oil Paintings- We have seen oil paintings around for a couple years no but they are bigger than ever. Having an original piece of art is totally on trend today and finding a great landscape, portrait, or botanical/floral painting is a fantastic find today. I'm always on the hunt for any of these items as art has become my true treasure. I love adding it to our walls in our new home and to find the right color, right price, and size is a true treasure. This vintage style is done so elegantly and tastefully.
source: @farmersdaughterhome
2. Copper and Brass! So, we just can't get off this kick of falling for these rich metals. The warmth of them in the home are perfection. So finding some great bass or copper pieces styled on a shelf or hanging from a rack is here to stay!
source: @sincerelymariedesigns
3. Clocks and Clock Faces! So, I may be bias because I am currently on the hunt for a beautiful Mora clock to place in our home, but I've noticed more clocks this weekend than ever at the local flea. Adding one to your shelves or wall and even those pretty clock faces in  gallery wall would be spectacular!
source: @maisondecinq
4. Non-painted vintage furniture! Finding a style that sleek and simple with a fabulous finish, is sometimes hard to find. So stripping a piece down could work. But if you do find a fabulous oak or pine piece…the days of painted furniture are fleeting or at least for every piece in your home.
source: @adoredhouse
5. Planters- we are become a green thumb nation! That means we are looking for beautiful planters to coordinate with our indoor and outdoor plants. Finding a great vintage urn or planter is a thing to keep your eyes peeled for.
source: @featherglass
6. Vintage Rugs and Runners- there has been this love for that faded and warn look of vintage rugs lately. We've seen it probably about two years now but there are so many places to shop this look. I'm loving the added character, pattern, and warm tones that this style brings to any interior.
7. Busts and head planter are very on trend! You can find them not vintage, but I'm sure a vintage one would be super fun to get your hands on. Loving this particular one!
8. Vintage Stoneware- especially without a glaze. Finding these in any earth stone color. Anytime I see a crock or stoneware product I snatch them. I love how they looked styled in the kitchen, dining room, and living room shelves.
9. Vintage Mirrors- finding a true vintage mirror is a great way to add charcter to a home. It's kind of been always trendy but I say never pass up a good vintage mirror. I may have too many as is and not enough wall space, but what elegance a pretty vintage mirror can bring to the home.
source: @kindredvintage
10. Woven materials ie. baskets, light fixtures, decorative items…anything to add that texture to a space is what to hunt for!
source: @heatherbullard
Please Pin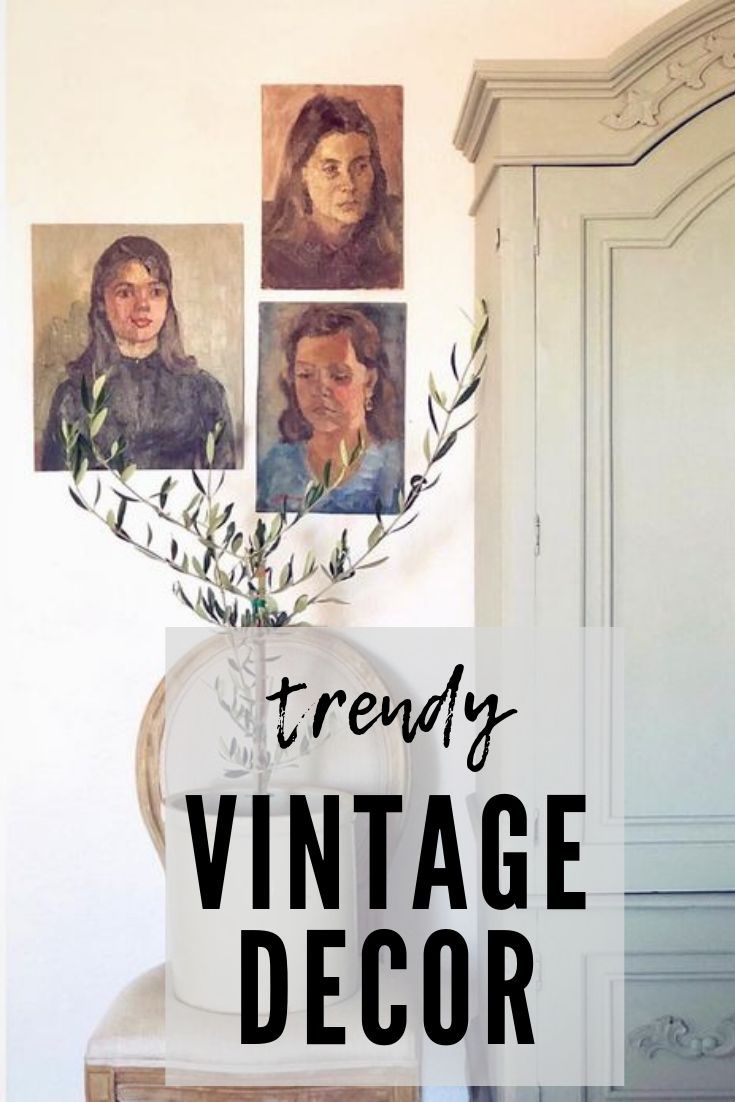 (Visited 16,408 times, 8 visits today)