Hi There friends, wrapping up this week all about French kitchens, and wanted to share the Top 10 French kitchen round up post. Some that really stand out to me with all the French, Old world charm and a space that inspires you to want to cook.
So, what are the quintessential features of a French Kitchen??? Usually some kind of natural element like stone, plaster, wood beams. Then you have the endless amount of copper, a prep table that has a casual-vintage vibe, vintage accessories, open shelving, and usually a vintage painting!
This post may contain affiliate links that I make a small commission from with no added cost to your purchase.
Please Pin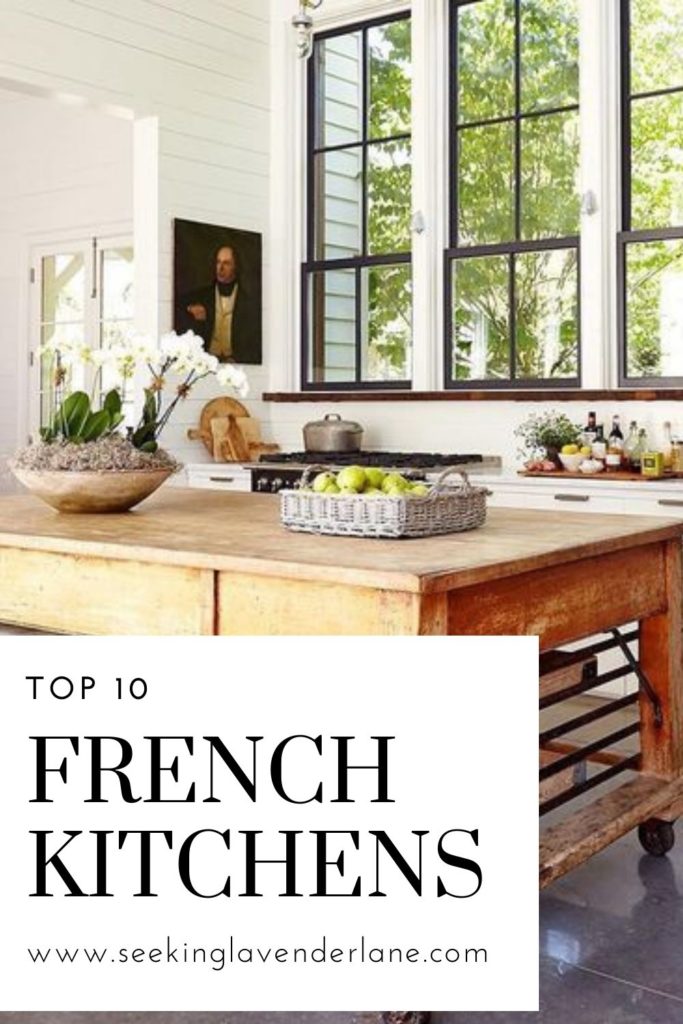 Open shelving to having easy access to everyday dishes, but also a great collectible feel to showcase all the beautiful dishware and glassware.
One of my most favorite kitchens! It is so nice to see a small sized kitchen space with all the impact of a French kitchen. This proves you don't need a large kitchen to have a beautiful kitchen.
Bleu and white tiled patterns everywhere, some fresh bread, a prep table, and French linens.
Lacanche range, fresh veggies laid out, and a HUGGEEE plastered hood with a vintage still life! Definitely French!
One of my favorite combinations is a cream colored cabinet and black counters. The honed granite just pops with the copper. This would feel more "new" French and less old world, but it has all the right layers of character that a French kitchen should have.
Hello gorgeous wooden island with all the cook books in the world! Gosh this collected look is fabulous! Just what a French cook would have. Also, that brass pot rack to host all this copper!
Another perfect kitchen of warm rustic, natural elements, and open shelving! I would consider this a little more rustic then some of the others…almost like Texas meet France.
GET THE LOOK!!!!

Moody colors, vintage elements, and cafe curtains to hide the mess! My kind of feel!
The kitchen of my dreams! This had a ton of inspo on our own kitchen. That island was something I really wanted to try to replicate, but unfortunately we just could not have it work with our kitchen maker. It most likely was a very custom piece…but a girl can still dream!
One of my most favorite kitchens ever! This is how you do a white kitchen, am I right???? The vintage rolling island, and the black contrast + vintage portrait = perfection!
There are so many more kitchen that I love! Gosh, I wish I could design a new kitchen every year! If you want to see our most recent update on our French kitchen, check out this post here!
Hope this inspires you since so many of these kitchens have their own unique look and feel, but all incorporate that French Old World kitchen style that is beautiful and timeless.
Wait I know I said 10…but I had to share this last one…ugh its so good!!!! I could do this all day! lol
(Visited 6,523 times, 21 visits today)