Hi Friends! I am so excited to tell you that I've decided to bring my Design Boards back to my blog. I think it's a great way to add great decor ideas to the web and hopefully help some of my followers out. It will be a once a month post the 1st of every month and I am hoping I can open up the ideas to you guys. I've been getting more and more design questions lately and I think this could be a great way to help you all out on you new designs.
This month I am sharing a Boho Mod Bedroom with color. What? me? color? yes, yes I do appreciate all design, but I just prefer farmhouse in my own home. Plus this will open up some boho design to you all especially since I have a Boho DIY coming to you tomorrow. As you probably are all sensing BOHO is the very on trend. Even in the bridal world,  it's what everyone is desiring. A laid back, romantic feel with tribal prints, and earth tone colors. The bedroom design I am sharing today is a really fun design with boho and a touch of modern glam. You call it what you want, but I think it would make for a great master bedroom or bachelor pad.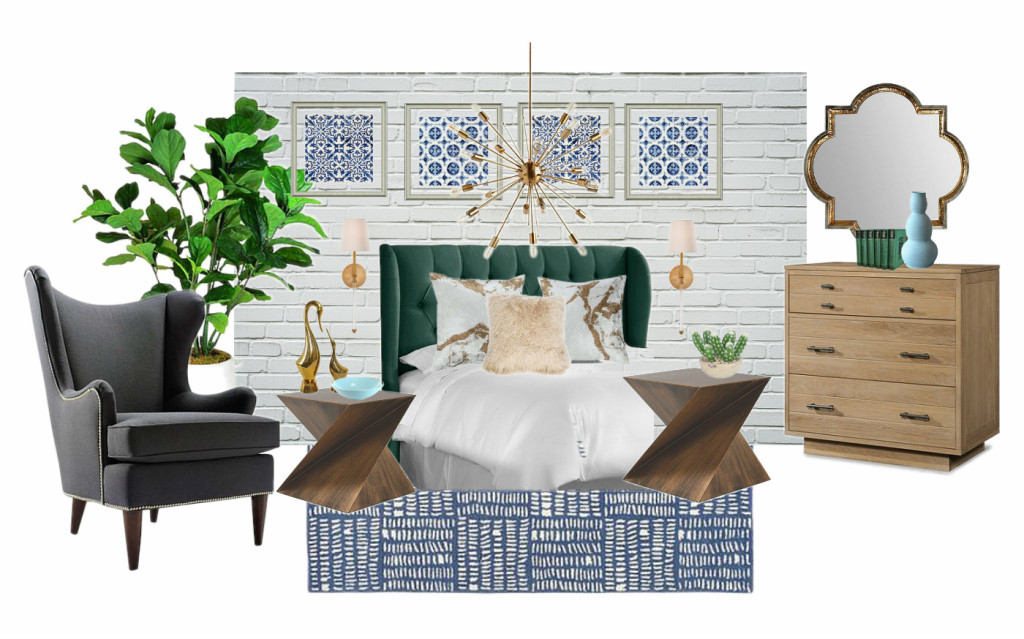 Color, wood tones, texture, and pattern are what make this room a perfect space. I love the touches of gold and the brick wall gives it character. I kept the bedding white since the print on the rug and artwork are so bold. When it comes to design you have to for sure pick your moments. In here it's the bold green emerald bed, the printed rug, the artwork, and the grand lighting above the bed. As for all the other choices in the room they are minimal and neutral.
I usually have no problem mixing metals, but here I kept to the same gold tones since the rest of the room had more going on. If I mixed the metals in the room it would look less cohesive.
So now how to gather this look?
Most of the decor above is found on OneKingsLane.com

So, what would you like to see in September? Do you have a living room space that you need help with? or a nursery for your baby  that's going to be born this fall? How about a great Farmhouse Style room? I can't wait to share each month and help my readers out in their design dilemma. Leave your questions and suggestions in the comments below.
(Visited 407 times, 1 visits today)