DIY Blanket Ladder: From Pallet Wood
Happy Labor Day! It has been a great week off…except my two kiddies have taken turns getting sick this week. As all us parents know our kids get sick when we least need or want them too…and taking turns always happens so usually an entire week is devoted to germs, medicine, and very little sleep. Fortunately, my big guy is on antibiotics right now and should be all better for his first day of Kindergarten on Thursday. An exciting week ahead starting with tomorrow, my little Gemma is starting her first day of daycare and I am starting by first day at my new job! Hurray for change!…and Hurray for having the week off prior to prepare for all this change!
Well since we have been some busy parents this week and dropping money on all kinds of school supplies, some stay-cation outings, doctor visits, and of course new school and job clothes…our projects have been limited. We were able to accomplish organizing our pantry which has been on the to do list about a year now. This may be a possible post in the future…if I can get a good picture of it, it is a small closet that barely gets any light except for the one my hubby is trying to install himself (cross your fingers…not going so well)
One project I for sure got to this week…is my DIY Blanket Ladder made from a Pallet. I have been keeping my eyes out for a blanket ladder that was affordable and the right size for sometime now, but could not seem to get my hands on one. Of course the light bulb went off in my head, when the pallet from the sofa I purchased for the church, was sitting in my garage awaiting its DIY destiny. Pallet wood is the perfect wood to use for a rustic DIY. This one was the right size and was easy to dis-assemble.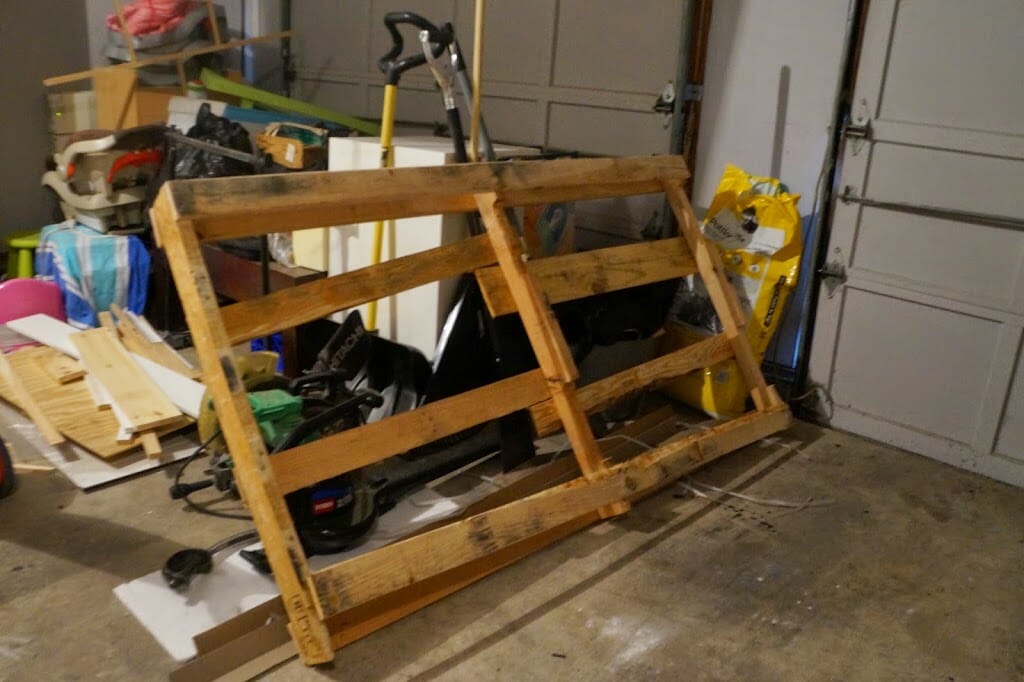 This is how it started
Step 1: Remove Pallet Boards
Step 2: Measure and cut wood to desired measurement
Step 3: Cut Wood for ladder spokes (I chose to use a smaller size wood for the inner
 pieces from scrap wood in our garage)
Step 4: Mark with a pencil the spacing of where you want each piece fit
Step 5: Have hubby nail them in : )
Step 6: Sand entire ladder
Step 7: Stain your ladder (I chose a driftwood stain color)
Step 7: Use a glaze or ASCP dark wax to give a rustic warn appeal
Step 8: Display with choice of throw blankets
Really, this was such an easy project and took us both less than an hour to complete. I spent $6 on this project for the stain only. The pallet of course was free…and I already had nails, sand paper, and ASCP Dark Wax.
I really love how using pallet wood added to the antique feel to the ladder. Just feels even cozier in this space now…perfect for the coming fall season!
(Visited 1,631 times, 5 visits today)