Easiest DIY Built ins
I've been sharing this tutorial little by little on my IG and I'm so excited to finally share the reveal here. If you want to see any of the steps you can head to my IG page and I have a highlight buttons sharing the progress. Our office is the first room you see in the house when you walk in to the right. It's a space that I made sure I would have since working from home you always need a designated space to organize your paperwork, step away from the rest of the house to work, and get into the work zone. Sometimes it's really hard to do when you work from home, turn off those distractions and just get to work. So, of course working in a creative field I wanted to feel inspired and I want this room to have some statement since it is the first room you see when walking in. So, I chose my accent color a pretty charcoal…well it kind of chose me. See, our front door was making me crazy in the blue color. I felt it wasn't working with the rest of our house so I decided to paint it a dark charcoal. Well, since this room is so close to the front I decided charcoal would be perfect as an accent color for this room too so it all just worked out. Love having left over paint!
This post contains affiliate links for your convenience. 
Let's take you way back to when we first saw this house and realized that there was a super awkward nook and potential for a future built in or shelves. We thought it would be the place for where we were going to have our stairs but once we designed everything the architect figured out it just wouldn't be right because of ceiling height upstairs. So, we had to move the stairs to be off the dining room and so we figured we would just have this weird bump out in the front room/office. Well, once the framing was in place I decided I wanted the bump to be a little less and to maybe bring it in to about 12″  deep instead of the 20″ which it was originally.
Well, of  course that got me thinking what I can do in this space and immediately I thought about doing floating shelves. I was back and forth about doing wallpaper behind, having stained shelves, painted, etc. I figured this would determine a lot about the space, and so one impulsive decision later I was painting the built-in charcoal. Which I haven't regretted and absolutely love.
Tutorial on the Easy DIY buit-ins
So, we wanted this project to be "cheap" We had some scrap wood on hand and then we bought a few pine planks from the hardware store to build the shelves. We looked into brackets and corbels but I wanted the shelves to appear floating, so we decided instead of buying floating shelf brackets (which can be pricey) we can just build them by screwing 2×2 in the beams on each side and then resting the board on top. My plan was to then add a piece of wood in the front of the board to hide the support, but then once I painted charcoal I didn't mind it that much…I may change my mind in the future but for now I've moved on to other projects and will have to circle back around (life of Deb right there).
It was super easy to do and we had the shelves up in about an hour.
Then I taped off the edges of the nook with frog tape to paint the entire inside of the shelves and back wall to appear like a built in. I was not sure how it would look but it actually turned out better then I had planned, minus a few messy paint marks (got to get them cleaned up still) I apologies for the not very clear progress pics, I promise the reveal photos are much better.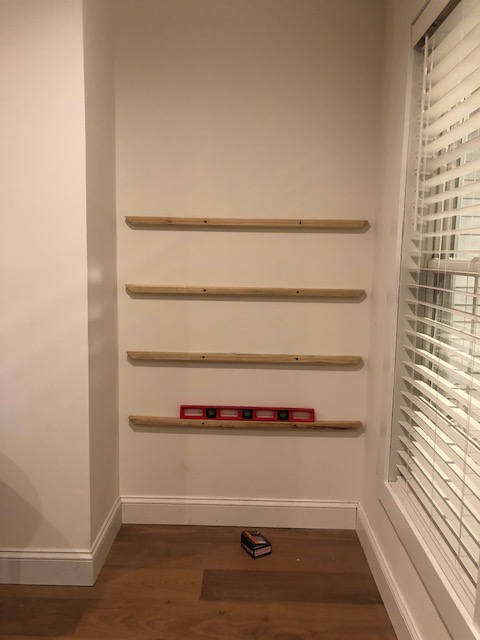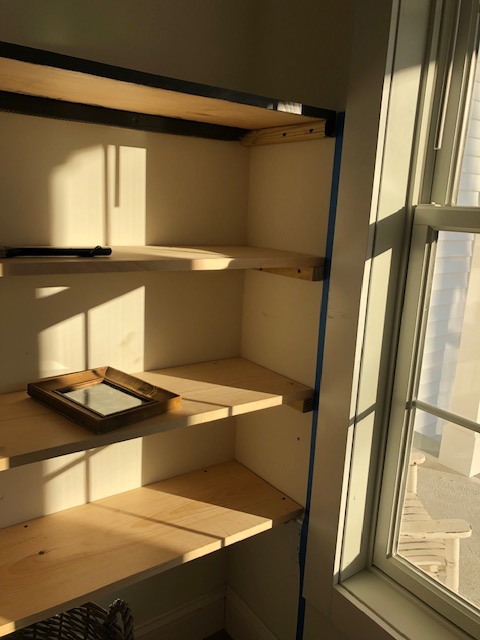 To finish the peice I added a piece of bead-board to the top and painted that also charcoal. I decided only to do the top so it did not look like an entire bookcase. I like how it added height to the space and now draws the eye up. This was especially important for me as the room is only 8 foot ceilings and I needed to add the drama to the space with height.
Tip: When designing or decorating always make the room look taller. Challenge your design by creating vertical design and lines to make the eyes go up.
I knew I wanted to add some brass and wood elements on the shelves to pop off the black and then I found some really cool spools at a local shop for cheap that I had to have. I knew they would add that extra texture. Then I ordered this picture frame light to add to the top of the wall on the bead-board to go over the picture. I'm really into picture frame lights now and they really do add great ambiance and a nice look to a room. More traditional then Farmhouse but I think whether your taste goes in either direction it's a good change up from the goose-neck lighting.
j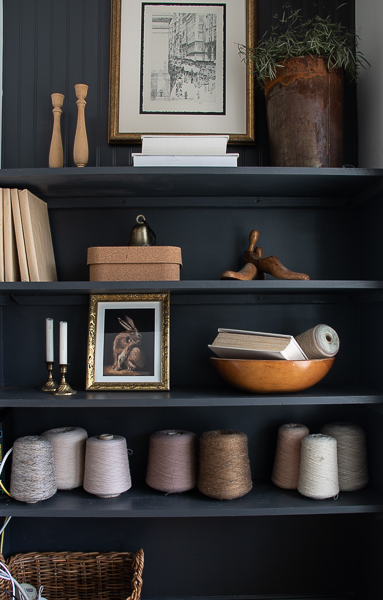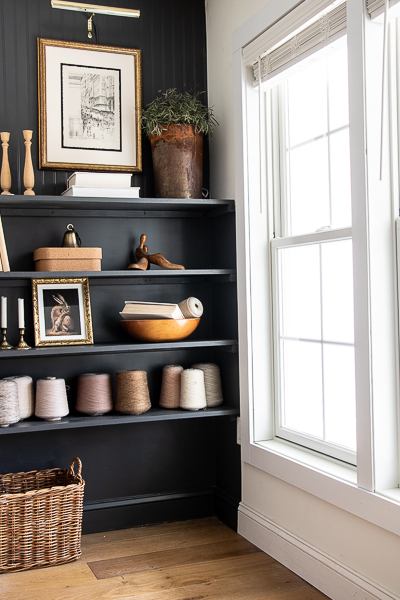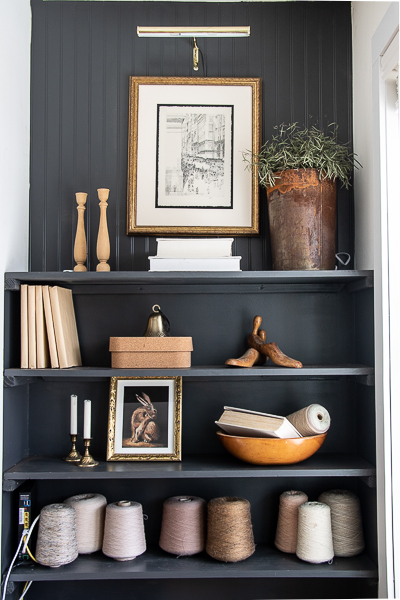 It's amazing how a little paint, some pine boards, and a few decorations can totally change a plain blank wall to this! This is step 1 to our office makeover. I've got more to do in here, including some wallpaper, I can't wait for, and I'm so pumped about the entire look!
j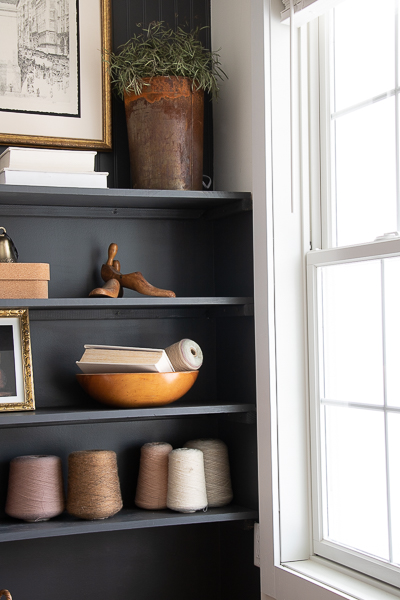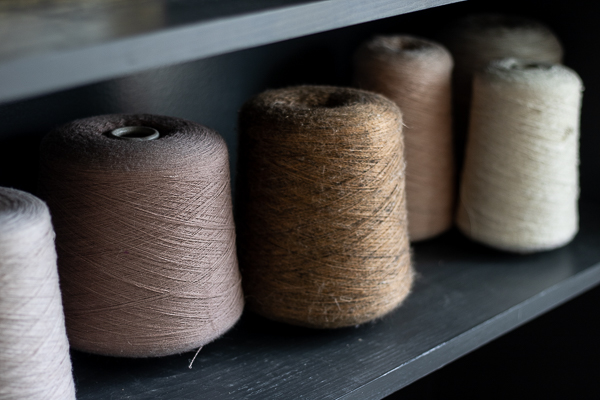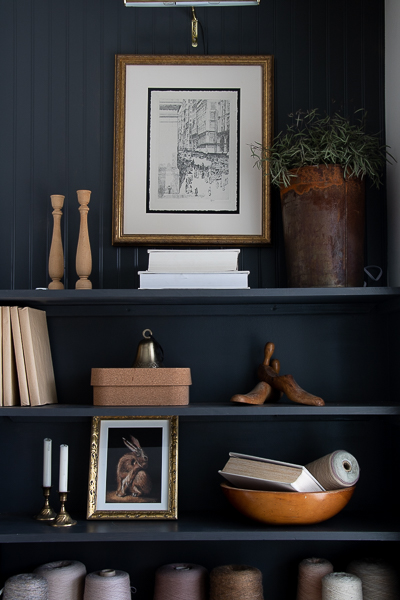 Source List: 
Picture: Home Goods 2 years ago
Paint: Wrought Iron Benjamin Moore
Spools: Final Cut NJ
Bowl: vintage
brass candlestick holders: vintage
Please Pin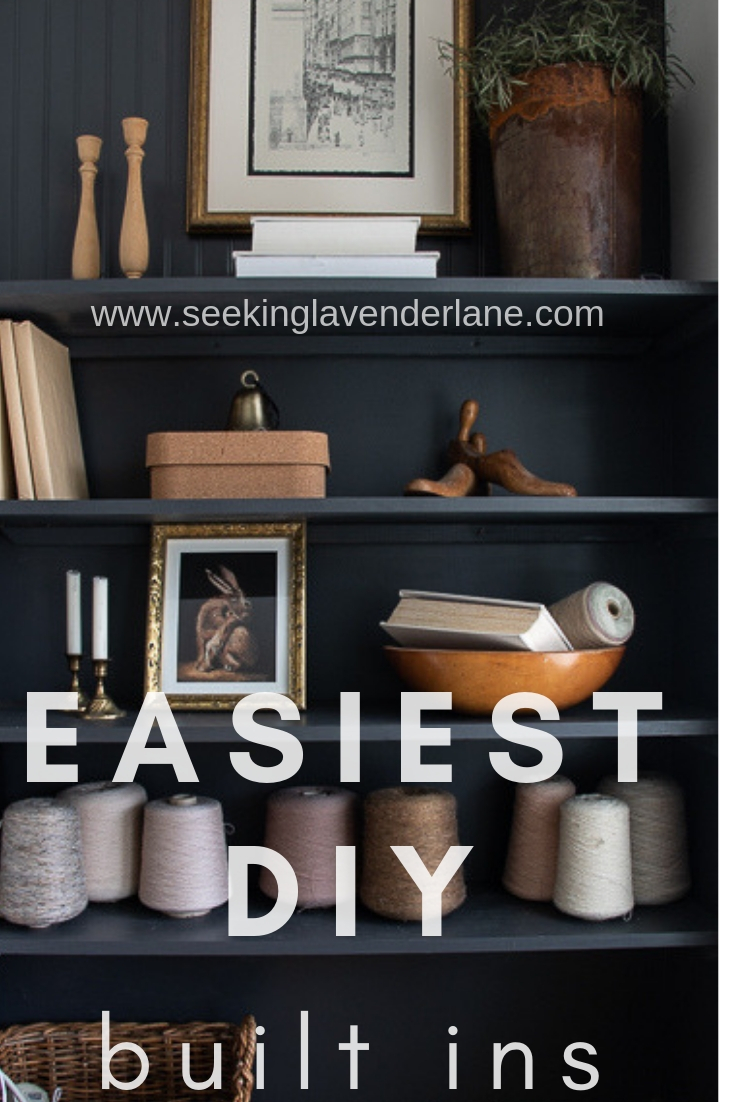 (Visited 4,210 times, 1 visits today)