I LOVE Craigslist!
Craigslist Cabinet refinished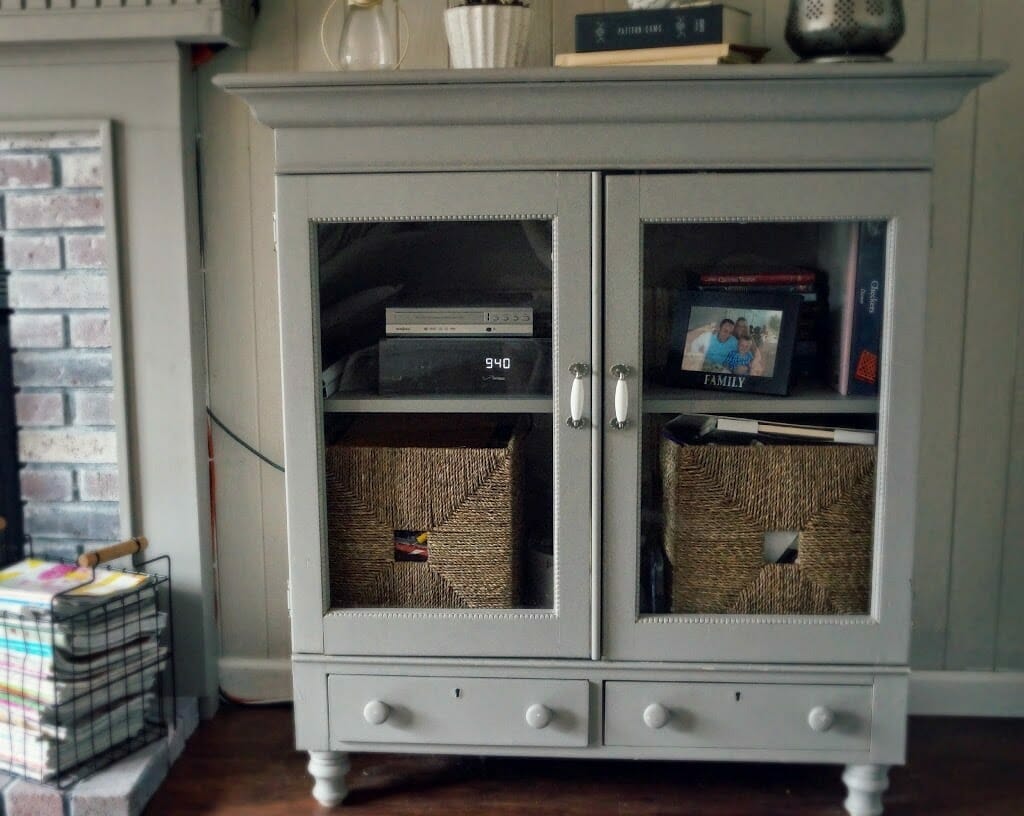 I have furnished my home with so many pieces that I've bought through craigslist. Just a little TLC and you got yourself a keeper!
I thought I would talk about this amazing cabinet I refinished and bought for a steal!
One of the first important factors on finding a great find is looking past a description and it's current or past purpose. For example: Bedroom TV Cabinet Top
That's exactly what my incredible piece was called.
It was a piece that the previous owners used for their bedroom when TV's were not hung on walls and a way to hide it away during the day. I believe there was a bottom half to it that was already discarded and this piece was looking for a new purpose and new look.  I saw  Potential Potential Potential!
Here is the before: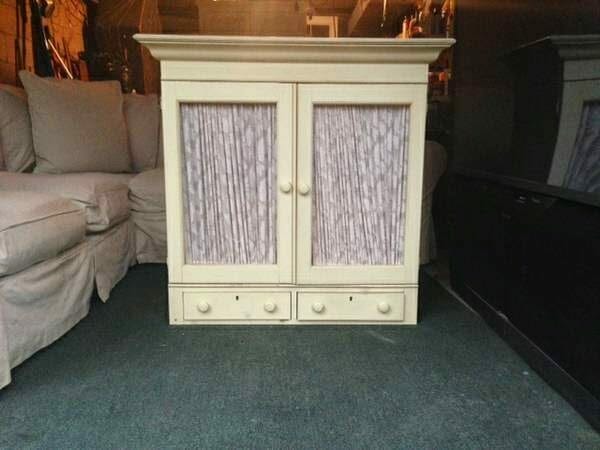 The actual Craigslist photo
As you can tell it was missing something at the bottom…and those curtains had to go!
$35 exchange
A slightly dangerous car ride home
And then the rehab began!
Step 1:Using the same color I painted our fireplace mantle to coordinate the room, I painted the entire thing grey (not sure of the actual color) Just a latex paint done with 2 coats.
I am quite the lazy painter sometimes and prefer to just go in without prepping the piece. this of course does effect the surface and it did scratch somewhat. Poly should do the trick and a can of touch up paint on hand always.
Step 2: We added some feet to the bottom that we purchased for around $6 a piece.
Step 3: Adding the glass- we decided to go with a plexi-glass since it is low to the ground where the kids play and it was much much cheaper than buying glass. We added the glass with some liquid nails and attached to the back. There was so lip to insert the glass or else it could have been a little neater. Since no one really sees the inside though we were fine with it.
Step 4: Selecting new hardware. We needed to get rid of the round knob just to add a little more interest. This is probably one of my favorite ways to update furniture by adding new hardware. This was a little pricey at $10 for the two purchased from Target. I probably could have looked around a little more and found something more reasonable, but when I start a project I like it to be finished. I have the impulsive artistic gene.
And that it's it!
I absolutely LOVE this cabinet and it works so perfectly in our family room space. It still needs some better styling in the inside, but until we get more organized in the house it will probably remain with those two Ikea baskets for a while.
Hope you enjoyed this post! Very easy project and it all came from looking past a description to a piece and using a little imagination.
Bonus, it was a Lexington make..a very good American made furniture company.
Enjoy some more photos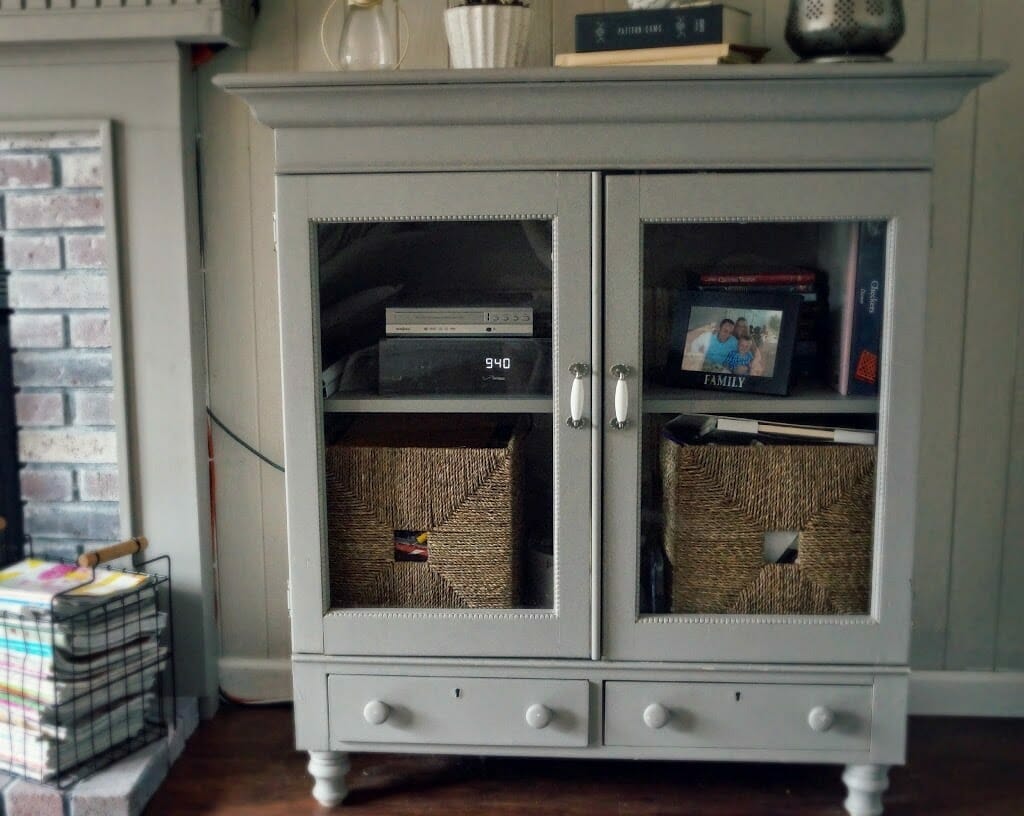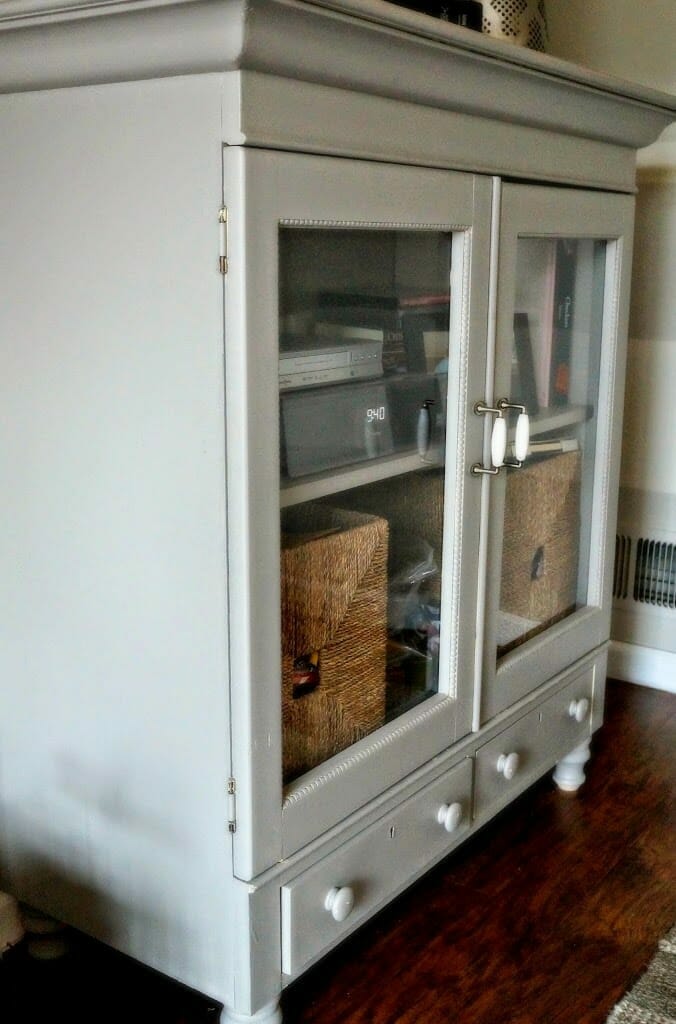 (Visited 292 times, 1 visits today)