Ikea Hemnes Makeover
Recognize this piece? The Hemnes TV stand from Ikea. They sell it for $229 these days. I purchased mine about 3.5 years ago which was $190 at the time.
It was a great apartment piece and really suited the look I had at the time. All the furniture in our last apartment was black and then we had blue and tan walls and a really cozy seafoam colored couch. It was great but taste changes and so did our home.
I have been searching craigslist up an down within the last two months for a great piece I can makeover and turn into a TV stand with a little "character". Nothing in my budget (-$100 )caught my eye. I gave up on trying especially as my living room was evolving and the TV stand remained the sore thumb in the room.
So I gave it a try…
Started as a temporary fix to something I actually love in the space and looks like it will be there for a while.
So where did I begin with the Farmhouse Hemnes Makeover…
My garage with leftover paint, of course!
I chose my London Fog from Benjamin Moore which I had from my last project (stripes on my family room wall, my next post).  After two coats I let it dry and then I added my DIY dark glaze.
Yep DIY not running to the store for this one, just used what I had.
Brown acrylic paint, mixed with part water and part olive oil. haha yea a little crazy and a little brave but hey it works!
I applied this with a paper towel so I could have full control over it. Lightly apply in most areas and especially start at the creases of the furniture. If you add too much an easy fix to this is get a wet paper towel and wipe off.
Next Step was to sand the edges and create a naturally distressed look.
Step 4 Add some chicken wire to the openings. This helps to hide the cable box from little fingers and gives the piece a "farmhouse feel" I decided to spray paint mine black to match with everything else in the room and we simply cut and bent the sides in and squeezed it into the space. You can also staple gun them to the side if you choose.
Please be careful if your little one does get a little curious and wants to stick his/her fingers inside. Thankfully mine has yet to go after it.
Last Step
Adding half-moon pulls. If you choose to use the knobs that are already there it works too and saves you a little bit of money, but I felt adding the half moon pulls were the icing on the cake to this project.
and…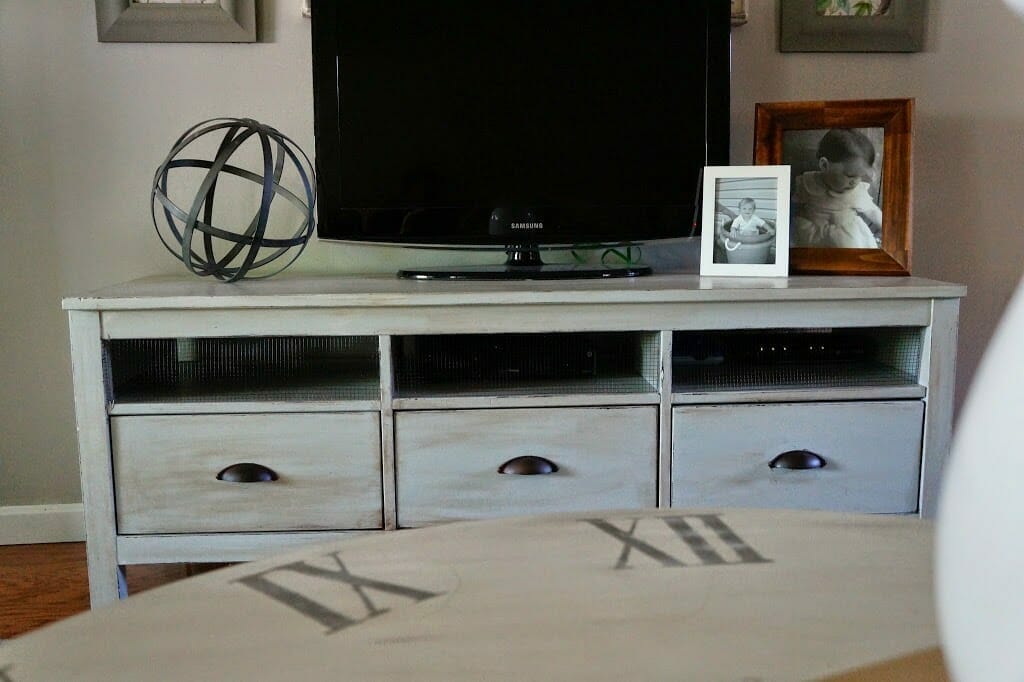 Ikea Hack TV Stand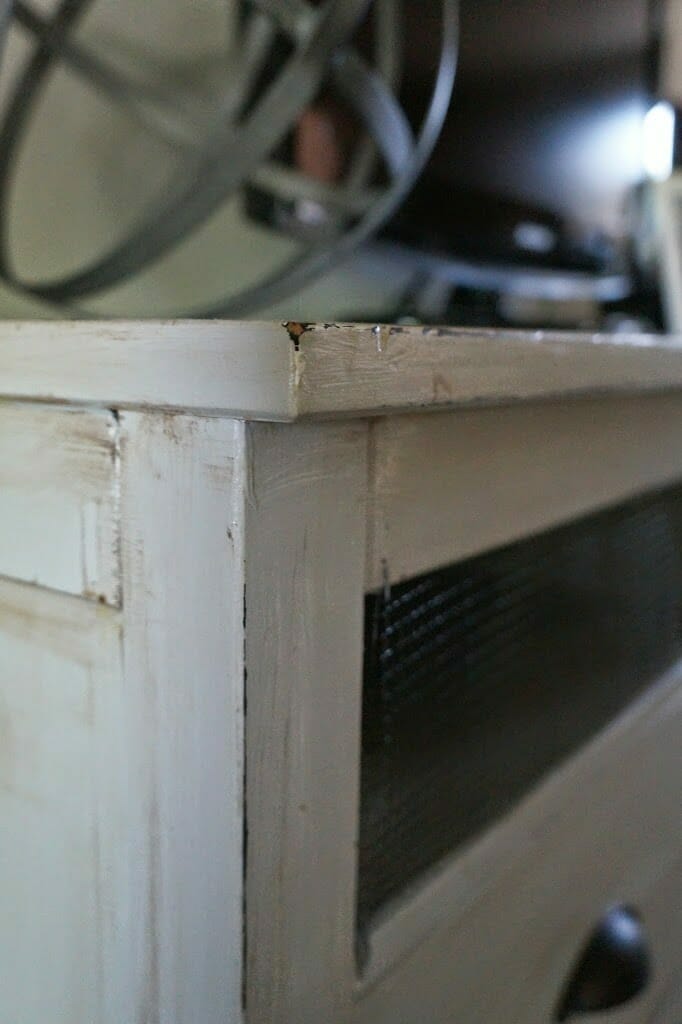 Details
And that rug is only my welcome mat does not work so well next to the TV stand, but looks better then the floors that are there. Waiting on my rug to come in…very excited for that!
Please comment if you have any questions. I thought this was an easy project and it completely changed the piece and made it work with my current decor.