July 4th Table Decorations
with a European twist…
4th of July is such a fun American Holiday that we truly get to have the American experience. BBQ's, family, fireworks, outdoor activities…you name it, it's all American. The thing is that American can definitely be described as hot dogs and hamburgers, but it is also is a blend of all cultures and styles and traditions. Since I have an Italian American background I would like to say a lot of the food and traditions in our daily lives have an Italian influence. With that being said, I wanted to do a twist to my July 4th Table Decorations.  If you've been here a while then you know my love for French Farmhouse style, so I wanted to have a french/Italian twist to my 4th of July decor. Keeping with the American colors…but with a blend of European style. I also chose a muted pallet that would be a softer look to the Patriotic colors.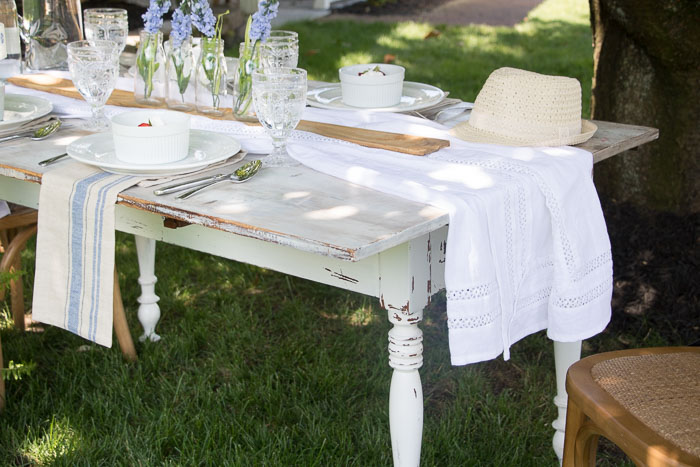 To start, I brought my vintage farmhouse table outside on the front lawn and nestled it underneath the tree. I thought this would be a perfect spot for a July 4th picnic with a bistro vibe. I layered the table with a twist to a 4th of July table runner, by adding a simple white linen table cloth, but chose a more casual vibe so I added it as a throw runner. I then added some pretty blue striped french dish towels, and then of course white dishes. I added some glassware, strawberries in water, blue faux flowers in milk glasses, and then some ramekin dishes with some Italian panna cotta for dessert.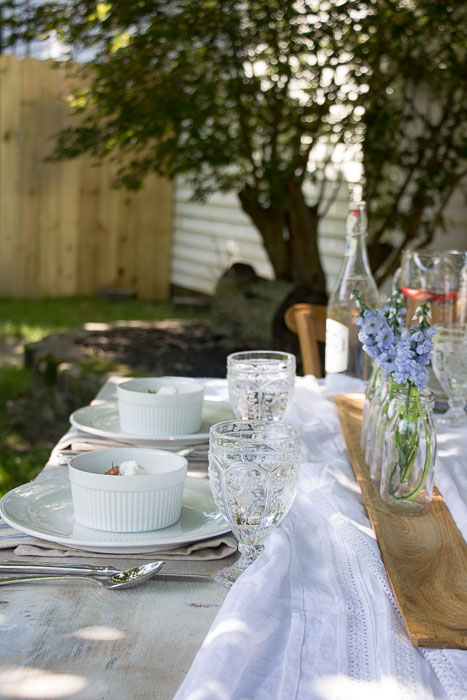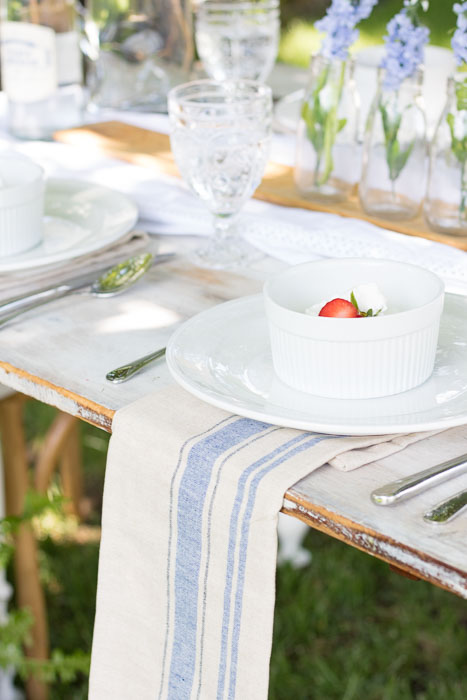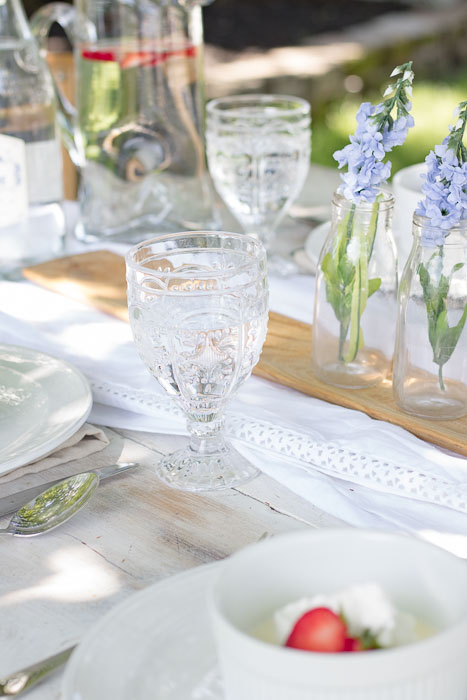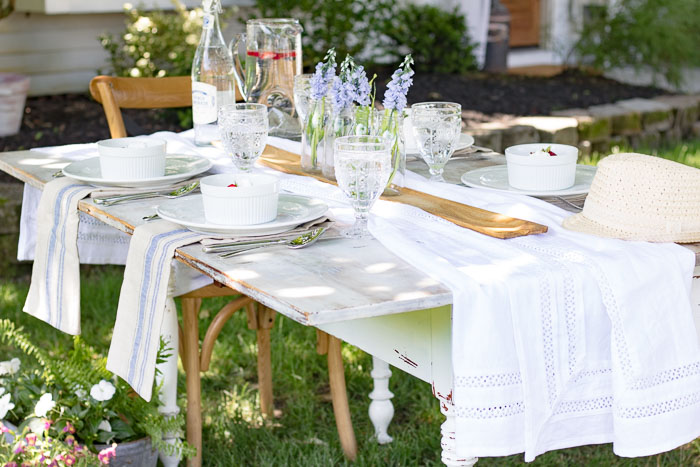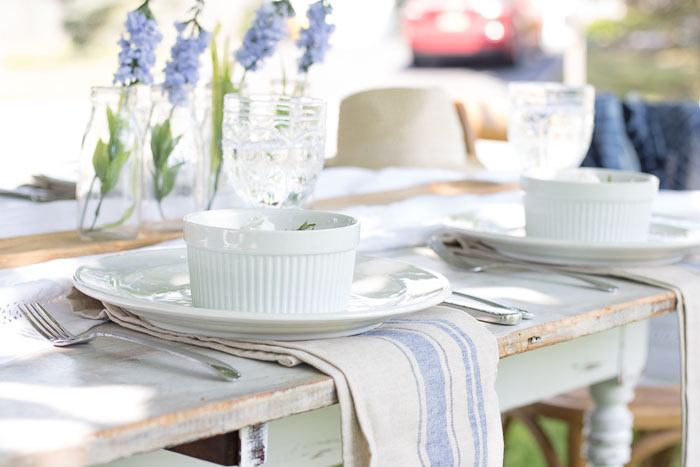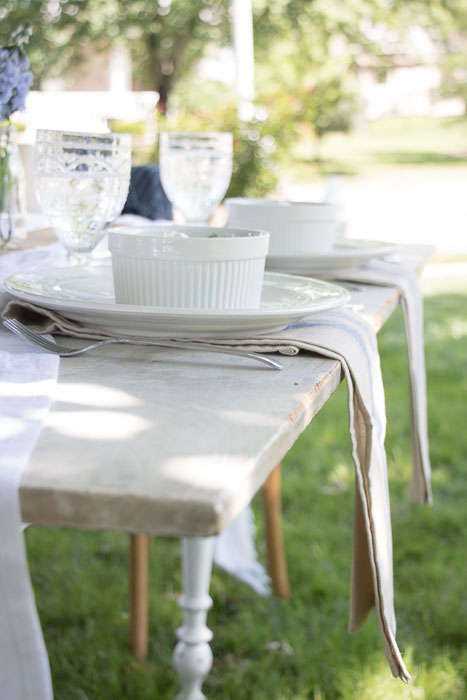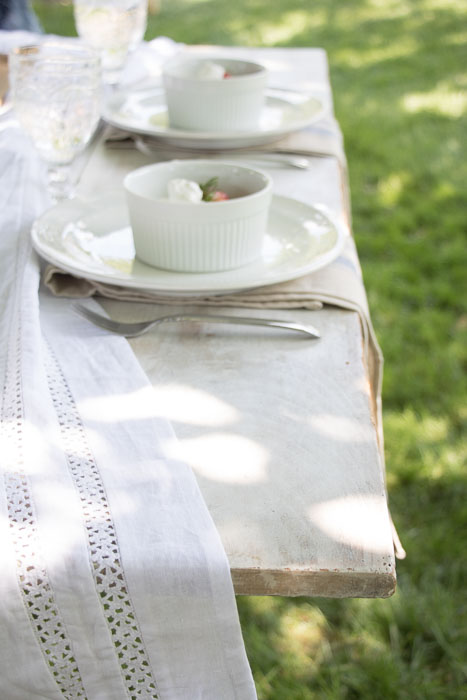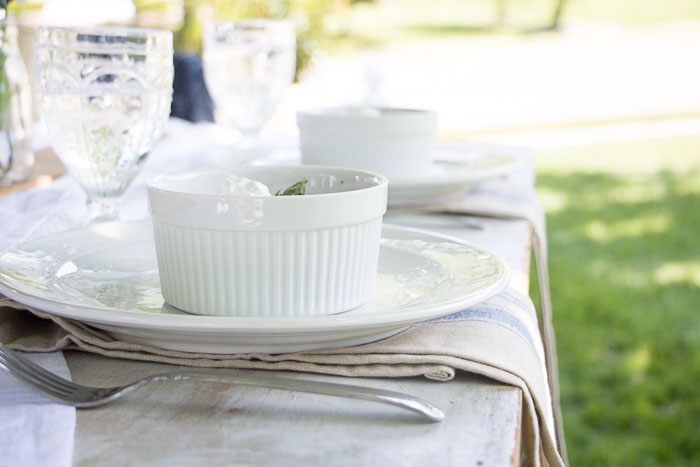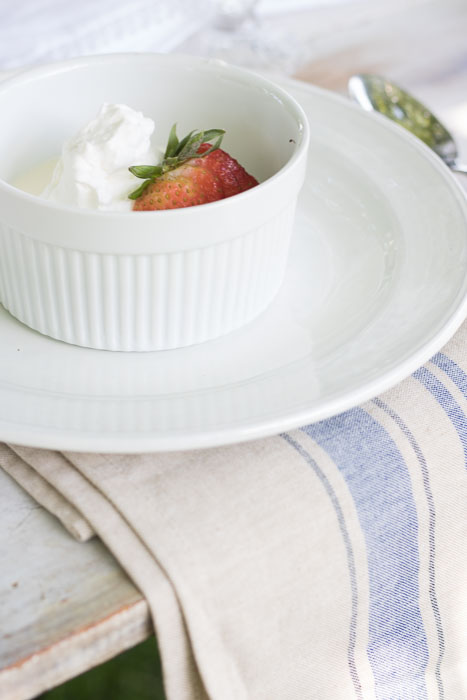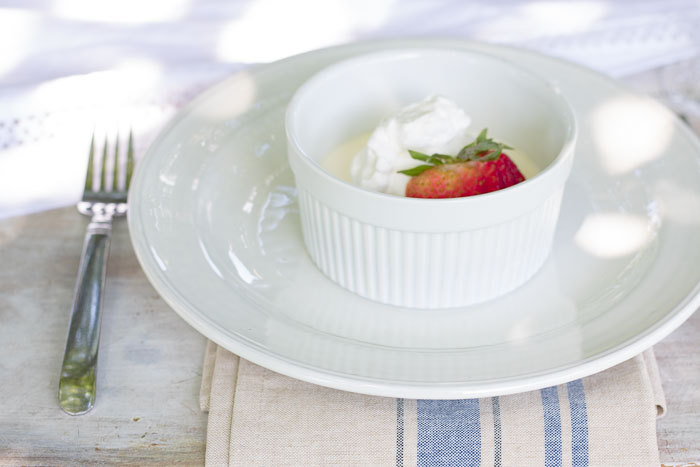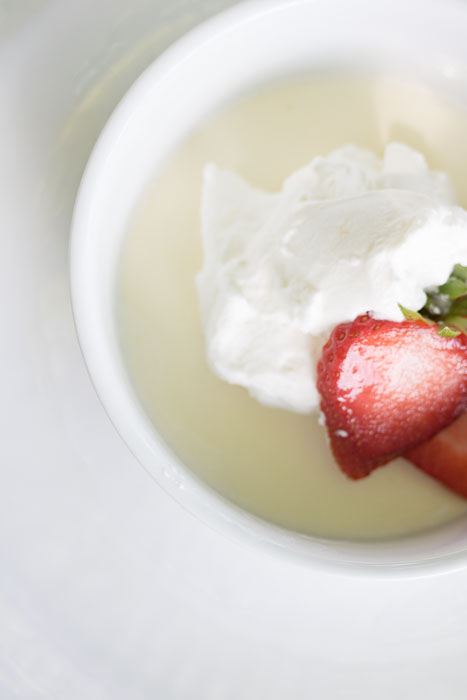 Easy Panna Cotta Recipe
Ingredients: 1/3 cup Skim Milk
1 envelope unflavored gelatin
2 1/2 cups heavy cream
1/2 cup white sugar
1 1/2 tspn sugar
Directions: Mix Milk and gelatin in bowl (set a side)
In a sauce pan bring heavy cream and sugar to a boil
Once boiling add gelatin and milk mixture into sauce pan (stir completely) Boil 1 more minute.
Remove from heat and add vanilla.
Pour into ramekin bowls and let cool over night in fridge.
Add cut strawberries and whipped cream (I made my own without adding any sugar)
Enjoy a nice alternative to ice-cream this 4th of July!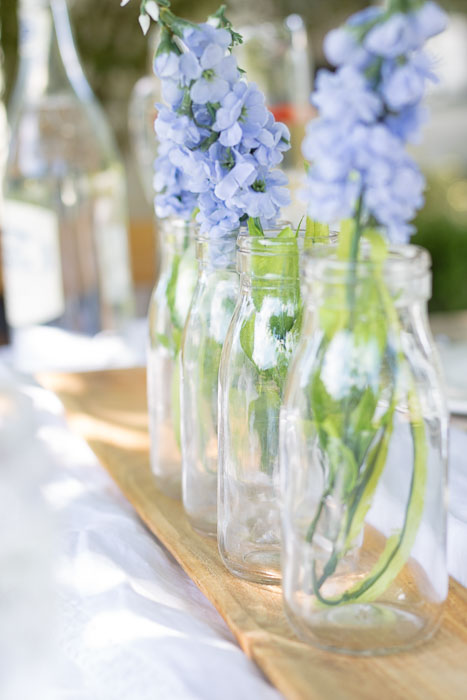 If you notice there is still Red, White, and Blue…but the July 4th decor has a simple muted pallet with European influence.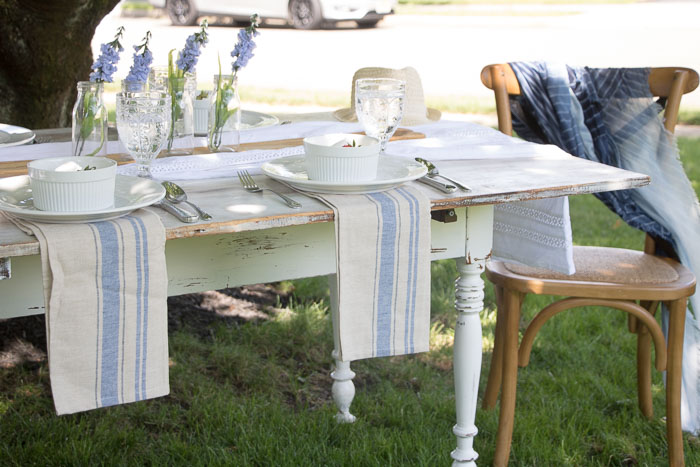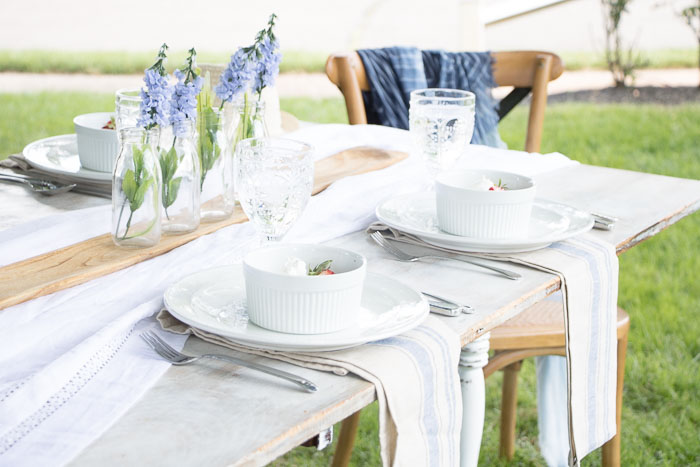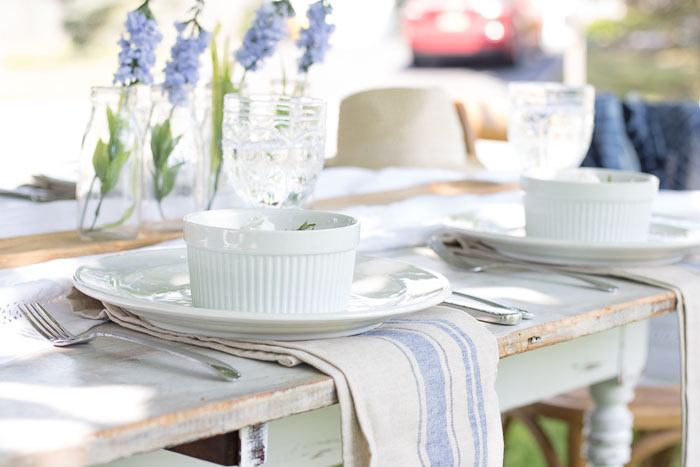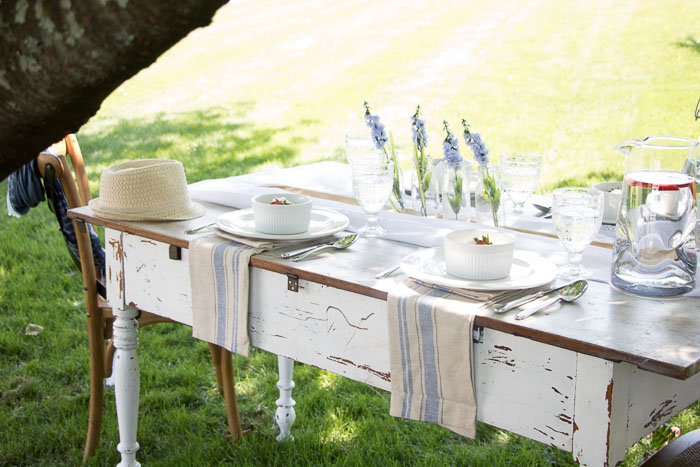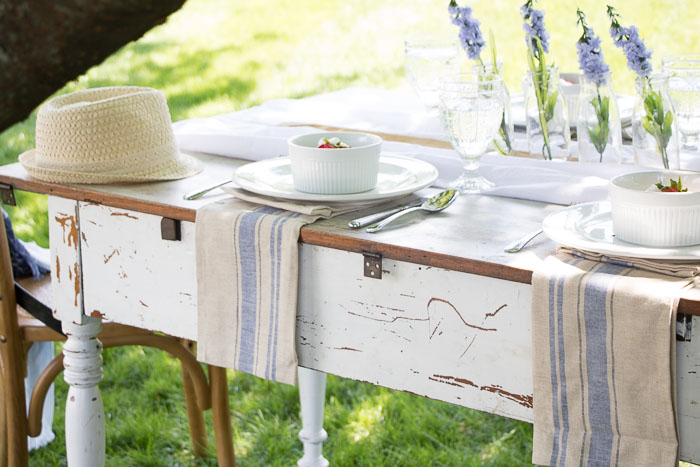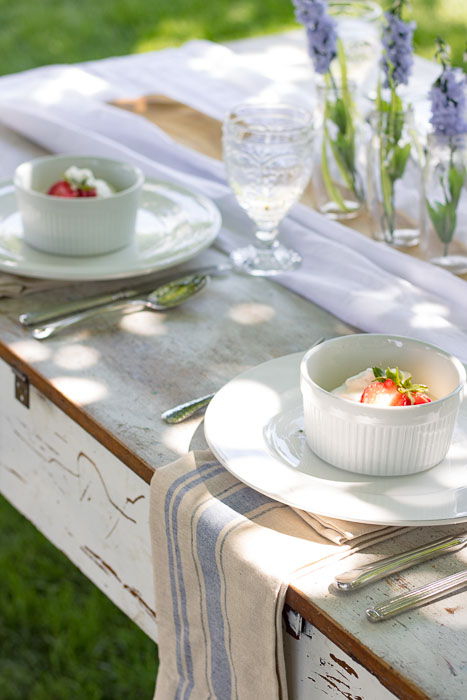 Enjoy your beautiful 4th of July friends, whether you're celebrating with good ol' fashion BBQ style or you're celebrating with a twist with some of your cultural traditions or food.
Shop This Post

PLEASE PIN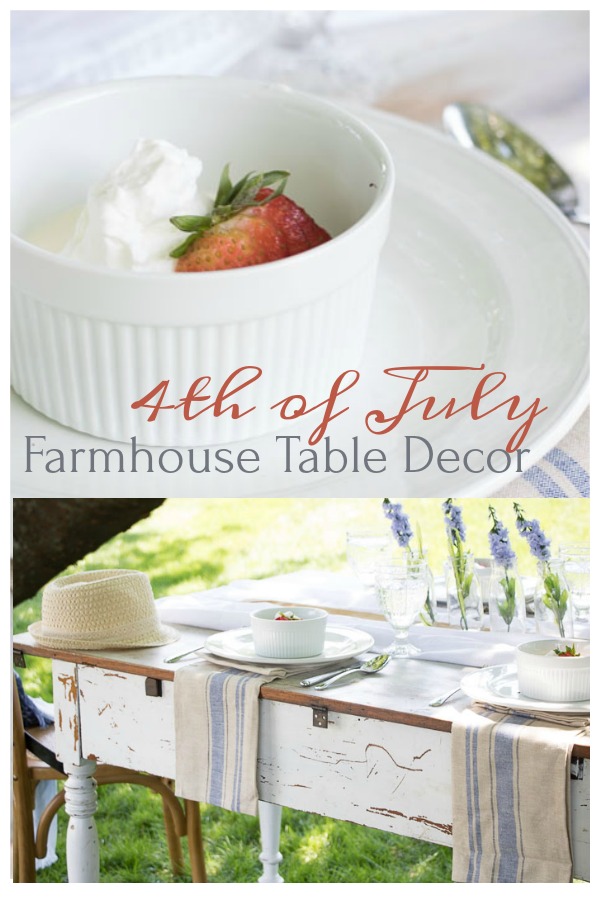 More 4th of July Table Decorations

(Visited 1,231 times, 1 visits today)