This summer is certainly the summer of true relaxing. Do you all feel the same? I want to indulge in all the summer feels at home. I love sitting on the porch when it rains, and smelling the new tomatoes that are growing on my tomato plants in the garden. What is really important in summer is that my exterior spaces feel a little more enjoyable and that always means it has to start with some "pretty". That's why my front porch needed some simple touches to make it inviting. I just love all the choices at Serena & Lily that they offer for a home that needs some summer touches.
This post is a collaboration with Serena & Lily all opinions expressed are 100% my own. (P.S. they are having a summer tent sale as we speak)
Do you decorate your porch? What's your favorite accessory that makes it feel inviting? I love urns next to a doorway filled with flowers or greens and a great welcome mat. I've been eyeing up the layered mat look for a while and I am so glad that I finally took the plunge to do it because it made the entryway so much more grand and inviting.
Here's decorating tips you can do to make your summer porch more inviting!
Add color! A pop of color to the door, flowers and even a basket with a stripe of blue.
Texture, bring on all the wicker and rattan it just feels summery. You can do this with baskets, seating, and even light fixtures if you have the height and space.
Pillow for your seating! You are going to be using this space more you should make it cozy and inviting for long porch sitting.
Add a great welcome mat! This will be inviting for your porch and add so much to play off your door. Add a second mat underneath for a really pretty layered look.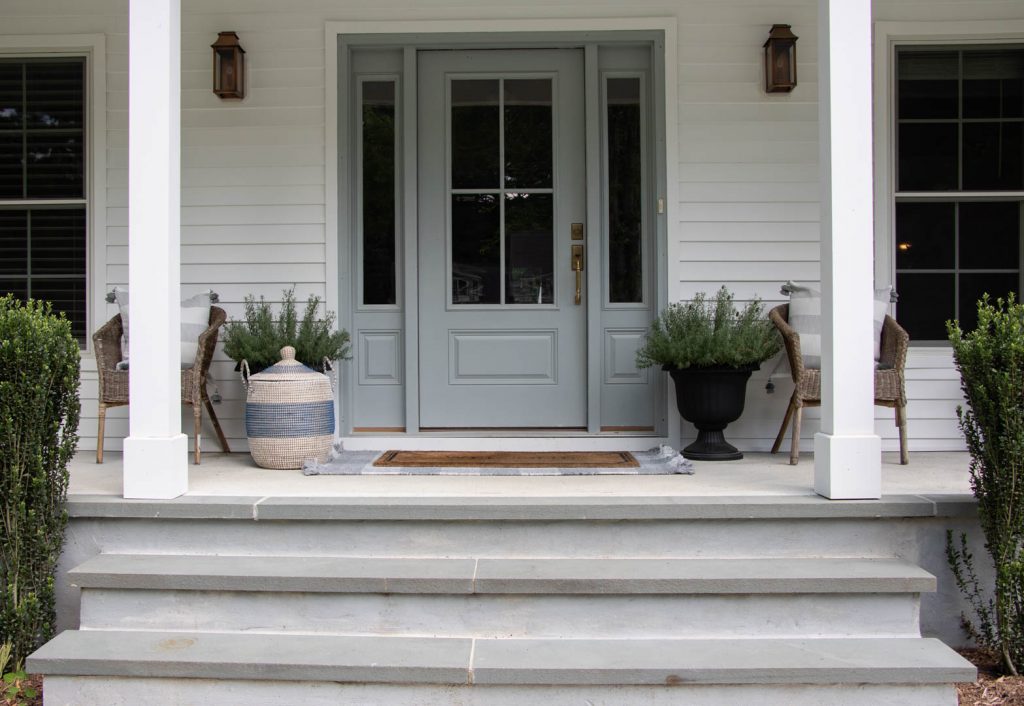 I already had the two urns here and the top welcome mat, but it was really slacking. So I added this Buffalo check rug underneath the welcome mat and I love how the gray and blue of the door tie together. It made such a cozier feel to this space.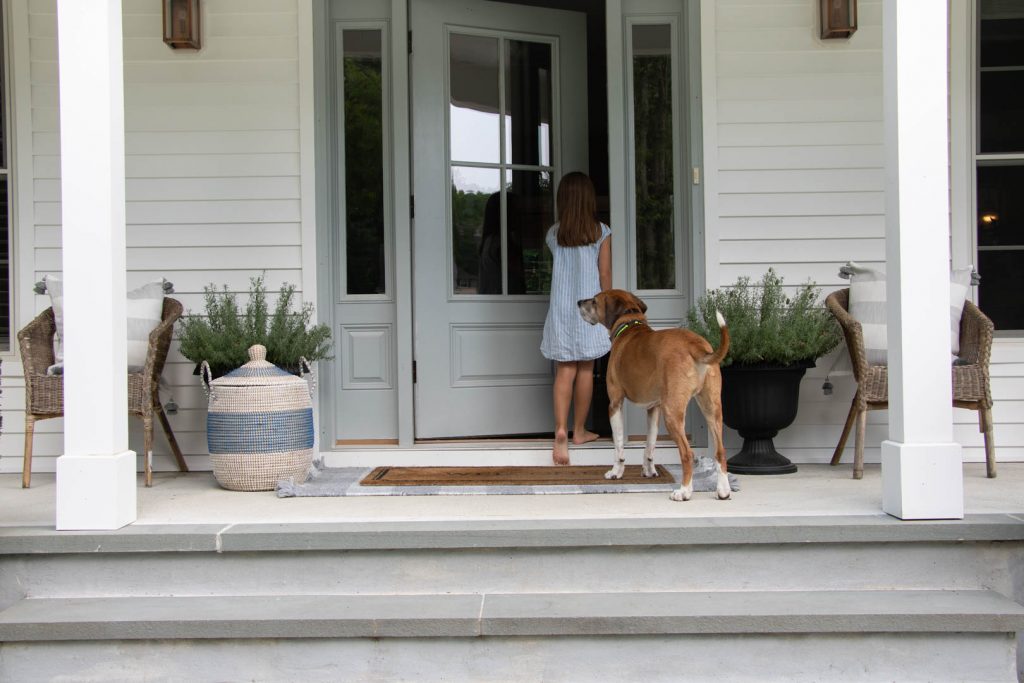 The dog agrees!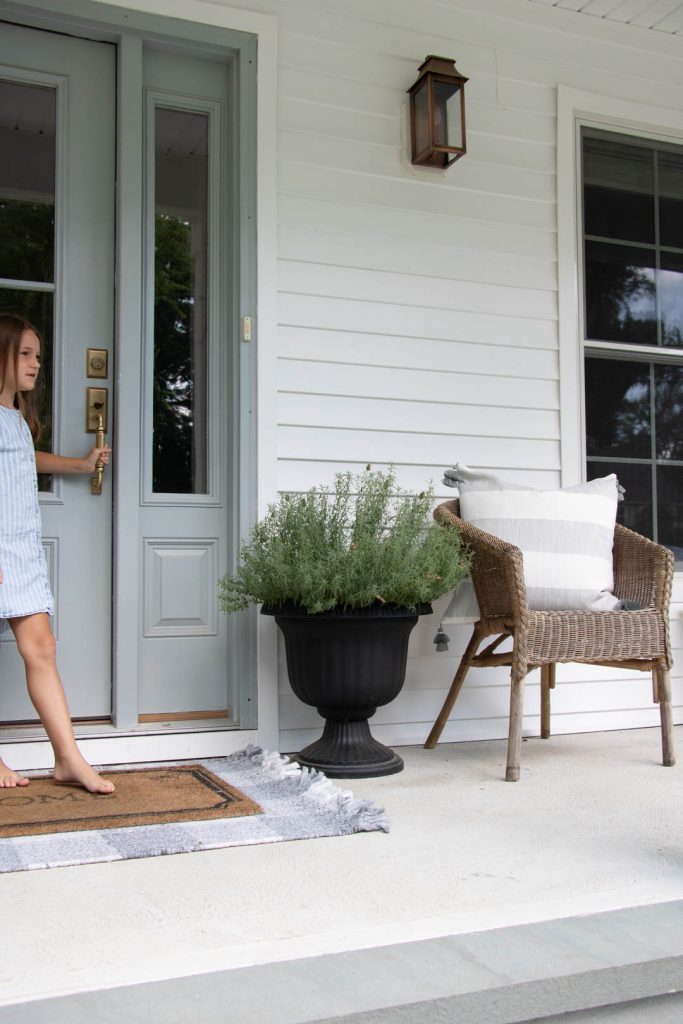 The pillows are simply gorgeous! The simple gray and white stripes with tassels were just what these old wicker chairs needed. In person you can appreciate their beautiful fabric and how much they add to the space.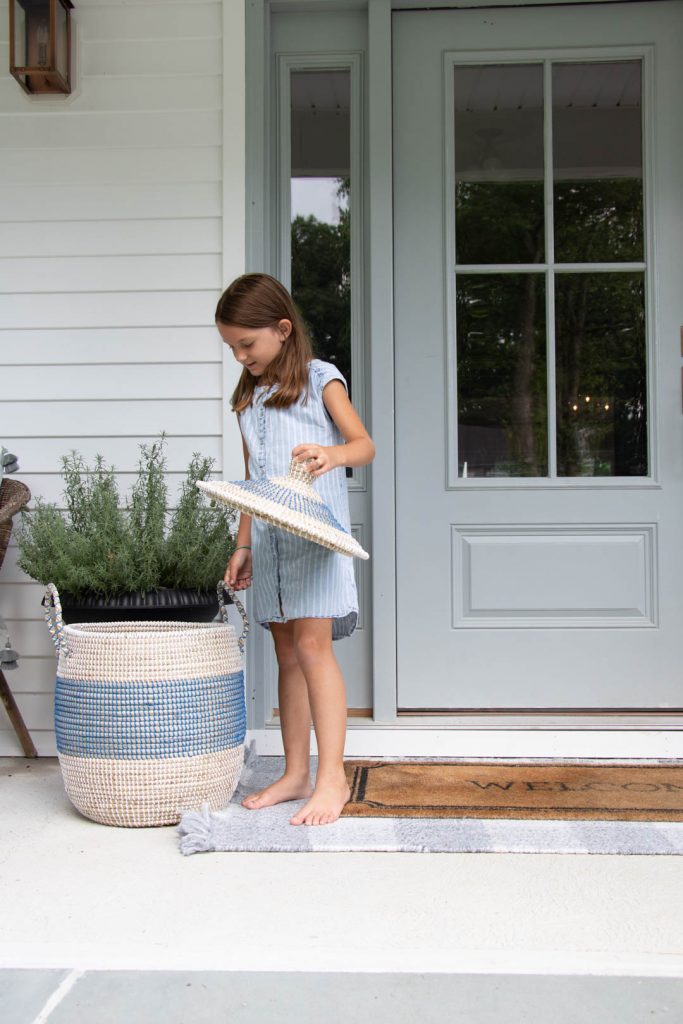 The BASKET I am calling it because what a statement, I really love this look and feel of this piece and pairing it next to the urn gave it a little more dimension and texture here.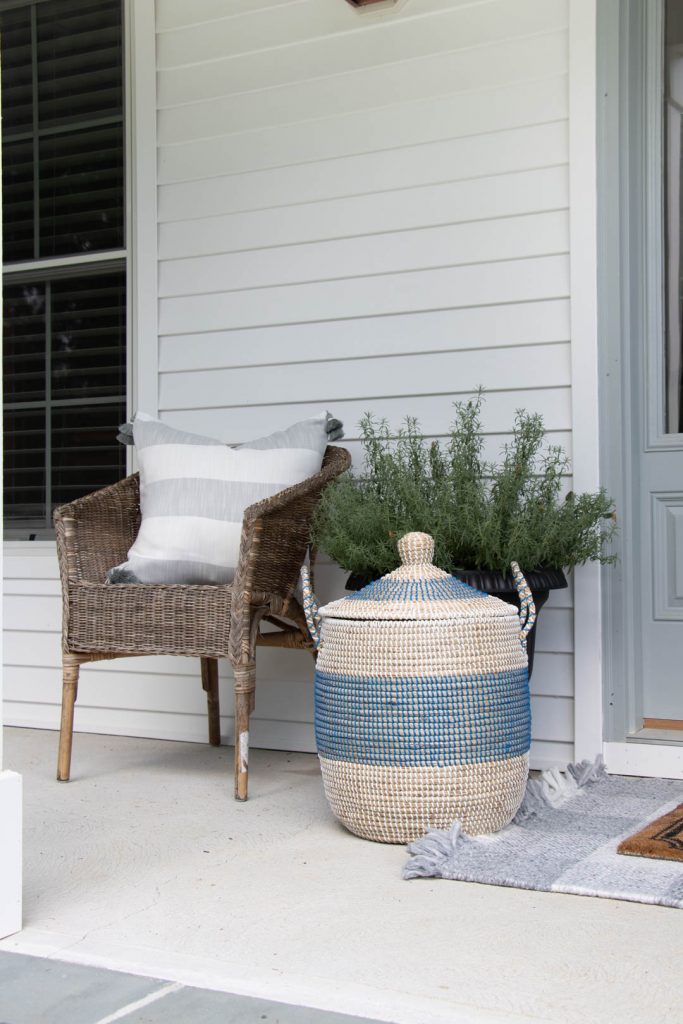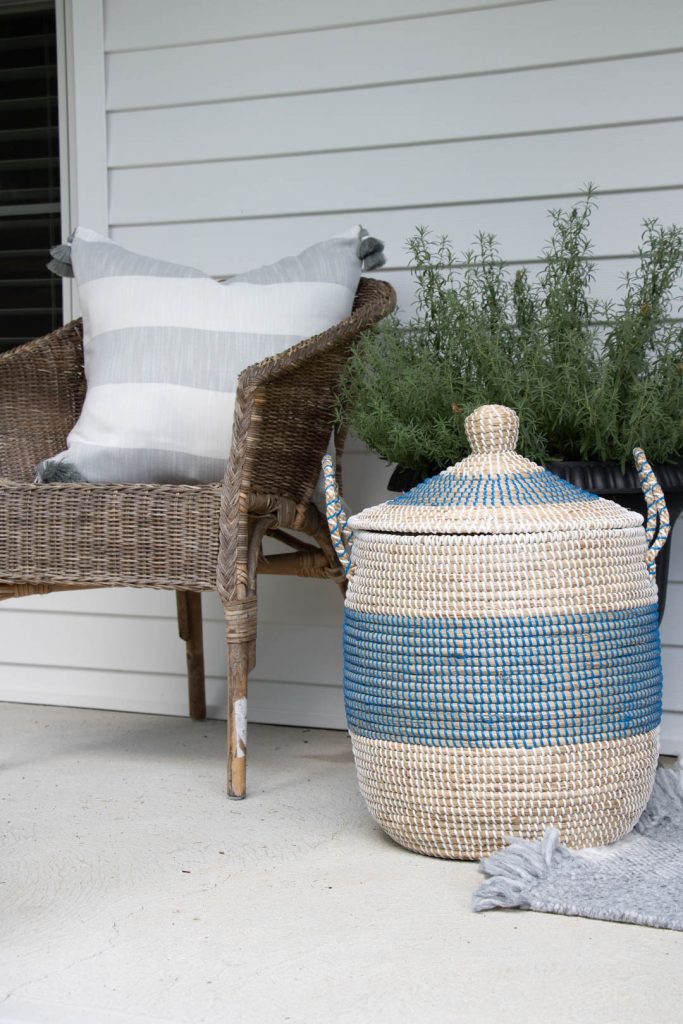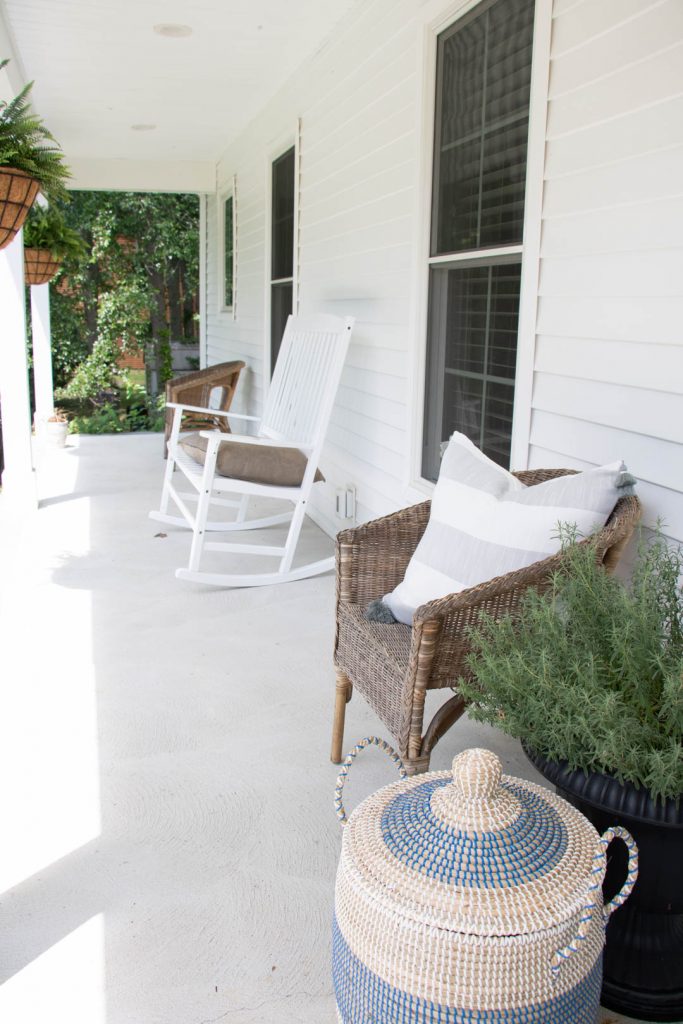 I have some plans for the other end of the porch but for now I am loving how welcoming it feels now and the colors and textures certainly feel summery.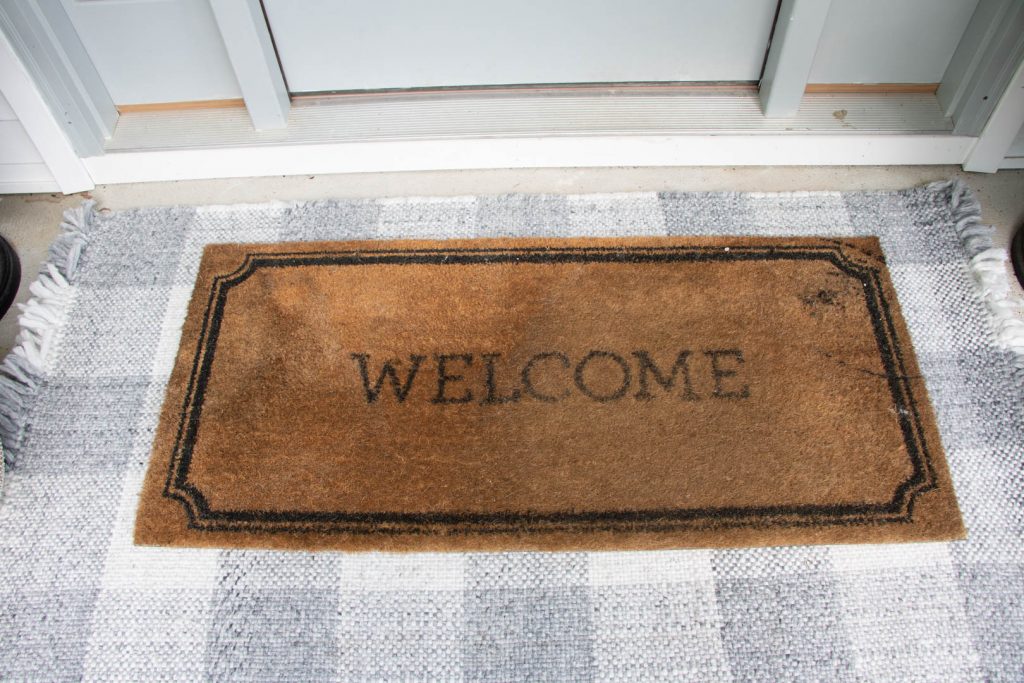 Please Pin