Summer House Tour 2019- French Farmhouse
I'm so excited to share our Summer house tour with you all. Thanks to Marty from A Stroll Thru Life for hosting as always! Our house is feeling more and more like home every season we experience here. Entering Summer I think I may be most excited for the bright sunny and warm days we have to look forward to. If this is your first time stopping by our house, here's a quick background, we have been in our new home just about 6 months now. We remodeled/built last year and the decorating and projects are still in the "early stages". We have a lot to go, but the more furniture we get in and rearranging of decor, and photos on the wall, the more it's feeling like us. I like to describe my style French Farmhouse, a little eclectic, traditional, and vintage. So this Summer Home Tour has touches of that French feel like white linen tablecloth that I happen to drape over our coffee table for a new look, lavender topiary, vintage kitchen decor, and of course neutrals. I would love for you to pin for future inspiration and leave a comment below. If you're visiting from Sarah's page at Thrifty Decor Chick wow wasn't her tour just pure magic (love her style), I'm so glad that brought you over here. Pour yourself a nice glass of ice-tea or sweet tea or cold brew whatever your choice of afternoon drink may be…and enjoy some home inspiration.
This post contains affiliate links that I make a small commission from to support this blog.
So, come on in….
First stop the dining room! This room is a work in progress, but I decided to keep to neutrals. I love the urn that I have here and created this easy centerpiece. I wanted to give it a light and pretty feel by adding some babies breath. It feels so Summery and simple. I paired with some neutral plates and these pretty napkins I just picked up that I created a simple knot for a stylish, yet simple touch.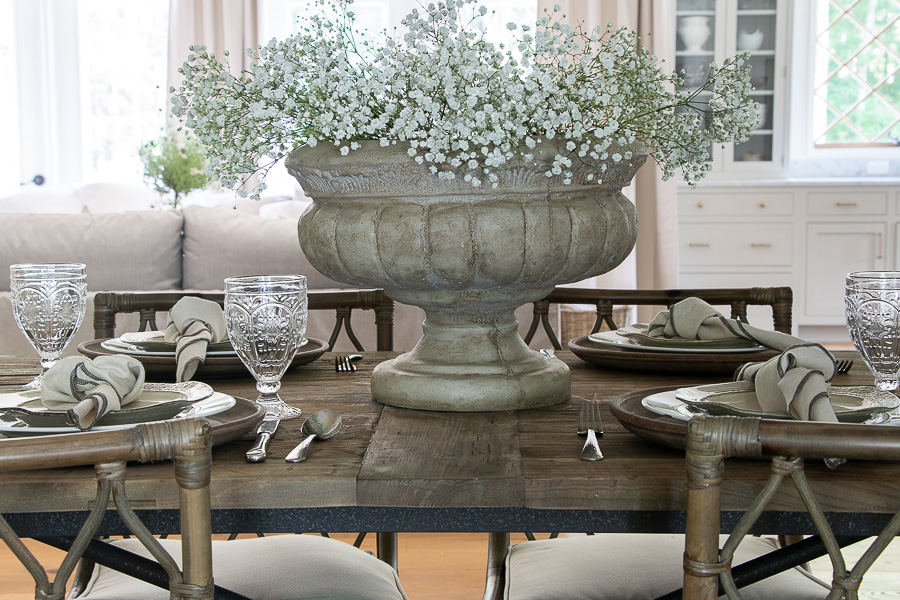 j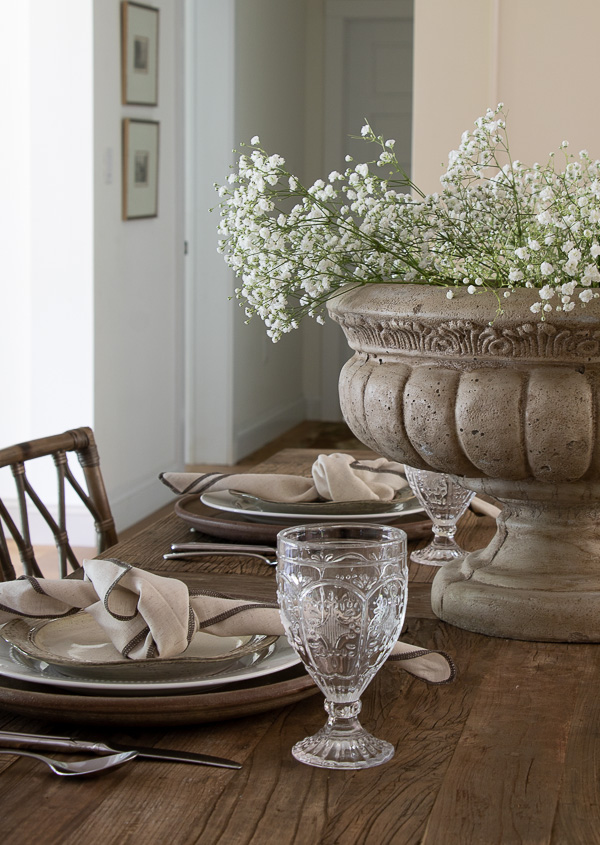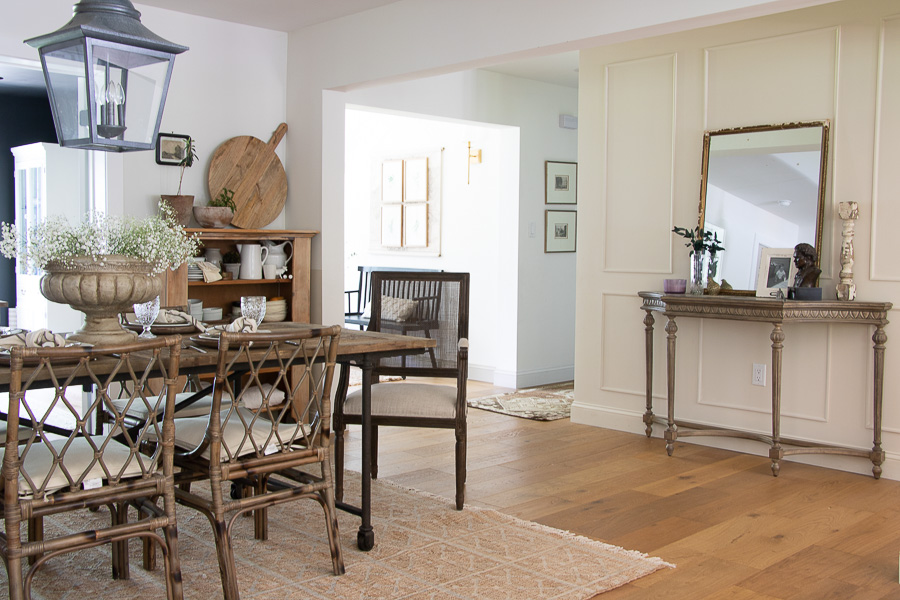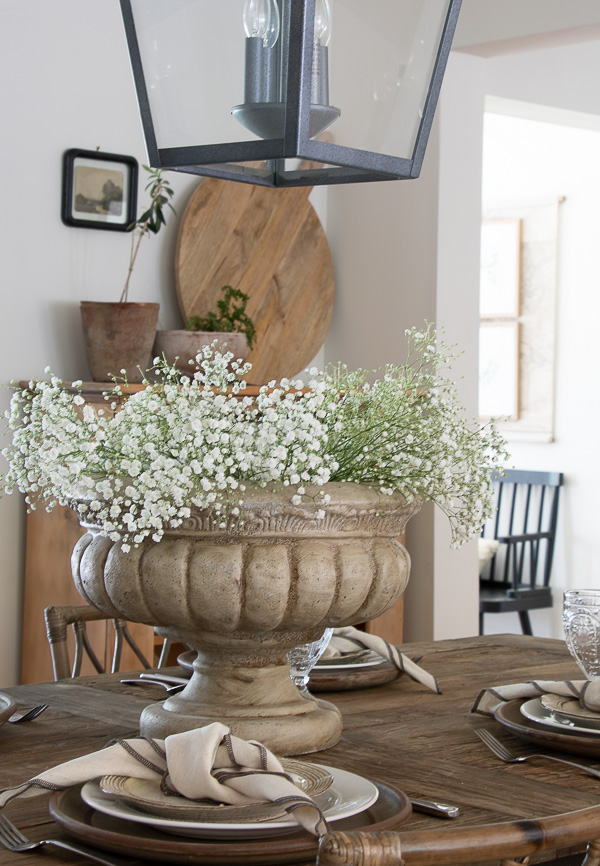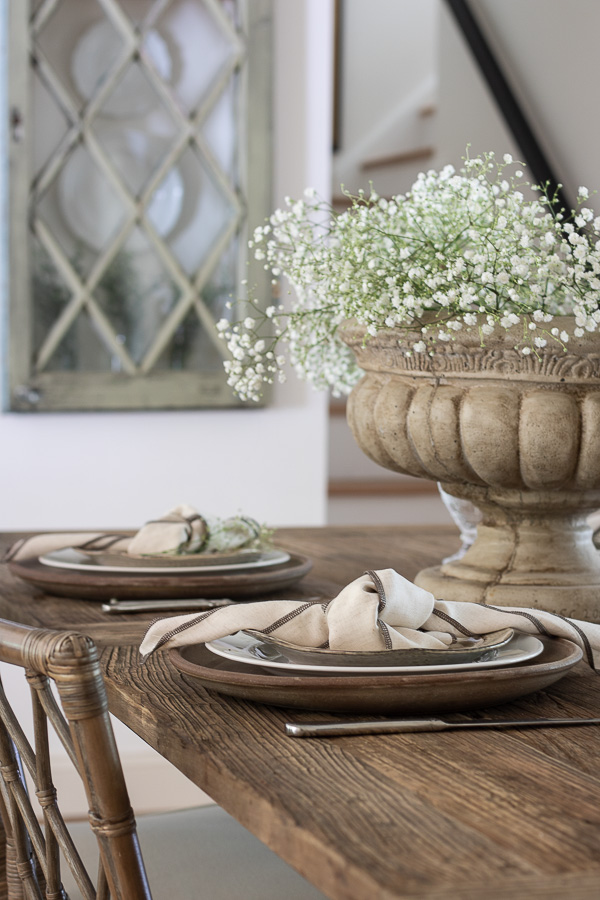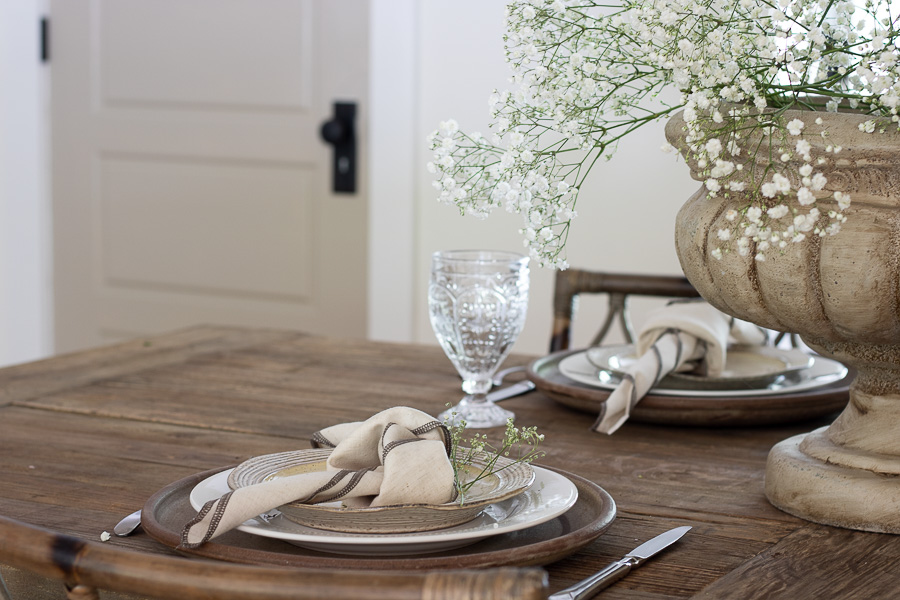 Dining Room Source List:
Table- Restoration Hardware
Napkins– Clearance price
Glasses- TJMaxx (a few years ago)
Urn- Homegoods
Off of our dining room is our family room and kitchen. This home is so very different from our previous home because everything is open concept. I love the flow of our home but I do miss having separate rooms. I think especially for the dining room. I decided to decorate this space very bright and casual for the lazy days of Summer. I wanted to pair our new sofas with some white pillows, I added a linen tablecloth over our coffee table for a new look for the season, a large rusty bucket with this Lavender Topiary I found at Costco, and some greenery on the shelves.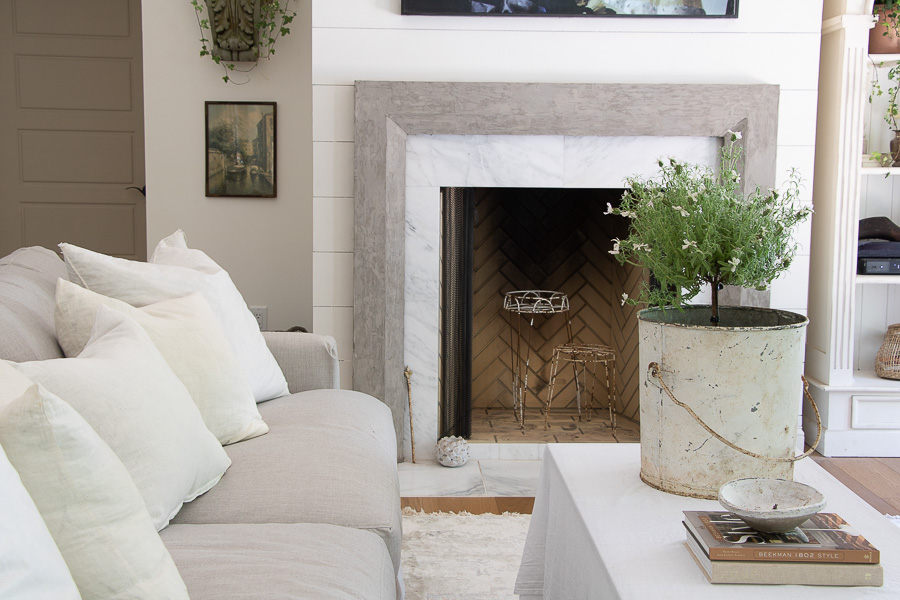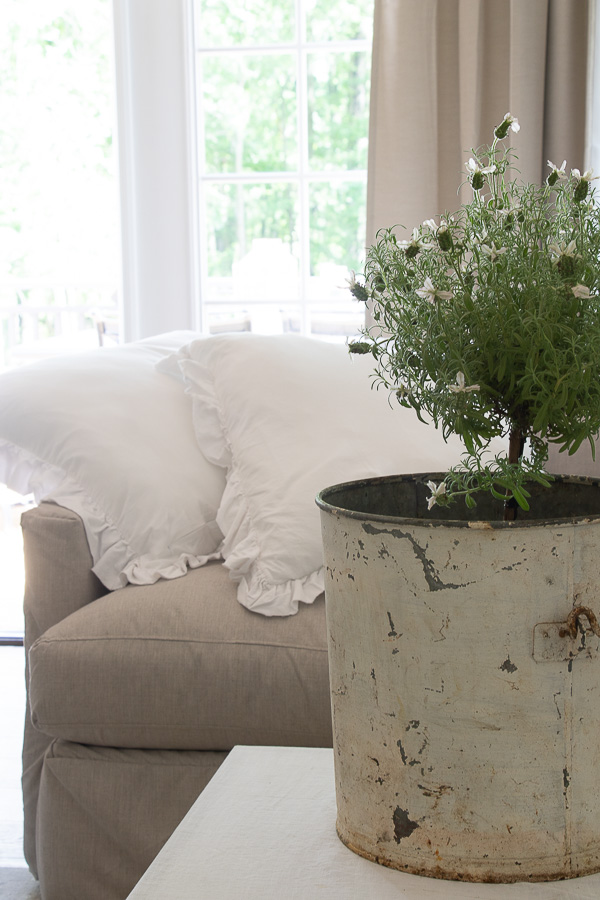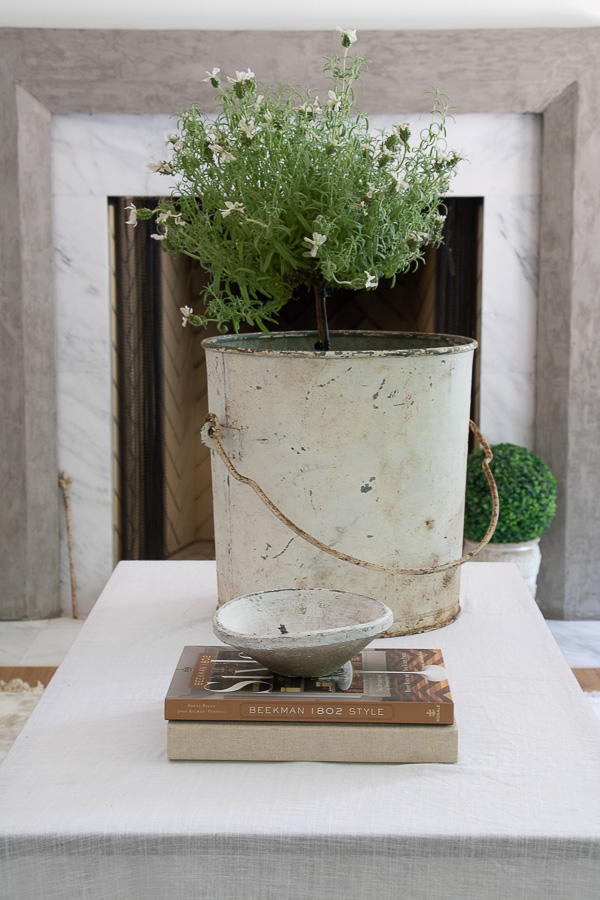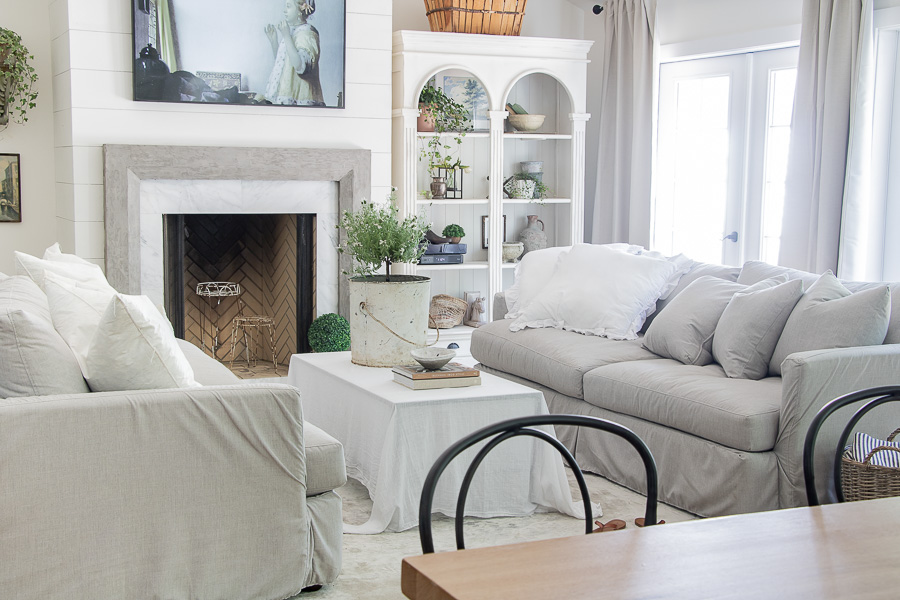 Our kitchen as you can see it open to our Family room. I kept it super simple here. I love some of the house plants I've added this year like a Fig tree, orange tree, and some ivy. I'm working on that green thumb of mine and learning little by little.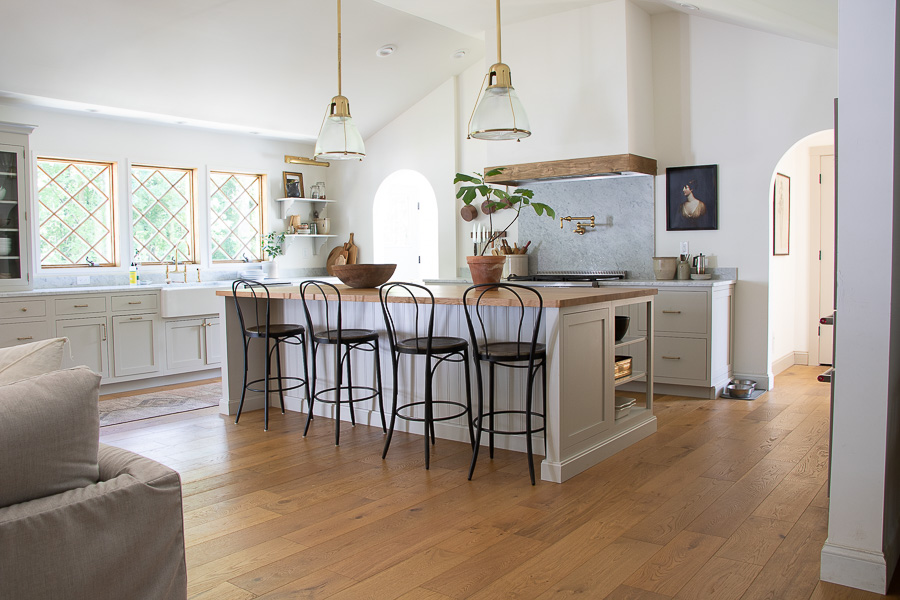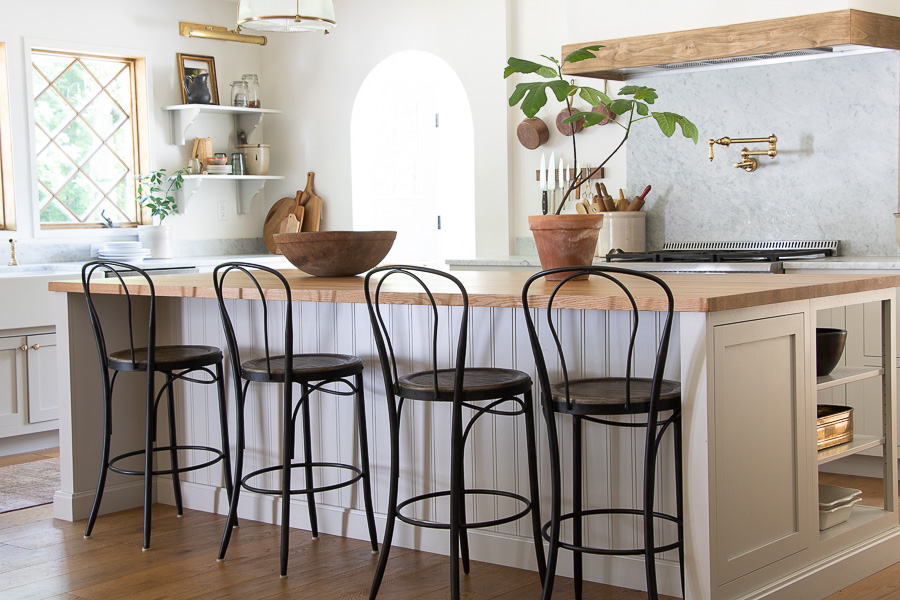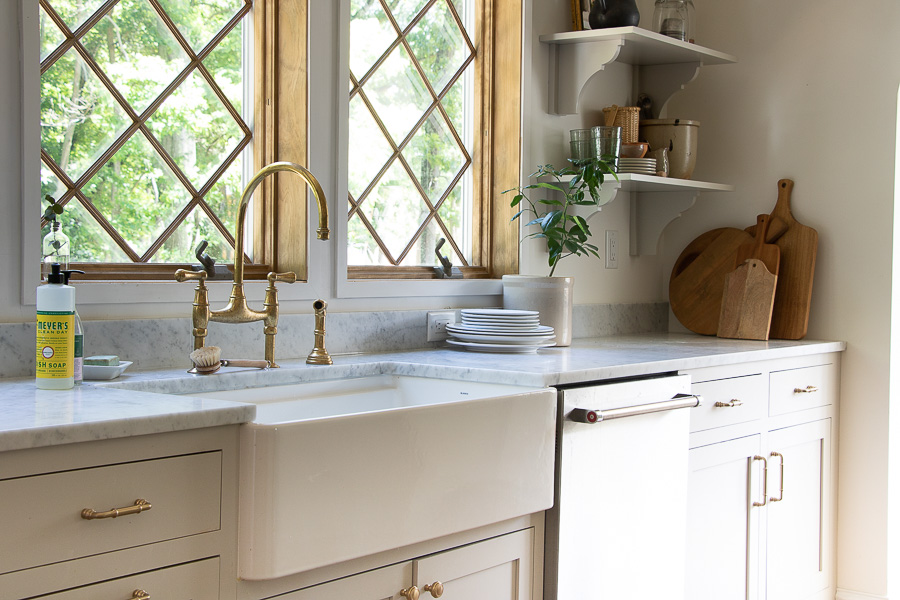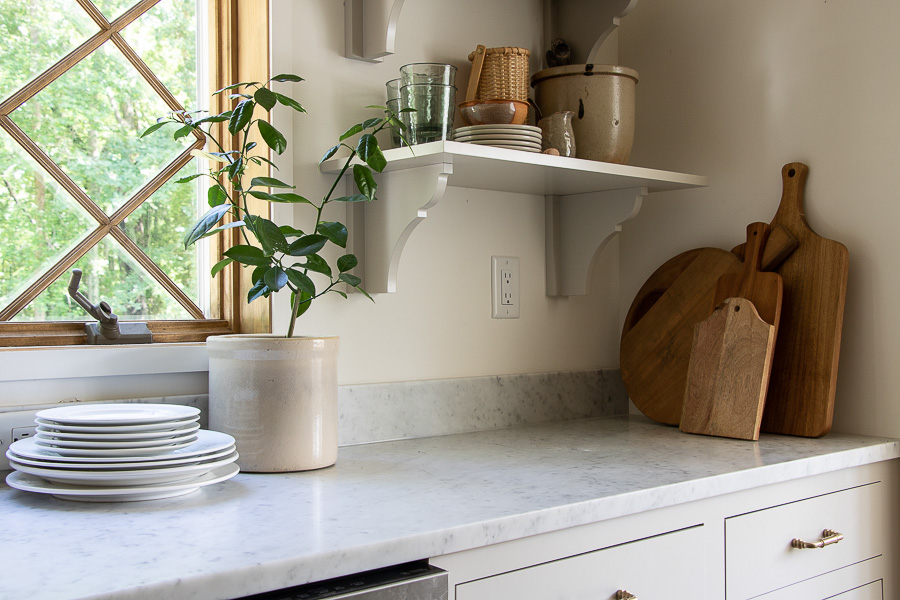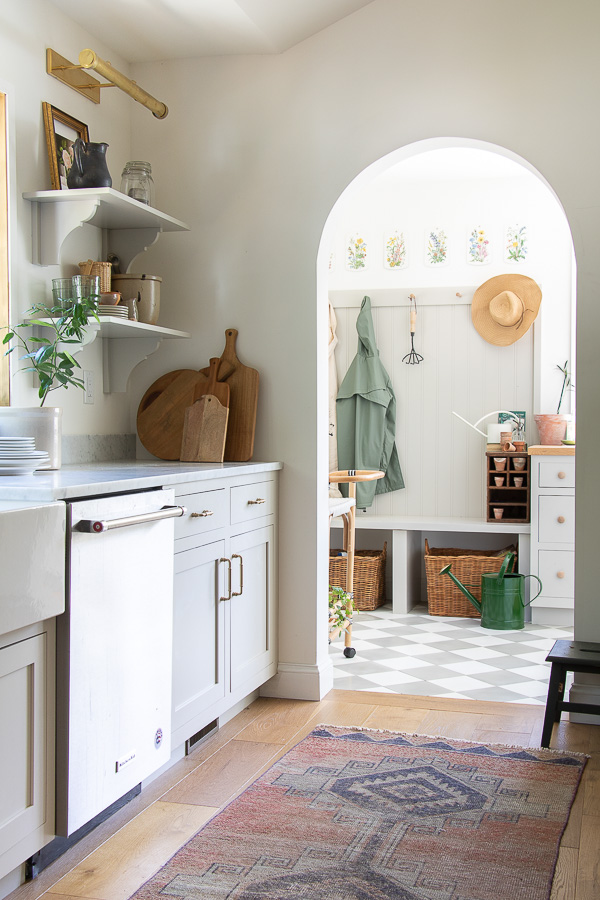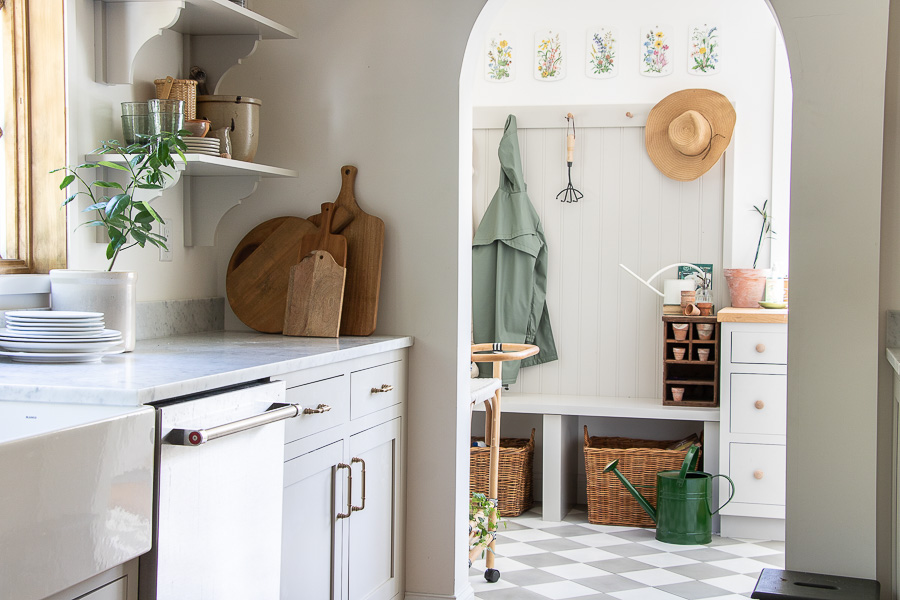 I've got my potting room off of the kitchen that I've added some tiny terracotta pots to and floral prints. Loving the look of the space and how well it functions to water my plants.
Hope you enjoyed this tour, we still have a ton of work ahead of us to get our house feeling complete, but looking forward to enjoying our new home for the Summer. Be sure to head on over to the next amazing and beautiful home-Our Southern Home. Christy always does an amazing job and her home is so unique and special.
Please PIN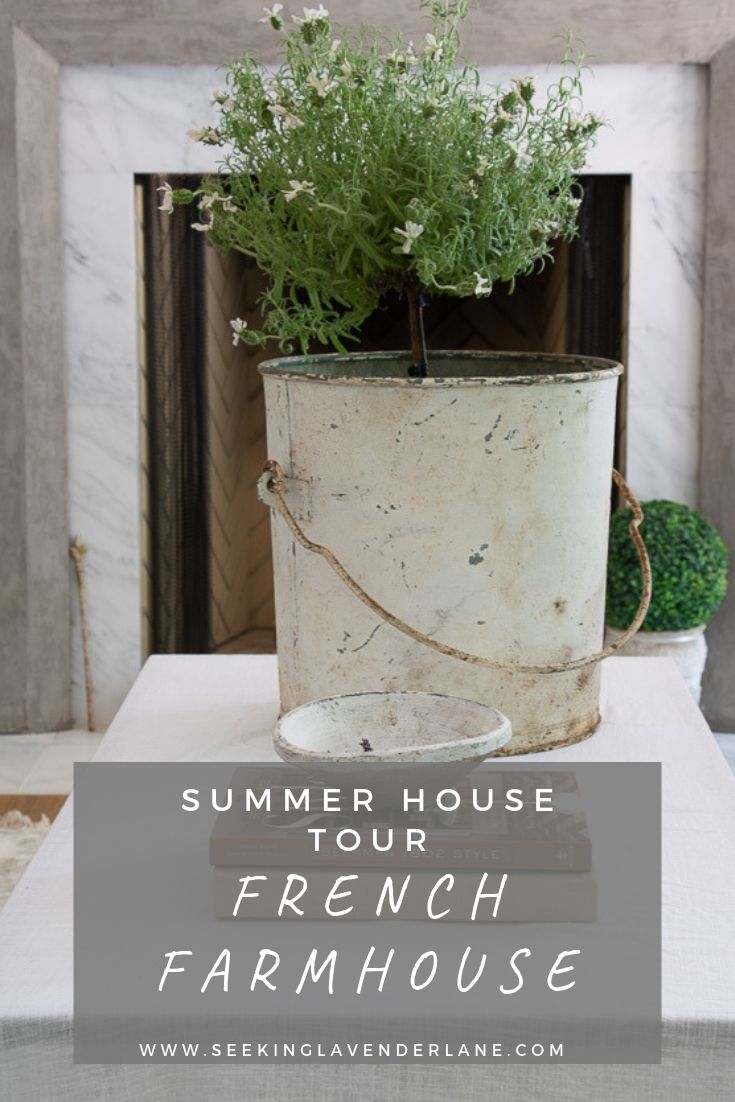 Be Sure to check out the other Home Tours being shared this week!!!
A Stroll Thru Life , Southern Hospitality, Far Above Rubies, Cuckoo4Design
Setting For Four, Pink Peppermint Design
Remodelando La Casa, Inspiration For Moms, ZDesign At Home, House By Hoff ,
Duke Manor Farm, Decor To Adore
Haneens Haven, Monica Wants It, The Chronicles Of Home, Follow The Yellow Brick Home
Thrifty & Chic Hymns & Verses
Clean & Scentsible , Sincerely Marie Designs , 11 Magnolia Lane , Thrifty Decor Chic
Seeking Lavender Lane, Our Southern Home
White Arrow Homes, Our Fifth House, Modern Glam, Designing Vibes
Decorating Delirium, Life On Cedar Lane
(Visited 14,468 times, 1 visits today)