Kitchen Light Fixtures
Hello dear friends, it's been a bit longer then I had hoped to have hopped back on here. I came down with this crazy thing this week. My neck started bothering me on Tuesday and I thought I just twisted it too fast or something. Well, that turned into me going to the Dr. and finding out that I actually have a cold in my neck. I've been in a lot of pain and really haven't done much in two days. Today I finally decided to pick up my computer so I can get on here and share this post with you. It's one I've been so excited to share about and did not want to wait another day to share it with you. So, you all got that first glimpse of our Kitchen last week. I was sooo excited to share that with you all as you know my kitchen has been something that I worked so hard on to design. It really sparked so much interest in Kitchens too and I feel it may be my favorite room to pin on Pinterest. I never loved kitchens more until I spent so much time researching design and trends with kitchens. So, one of the big moments in a kitchen today is the light fixtures. First, I need to disclose that I really love light fixtures. I truly think they immediately bring a space personality and can update a home with one small change by investing in a trendy or gorgeous fixture. One of my favorite looks is something over-sized and dramatic. All the fixtures we have in our home have made a statement but none like the ones we chose for as our kitchen light fixtures.
This is a collaborative post with Hudson Valley Lighting all opinions are my own.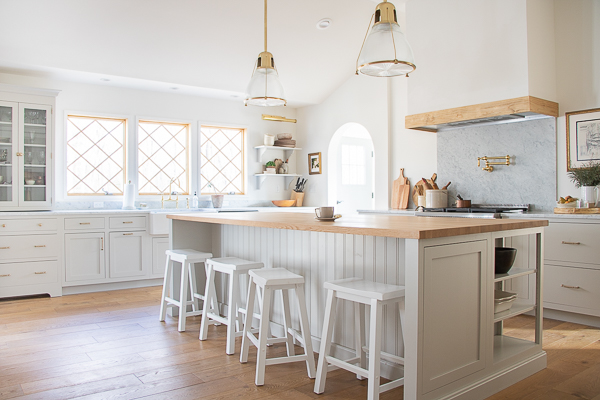 So, I have to say this was a really, really hard decision. I searched everywhere for kitchen lighting. I knew I wanted larger size pendants over the island and then a picture frame light above our floating shelves. Not sure if you've seen, but picture frame lights have made a comeback. Just google it and you'll be in love too! So, my initial thought for island pendants was to go wicker. I knew they were trending and I thought they would add that nice warm texture to the kitchen. I wanted something that felt casual but refined so finding the right wicker pendants wasn't easier. The one that I had first ordered  I was really disappointed in…so I decided to return to the company and keep on searching. Then I came across Hudson Valley lighting. At this point my butcher block counters had arrived and I was starting to feel that the butcher block brought enough warmth to the space that maybe wicker was the wrong way to go. Let me just start fresh here and just browse until I find something that stands out at me.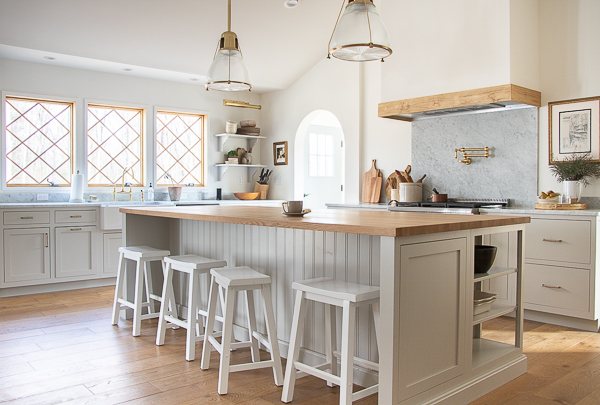 So, with that being said I also did not want something overly trendy. I've seen a lot of "funky" fixtures and though I appreciate them in other peoples homes I wanted something more timeless. After all, this is a big purchase and one of the most important finishing touches to the kitchen. Choosing something that is going to go out of style in a few years wasn't what I wanted. So, then I found them! They were the perfect bit of vintage, the perfect bit of brass, and the body of the fixture was glass (which goes with everything). I thought glass is the perfect material to not compete with the rest of the details of the kitchen, but then having a touch of brass will tie back to all the brass touches in our kitchen. I loved the ribbed glass too because that truly felt vintage and "french" and so I knew I had found the right lights for my kitchen…finally! The size is the 16″ diameter and the color is the aged brass.
j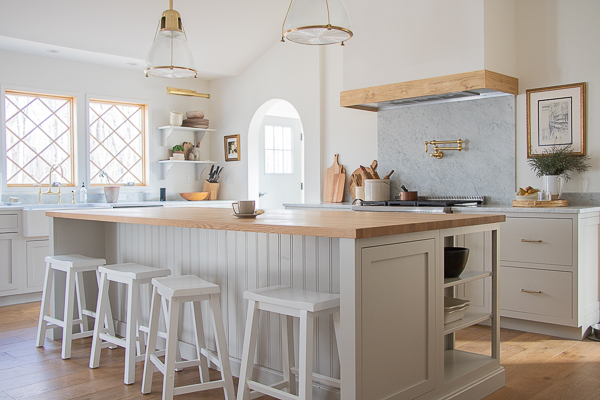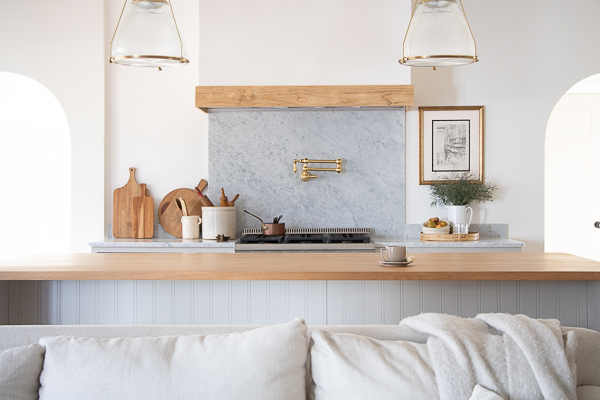 I was still on the hunt for a picture frame a light and surprisingly as much as they are trending…not too many webistes have them. So, I was thrilled to see a beautiful brass picture frame light on their website. This was a done deal…match the brass pendants and I can picture everything perfectly together.
j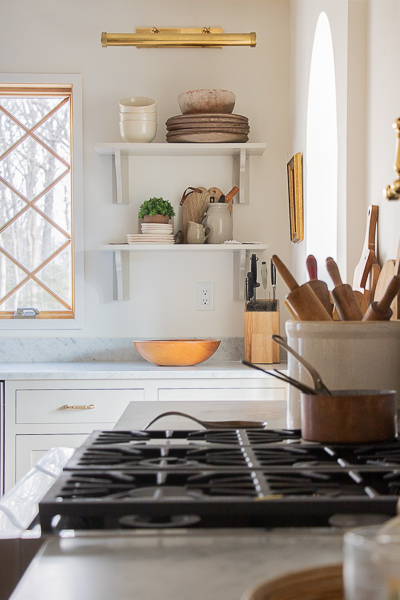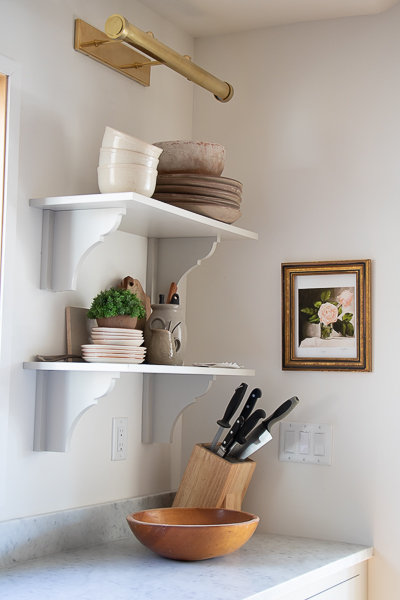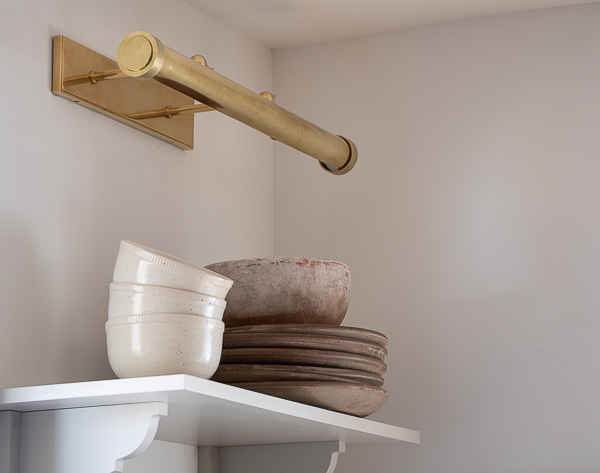 Within days, they arrived at my door and I was even more so excited when I opened the packaging. There's something about seeing something online and then seeing it in person. It's always better in person…am I right? Seeing the scale of the fixtures and the finishes I knew there was no mistake these were the timeless kitchen fixtures I've been searching for. It's like finding the perfect pair of earrings for that evening dress. They need to complete the look but not steal the show. The lighting is the perfect glow for ambiance and then of course for cooking. Couldn't be happier…and let me tell you Hudson Valley Lighting has so many great choices that this could have been really tough. I fell for a few other styles also, but in the end chose what was meant to be all along.
j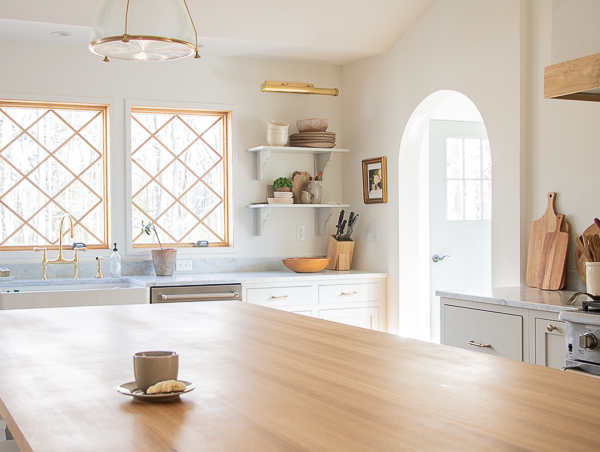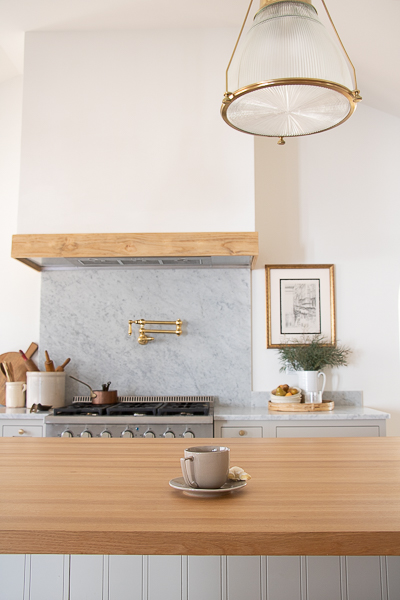 Oh and you might recognize a few other changes to the kitchen. I felt our hood needs just a little something…though I'm not sure I'm totally feeling the stained finish on the wood…I'm living with it until I decide maybe something different. The whole look of this kitchen was suppose to be subtle simple and understated and of course French, so I'm not sure if it screams farmhouse or too rustic…or even too warm. Like I said I'm living with it but I have a few ideas already.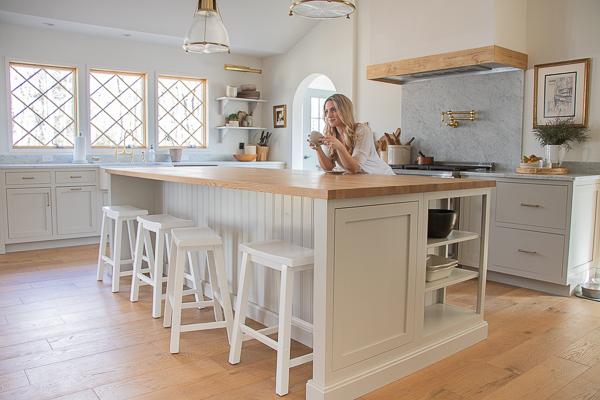 Please share a pin below I would appreciate it so much and thank you so much for stopping in and catching up on this update to our house. As much as I'm not feeling well it's wonderful to sit in a home that I love and comfortable in. I couldn't imagine feeling how I do if we were still in the trailer.
Source list:
(Visited 1,837 times, 1 visits today)