I found this beautiful Vintage Desk for $35 about two months ago on Craigslist. I thought I would be purchasing it and flipping it to re-sell…but then I got it home! It felt like just the right size for our living room and Lord knows I really needed a work area in our house. Since we don't have an extra room or office, the piece felt small enough to not overwhelm the living room space, but felt like a nice collected piece along with all the other furniture in our living room makeover. So, of course I knew it was going to need a makeover, and since I had been super eager to test out some Miss Mustard Seed Milk Paint, I thought this would be the perfect piece to try it on. Luckily I found a little shop up in Rhinebeck, when I was visiting last weekend for the Country Living Fair, that sold painted furniture and paint for furniture including Miss Mustard Seed Paint. I instantly asked for the Typewriter black which I knew would be classic yet dramatic enough for this little desk.
Here's the Before of the Vintage Desk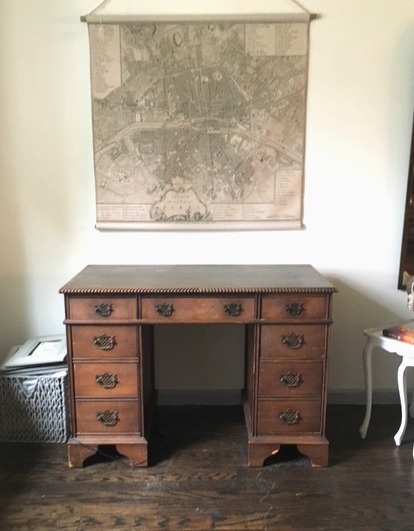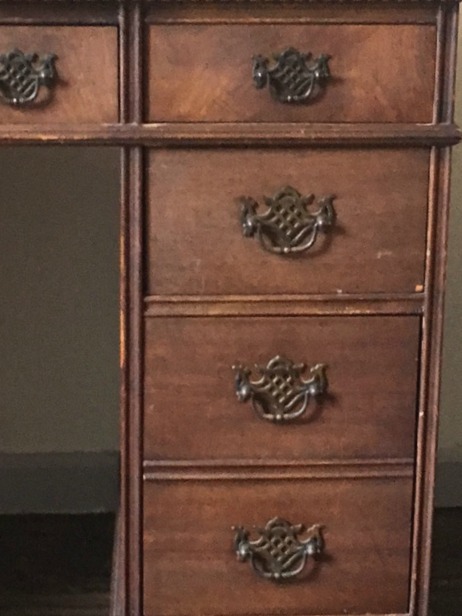 It definitely is a petite size, has great storage space with all it's drawers, and fit right into this little nook in our living room. Can I say, I was finally excited after two months of having this in it's originally state, to finally give it, it's proper makeover!
Now, if you've never used Miss Mustard Seed paint, you're in for a treat! I absolutely loved working with this product, because the application was easier then chalk paint, it dries beautifully, and easy to sand. I would say the only negatives of the paint is that it takes a bit longer to dry then chalk paint. I had to wait a few hours before doing my second coat. Now, the typewriter black is a nice chalky black color. It goes on pretty dark, but dries slightly darker then a charcoal. If you want a bit more of a dramatic deep color add some dark wax to enhance the color. I did not use Miss Mustard seed wax, but used what I had on hand which is Annie Sloan clear and dark wax. I asked the store owner when I purchased it, if she felt it would be fine and she said definitely. She mixes a lot of different paint products and that it should be good…use what you're comfortable with and have on hand.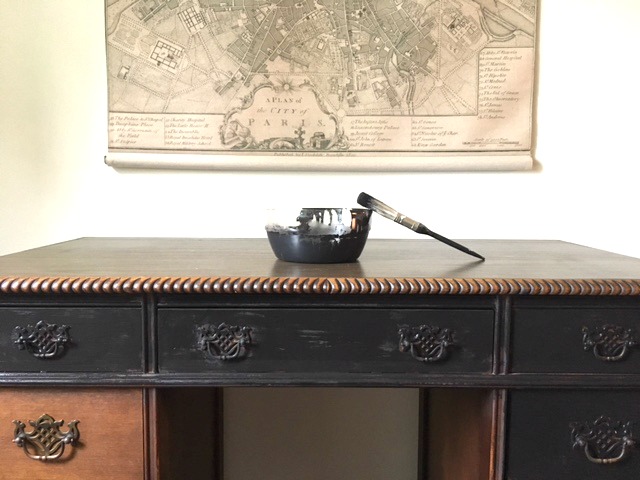 Here's what the paint looks like during! Remember this is a paint product you have to mix yourself. It definitely took me a bit to get use to mixing the right consistency but I seemed to get the hang of it.
After I did two coats, I let it dry over night and then sanded down a bit to distress the edges, and then went over with a mixture of dark and clear Annie Sloan Wax.
and Here's the after of the beautiful Typewriter black Vintage paint desk.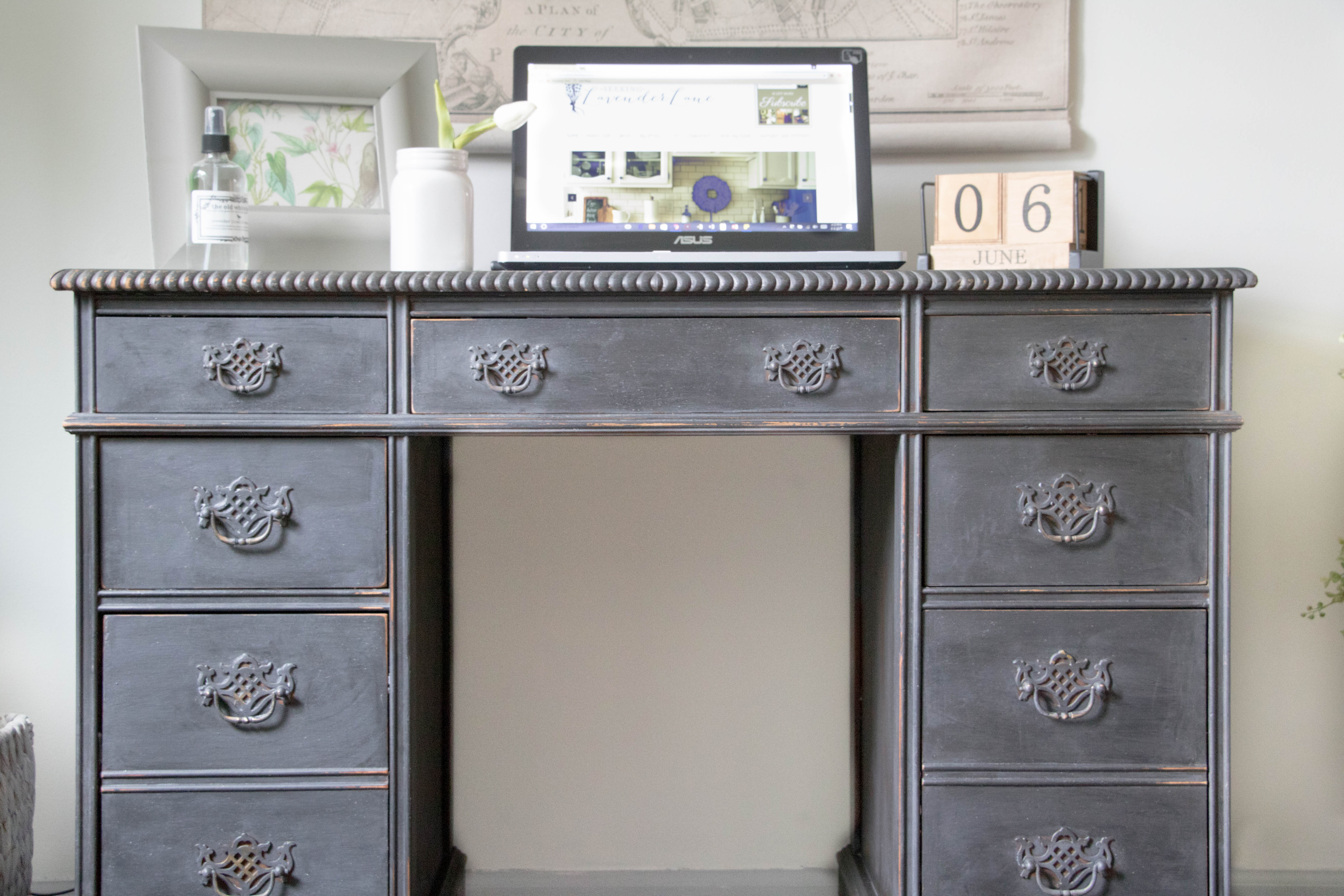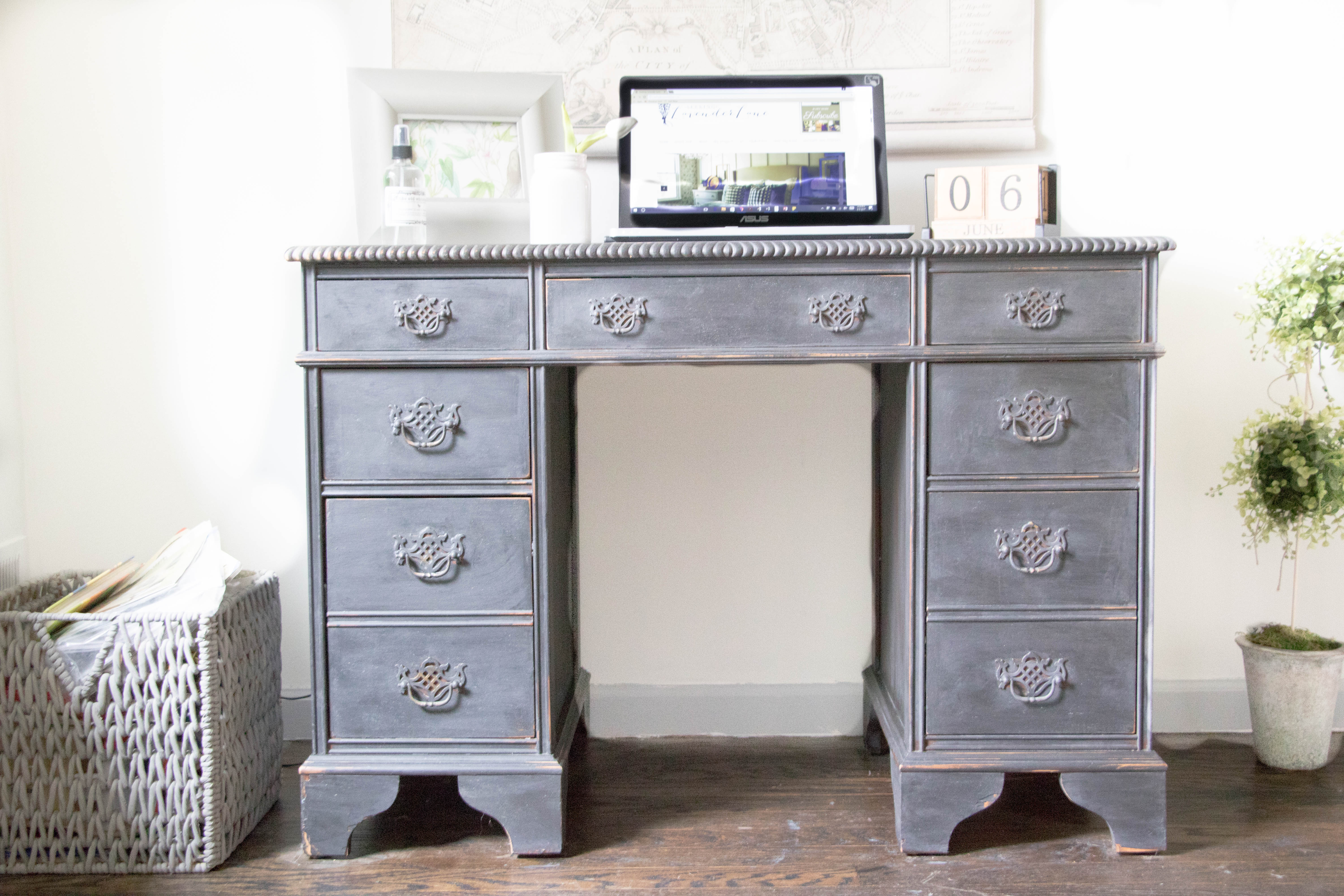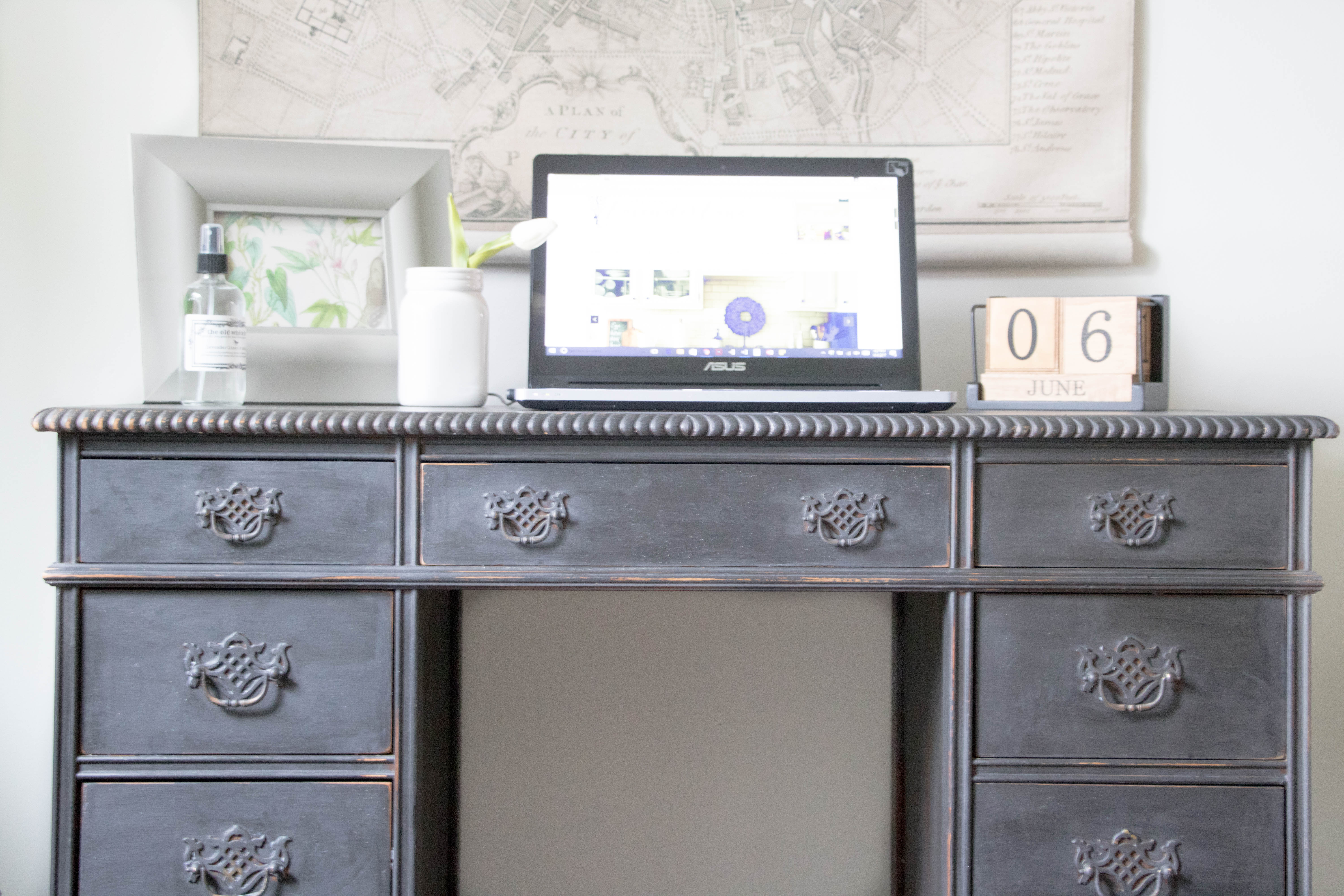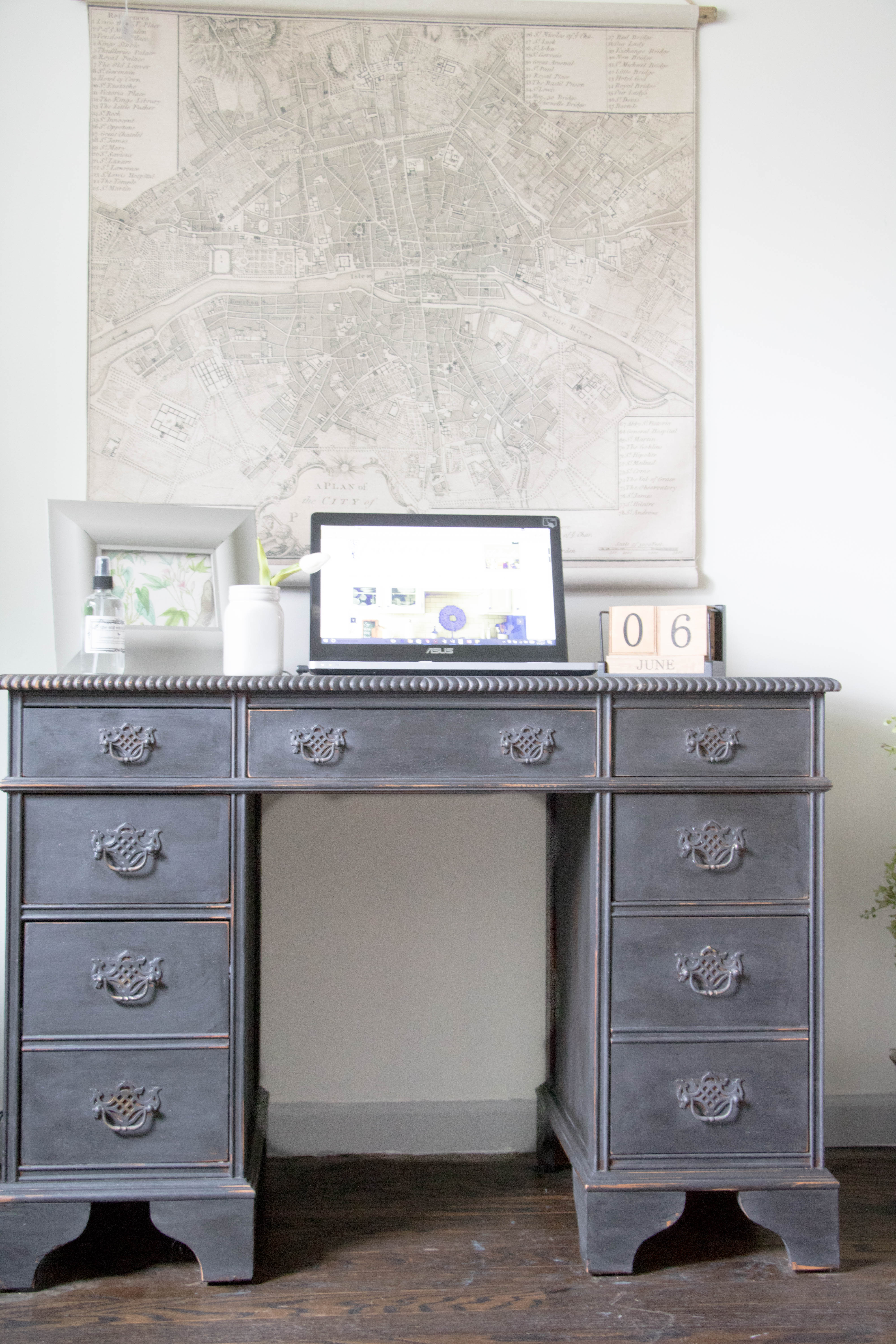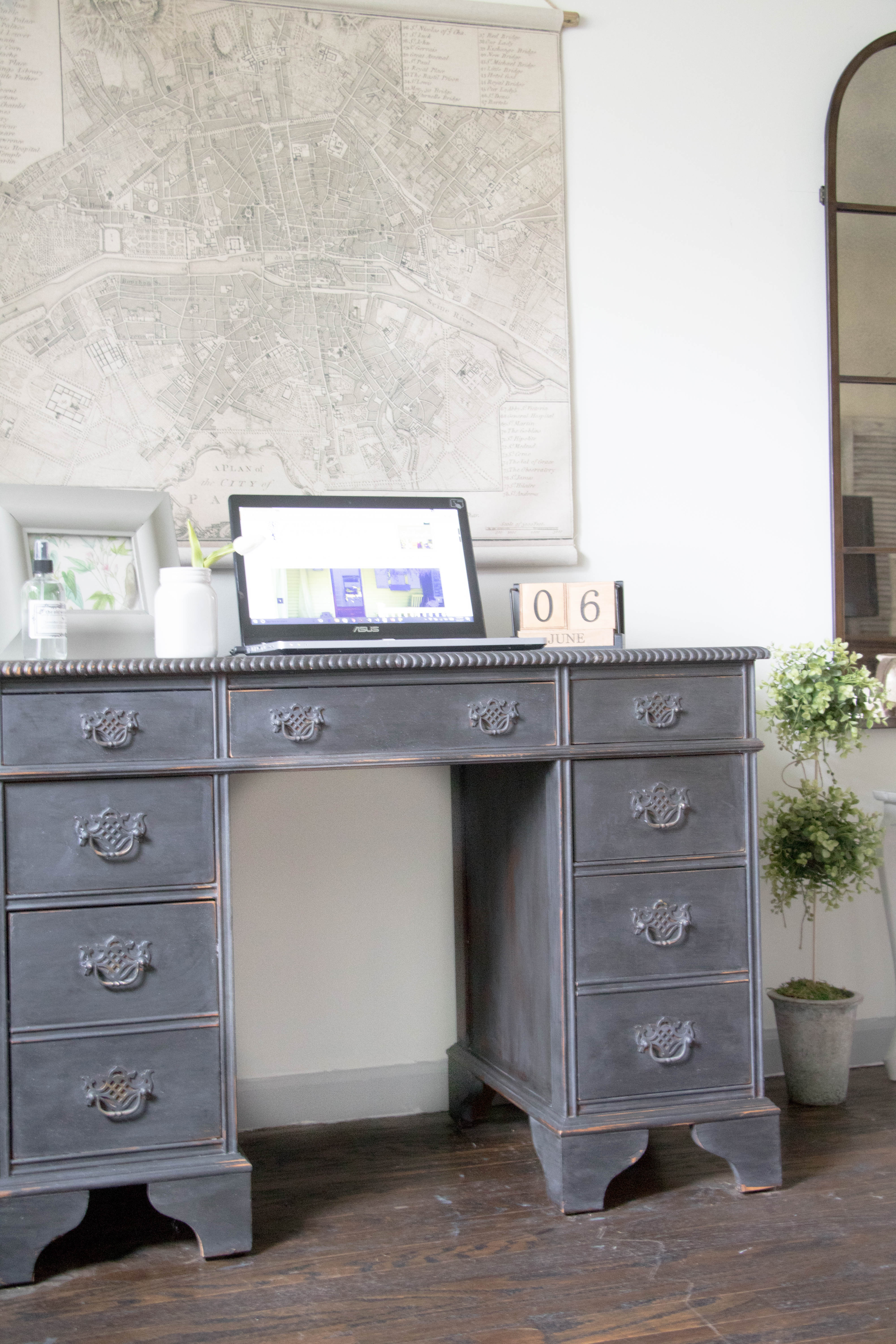 I have a few more details left for this room over all, but it certainly pulled together having this newly painted vintage desk. I think one of the hardest things to find is a chair that can fit this petite size desk. Everything seems to be too wide for the desk opening. I'm thinking maybe a cute bistro chair or a stool. I'll share when I find.
PLEASE PIN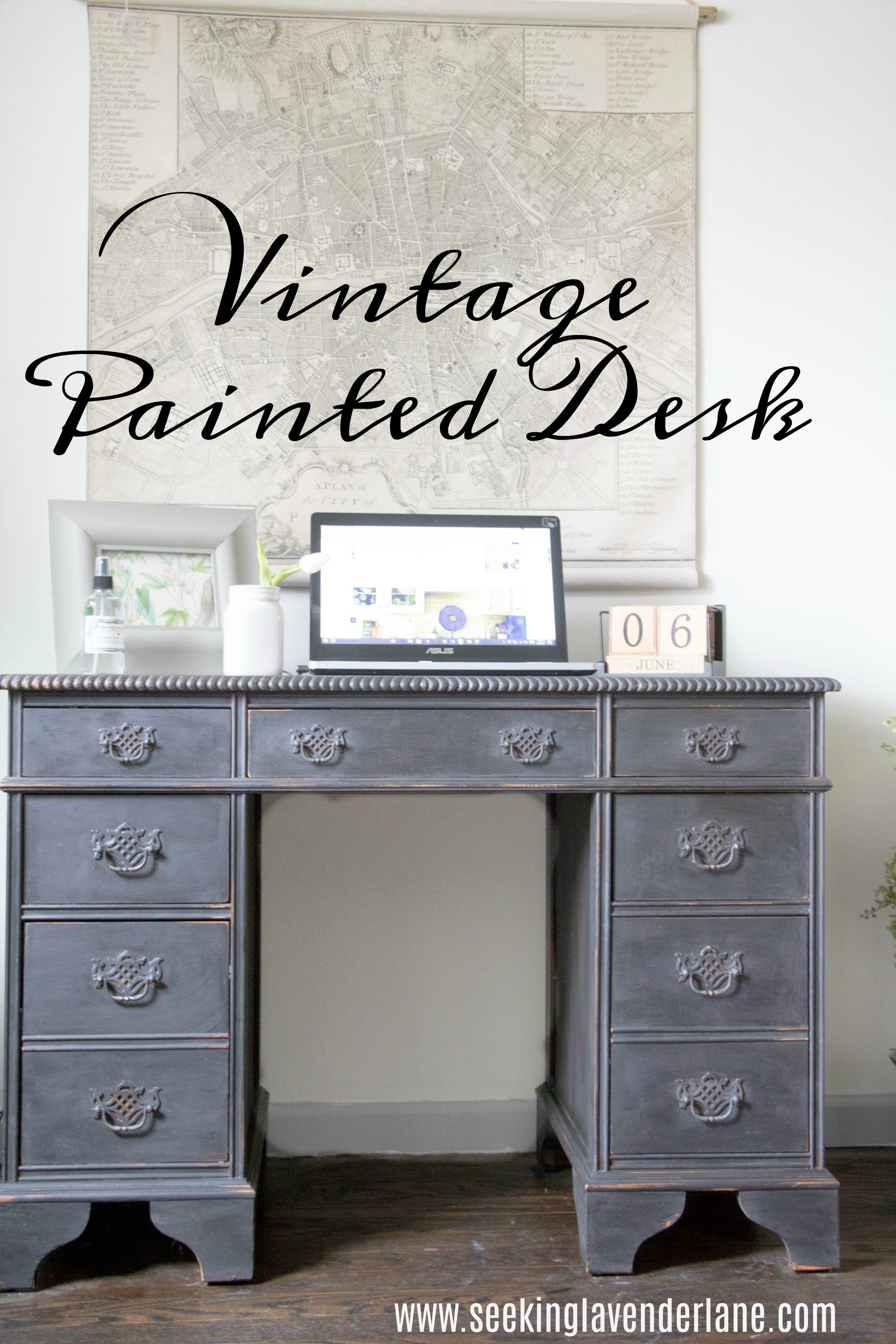 PLEASE STAY A WHILE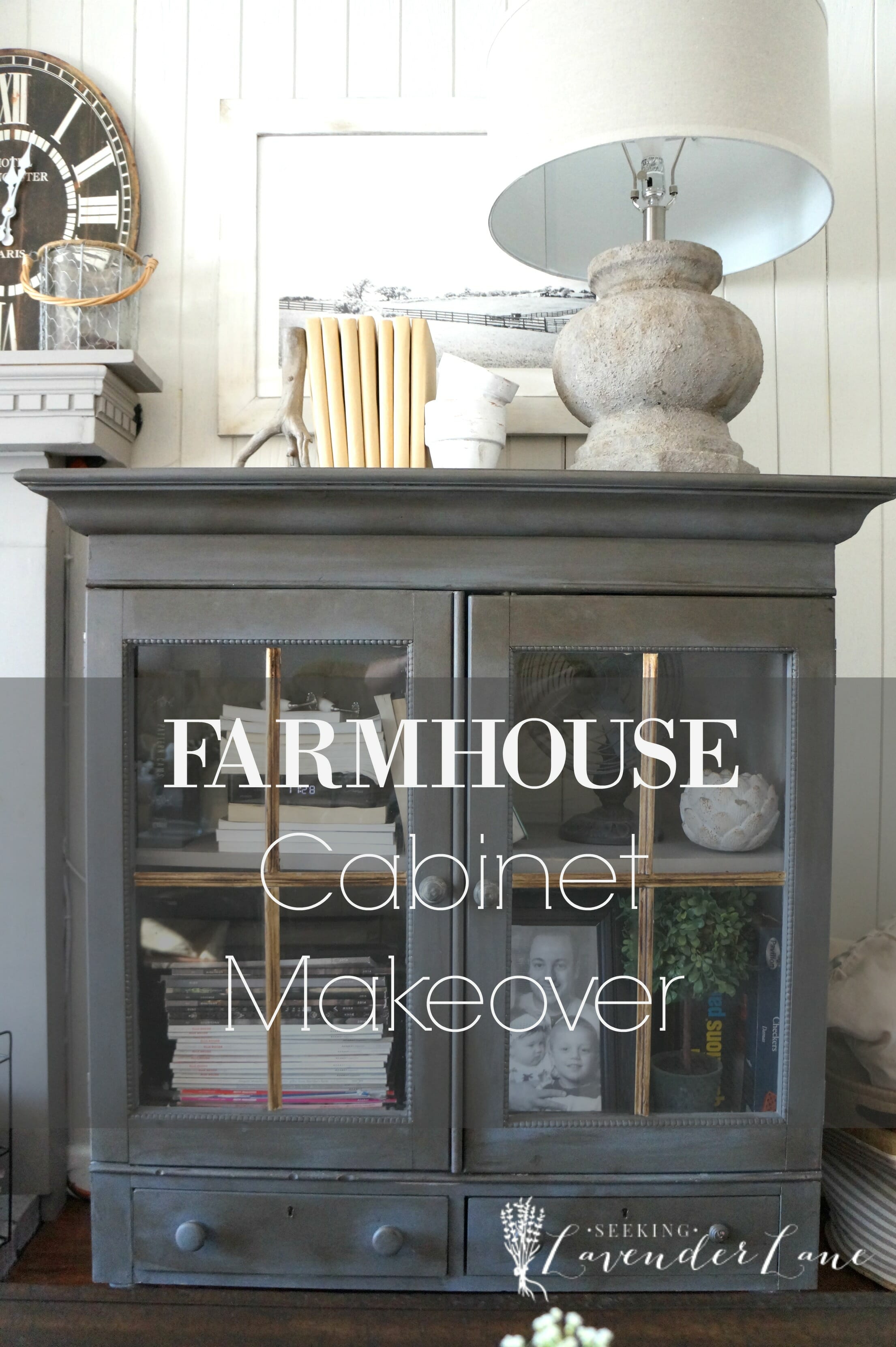 (Visited 167 times, 1 visits today)