The Truth about living in an RV full time.
Can you believe we are going on a month and a half already in the RV. I can't even believe it's been that long…and slightly surprised I've survived it. I wanted to give you all a True Life: living in an RV post so you all know what our experience has been like. This may be something you are contemplating doing yourself so to hear what is to be expected and what are ways you can survive yourself. I do have to say it's not that bad most of the time and sometimes it's even quite enjoyable…but there are quirks to it and I look forward to sharing it all with you.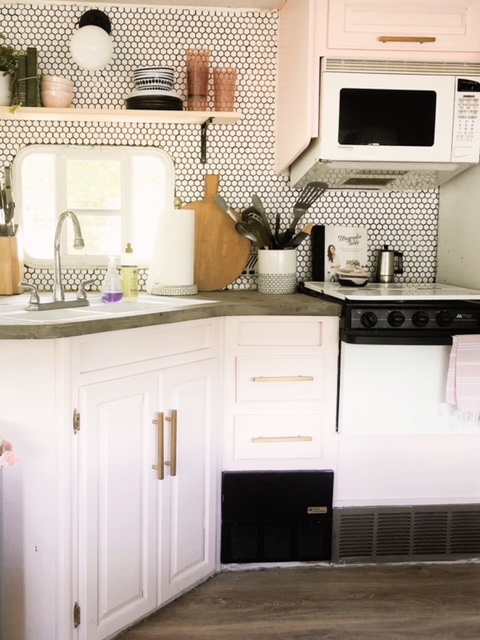 So, let's talk about the obvious…downsizing and living tiny! So, our trailer is 38′ which is actually pretty spacious. I think if we could do it again or if we had found one in our budget we would have definitely preferred a fifth wheeler. I mean they are obviously much more roomy with their high ceilings and makes bumping your head a lot less possible. With the slideouts on the RV they come to about 5'2″. So if you're tiny like me you're in luck you'll never bump your head unless you're wearing a top knot or heels. Hubby bumps his head quite often and he whines about it a little bit too. The small living as you all may be thinking doesn't help with privacy, but fortunately, we are not a super private family. If we need to change we usually do so in the bathroom and we take the time of living in close quarters as a way to bond more. Having two separate rooms definitely helps especially when it's time to get work done or I need a little time away from the kids. They too need time away from mom and dad so the decision for putting the kids in the back room was the best decision we made.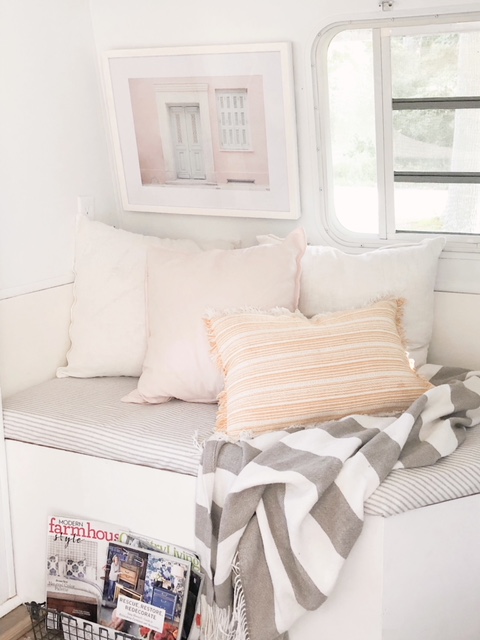 What are the perks to living in an RV, while our renovation goes on?
So, for one we get to see when the workers show up and I like keeping track of that. Not sure if it makes time go slower or not but it's good to see it all happen. Also very educational too since I love seeing a house truly get made. Getting to know our neighborhood and neighbors has been another perk. We get to use our property and of course, save a ton of money. That's really why we chose this route. We knew we were going to have to save money somehow since rent and mortgage just were not possible. So staying here we are only paying for electric and our mortgage every month.
What do I absolutely HATE?
So, I can't say I hate living here, I'm not sure I'm the full-time RV/camper life kind of girl, but knowing it's temporary I don't mind so much. I think what I would say I hate most, is not being in my house, the toilet situation because it gets smelly. We get about 10 days out of the tank and then have it pumped. Around day 5 it starts smelling and we douse it with the "blue stuff" and I even put some baking soda and vinegar down too to break up that smell. Fortunately, it's not that weird using a camper toilet (I totally thought it would be worse) but I am definitely counting down the days to using a real toilet again at home. The shower is another situation that I wish was a little better. We did upgrade to this shower head which made life much better. The pressure is good since we switched shower heads. The temperature is another story…I say I get around 1-2 mins of hot water depending on when  I shower. So the last few minutes or when I have to shave in the shower it's not usually fun. I've taken quite a bit of cold showers too, especially if you're showering right after each other. My poor kids have this issue more then I do since I generally shower when no one else does. My kid's now fighting who's going to take a shower first rather than who's going to take a shower last. I've heard getting a tankless water heater could solve this problem but I'm not sure we really want to drop any more money on the RV…unless it looks like we will be here into November then those hot showers are going to be needed. Not having a dishwasher is another one of those not-so-fun parts to being in an RV full time. I've never lived anywhere without a dishwasher so getting used to washing dishes all the time hasn't been super easy. Speaking of messes, the RV is always messy! I don't even know how to take photos in here because thre is stuff everywhere. I feel like I am always cleaning up, but those "deep cleans" are certainly much quicker then they are in a house. Lastly, would be the fact that there is definitely more bugs in here. No matter how much we spray or leave ant traps we certainly have a good amount of ants roaming around and the occasional spider bite. I've wrapped up all the "sweet" products in ziplock bags so this way they don't get in, but they still like to roam around the pantry.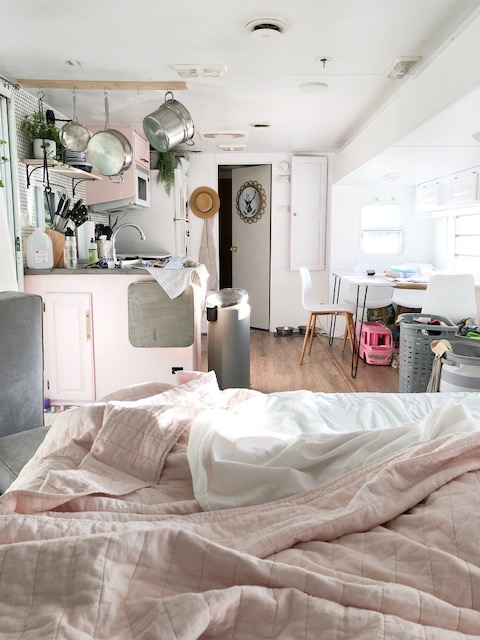 this is more of a realistic point of view, the messy camper!
What I actually enjoy!
Well, for one the journey! I know as I say over and over again, we will never forget the Summer that we lived in the RV. I love that we are sharing this experience with our kids and showing them sacrifice as well as the idea that home is truly wherever we are together. I so believe that too, because though we get cramped in here sometime and some days we just can't wait to get out of here…there is always that settling feeling of coming home and putting our feet up. Coming home to my family and feeling super relaxed even in these tight quarters. Also, after fixing up the RV it makes the RV feel so much more like home. I just love being able to decorate again (even if it's just a little bit). My pink cabinets also make me happy and having open shelving that I can switch up from time to time. I'm already thinking about what I'll do here for Fall. The light in the RV is also so awesome! We get so much sunlight in here which makes me happy. I think having such a small space having all this natural light is so important.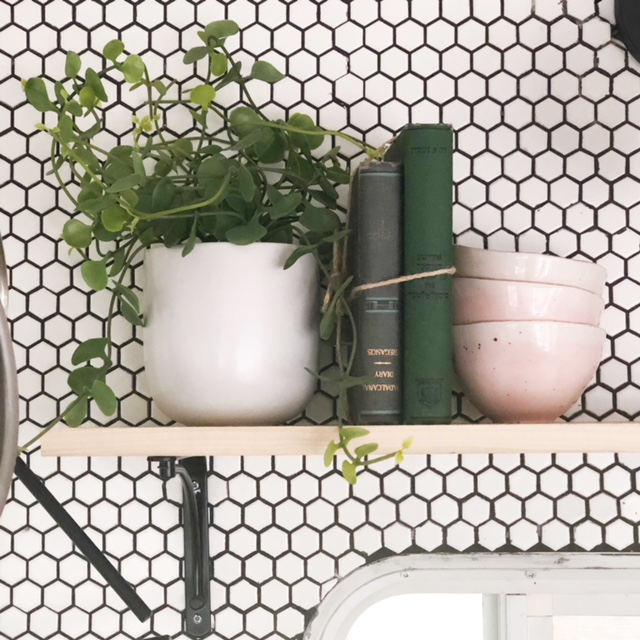 Some of the other quirks to living in an RV, is that sleeping on a sofa bed is not that much fun! We bought this mattress topper which has helped sooo much, but we so miss our bed. We also take our pillows and bedding off every morning and fold them up and put them in our bench storage. I am so glad we added the bench for not only seating but also for the storage option. The storage in here is definitely tough. I kind of wish that I limited our clothes a bit more before moving in. We all have found our own spot for our clothes (hubby even went back to the days of plastic drawers again). I do have to say I have never been a neat drawer kind of girl and my drawers and clothes are definitely messier than ever.
Overall, we are making life work here. We miss having an outdoor space and a little bit of that normalcy, but at the same time we are laughing at our life, rejoicing in the moment, and thinking about the future of remembering it all. If there is any specific questions that I could add to the post please let me know. I think if you plan on going full-time RVing or thinking about living in your RV while your home gets built expect life to be a little unsteady and try to plan as many activities as you can to get out of the RV and make time pass. Also, making your RV feel as much like home as you can to make it less temporary. Having a lot of my decor around me was something I wanted to make sure to bring to the space since those are things that make living here feel like home as much as it can feel like home.