Ever feel like you have a wall in your home, or maybe an entire room that feels so blah? Well there are still a couple of those in my house…but that's also because I can't ever keep anything the same too long…I definitely have Decorating A-D-D.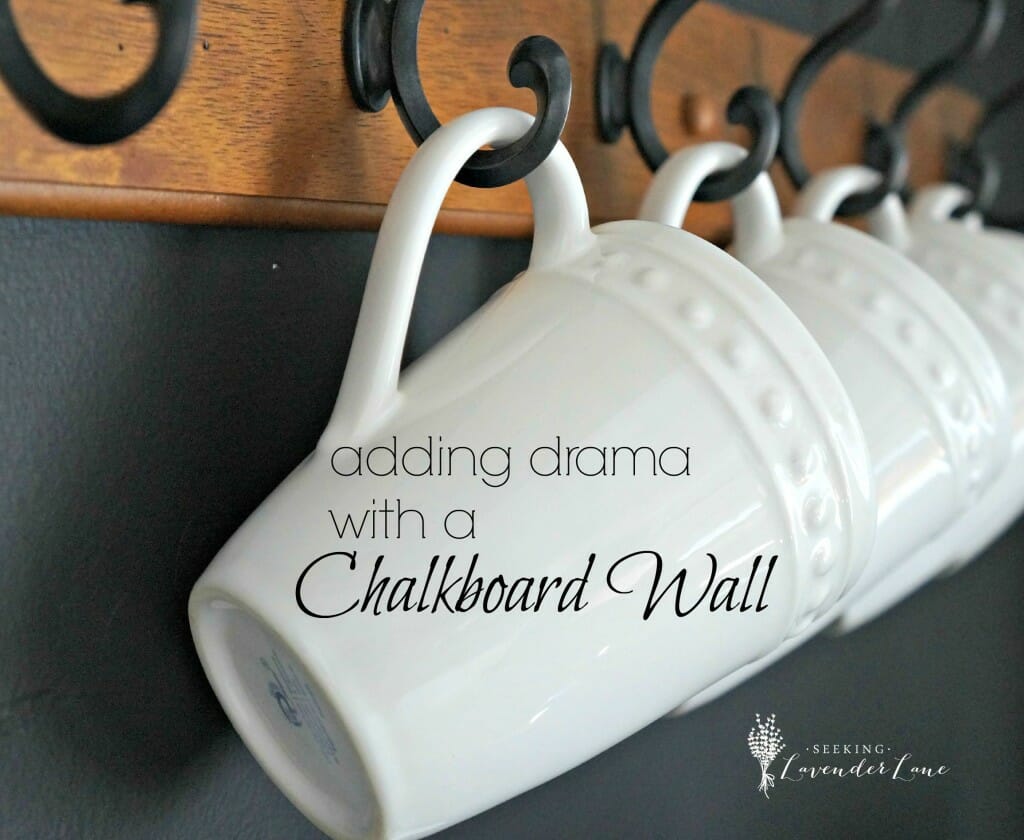 Anyhow…that is exactly what was going on in my kitchen. The Kitchen definitely has come a long way, and you can read about our $400 Kitchen Makeover here, but where I had added a coffee nook in the far side of our Kitchen…it was feeling pretty boring. Though I love the idea of having the coffee nook which also helps since we have very very little counter space, I felt unsatisfied with the way the wall looked all together. I think it was the color, and the mugs, and the accessories on the shelf ; that were starting to bore me…and I am still anxious to get a new table (since I have been using a sewing machine table from the 70's). Well, it all hit me when I was on vacation and we stopped at The Paris Market in Savannah, Georgia. If you are ever in Savannah this is a must see store! Well, instead of me just describing their coffee bar let me just share that picture here one more time.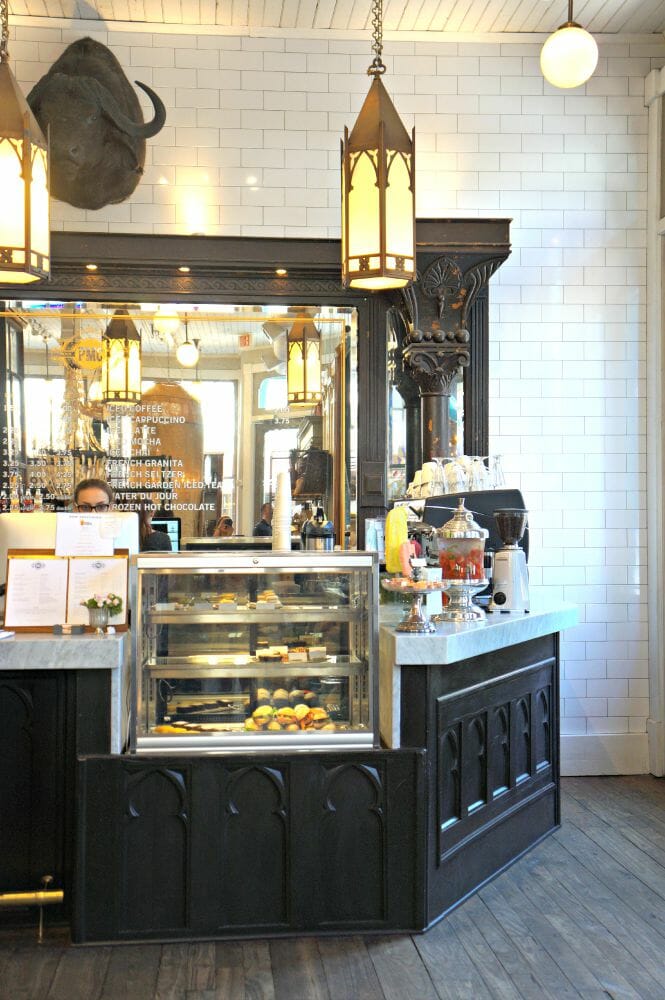 I mean the subway tile, the marble, and the contrast with that gorgeous black cabinet!
My Kitchen checklist
Subway tile…check!
marble…in my dreams
Black contrast with the white…hmmm now I'm getting an idea!
Though I have subway tile in my kitchen…having the gorgeous subway tile all the way up the wall, I would die for! Believe me I would, but not with my floors. Let's just say bored is not the word…disgusted is more like it. If you have ever seen my floors in any of my pictures that's because I did not edit the picture good enough lol. I seriously try to avoid showing my kitchen floors to the world because I flat out…hate them! They are builder grade white (use to be white) tiles with dark ugly grout and square grid pattern. Every little crumb shows up on them and I can not even tell you how many times a day I have to clean them. It has come to the point that if someone handed me money to do one thing in my entire house those floors would be on the very top of my list.
I know I sound like an ungrateful snob right? I really don't mean it, but we all have something in our house that we absolutely can not stand and those floors are it for me. Are we going to replace them? I really don't know…it's probably a project bigger than the hubby and I can handle on our own so if we can't DIY we probably just have to put that idea a side for a while.
So back to that gorgeous inspiration! The black contrast just makes this entire photo delicious! delicious? yes delicious….good design= delicious in my book! So it hit me…how about a black wall! I know it's not that original, but after having about 3 chalkboards in my house already, doing an entire chalkboard wall never seemed like something I would do. I felt I would be over doing the chalkboard thing and it would be too much. Until I got it in my head and it wasn't going away and then I couldn't sleep at night anymore and I had to just go for it. Luckily, I still had some left over chalkboard paint in my garage and was able to save money and test it out…kinda for free. and so I did…
Here is the BEFORE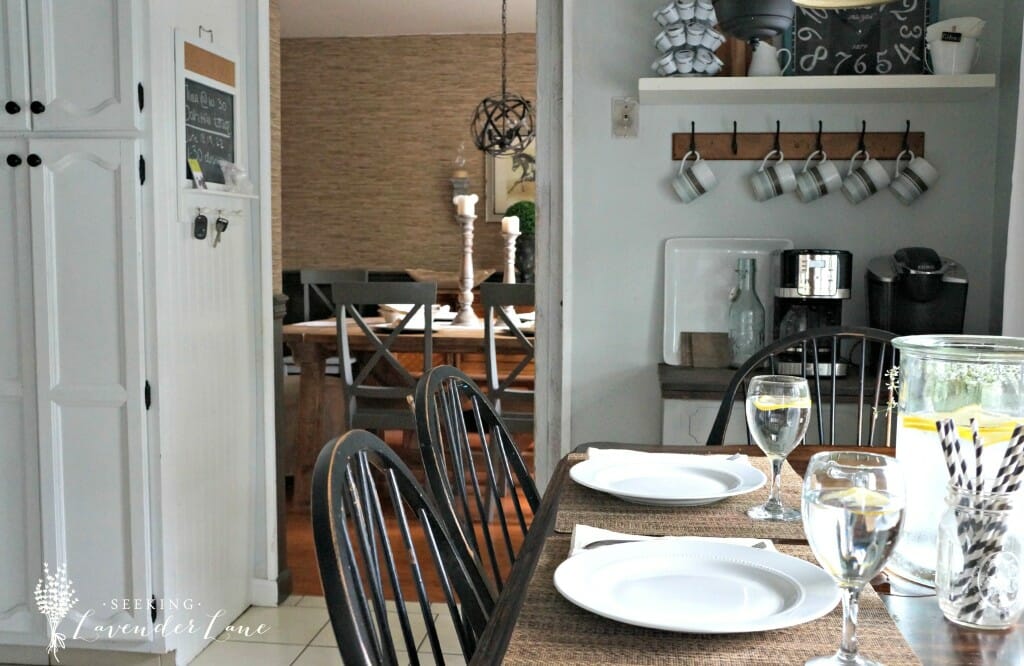 And the AFTER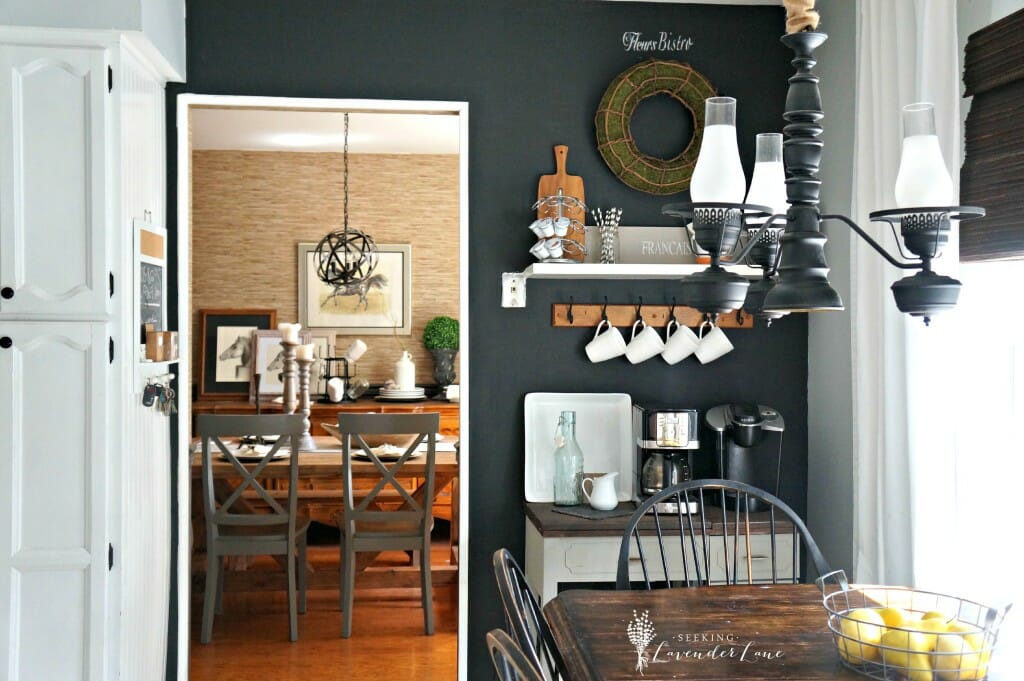 Well, can I tell you I love it! Do I feel over done with the chalkboards, slightly, but  is it all worth it….yes! The wall now pops completely! I mean something my husband kept staring at when he got home from work that day, and the next day. Its funny I think I get more excited when my husband gawks at my DIY projects as I do when he does a double take at me when I'm all dressed up.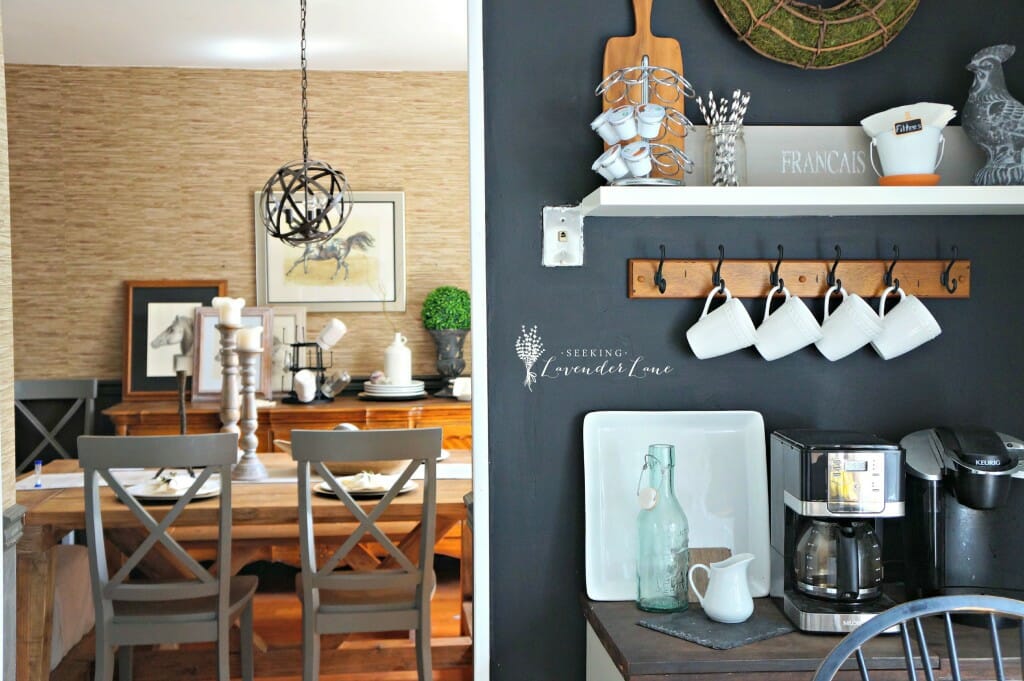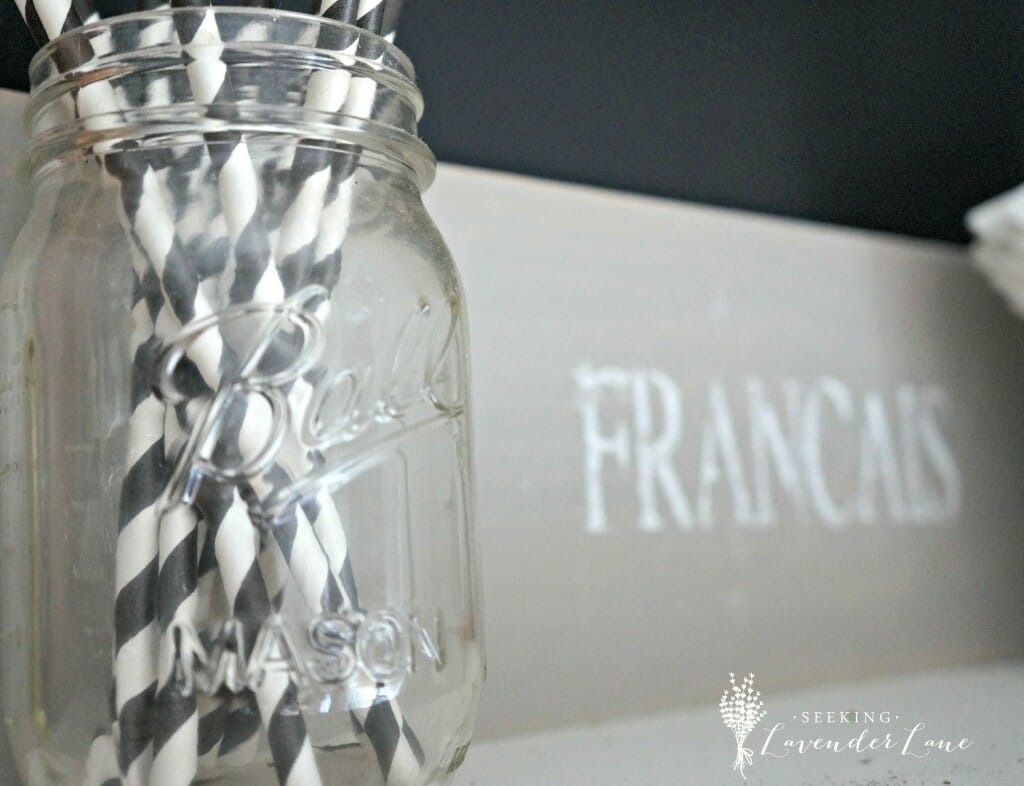 So with some new accessories, of course, the wall feels completely new and completely alive. It was just the right makeover to do to make a dramatic difference. I say if you're looking for that drama go dark! As long as it's not an entire room…dark accents seem to be my thing. Dark doors, Dark Wainscot, Dark Backdrop to shelving, and now an entire dark wall. You know what else I'm loving dark window trim…oh if I could pull that off!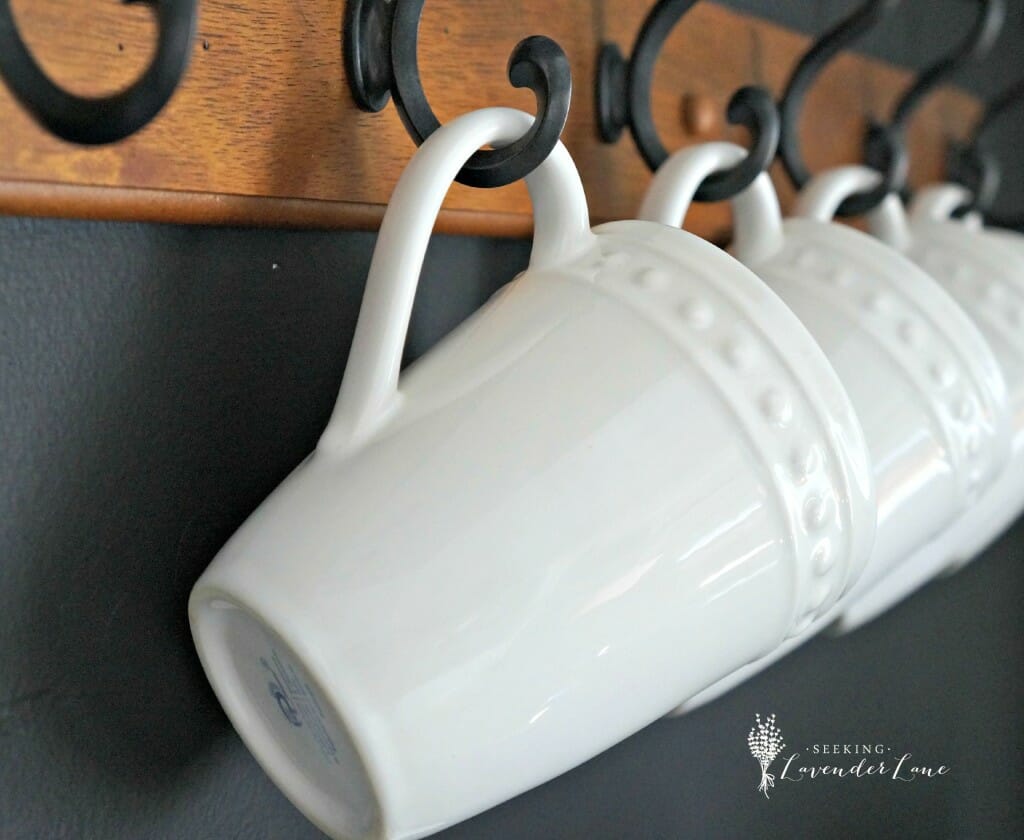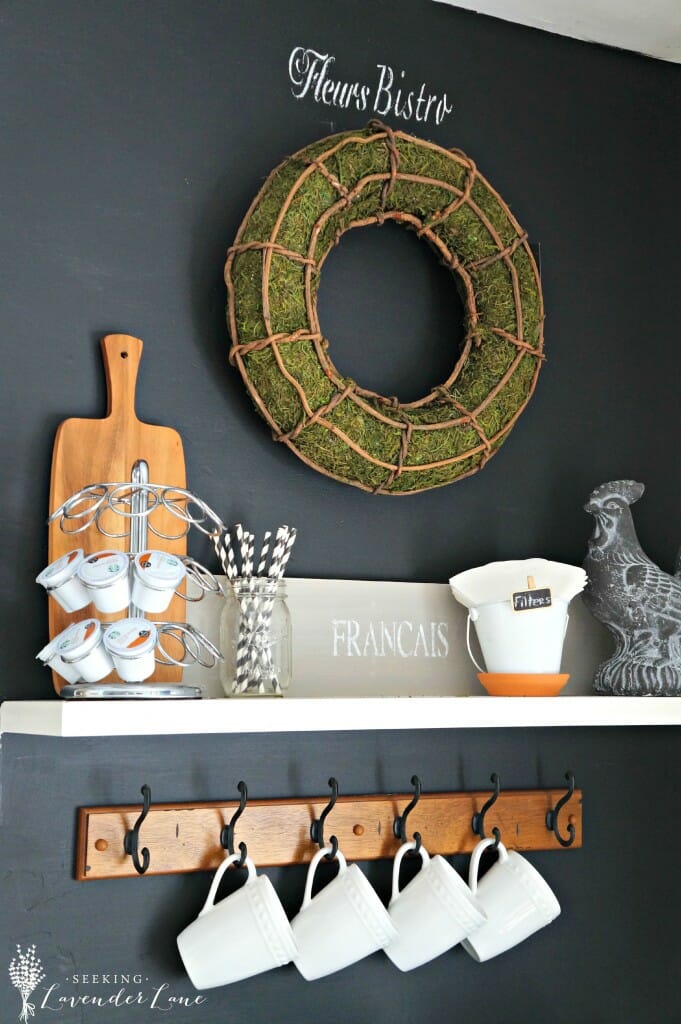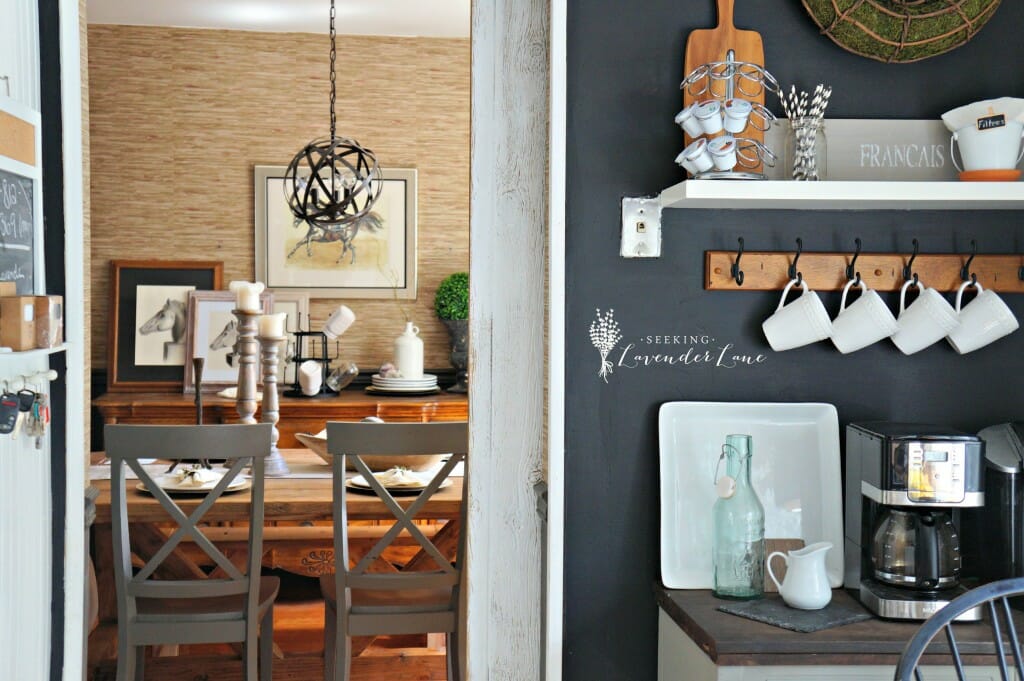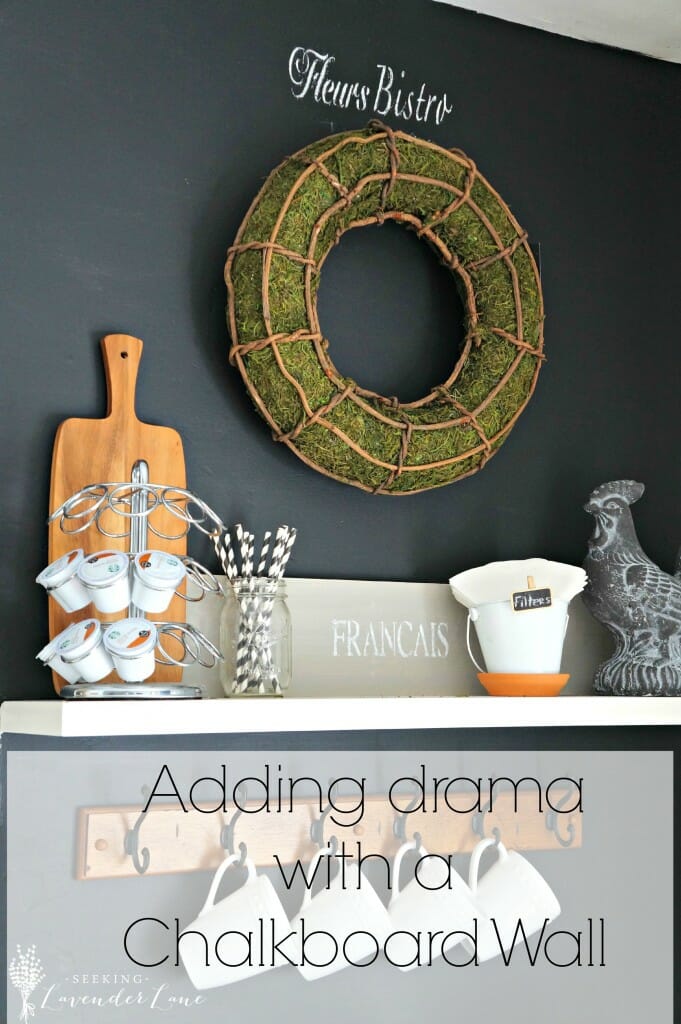 So now the coffee nook area is not all complete. I do have a few more ideas I'd like to get to, to make this a finished accent wall. I especially want to still do a new table…I am even considered building custom open shelving. What do you all think? Though the gray colored sewing machine table looks better now than it did before I still would love something new…something DIY!
Linking with: http://linda-coastalcharm.blogspot.com/
PLEASE STAY A WHILE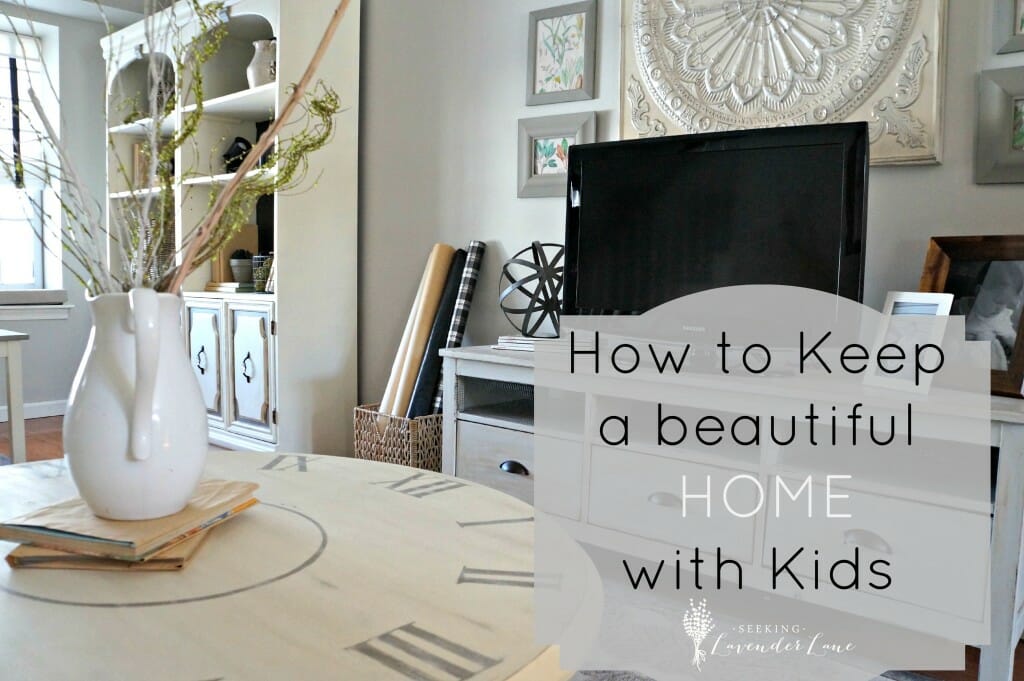 How to Keep a Beautiful Home with Kids