Hello vintage and home decor loving friends! I've got this special announcement for you all and I am so excited because I'm sure this is an event you will all want to be at! After hearing about it myself a few months ago I couldn't wait to volunteer and be part of  the event and travel to Lynchburg, VA to see the amazing  Bloom market myself. Let me tell you about how fabulous this event is going to be! It's hosted the lovely blogger Katrina Morris of  TheMorrisManor.com her beautiful 100 year old farmhouse that she shares with her family is nothing but magazine worthy…oh yea that's right it was shot and published in HGTV mag. The event is held at the Farm and property on Friday, April 26th and Saturday, April 27th 2019.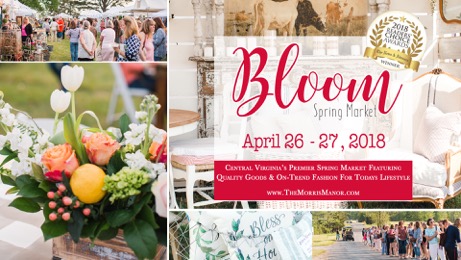 The event includes a live tour of her gorgeous home and then a day and a half full of shopping, live speakers, meet and greet with some of your favorite IGers and bloggers, and a birthday cake to celebrate the Farmhouse on it's 100th birthday. There will be vendors and maker's there that bring Farmhouse and artisinal creations to the forefront just for us to shop, shop, shop! Who would love to shop with me? I'll be there doing a meet and greet and speaking about current 2019 trends in the home. I'll also be doing a live tablescape demonstration with Roxanne from the TheHoneycombHome.com (my jersey blog friend). It's going to be so fun and a great weekend to get away with some of your best girls or take a couple's retreat.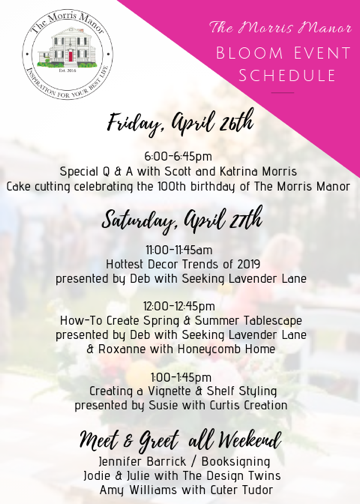 I have to add the amazing inn I'll be staying at. The Pruitt House, a true farmhouse on a prairie vibe. Can I squeel a little bit when I tell you all that I'll be staying in the house with some rock star IGers… Amy from  @cutertudor, the design twins… @julie.thedesigntwins @jodie.thedesigntwins, and shop owner Susie from @curtiscreations Yes, it's going to be fabulous and I can't wait! The Pruit Home will be occupies with lots of decor loving ladies that weekend, but definitely check them out for future trips to Lynchburg, VA as it is a true Virginia style home of character and farm style living.
So, Do you want to go????
I'll be giving away tickets! 10 (5 pairs/5 winners) You can enter over  on my IG page. Easy, peasy…follow me @seekinglavenderlane comment on today's Instagram post (Bloom Market giveaway) on who you want to bring! There will be people traveling from all over including myself coming from NJ, and I know  the lovely ladies of Thedesignstwins.com will be coming from the West coast! It will definitely be a God event too, my friends, his blessing has been upon  this event and we can't wait to be there to see the joy and love he brings to this beautiful event hosted by beautiful God loving people.
See ya There! Oh and if you don't win one of  the 10 tickets (5 pairs) I'll be giving away let  met know that you're going anyway I'd love chat with you, shop with you, and snap some photos too!
Buy Tickets Here!, and see the Facebook event Here!
(Visited 682 times, 1 visits today)