Cheap Bathroom Update: With Hardware
Okay my friends, our bathroom is no where near done…we have a ways to go just with even the simplest of details like painting the trim and linen closet doors. But, I've been wanting to do one major but simple makeover since we moved in, and that's to upgrade the hardware on our vanity. See, we needed an affordable vanity and I had found this beauty from Wayfair. It was the perfect color, size and had all the right details. I had already planned on adding beautiful brass faucets to the sink, so the only problem…the hardware did not match. I knew this would be an easy upgrade eventually…which made buying this affordable vanity a no brainer. Don't worry if it's not all perfect I told myself, you can make that simple change and it'll be perfect.
This post is a collaborative post with Hickory Hardware, all opinions expressed are my own. 
Now, I love  the idea of changing hardware on any easy makeover project, whether its a dresser re-fresh, kitchen budget makeover, or even a vanity that maybe needs some fresh knobs. It could  also be a great way to just switch the look up from vintage to modern or whatever. I think changing the metal is definitely a great way to create a new look. Since I am currently loving brass having brass hardware was something that I wanted to tie this bathroom space in together. Don't get me wrong I love mixed metals too, but I think for this space in particular  I wanted all matching hardware. I just love how the gray and white pairs with the brass…so when I found hardware that matched the existing look of the hardware I already had this would a simple but much needed refresh. The hardware could look only better by matching the faucets and light fixture. I found this hardware from Hickory Hardware, which provide such great products with any style you want. Thinking vintage, modern, glamour, pewter, brass, black…whatever the look I'm sure they have it!
The hardware I ordered was the 7″ pulls and knobs
They were slightly bigger then what was already there, so hubby had to get his dremmel and just create a new hole for the new hardware. It took him  about 10-15 mins to create all the new holes and it was easy-peasy! The best part it was so close in size to the original that it still covered the existing holes without having to use wood putty and paint to cover up.
Now, I just love the new look of the vanity it was pretty before, but WOW with the brass and acrylic pulls it's simply stunning.
BEFORE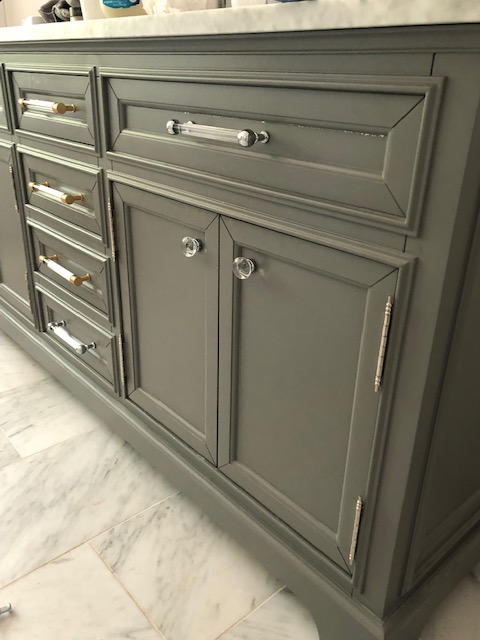 hubby using a dremmel to create a new hole for  the pulls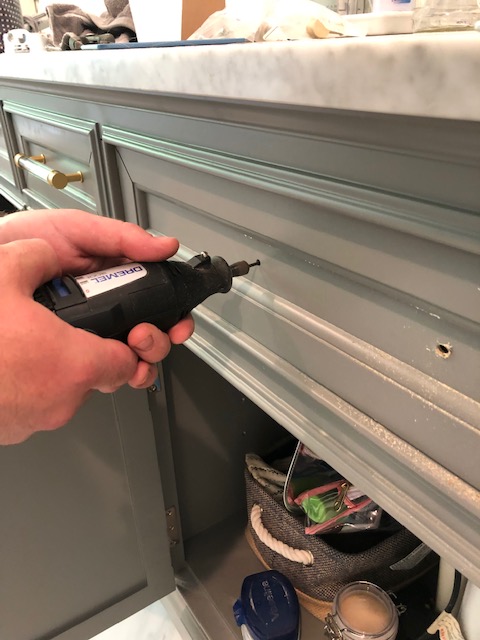 AFTER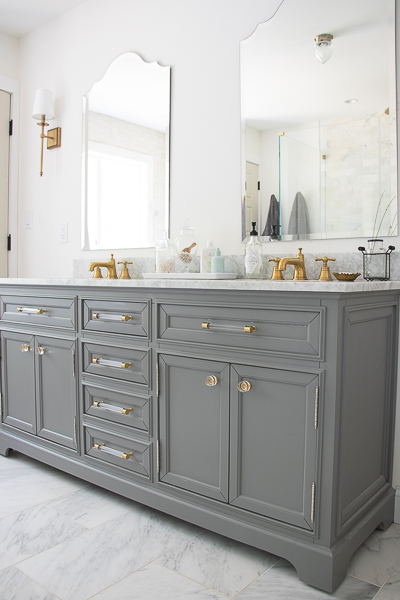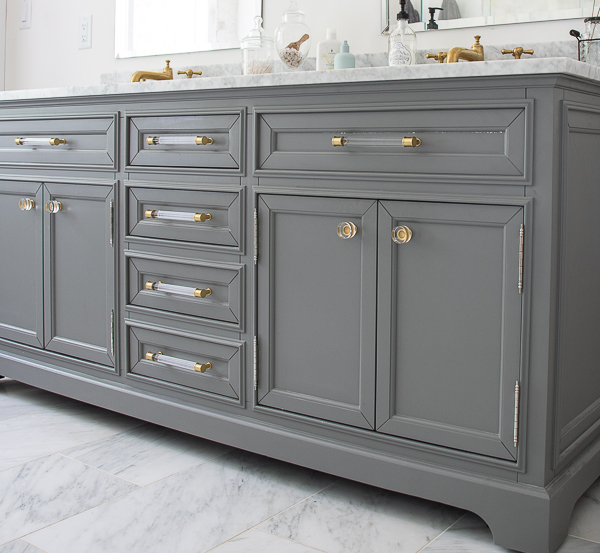 I just love the brass with the brass. Now of course our hinges are still chrome, but for some reason I think they are okay. There's always the option of spraying those  too, but in person you barely notice.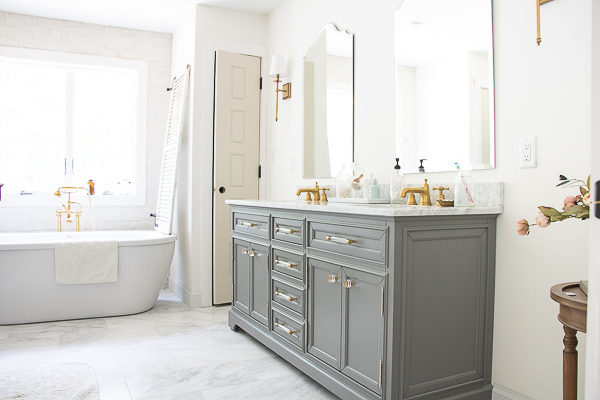 See what I mean, our closet doors still need to be painted and get door knobs, and I even have plans for the window and possibly the wall behind the vanity. This small makeover just gave me a kick in the butt to get the rest of this space done.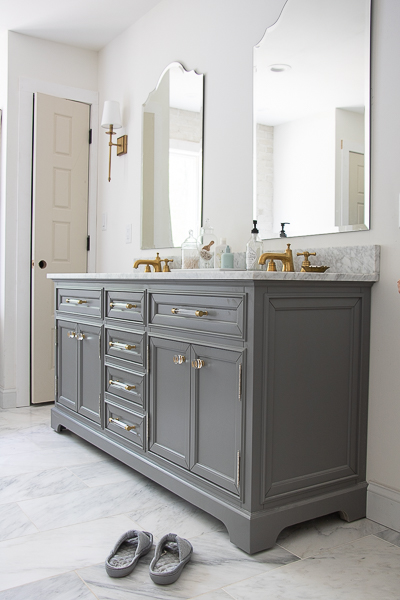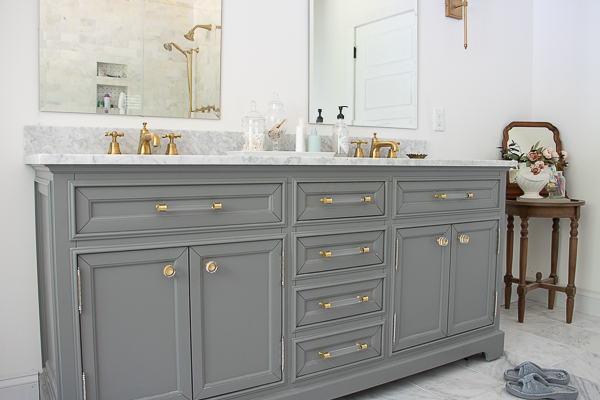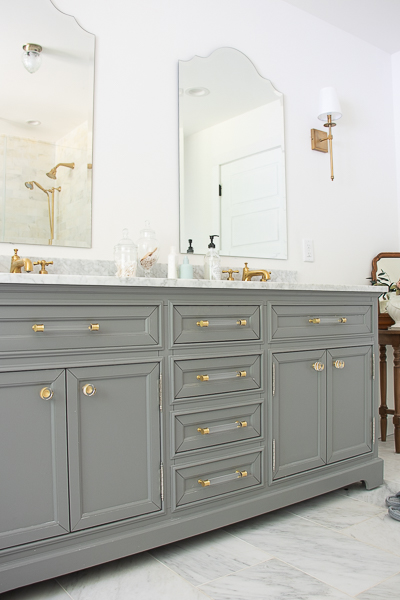 So, now what project do you plan to tackle with a little hardware help? My friends are sharing some of their refresh project below with a little help from the pretty hardware they selected from Hickory Hardware.
Black Cabinet Makeover, Hardware Room Makeover and Free Art
Please Pin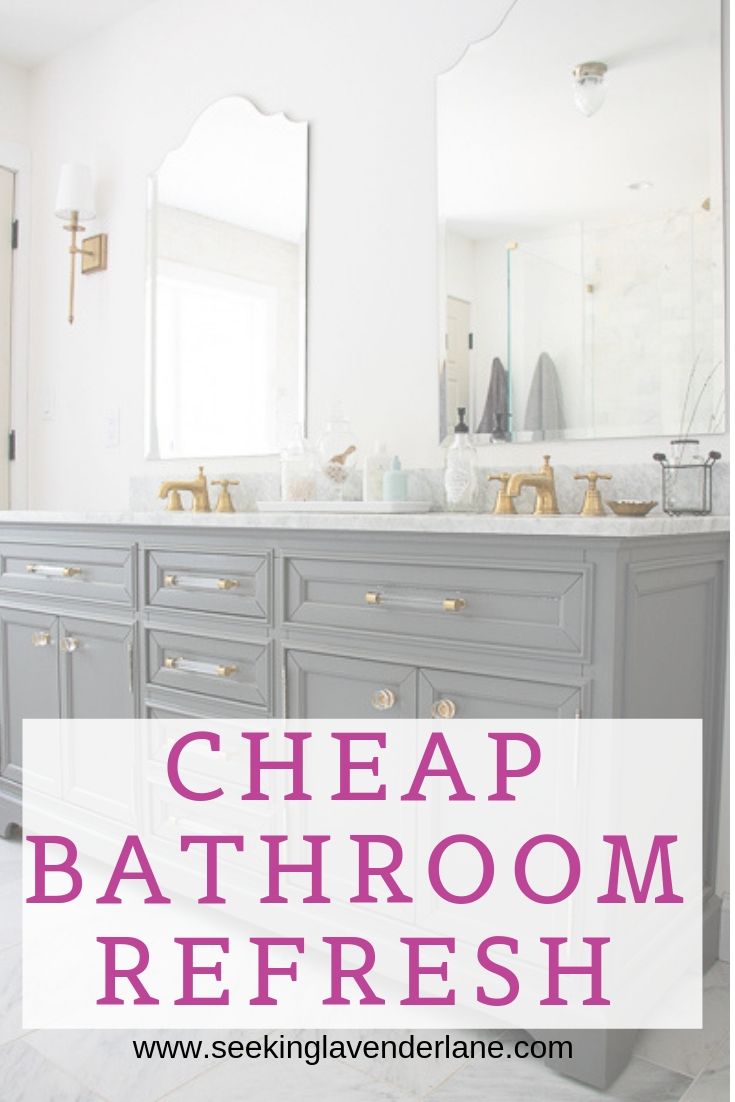 (Visited 3,186 times, 1 visits today)