This is a question I get a lot…"how to style a coffee table the right way?" and I have been creating a course and membership group (eek I said it out loud) just to teach you all these insider tips to create a home that feels perfectly curated for you. You can CLICK HERE to join our wait list and be the first to know more details about it. There's a ton coming but this is a great intro here on styling a coffee table 101 to learn what goes into the thought process and items that I keep a list of when using to decorate my coffee table. Today I am sharing this for the Simply Home Series that I take part in with a few bloggy friends every month, this month is all about table styling. I am doing a little pre-fall coffee table styling and it's the perfect time to break down what I decorate a coffee table with and why.
Here are rules and ideas for your coffee table styling!
Items to use when decorating a coffee table:
Books
Trays
Vase or pottery
Candles
Sculptures
Bowls
Baskets
misc. items like a candle snuffer, matches, greenery/flowers
Rules to styling a coffee table:
So of course there are always rules when styling and sometimes you can break these rules, but here are some basic coffee table rules that I like to do and can help when styling your next coffee table.
Decorate in odds- when grouping be sure to use odd numbers for your vignettes. 1,3,5 is usually good
Create vignettes with items like books or trays
Use items with height that are closest to your focal point to draw the eye in.
Create symmetry with your items for balance
When stacking books have at least 2 stacked and make piles of different heights
Use items that belong on a coffee table for everyday life or when hosting.
If decorating in corners decorate 2-3 do not decorate all 4 corners, it will feel too symetrical.
Keep in mind the item size, if something is too small you may want to pair it with other items rather then have it displayed on its own.
Choose colors and textures that coordinate with your room's aesthetic and season.
Last rule I always use- Decorate with items you LOVE!
Grouping Coordinating Items:
When you gather accessories to create a coffee table look you want to find items that coordinate well together. The colors match, or contrast, you have multiple textures to keep for an interesting and "gathered" look. When coordinating think about having different elements, for example: metal, ceramic, glass, woven.
For my pre-fall coffee table styling I decided to do browns and pottery…a true earthy look. I am very much into pottery right now (have you heard me say that before-Hot trend this year Pottery) so to find pieces that are handmade is my goal to keep collecting. Also, I'll be finishing my beginners pottery class today and can't wait to pick up a few of my pieces to add to my collection.
Where to accessorize?
Depending on your coffee table shape you can accessorize all over, or choose just the corners. When I decorate the corners I keep the middle of the table free for putting down cups or playing games, etc. I still pull my decor in just a bit so it doesn't feel like it is floating on the edge of the table.
For an all over table- think about using heights and keeping your items grouped in odds, also keep everything neat so it does not appear messy but curated.
Use trays or books to gather items like candles and sculptures.
Bottom Shelf styling- I always try to keep a basket for texture or at least have piles of books. I never want my bottom shelf to feel too empty. This is also great to hide items like channel changers by placing them in a basket and alongside books.
Alright friends I am sharing a few ways below how I decorated the same coffee table with the same group of items and styled it up differently to give you some ideas for how changing the placement can give a coffee table a different look.
Here's our coffee table bare so you can see what it looks like before it is styled.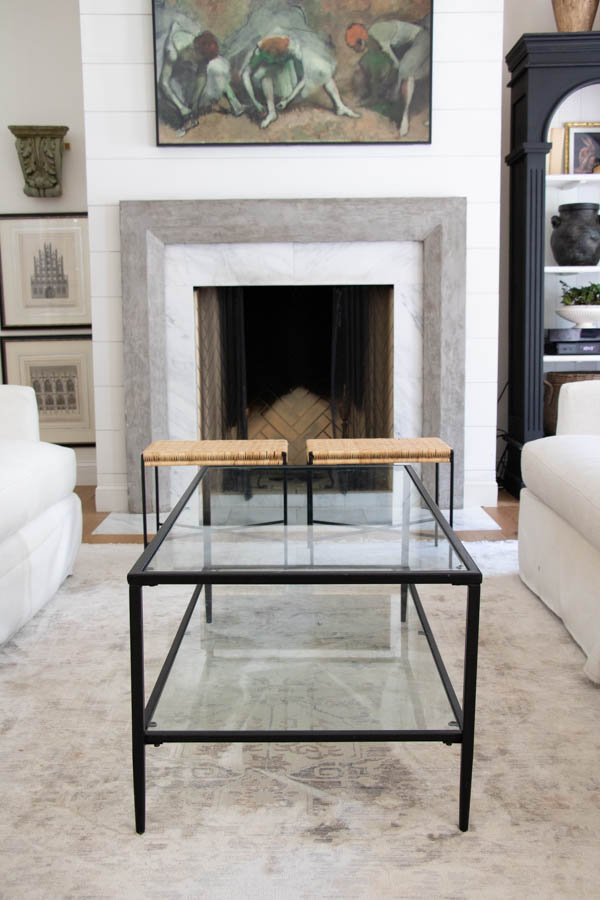 Step 1: Adding a basket to the bottom- is my go to! I usually add magazines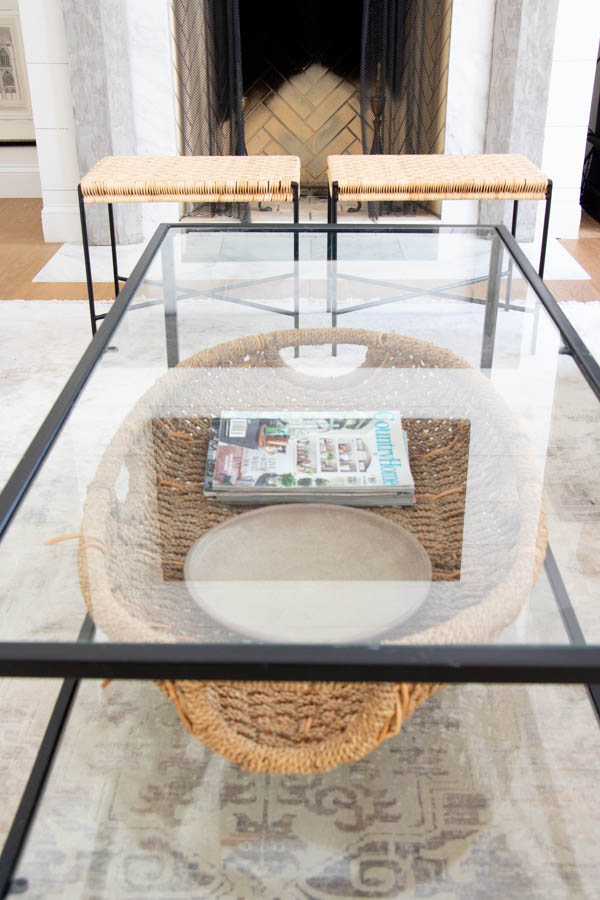 Step 2: Decorating the back of the coffee table that points to the focal point-with books and vignettes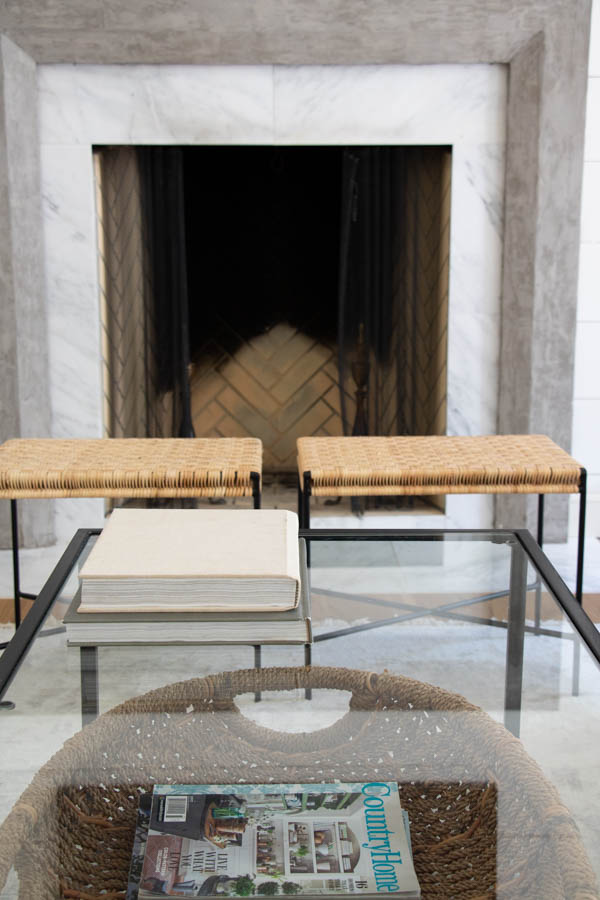 I group the items on top of the book in odd numbers to create small vignettes.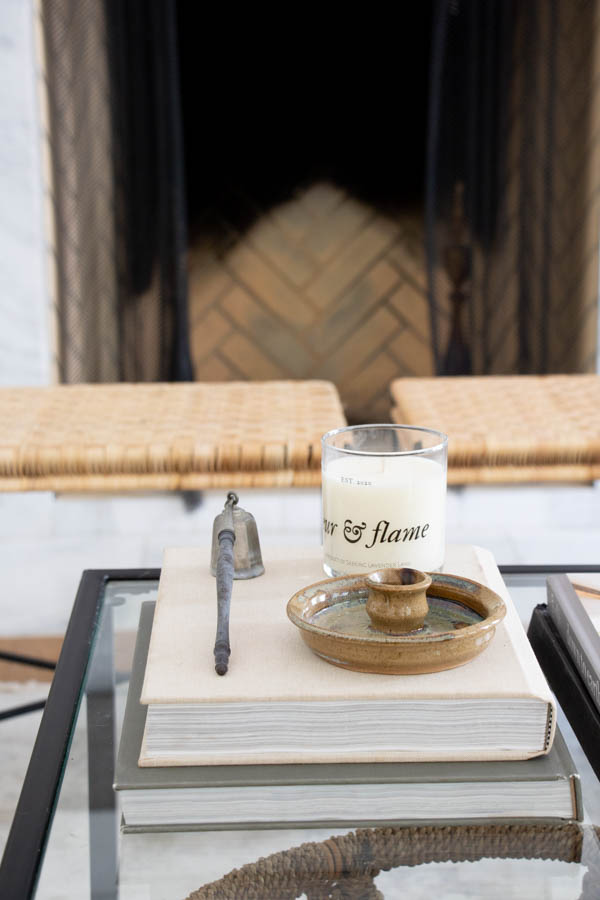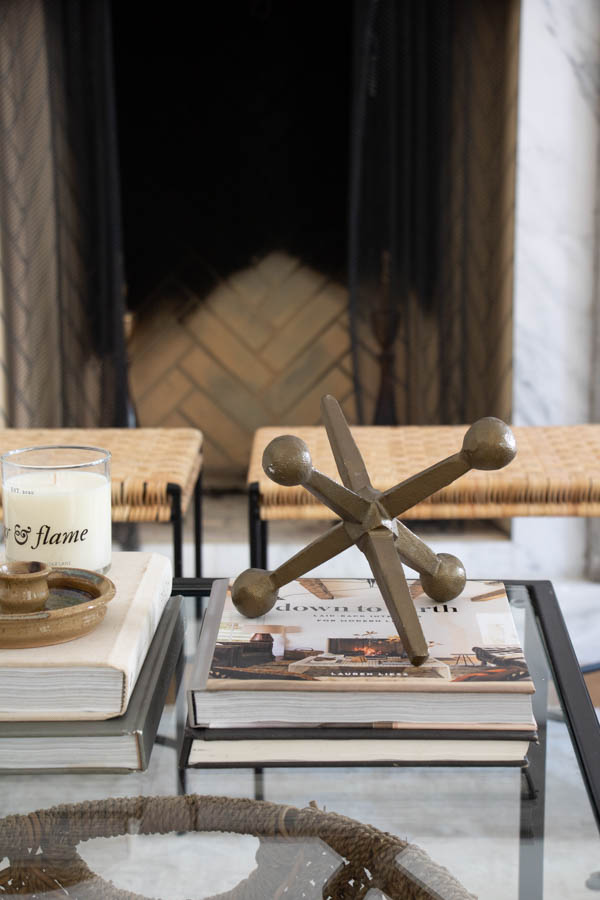 This is the simple decorating in 3 corners coffee table styling…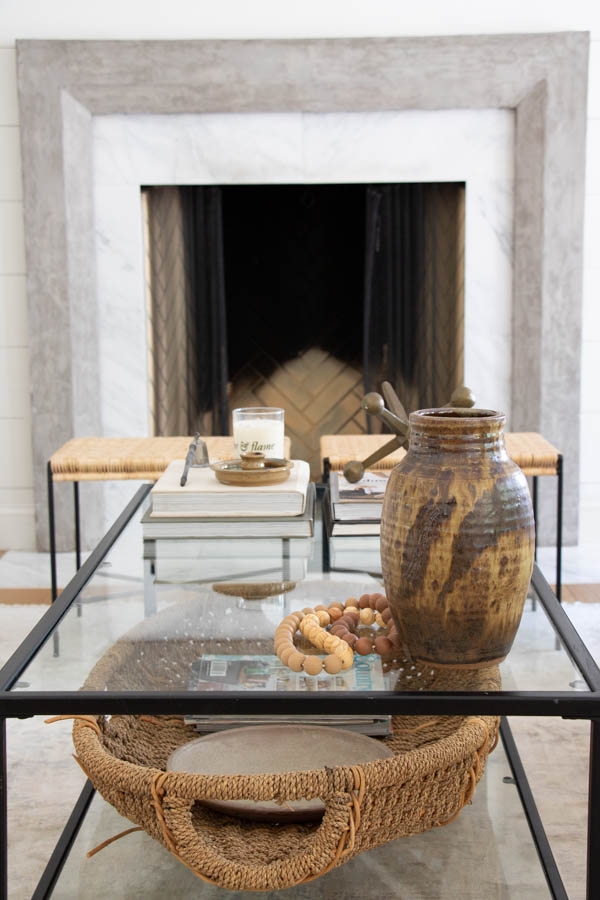 Next, our all over coffee table-look.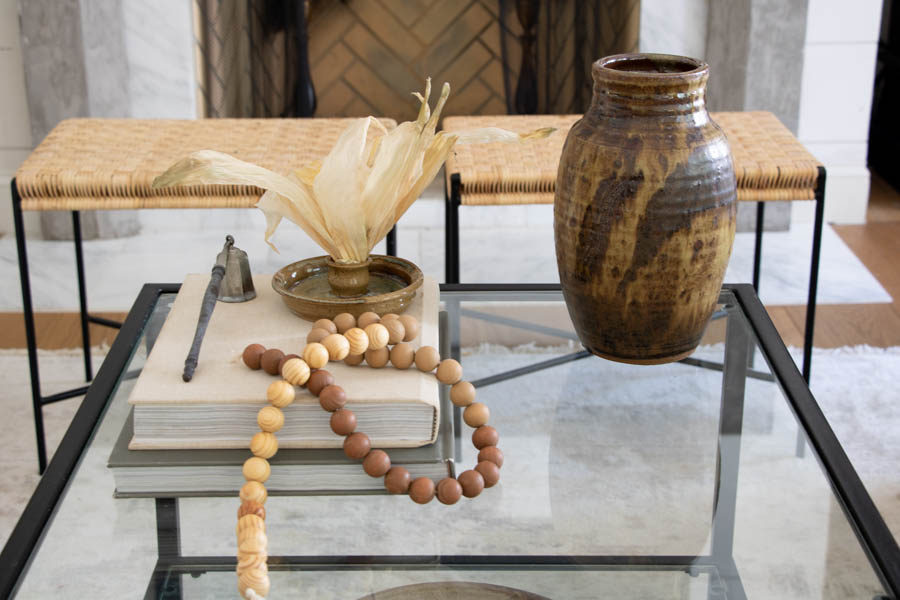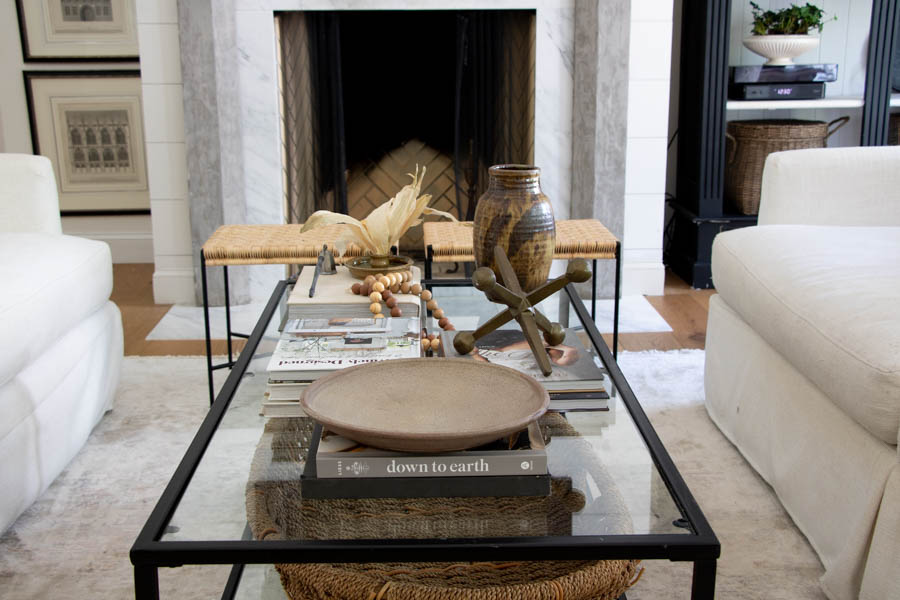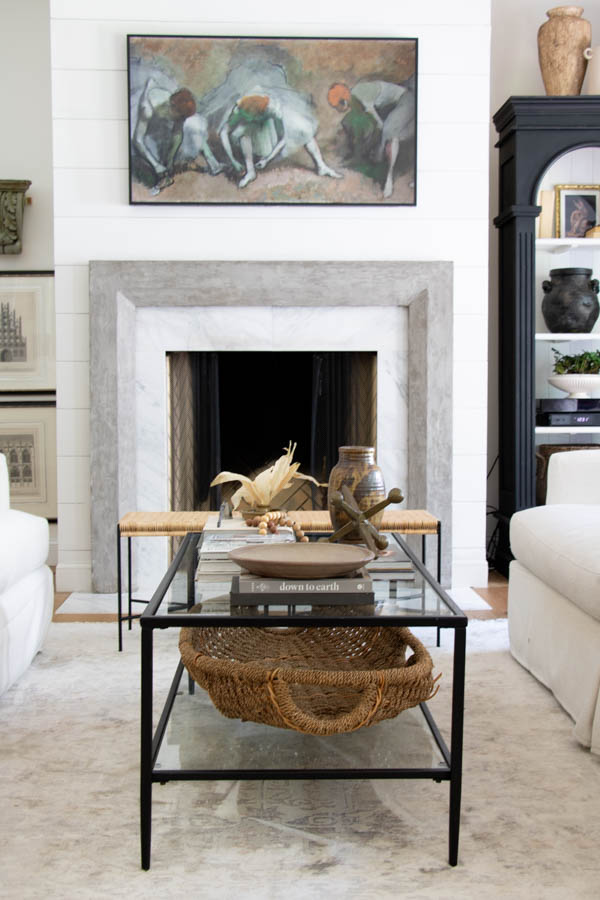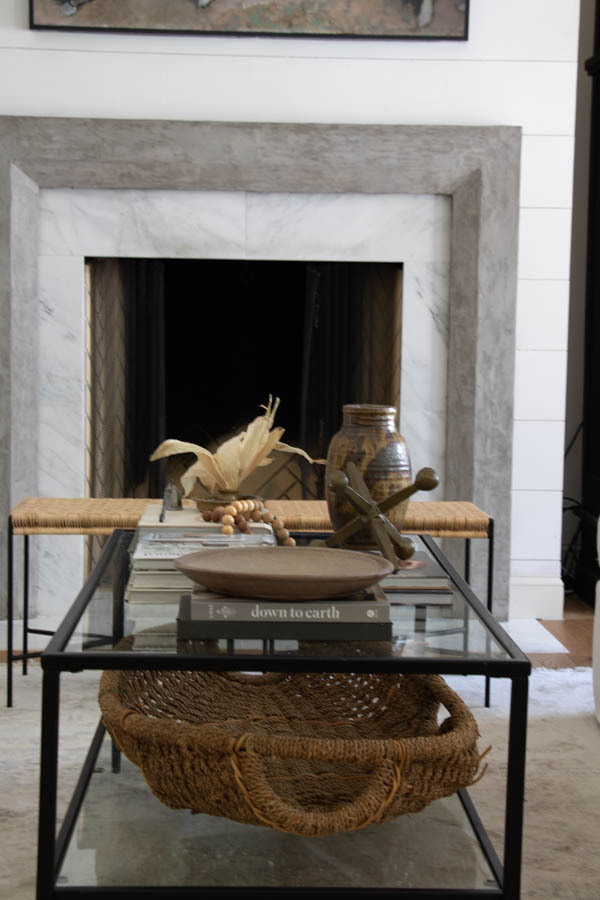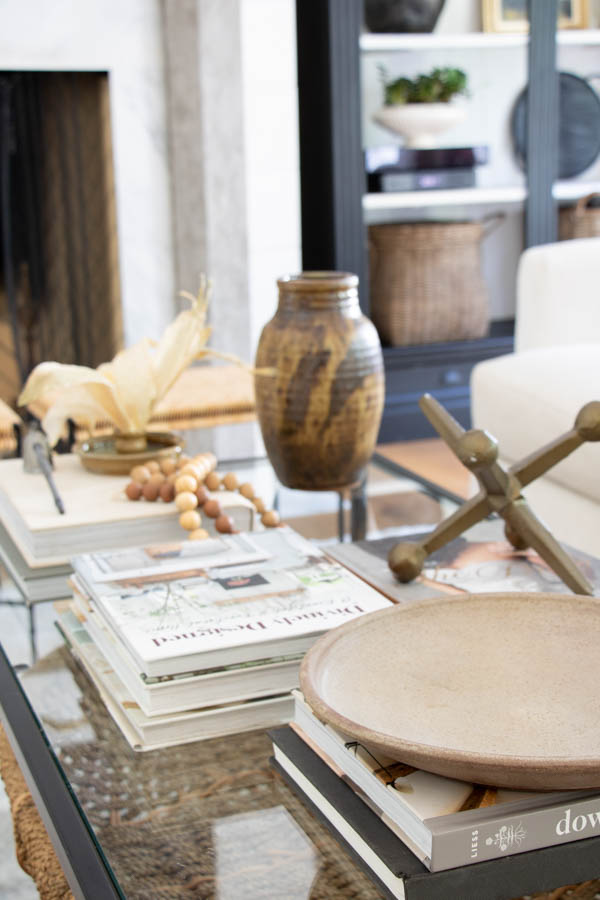 Notice the different heights with books, I have everything in neat piles to create it's own moment. I usually don't keep an "all-over" coffee table look for everyday as it's not very practical, but it certainly feels more filled and cozy for fall.
So much more to come with my new home decor course, I can't wait to share more with you. Don't forget to subscribe and then check out my friends beautiful coffee table styling tips below!
Maison de Cinq: How to Style a Coffee Table
Seeking Lavender Lane: Coffee Table Styling 101
Shades of Blue: The Basics of Coffee Table Styling
So Much Better with Age: Easy Formula for Coffee Table Styling
Thistlewood Farms: How to Decorate a Coffee Table
(Visited 4,741 times, 5 visits today)