Deck Makeover
I love when the weather starts warming up and I can start utilizing our outdoor space again. We only get about 4-5 months here in NJ, but it makes my spirit feel better just being able to grill and eat outside or sip my coffee in the morning on the porch. Last year we were in such a rut not really having an outdoor space since we were in the camper all Summer. We felt like we just  lost that whole season and so it just makes us extra grateful for it this year. Feeling grateful to be able to BBQ again, lounge outside, and to entertain. Not to mention in the Summer I like to cook as little as possible. I'm  all about grilling everything so it's amazing to have a grill again this year (not our charcoal camp style one that we used all last Summer) and have a beautiful patio table to sit and enjoy all our grilled meals.
This is a collaborative post with Raymour and Flanigan though all opinions expressed are my own. This post also contains affiliate inks that I make a small commission from without any added cost to your purchase.
Well, we were so grateful that we were able  to squeeze in our deck during our construction because that was  almost cut from the budget. We waited all winter long for the days we could clean it off and get it ready for this stretch of the year. The deck was made of pressure treated wood so it would need stain or paint. I decided to not paint the entire deck because I remember what a headache it was painting our deck every year  in our last house, so we chose to stain (the stain we used) the bottom and paint the railing and spindles. My initial thought was I wanted the floor to look like a continuation of our indoor wood floors (so we wanted a stain that would match) and then I wanted our railing to resemble a wrought iron railing (very French) I do tend to go for a modern Farmhouse look for exteriors too so I really wanted the look of Modern Farmhouse mixed with my French Farmhouse style to combine for this space. The design and furniture part was the next big step and we were looking for something stylish and comfortable. I knew Raymour and Flanigan would be the  perfect place to search for outdoor furnishings once the deck was ready.
BEFORE the Deck Makeover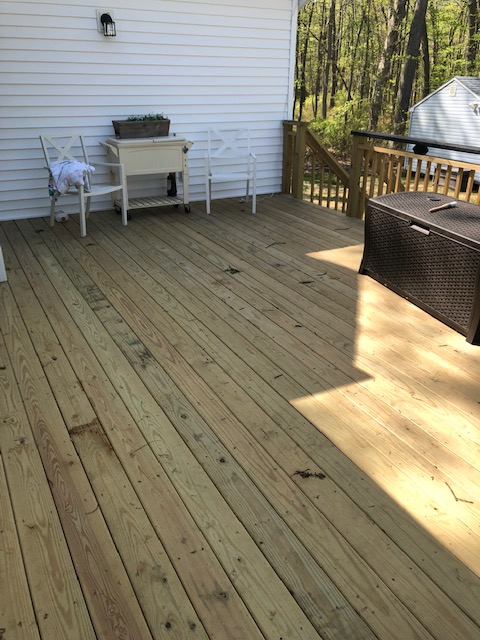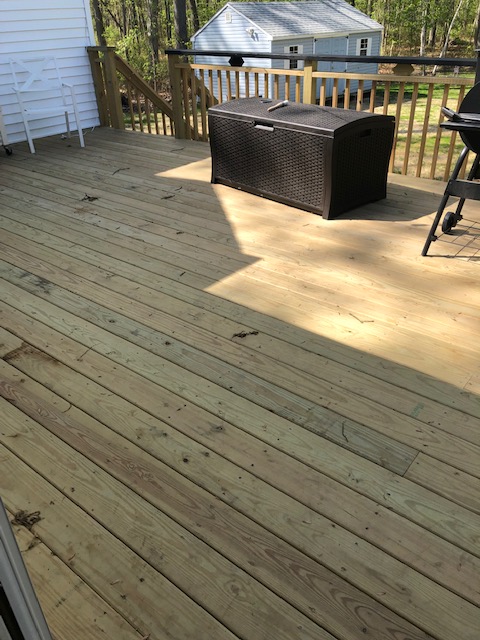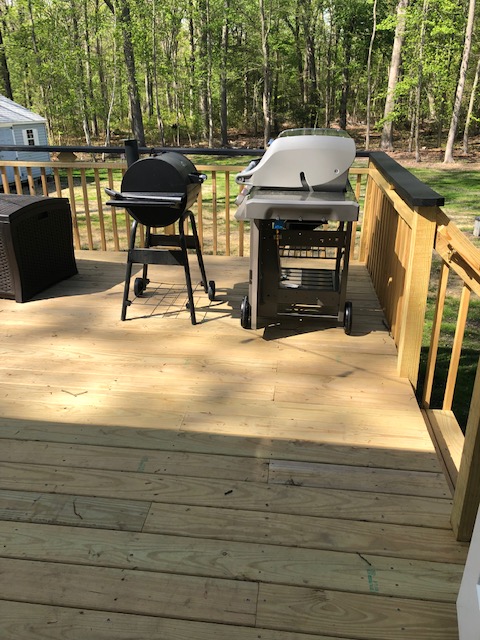 We painted the railings first and then stained the boards. It took us dayyys to get this done. Between the weather and the "not so fun-ness" of this project it took us a while. But gosh are we glad to we stuck it out (our side deck is another story).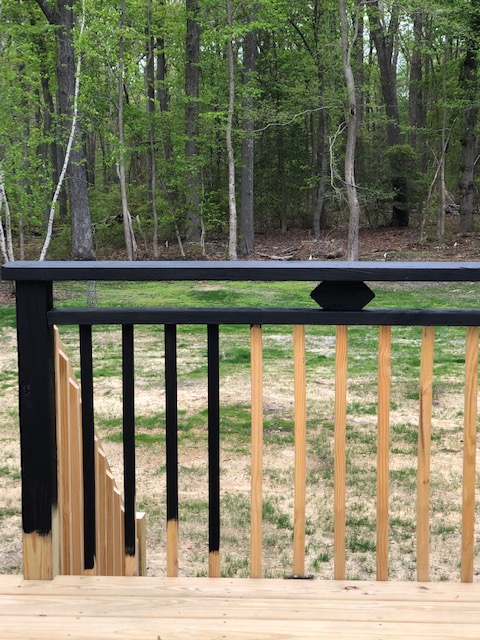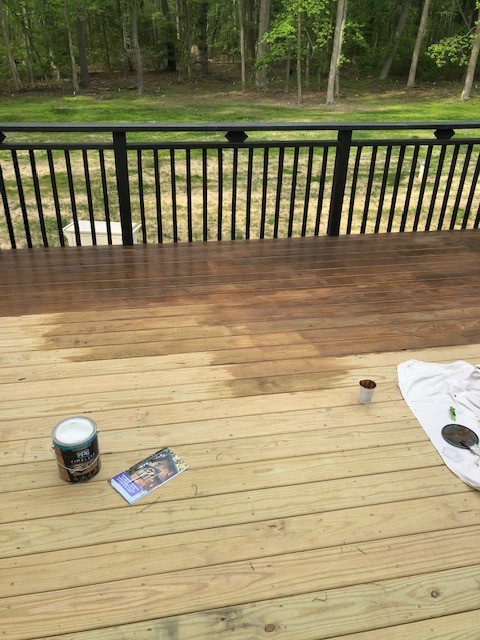 *Tip: When staining the deck we made sure to wipe on with a rag and wipe right off to get the look of our deck. We had a little trouble and though it was the solid finish and we thought that's what we wanted, we realized as we applied the color, the color was altering and so we chose to wipe on wipe off and we loved it.
So, then It was  time to shop for furniture, as I mentioned I love the options Raymour and Flanigan has because they offer beautiful outdoor furniture  that are comfort and family friendly. I shopped at my local store in Freehold, NJ where they  have a larger showroom and a display of their outdoor furniture this time of year. I was able to sit and try the furniture and since I was making this decision on my own the pressure was on to make sure the family was going to love it. I was immediately attracted to the black metal style because it felt very French and would look beautiful with the new black railing. I loved the basket-weave design and the x-back chairs. I decided for the two end chairs though that I would do a cushioned chair( sources below). These are for lounging and rocking, but they worked perfectly when I paired them with the table. I like how they anchored the table ends and I knew the Mr. would be super excited about  how plush and comfortable they are.  I figured  if we ever build a fire pit or patio area for lounging we could always move these to lounge.  It  gives us options for not only this Summer but for Summer's to come. The light gray cushion pulled in beautifully to the gray accents I have inside and out and I knew we had found our collection for dining outside.
Patio Dining links:
Then off of our master bedroom  doors I wanted something for lounging. A place where hubby and I can have coffee in the morning and offer extra seating for when we have guests. We chose to go with a love seat that would fit perfectly in  this little section of the deck. I love the wicker on this one  and the gray upholstery still worked well with the patio table set. We added the coffee table to the side of the love seat for a place to put our coffee down and for plants.
Now for the deck makeover reveal…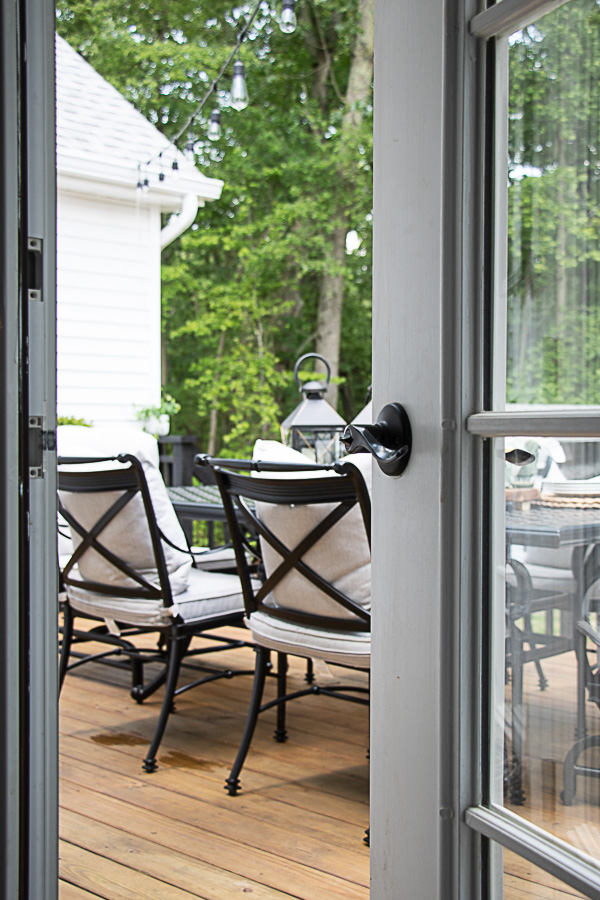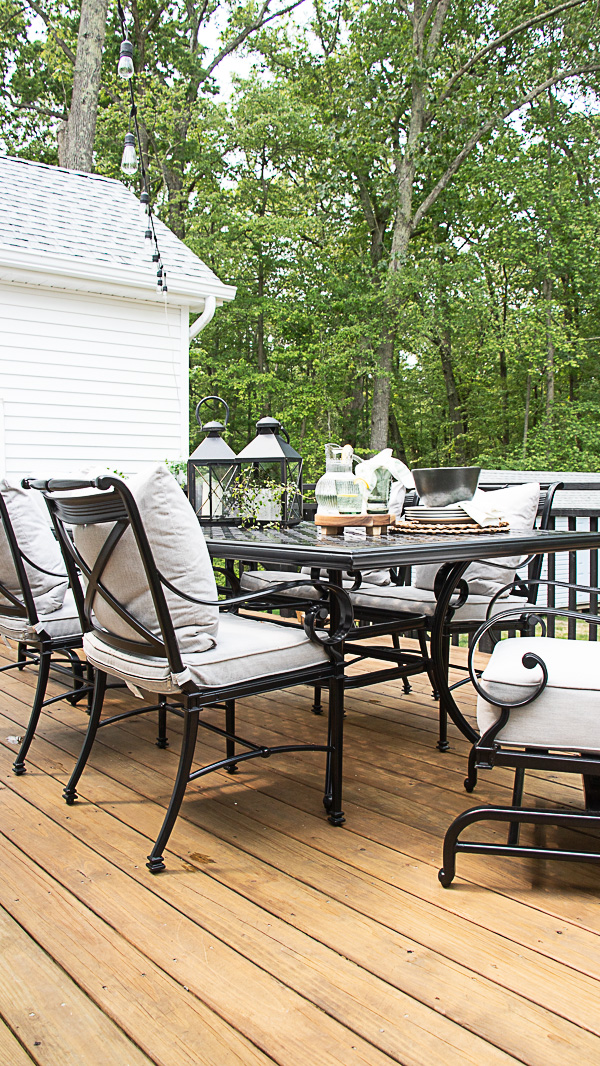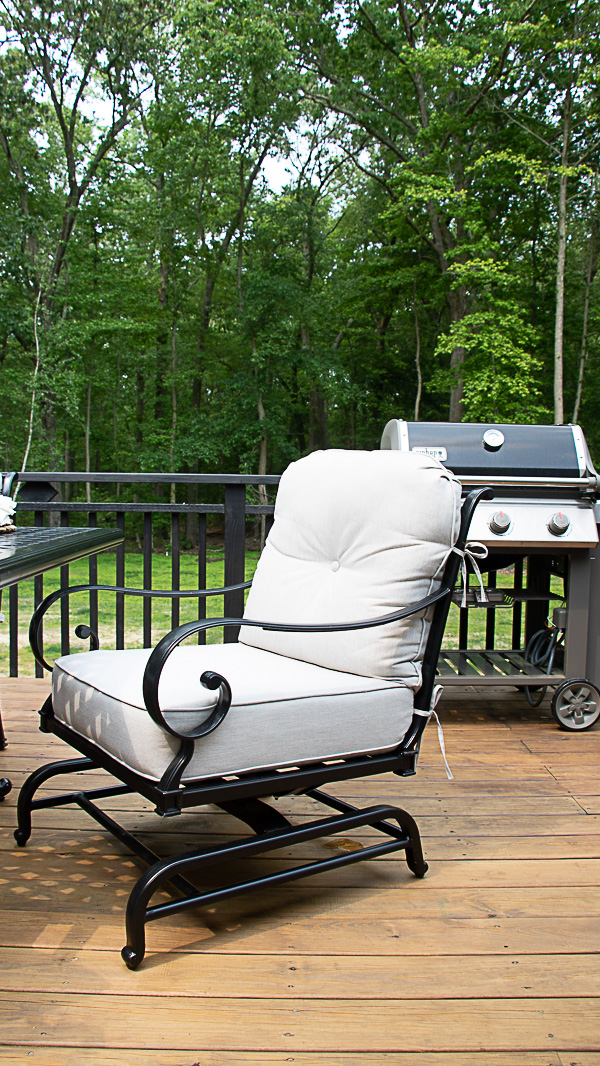 j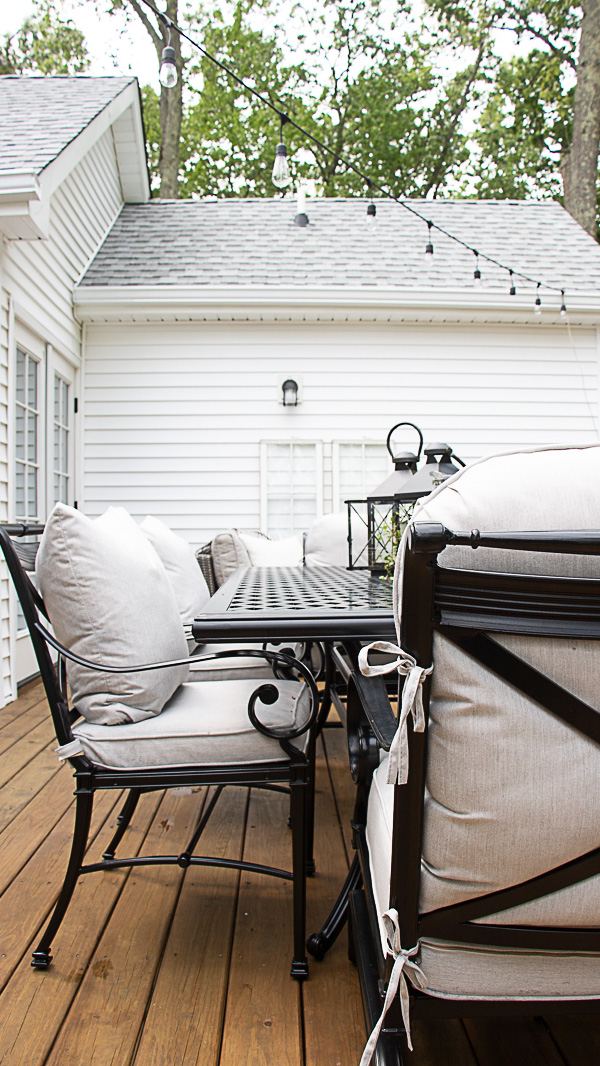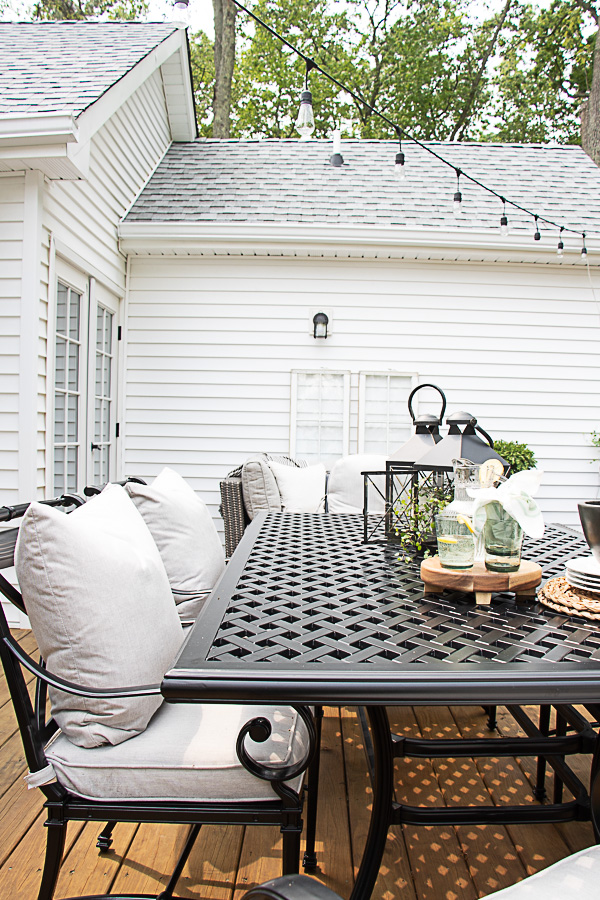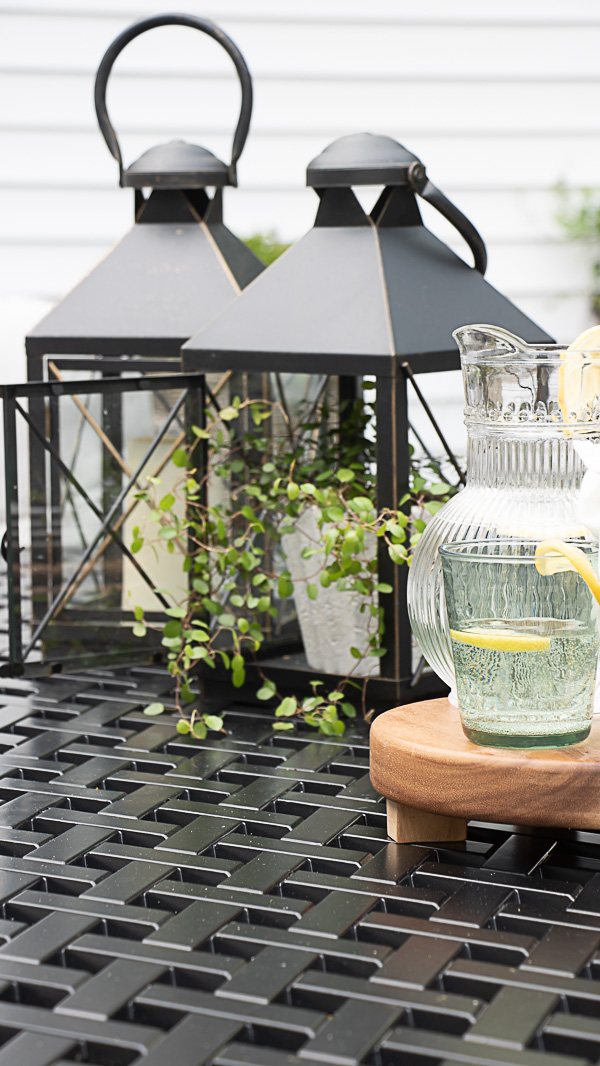 Decorating the deck:
I decided to keep things simple..at least for now. The deck is not that large and we really need it as an extra room. A place to eat, entertain, and unwind. Our yard will be a slow process of probably years before we want it to look the way we want, so the deck was very important this year. I chose some fresh greenery like a boxwood I placed in a basket, and our olive tree spends half the day out here and half inside on the opposite wall. A throw blanket, some pillows, lanterns, and of course string lights. Overall, I think the furniture speaks for itself. We thought about adding an umbrella and maybe that will come in the future but fortunately our deck doesn't get much sun in the back from  2:00 on, so when we have dinner outside the sun is  on the opposite side of the house. An outdoor rug is something else I am back and forth about, because I love the look of the black metal and the wooden flooring together, but an outdoor rug definitely cozies  up an outdoor space. I also think there are times when you should pace your decor and outside is always the place that I do a little at a time. It's always  fun adding on each new year. We are so thrilled though with our new furniture and the extra space has brought to our house. It's like an extension of the house now and we are using it every day  (when it's not raining).
j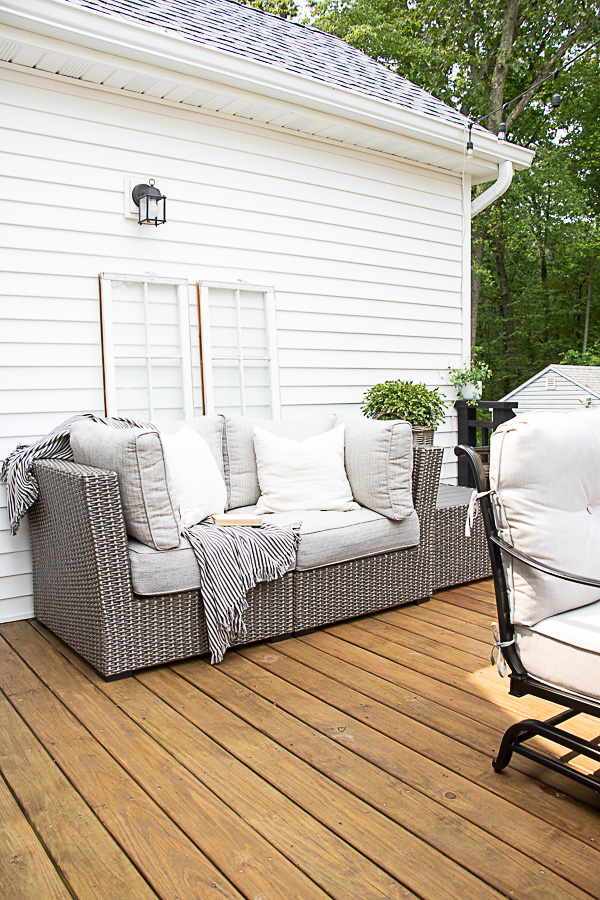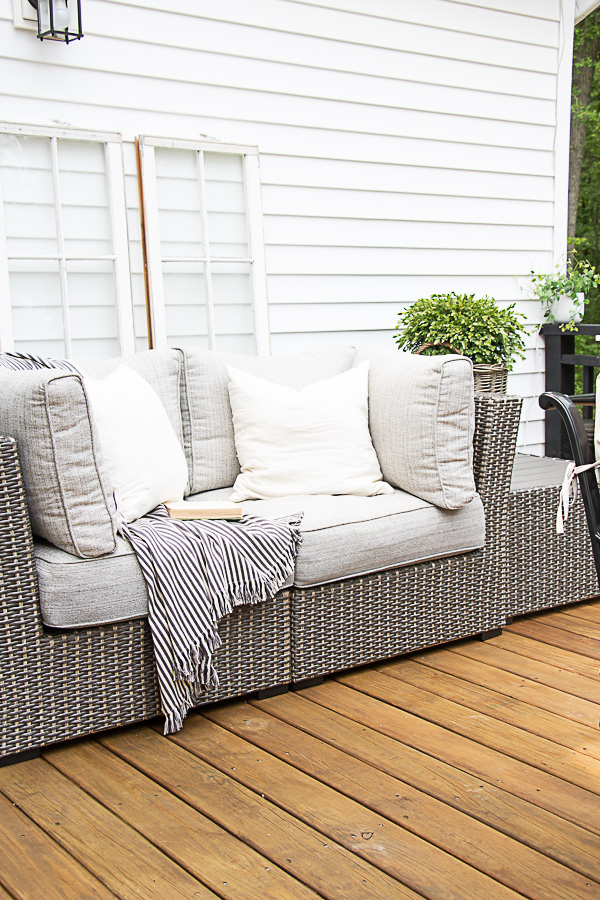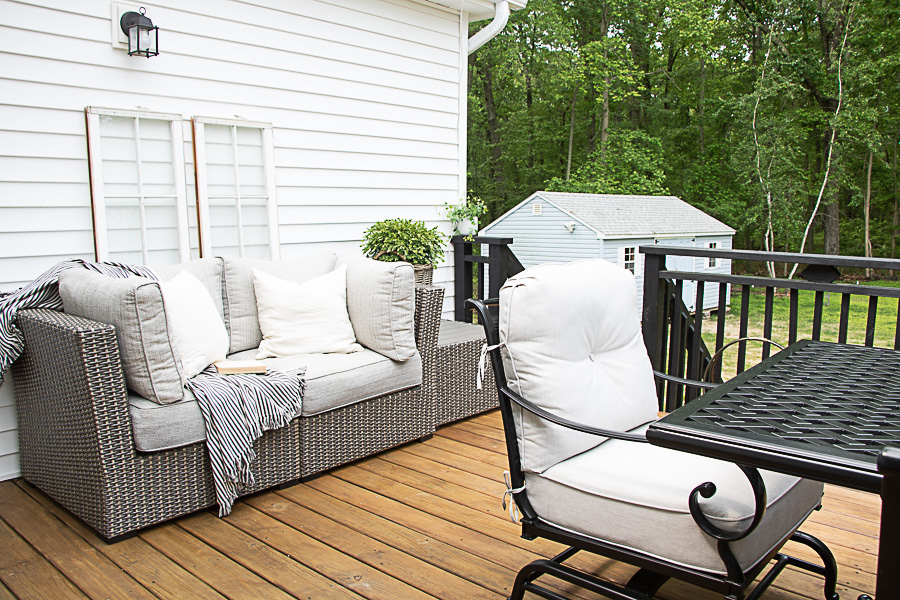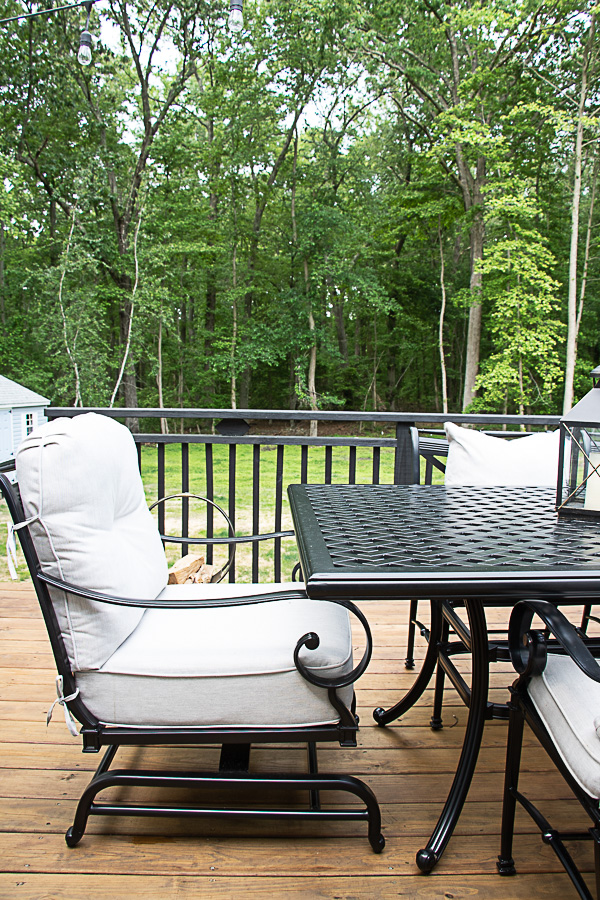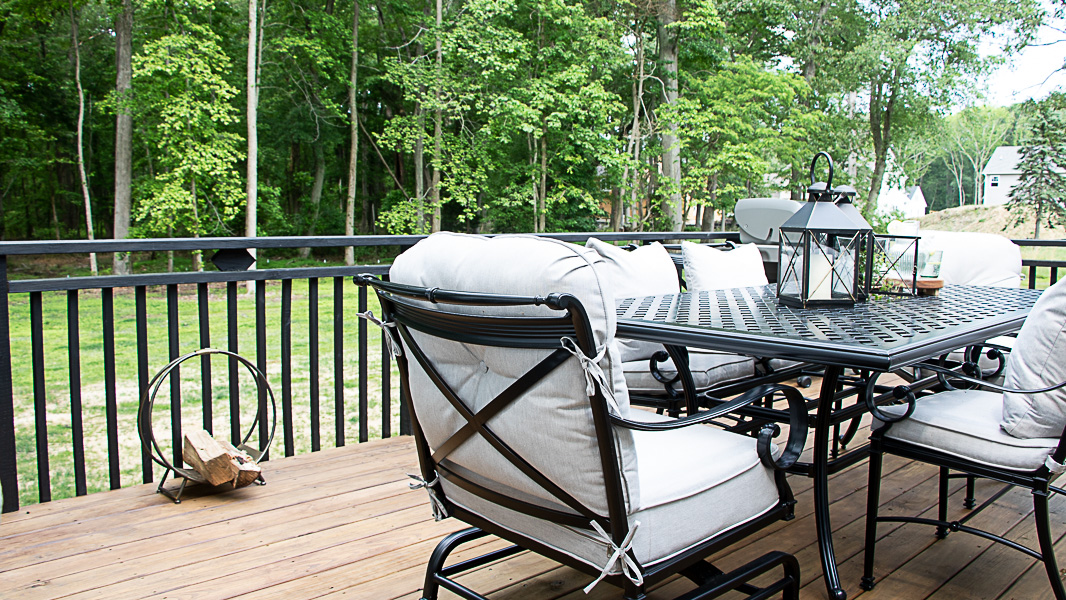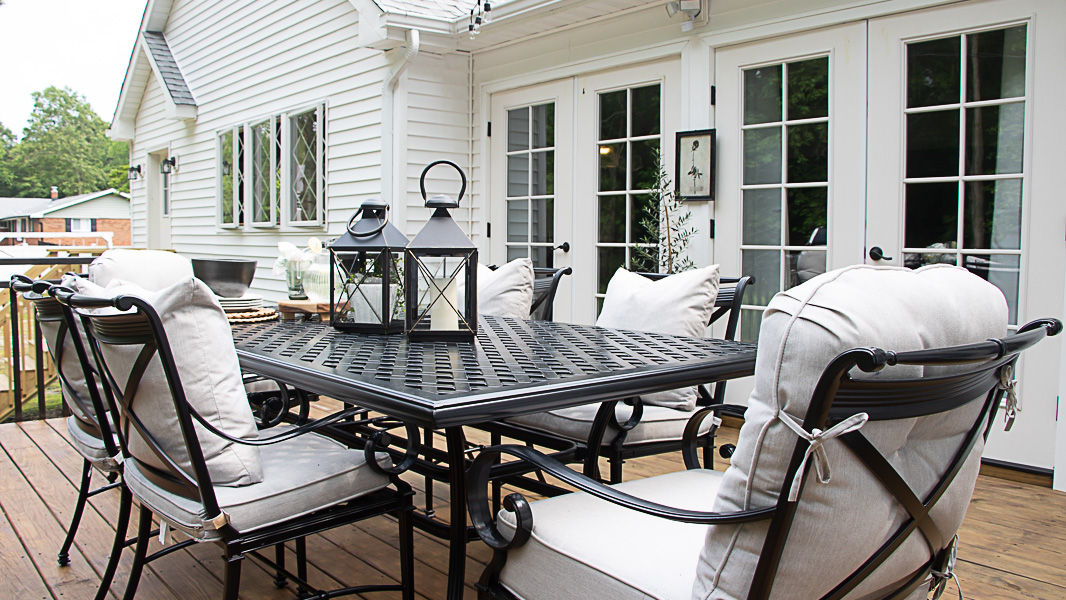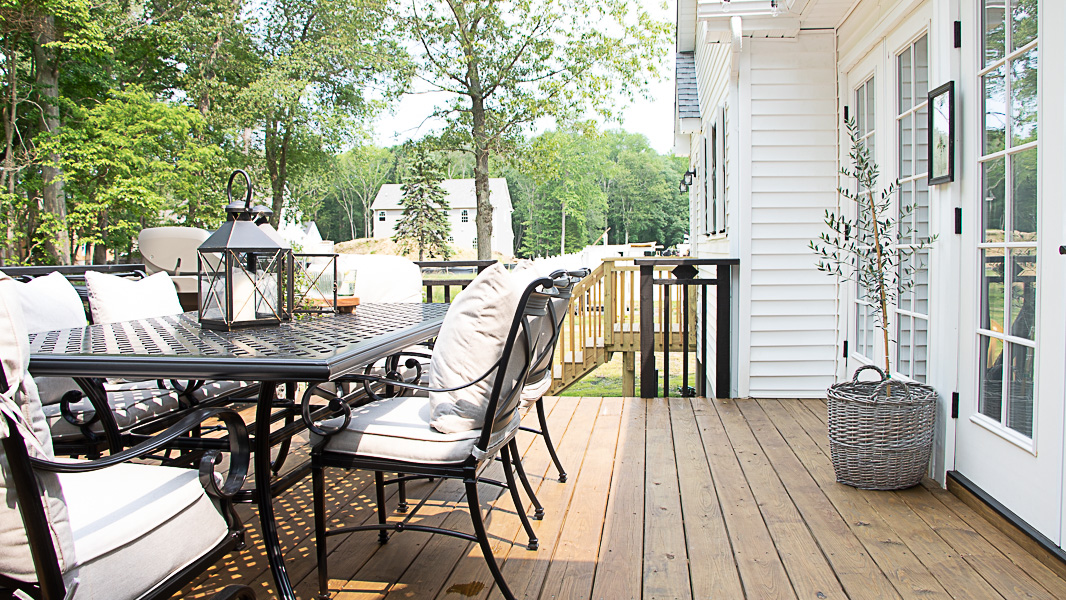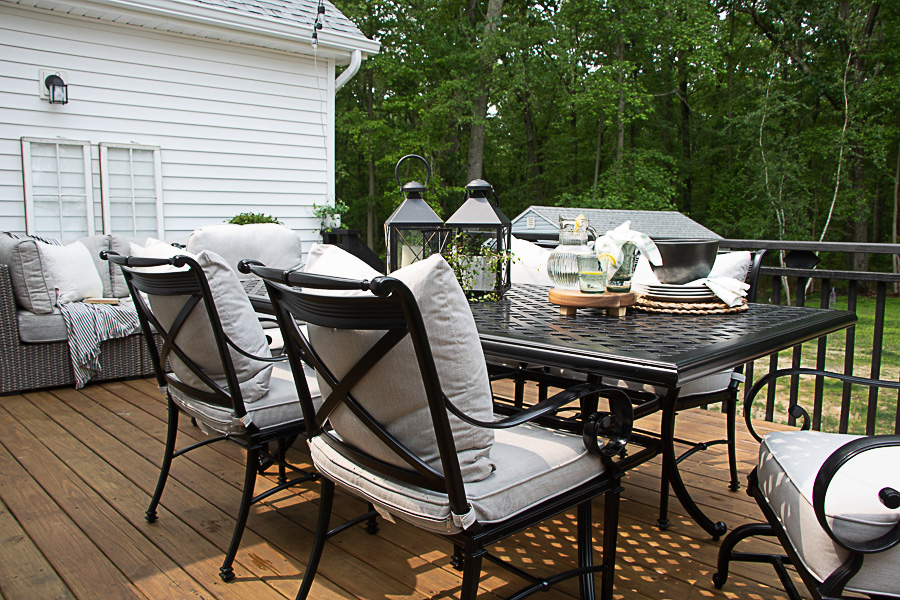 Raymour was so easy to work with and I ordered my furniture on a Thursday and received it that  Sunday (just in time for hubby's birthday). Their 3 day quick delivery is a dream, because I have no patience to wait. Oh and did I mention the shipping was completely FREE!
(Visited 2,370 times, 1 visits today)