Gray Slipcovered Sofas
I have been planning our living room since before the framing was even finished.  Looking at all different furniture layouts and trying to decide what would be best for our space. We made a decision and the sofa's (yes you heard that right) "sofas" arrived last week. Some of the challenges for the space is that the room is longer then it is wider, the space is shared with our kitchen (first open floor-plan to design), we have a TV located above the fireplace, and an awkward pole that separates the walkway from the dining room  that is directly behind the family room. So all of these to consider and of course color and style. I was definitely leaning towards something slipcovered but back and forth between gray slipcovered sofa, white, or even velvet crossed my mind…oh and maybe leather. I wanted something that felt casual but beautiful and I wanted it all to tie back into the kitchen. So, yes a lot to consider.
This post contains affiliate links that I make a small commission from, with no added fee to your purchase. This helps to support this little blog. 
Furniture Layout and Decision Making
I shared last week a round up of my favorite European Farmhouse Style Sofas, because while browsing I considered many of these styles but ultimately decided on this one. My options for a furniture layout were to do one sofa facing the TV, One sofa with the back towards the french doors and two chairs opposite, a  sectional and two chairs, or two sofas facing each other with or without chairs facing the fireplace. I know a lot to consider and believe me I studied furniture layouts more then what was healthy. I had to consider functionality, budget, and style. I came to the conclusion that having two sofas facing each other would be best for more seating room and for style. I love how you can see the fireplace best like this from the kitchen and it breaks up the french doors a bit and the flow from the dining room to the living room as well. The one thing that  I did consider that we still have not decided on, is if we are going to add two chairs facing the TV. The biggest debate is that the space between both sofas is not very large so I would need a really narrow and small chair and we are undecided if it's necessary…to be determined.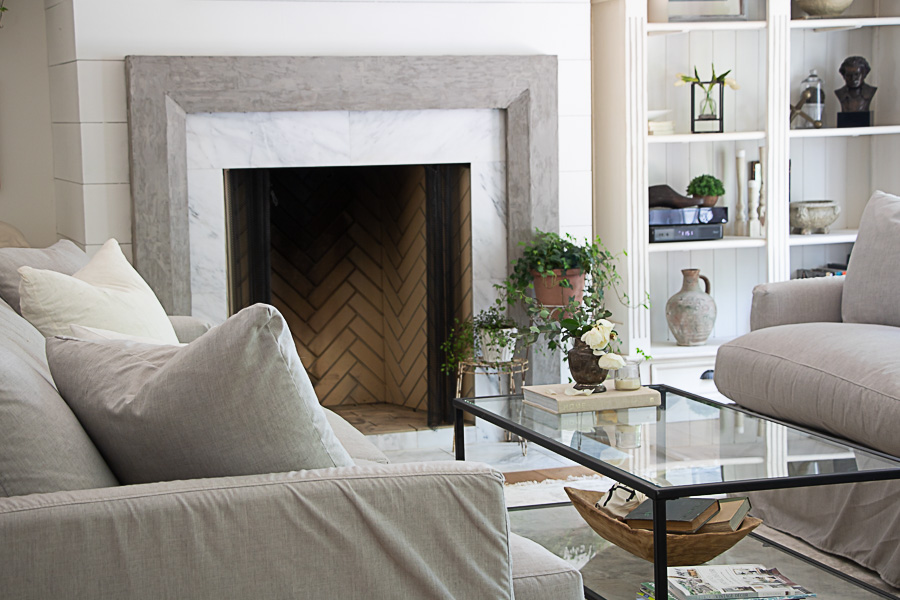 The photos have been really blurry on the blog and I'm not quite sure why, so pardon the slight blur I'm working on figuring this out. 
Next decision was color, this sofa is available in many colors and I loved that, but not seeing them in person was really difficult, though they do offer you a swatch (I don't know if I realized that right away). My initial thought was a creamy white but then the more I kept looking at the Cast Silver (which is very different in person-i'll get to that) the more I kept thinking it would be lovely. Add a little something to the room but still very soft. Also, the color I was considering was available in Sunbrella fabric which I thought would be great for preventing stains.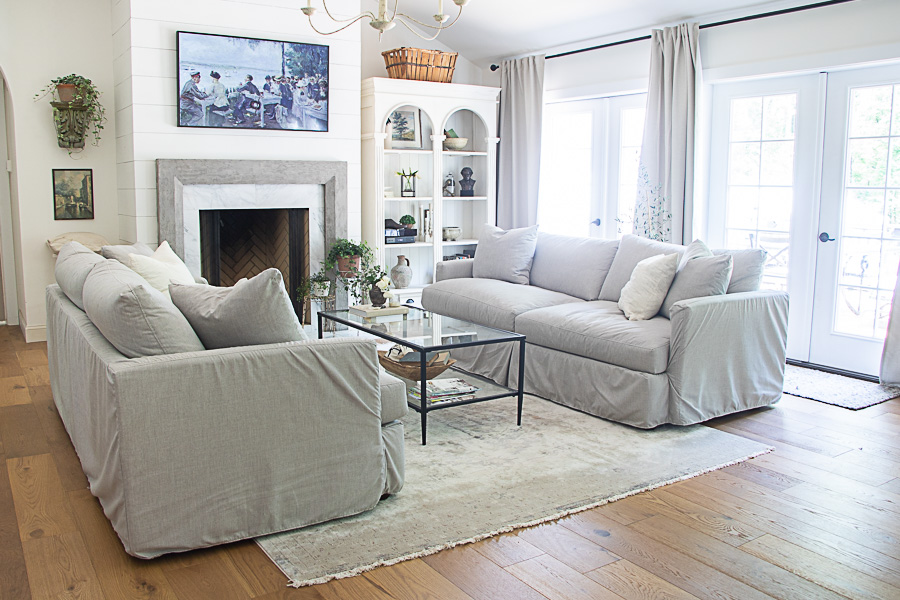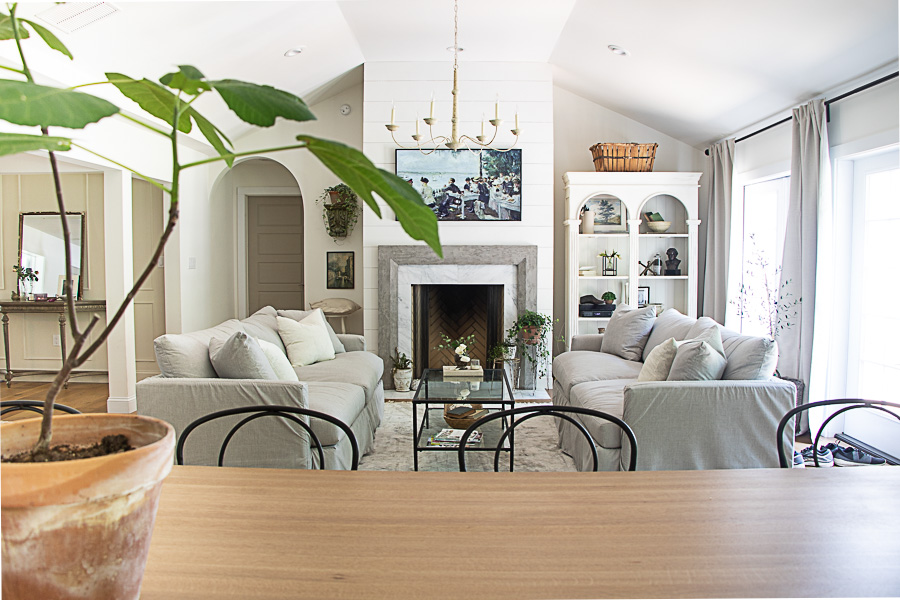 So, the sofas arrived and the color seemed quite familiar…very different then what I thought it was online, but pretty. Then looking a little closer once the movers placed them down…I realized they were the exact fabric that I had on my outdoor furniture. I'm not sure if that was a good or bad thing but I will say I am consistent. I did love how the sofa colored worked beautifully with the new Boutique Rugs area rug I just received. The softness of it brought an elegance to the space and together pair beautifully.

j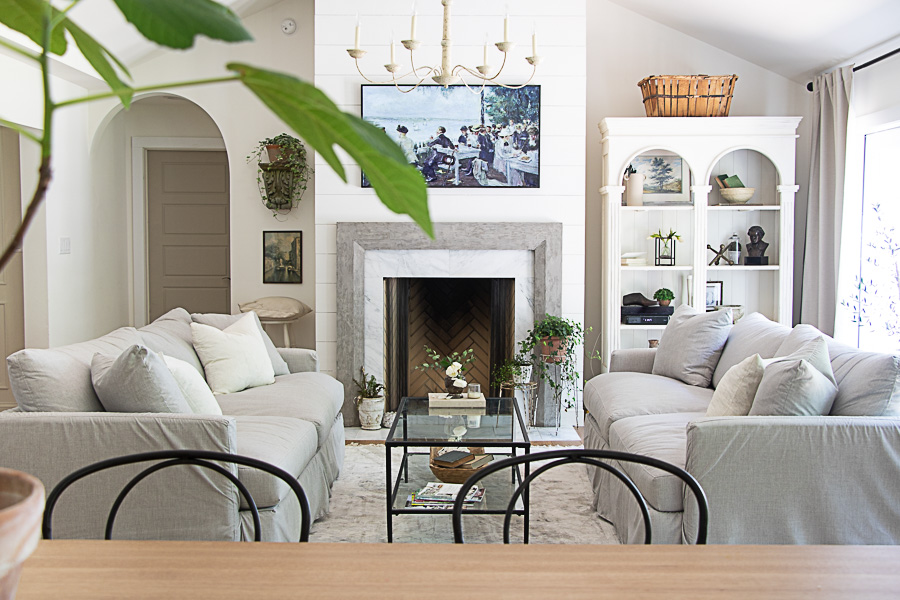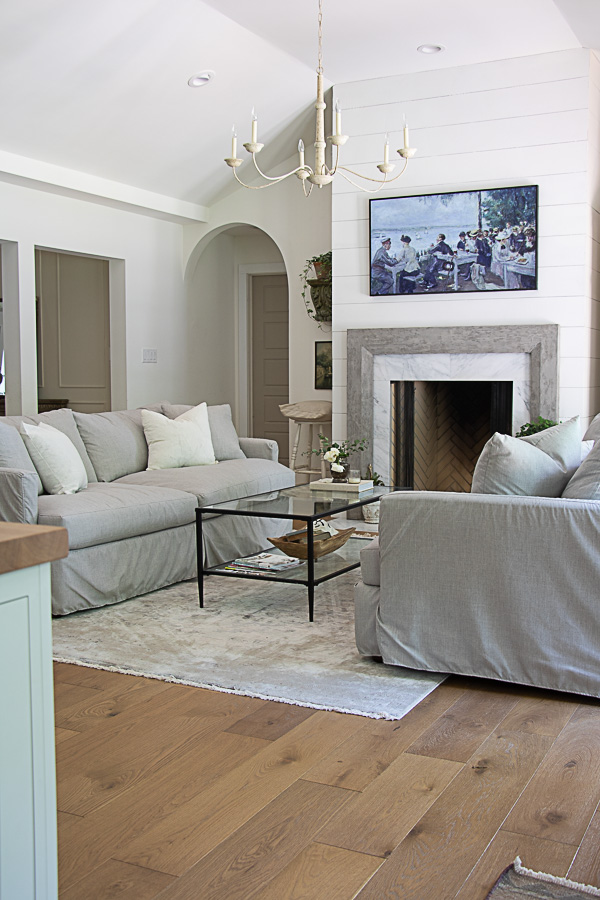 My opinion on the sofas:
Well, I guess most importantly is what do we think of the new sofas now that we have them? We love them!!!! The style, comfort, height, length, they couldn't be any more perfect. They look just like Arhaus sofas but without the price tag and I will tell you the comfort was not compromised. Hubby is hard to please and he literally high-five'd me the day these arrived. As for the color and fabric I think it's really pretty and the color is very soft. The color online looked a little more taupe, and that's kind of more what I had in mind. We were a little worried we just overpowered our house with gray, but I can't deny they don't look good. I can always order slipcovers in the future that are white, if I want ,so that would be a good way to switch up the look. I think I am a little disappointed is that Wayfair does not have an option to order more slipcovers for the sofa…but I'm  sure there are websites that I can send the size to and they can make it. I know a lot of bloggers I've seen work with the company Bemz that does custom slipcovers from  Europe.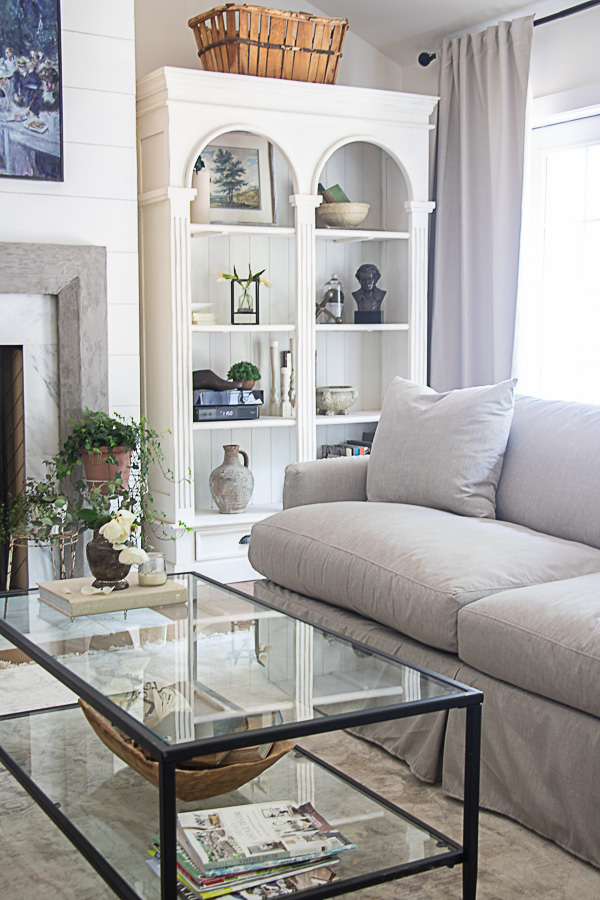 I have to say I've also boycotted throw pillows for a while but having new sofas I'm looking forward to shopping around for some new ones for the Summer. I paired some white linen ones from IKEA with them for now. We also brought up our old coffee table from our old house and it works a lot better. It's a bit slimmer which is what we needed for the gap between the 2 sofas and I even like the touch of back and glass, makes it a bit  more elegant. Though, I'm dreaming of a white chippy table to place here eventually. I will say this furniture ordering offline was a success for style and comfort. Color-I should have ordered a swatch…but lesson learned.
Source List:
Stools-Arhaus
Wall Color-White Dove BM

Please Pin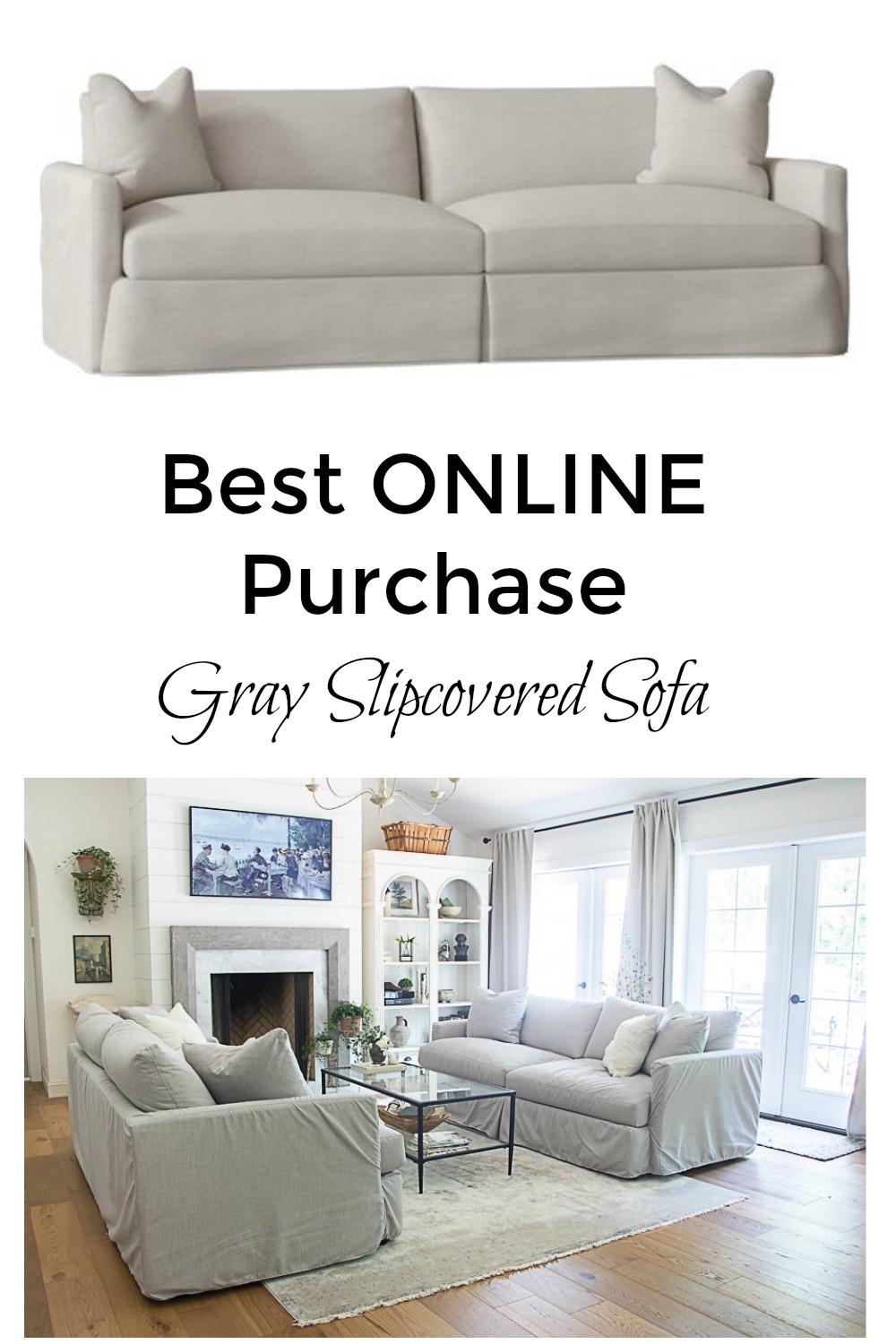 More Sofa Posts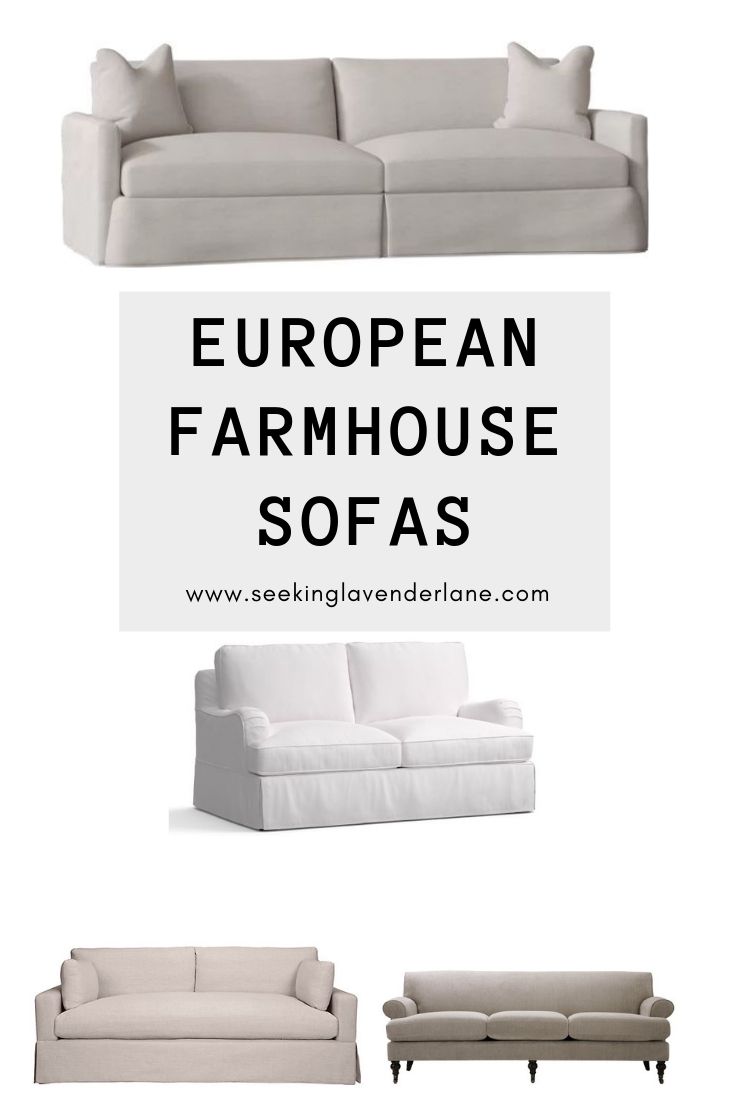 (Visited 2,224 times, 3 visits today)