Hello Friends, I am sure we are all trying to make the most of our time while staying home these past few weeks. I think organizing is one of those decisions that most of us have tapped into with it being a great time to binge and tackle those closet spaces we have been ignoring. For me, one of the big issues we have had, has been our upstairs storage closet. It has become quite the disaster since moving in over a year ago. I mean talk about having a space that we calle, the dump zone.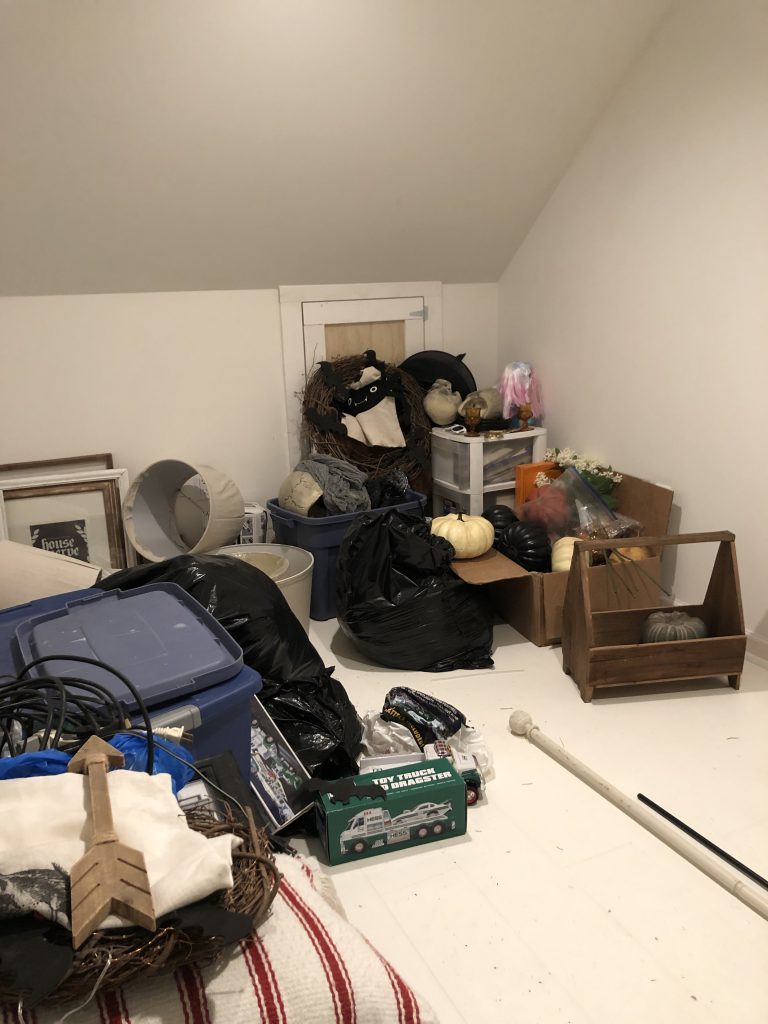 Anytime we did not have a place for something, bins, seasonal decor, etc. it would find it's place upstairs. I mean it was an empty space and it made sense to just drop it there until we could either throw things out or find a spot for it. My decor and yard sale items may have been the most overwhelming. It was all over and until it was warm here again we just couldn't have a yard sale. Well, now our yard sale has been delayed again, but we were able to get everything I want to sell in a bin and place it in the garage for now. So, it was time to get this closet space looking pretty and organized.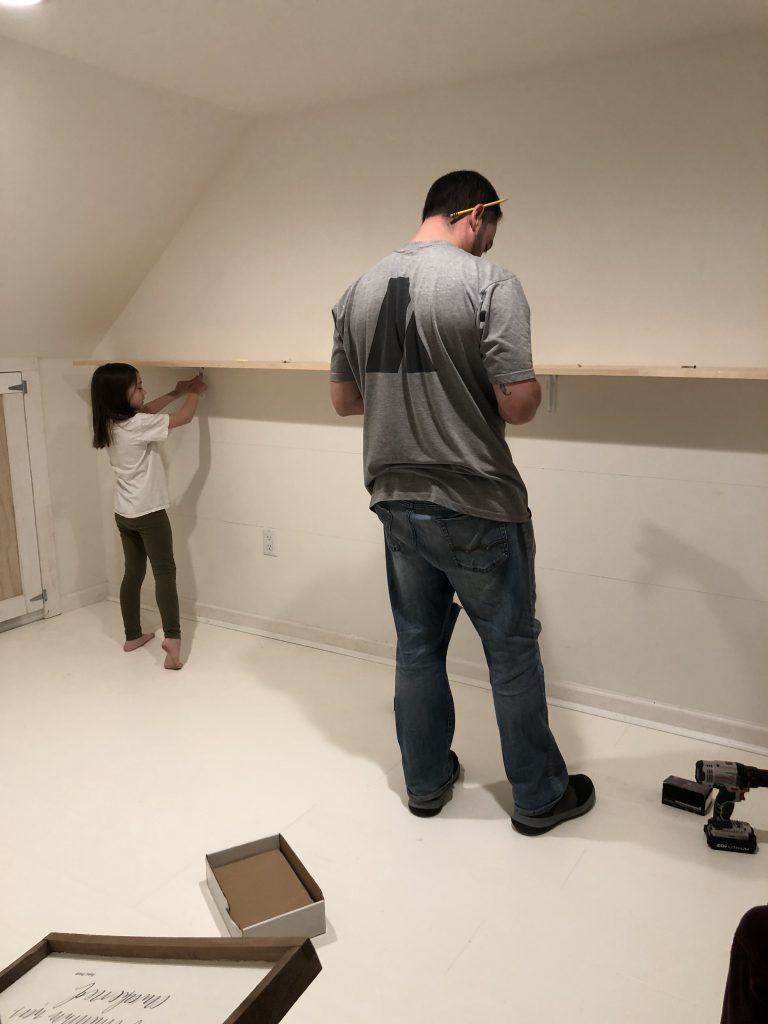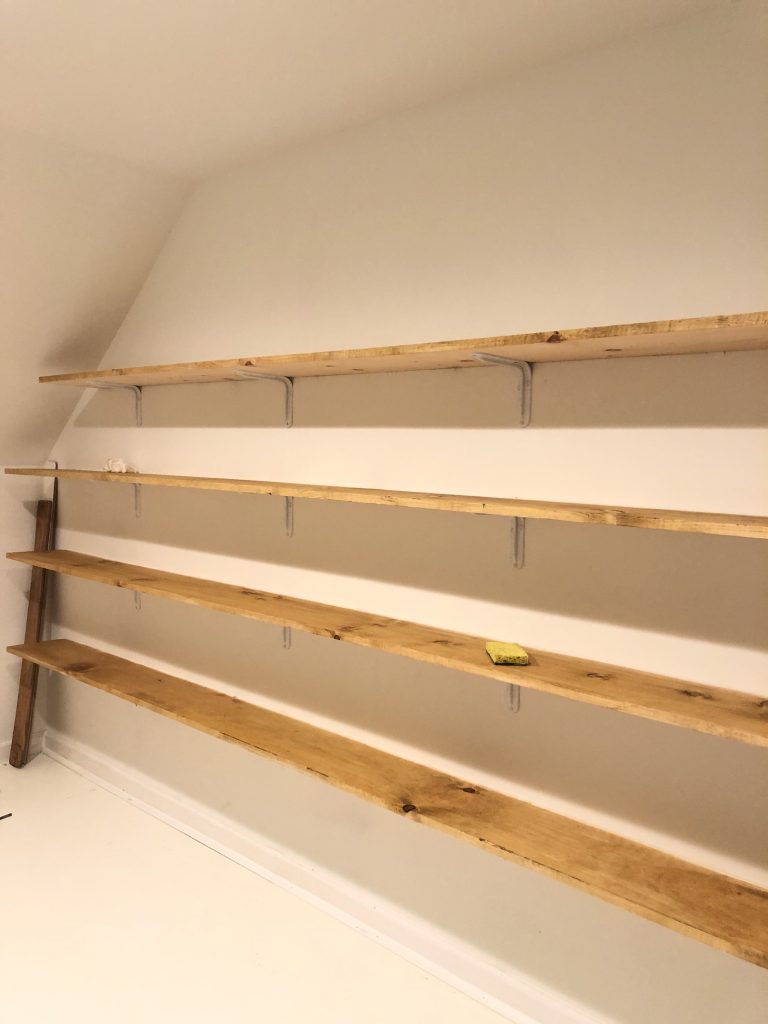 I had always wanted a space where I could place all my decor items that I wasn't currently using. Being a home blogger and decor enthusiast you can imagine how much I've collected over the years. I was tired of hiding things in bins and not seeing what I had. How many times would I say, "oh I forgot about this". So, I knew I wanted a display area where everything had it's place and I could just grab a vase or decorative piece when I needed it for a new vignette. So, once the "storage" closet was cleared out, it was time to now build some easy shelves with metal brackets and be able to display and store my decorative items.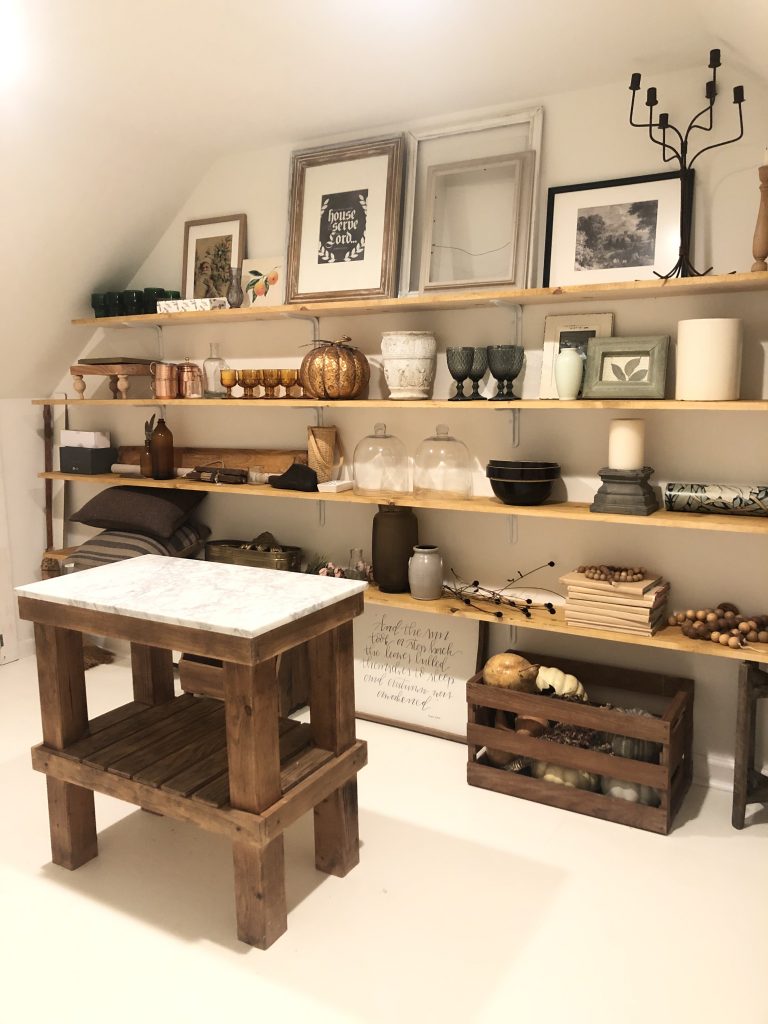 When I say this was easy, I'm not kidding….hubby was able to build this in about an hour and we used cheap wood and some gel stain I had on hand to stain them. Between the de-cluttering and the project this was a one day weekend project for us.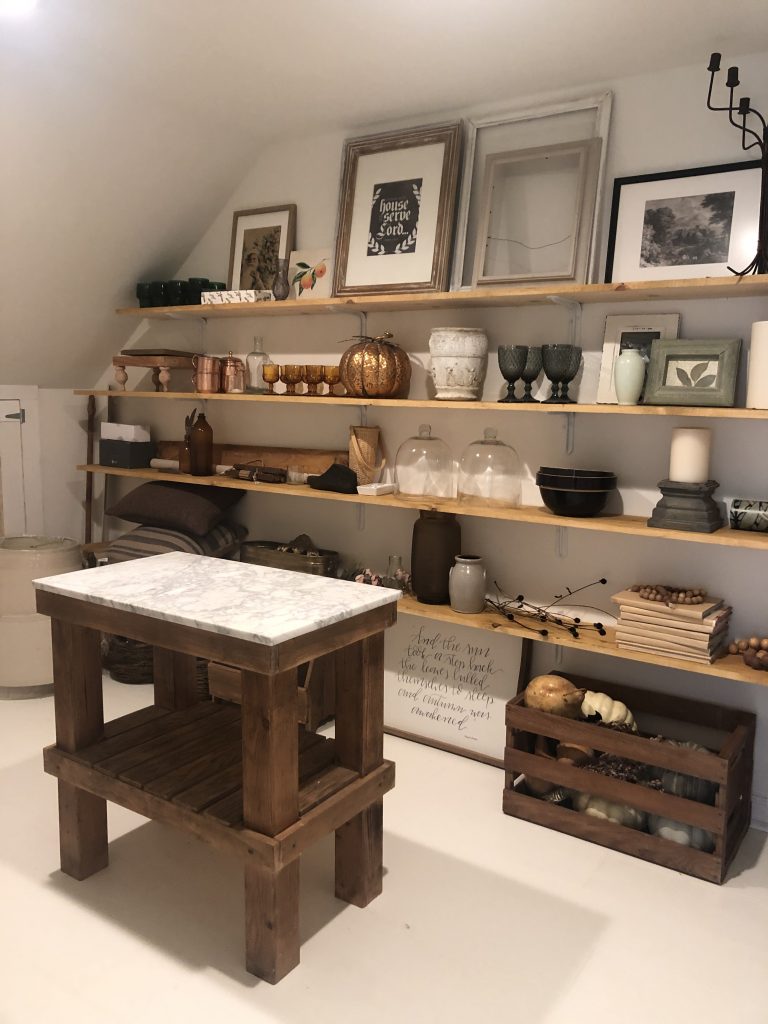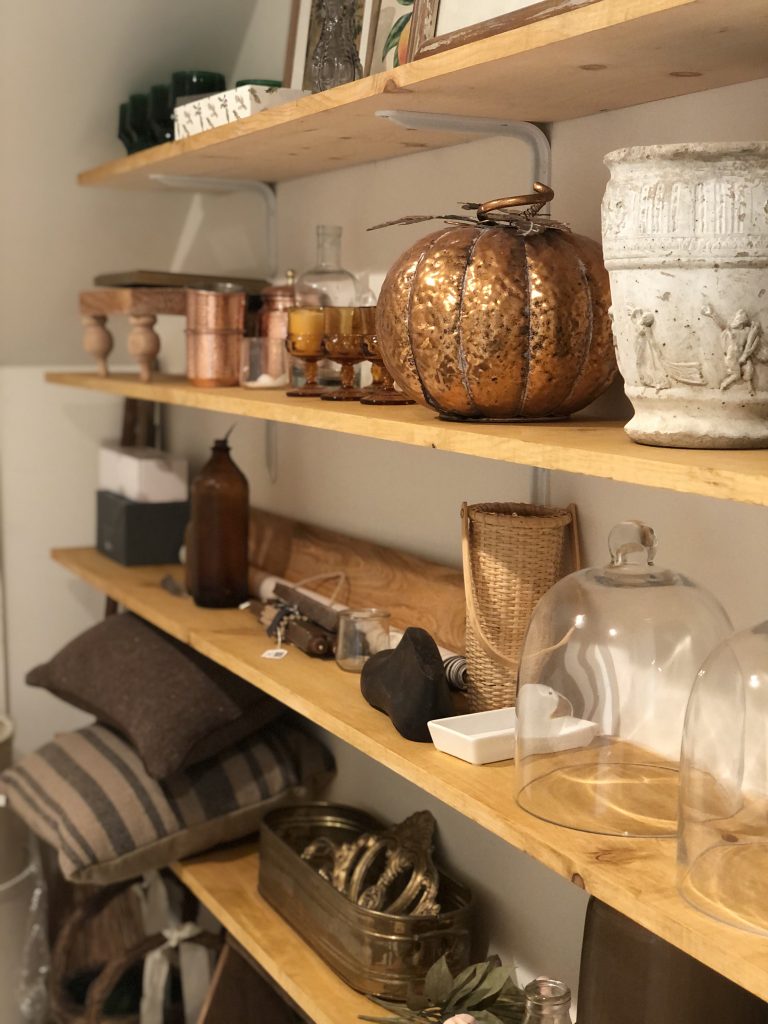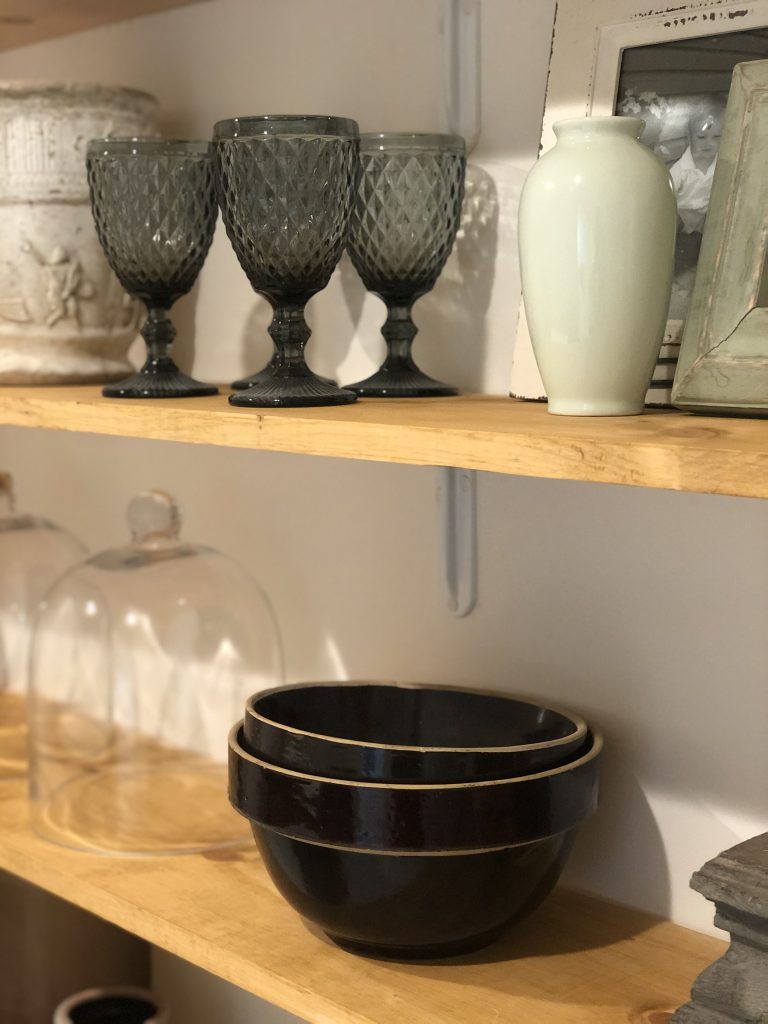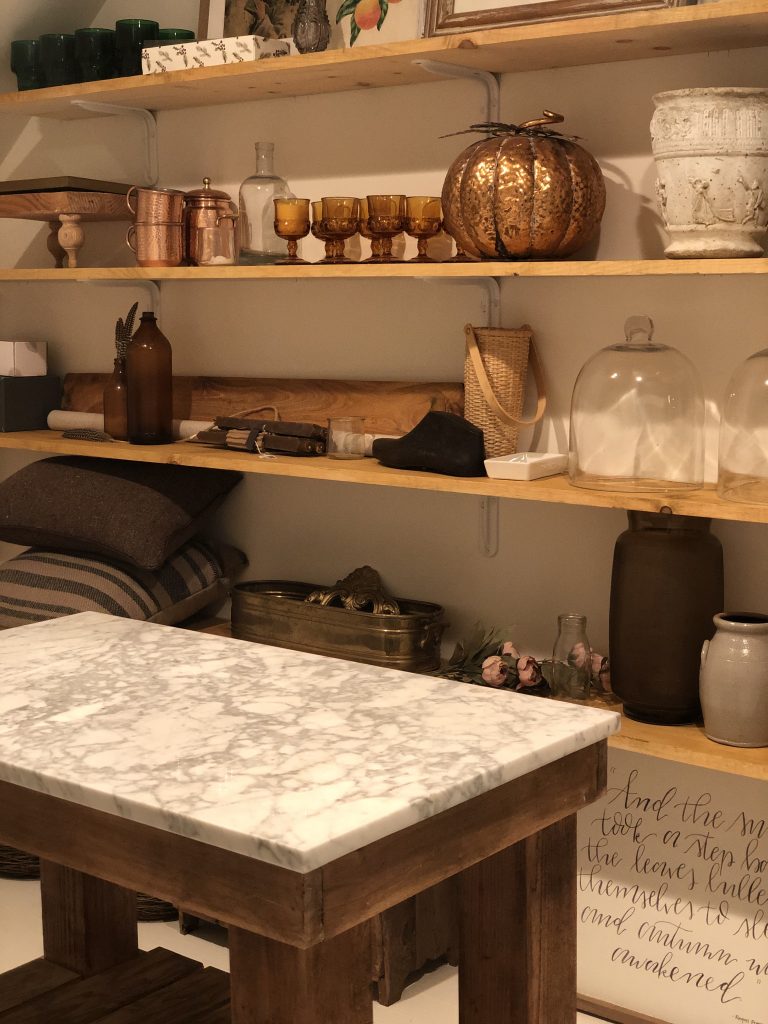 I love it so much and I'm so grateful my vision came to life! What did you organize or plan to organize this week that you've been wanting to do for a really long time? I'm sure it was so satisfying to have the time to do so and finally get it done!
Some Details:
The shelves we used are 10″ wide since they fit perfect on the wall without interrupting the attic door.
The stain is from A Maker Studio, it's a gel stain which covered the crappy pine boards pretty well.
We used these, white brackets
The "island" was a cart that we made a while back, you can see the link here how we made it.
(Visited 2,157 times, 1 visits today)