Kitchen Cart: DIY Rustic Cart with Marble Top
My love for Rustic and French decor has truly evolved over the years of decorating. I don't really know how to guide anyone to finding their home decor taste…but I guess I'd say follow your heart, and see where your mind wanders too. Is it a minimal room with mid century furniture? Are you a leather and nail head kind of guy or gal? or do you find bright white airy spaces to be your thing? I can say I definitely appreciate all styles and design…but my heart is full when I bring French Farmhouse touches into my space. This project I have for you all today is nothing short of Rustic French Farmhouse. Dreamy Marble prep space, meets warm wood tones with chunky rustic style. A place to gather your morning coffee mugs,  a prep space to roll out Christmas cookies, or host a great party with a rolling kitchen island. A multi functional Rustic Kitchen Cart with simple DIY plans and major functionality.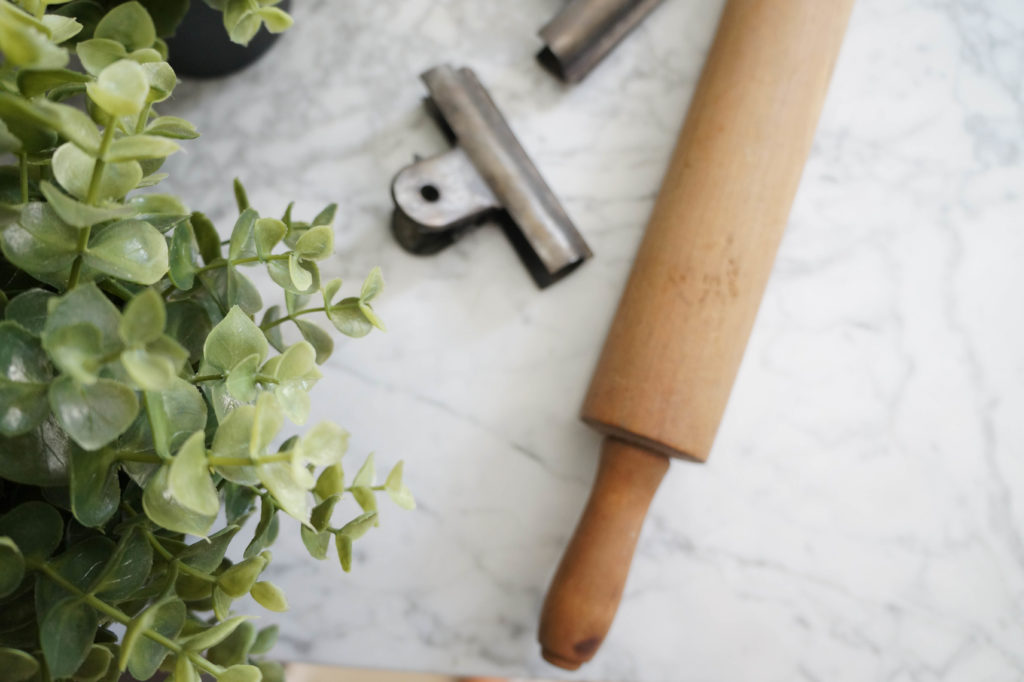 Materials
2: 8ft (1×4) for frame and shelf
2 8ft (4×4)  for legs
1/4″ plywood for top and top of tray
Marble cut to size, we used 31″x 18″
Casters
(optional)
Drill
Screws
Jigsaw
Sizing
Marble: 31″ x 18″
Legs: 29″
Top Frame:30.1/4″, 15 3/4″ (Front and Back wood should sandwich two side pieces)
Bottom Shelf: Same as Top Frame
Planks on Shelf: 17 1/4″ (cut from remaining 1/4″ plywood)
DIRECTIONS
Day 1
Cut Plywood to size. If you choose to go with a different size cart then we had made, be sure that the plywood is 1/2″ shorter then marble on each side. Marble should have an over hang.
2. Begin to build frame around plywood. Sandwiching the side wood between the front and back wood frame.
I apologize for these dark garage photos.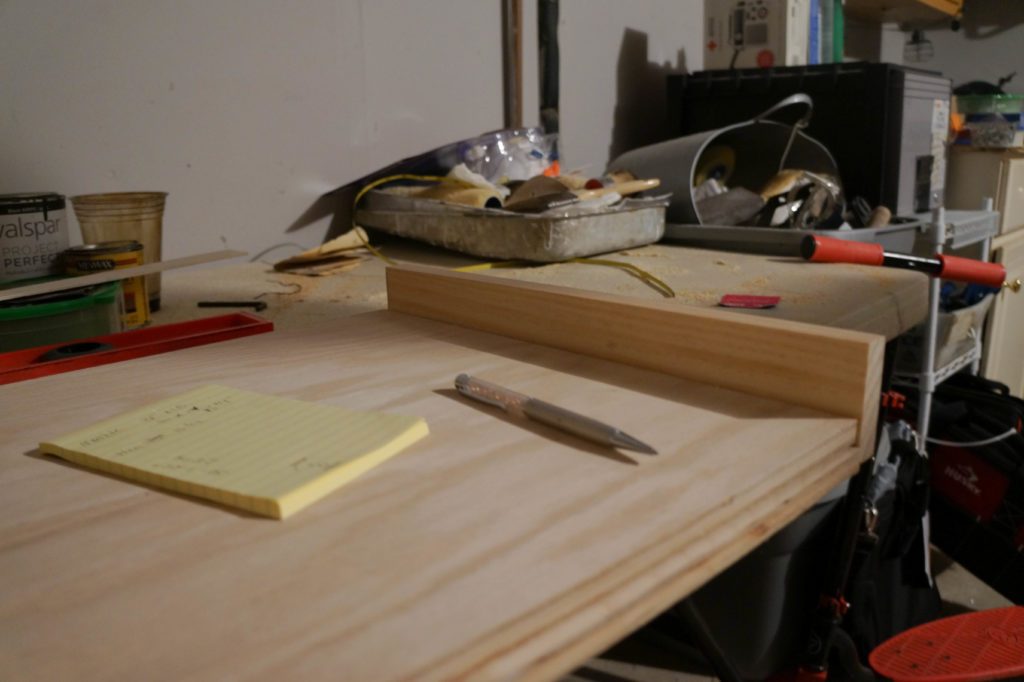 See below frame with marble on top. I chose not to epoxy my marble only because It's an expensive investment and I may want to use it elsewhere in the future. For those that do not want to purchase marble or want to find a more affordable way to get the look, use marble paper
to apply to wood.  Another option is to use butcher block as a top.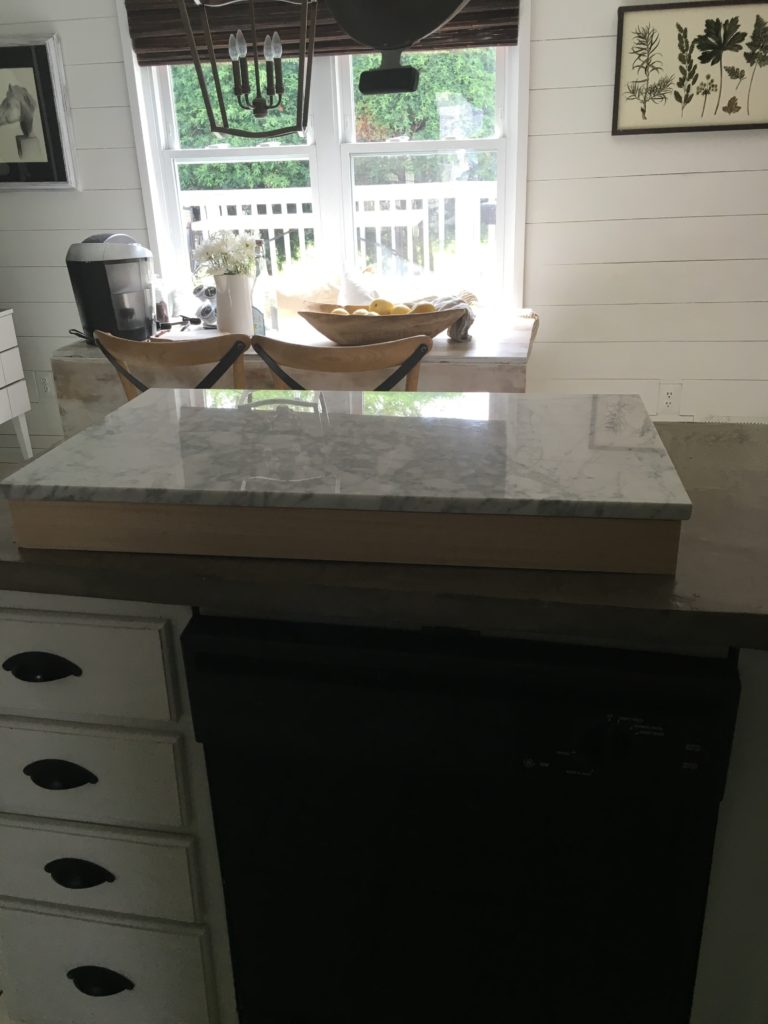 Day 2
3. Cut each leg to size.
4. Drill Hole into bottom shelf to create space to fit jig saw.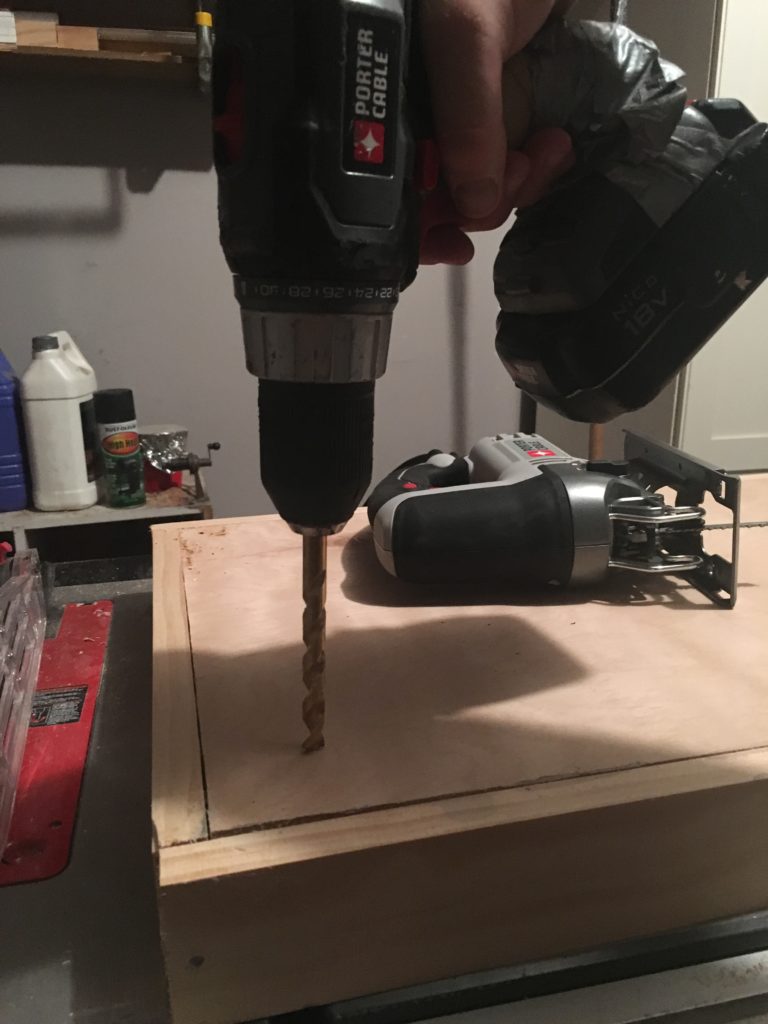 5. Mark lines where 4×4 leg will fit (inside of frame)
6. Use jig saw to cut out square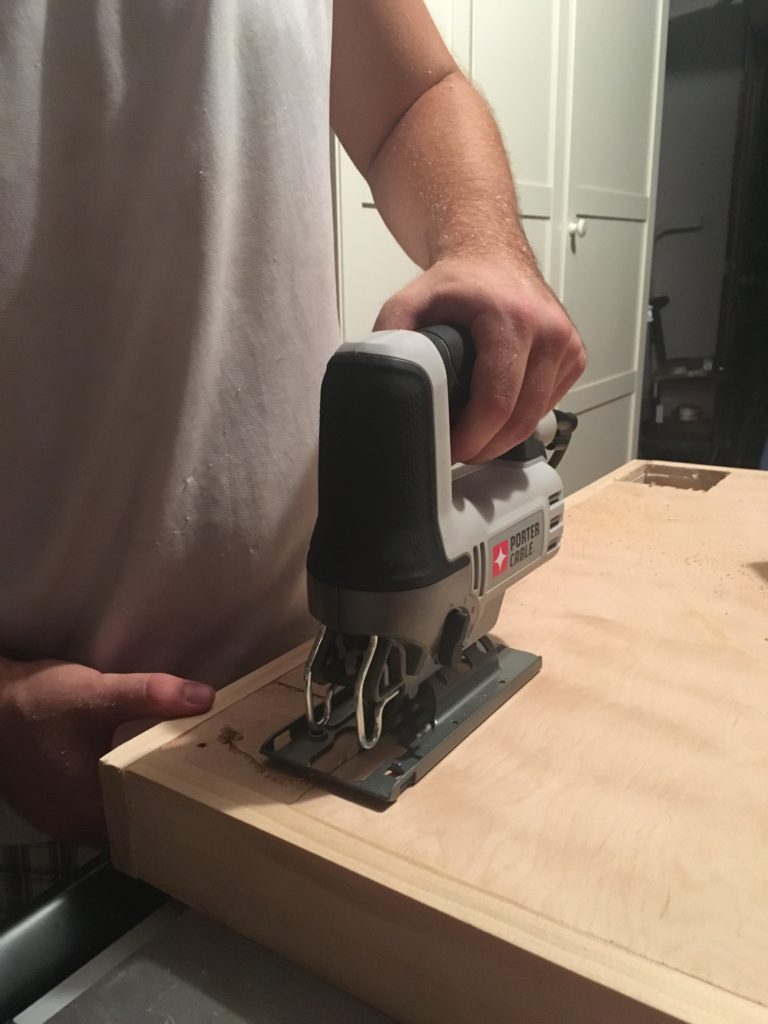 7. Assemble top shelf to legs (drill into place)
8. Slide Tray to desired height (drill into place)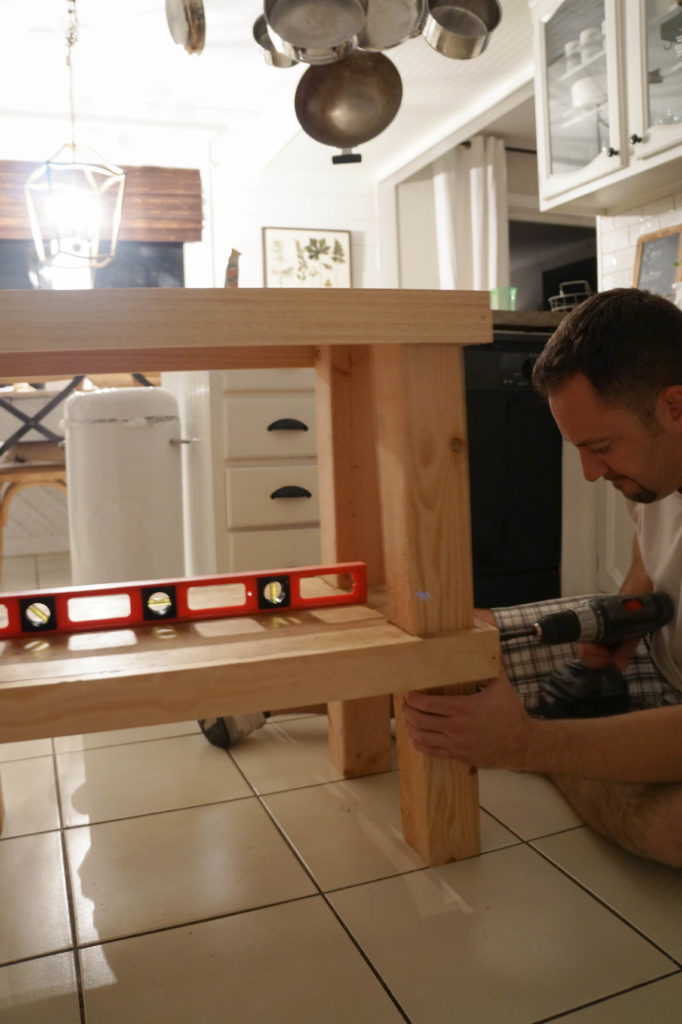 9. Be sure that tray is level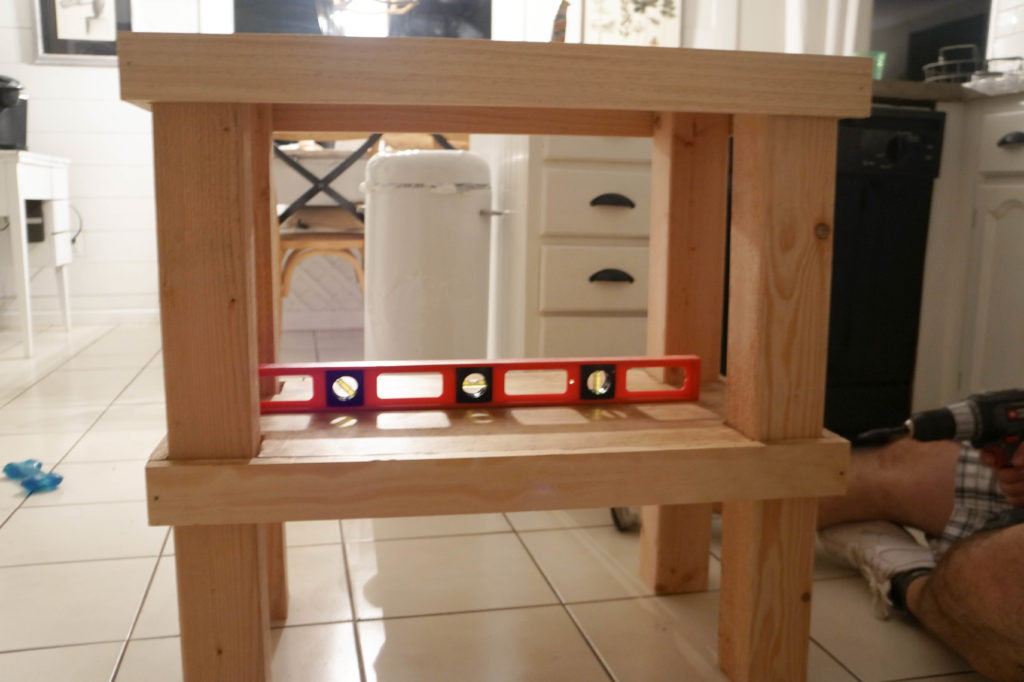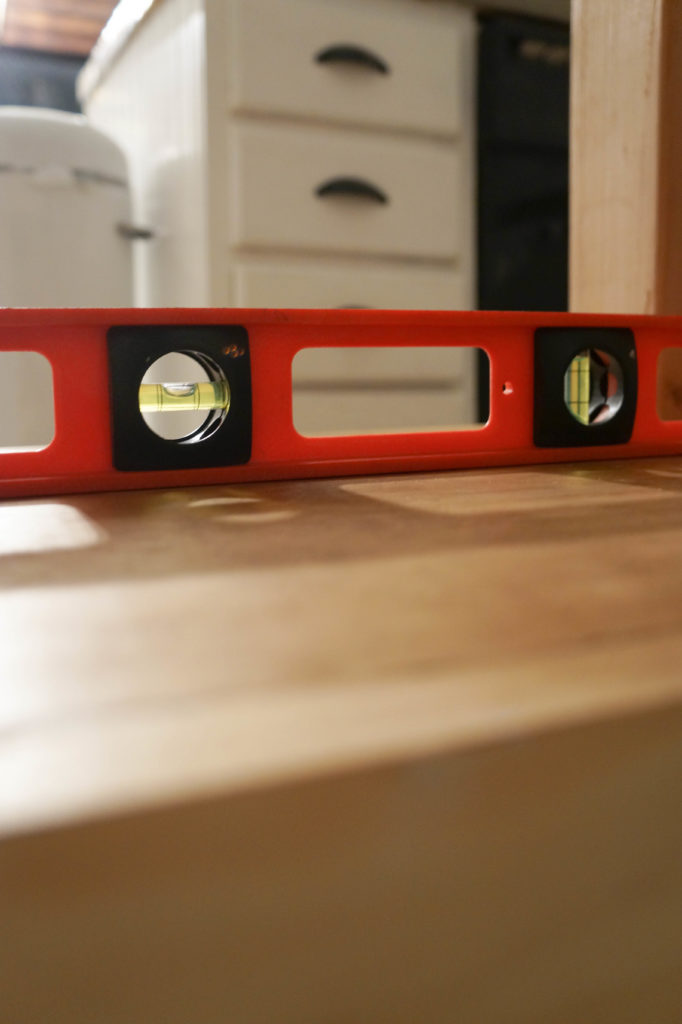 10. Then cut 1/4″ planks to apply to bottom shelf to add interest.
11. Sand
12. Stain or paint to desired color. I chose to use dark wax on mine. I just love the color of the dark wax on the bare wood.
13. Apply Casters (I still have yet to apply mine, but eventually it will be a great rolling kitchen island.
Here you have yourself a perfectly easy and affordable Rustic Bar Cart. I am loving the way the wood tone pops against my Chalkboard Wall.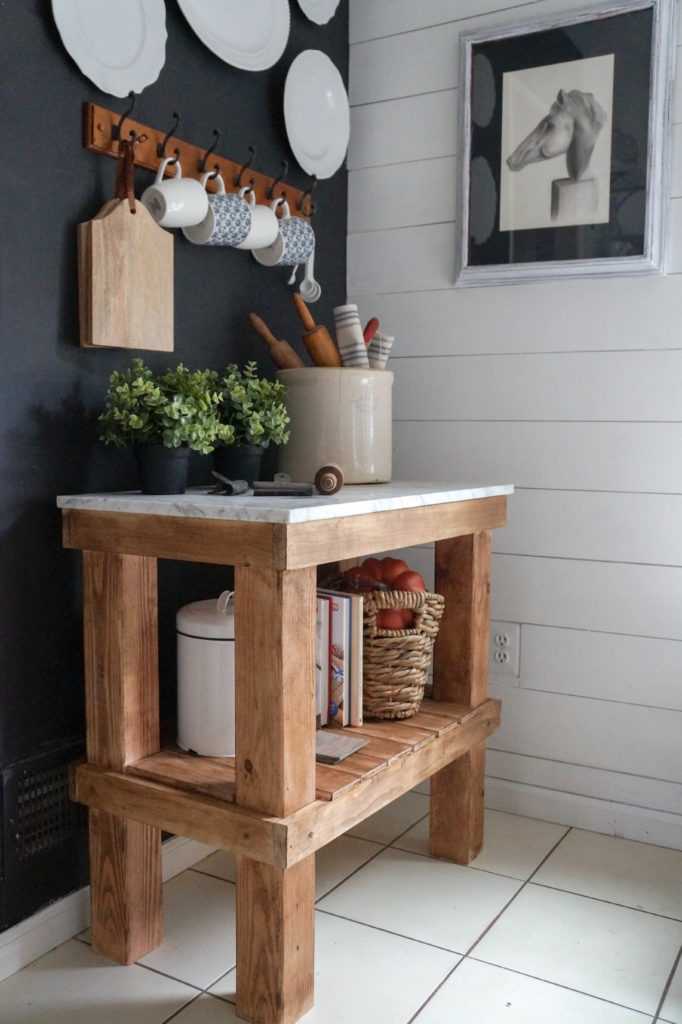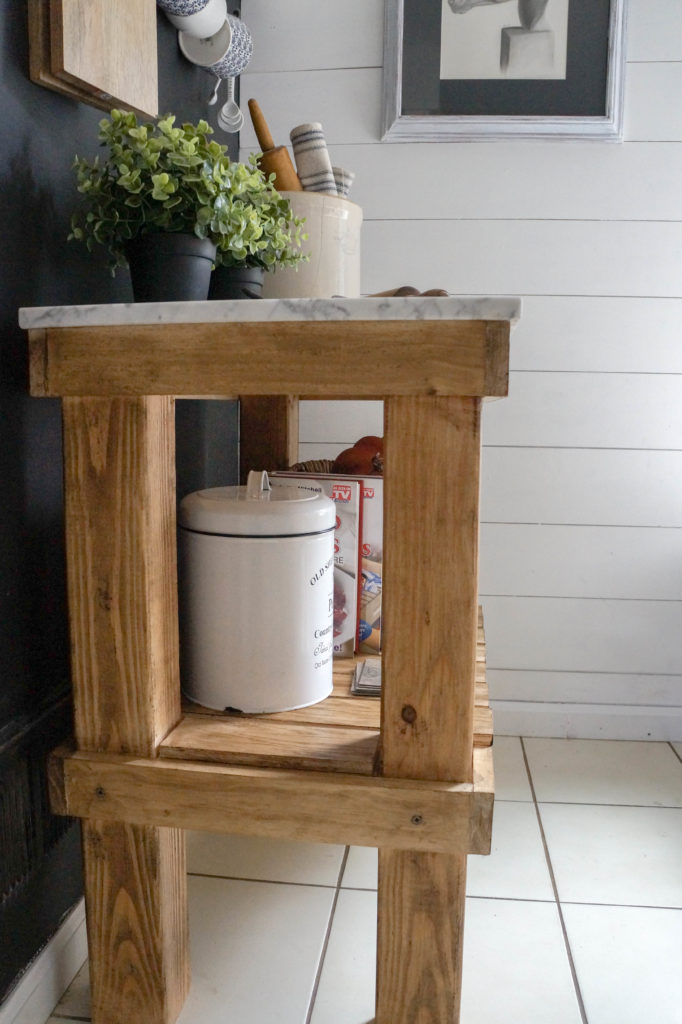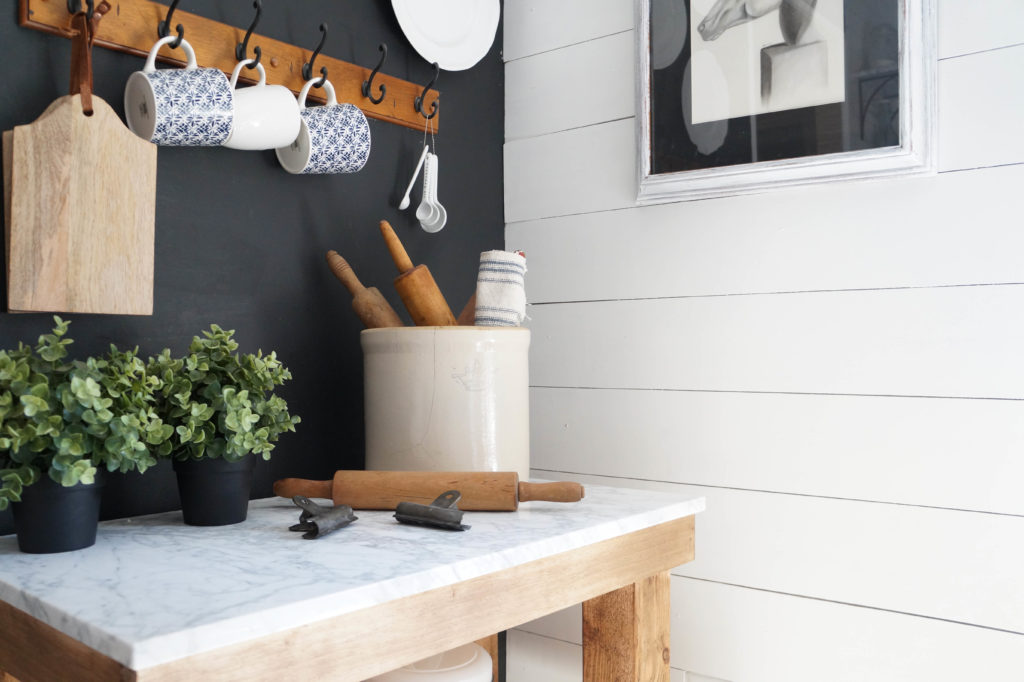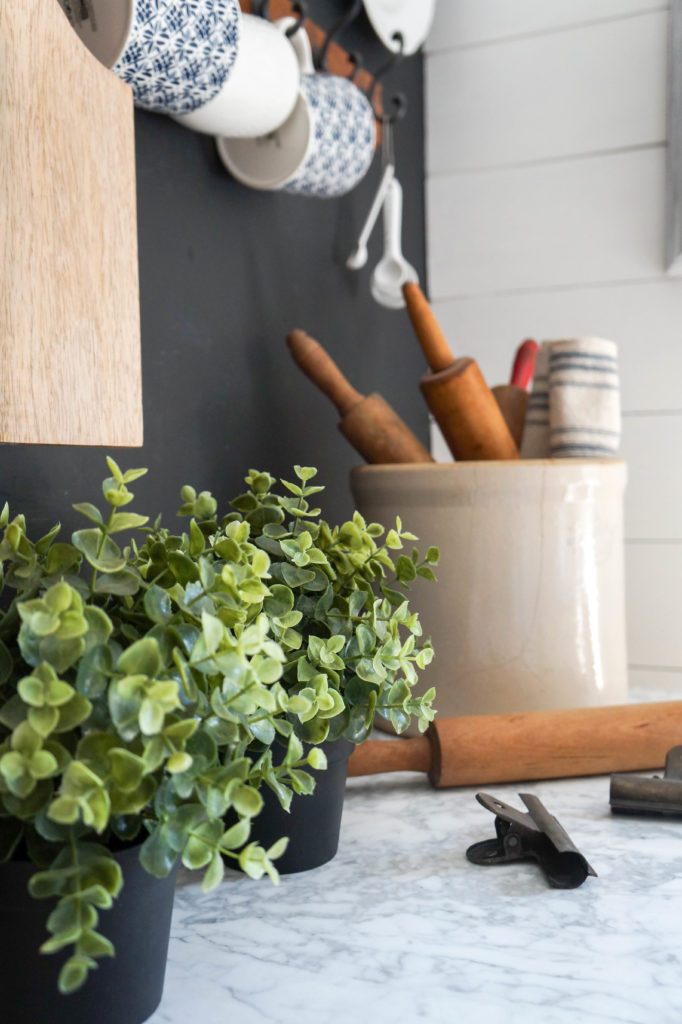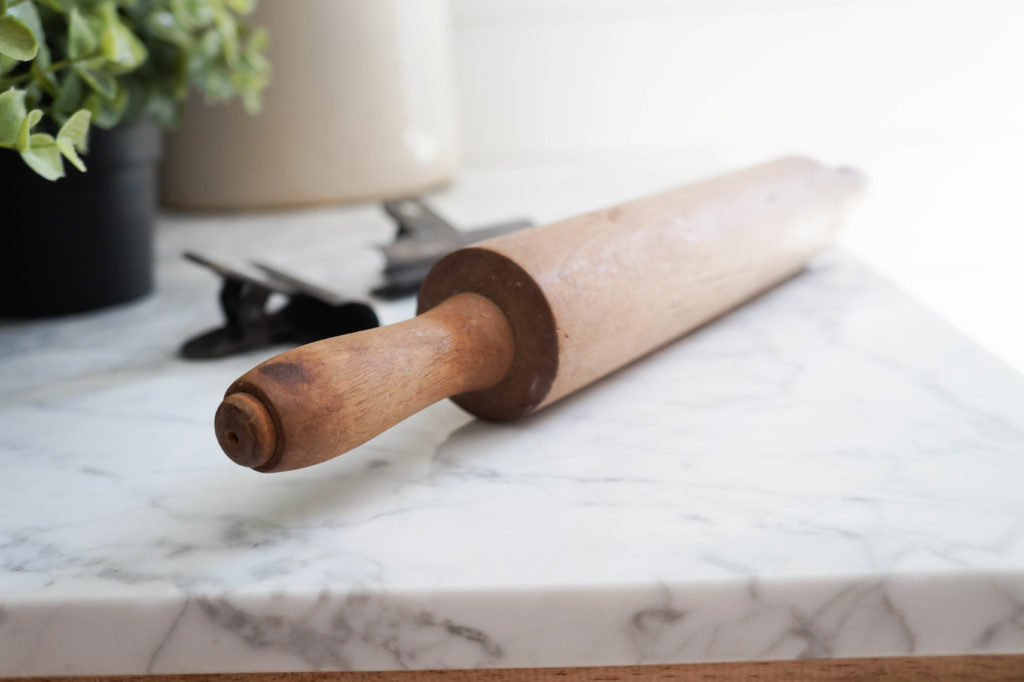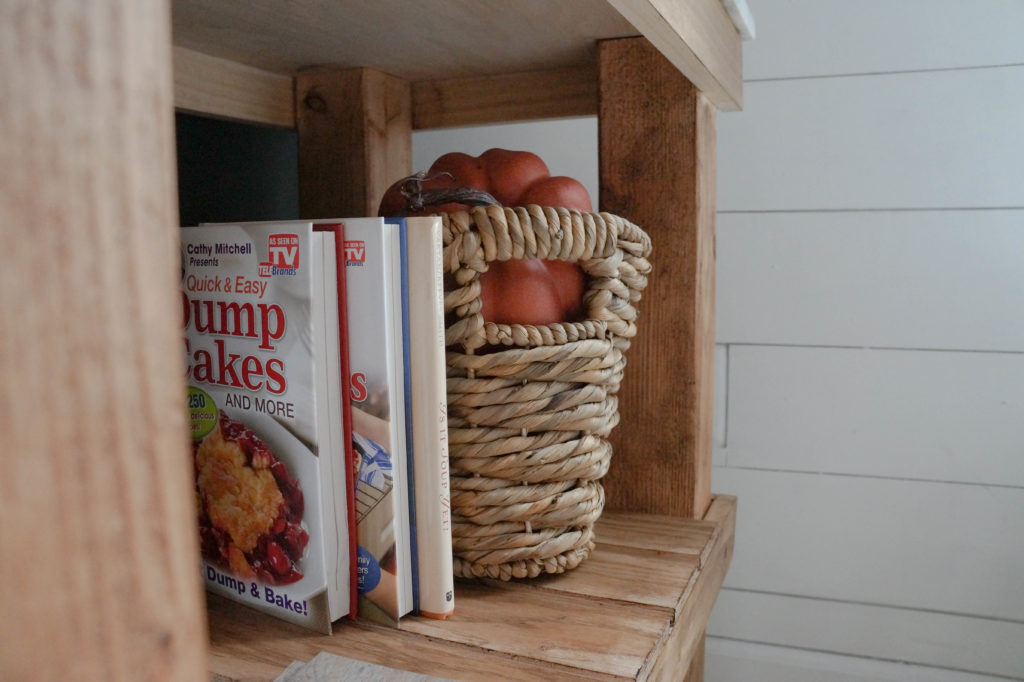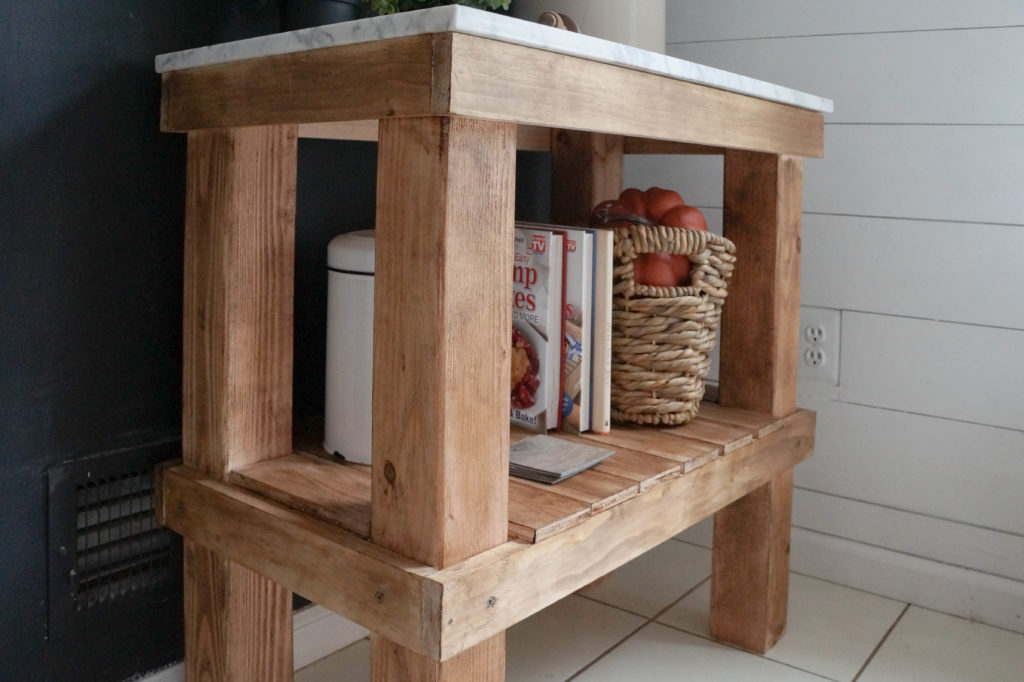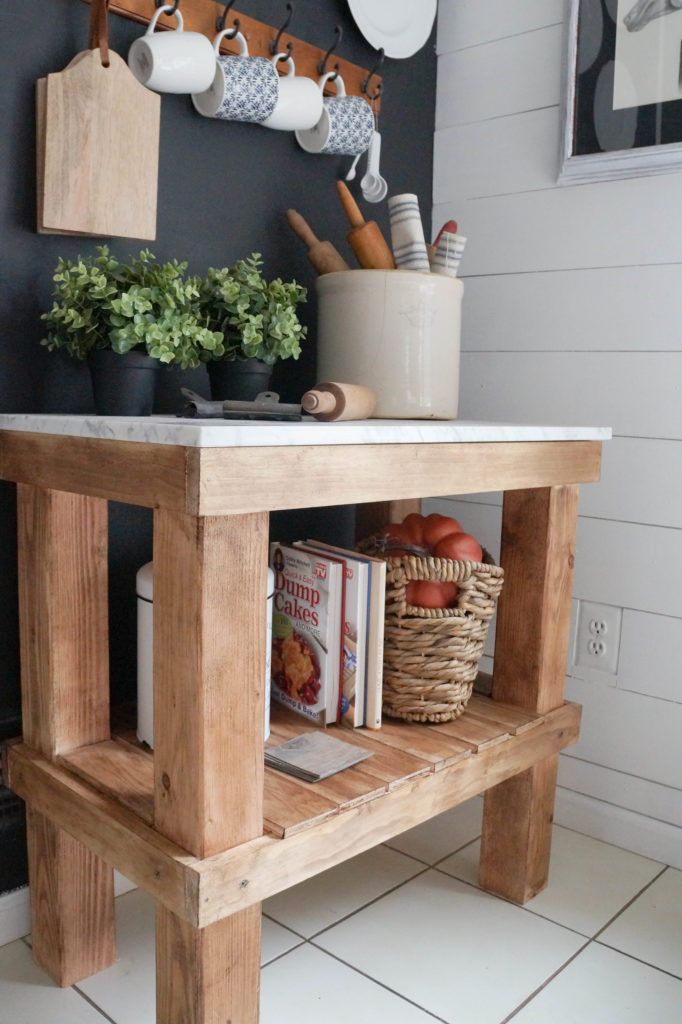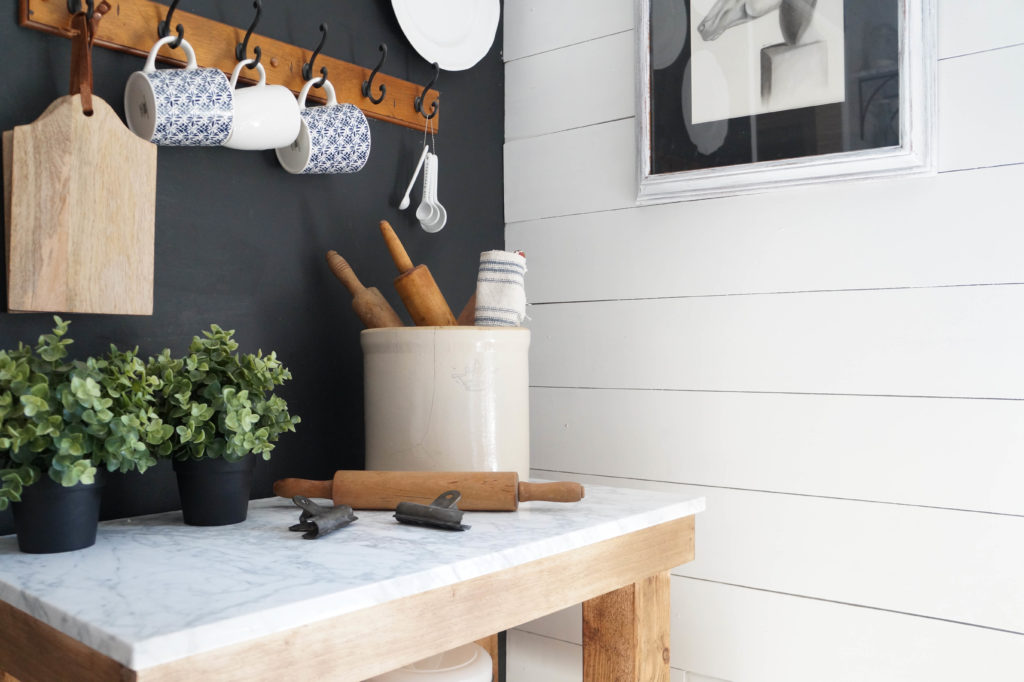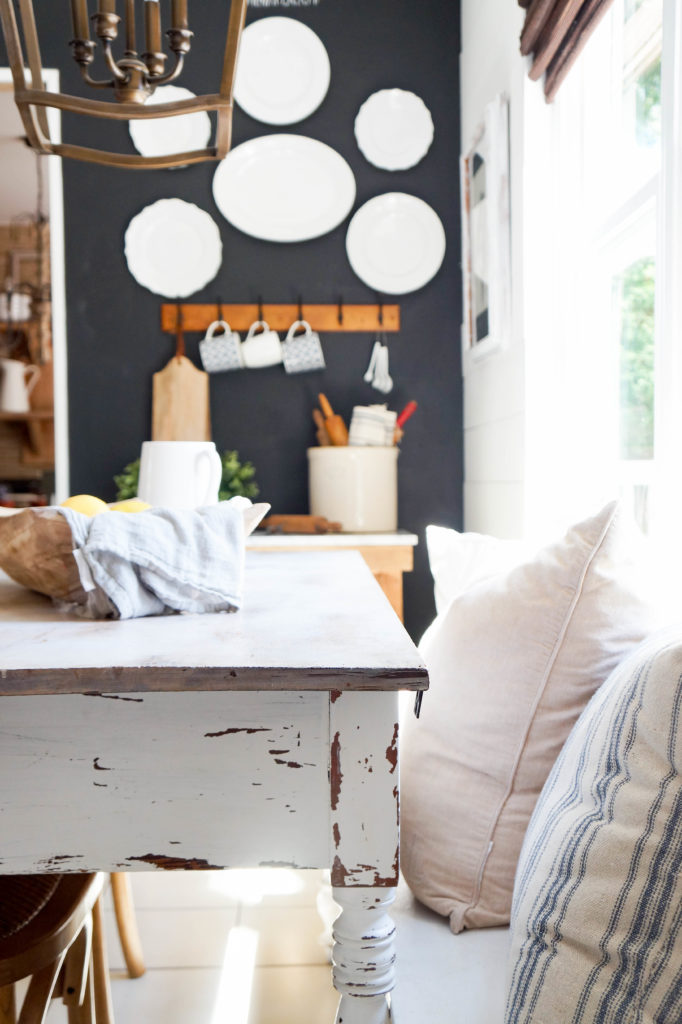 The options are endless with this! We just love having it for extra storage space, and it definitely has become the conversation piece! I love that it adds the feel of a small kitchen island, even though our home doesn't quite have room for one.
love for you to share!

PLEASE STAY A WHILE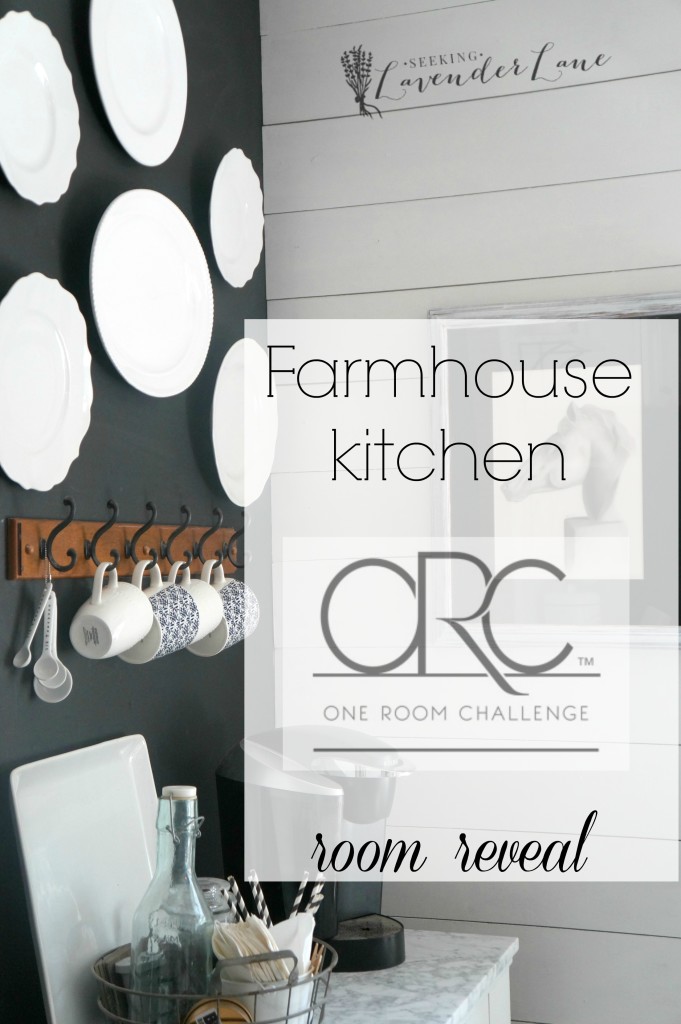 Farmhouse Kitchen One Room Challenge
(Visited 2,046 times, 1 visits today)