I can not believe I am already sharing our  home for Fall. It's almost a full year we've been in our house and already a year ago since I shared our Camper Home Tour. Wow! So today is Day 1 of my home tour for fall. Sharing some simple decorating for fall in our entryway, powder room, and hallway. If you are joining for the first time from Sonya's home, welcome!  I've got more to come tomorrow so be sure to take a trip back! With pumpkins not quite in yet…and a tight budget I recycled a lot of what I had. Pillows, some faux pumpkins (though I really can't wait for the real ones), and of course taking advantage of Fall wardrobe to display around the house, like hats and army green jackets. You'll see in tomorrow's post I also decided to use some dried flowers, so so many things to recycle,re-use, and save money for the start of a Fall home.
Come on in…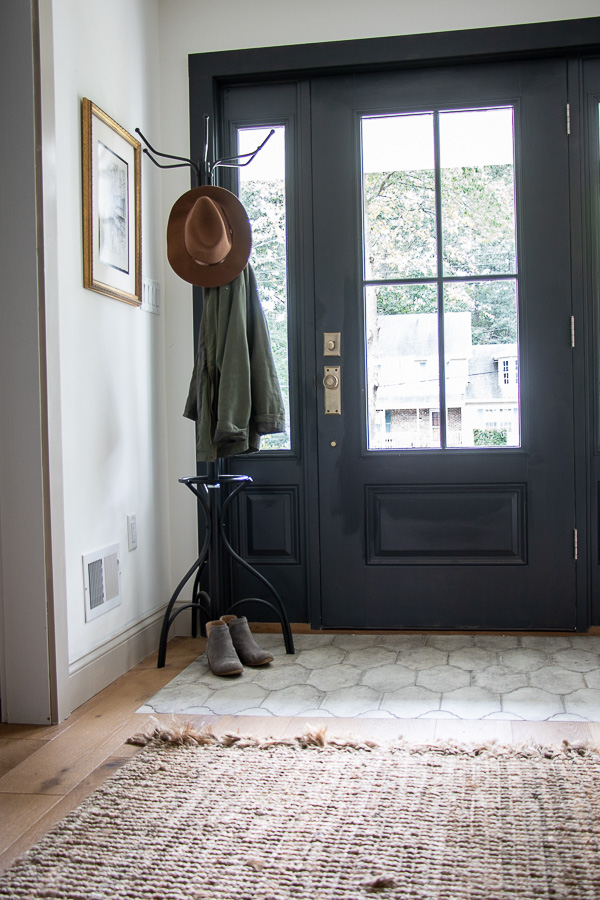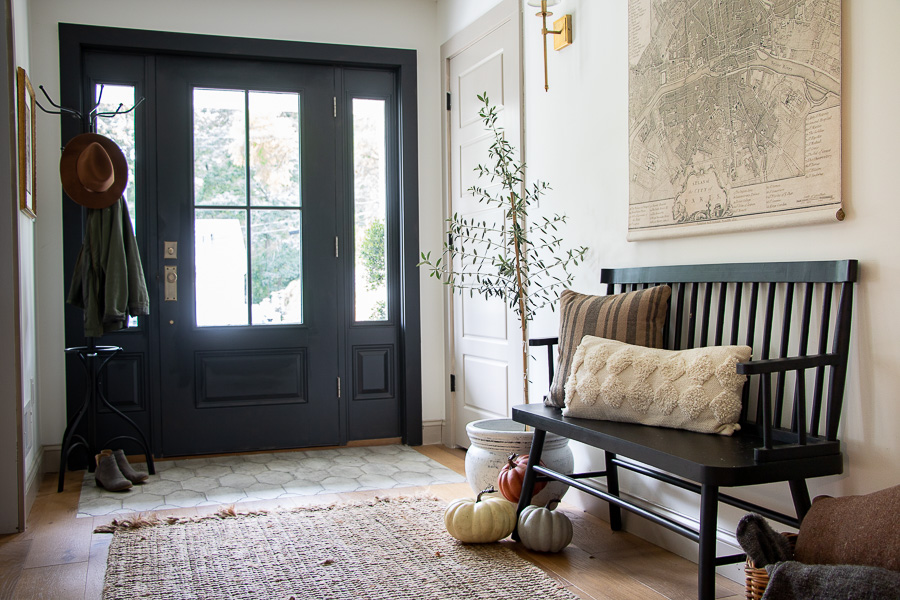 Fall to me is all about textures! I love both these  pillows here because of their warm textures but the neutral work perfectly in our home. The pair so nicely with the black bench too. A few faux pumpkin stacked on  the floor are the perfect simplistic touch to Fall here in the entryway.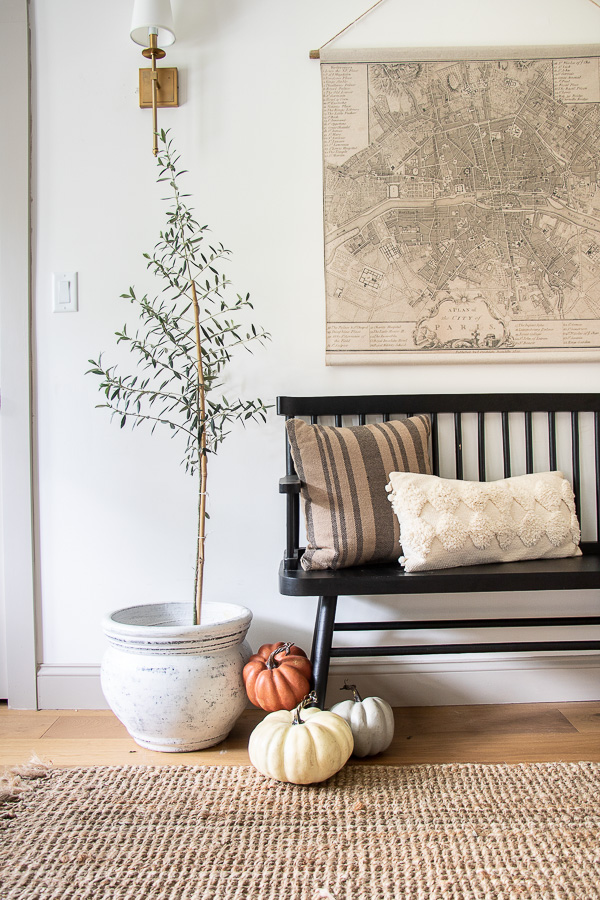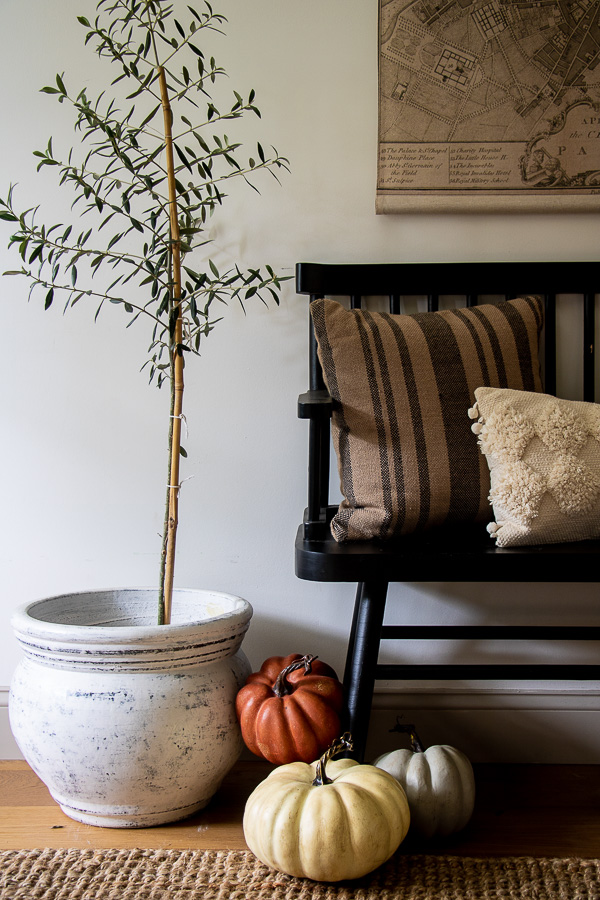 I love a good moody photo so this one was fun to capture..even makes the pumpkin look more realistic with it's high contrast lighting. Of course  my olive tree is a staple in my home and so far so good with it staying alive. It's a great tree for all year long so I kept this out in the open rather then hide it like some of my plants I did until January.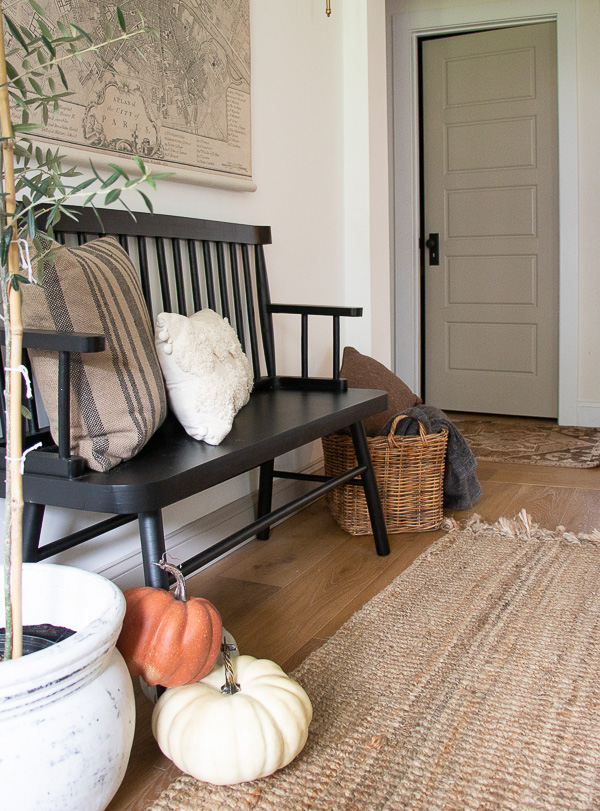 Off of the entryway is  our powder room (I still have plans on painting the moulding all the same color as the  door, but that's a possible winter project. I added a little bit of Fall to this space as well which I may  just keep all year long.
Our powder room I added this brown glass vase, pampas grass, and this pretty hand towel that I picked  up from  target.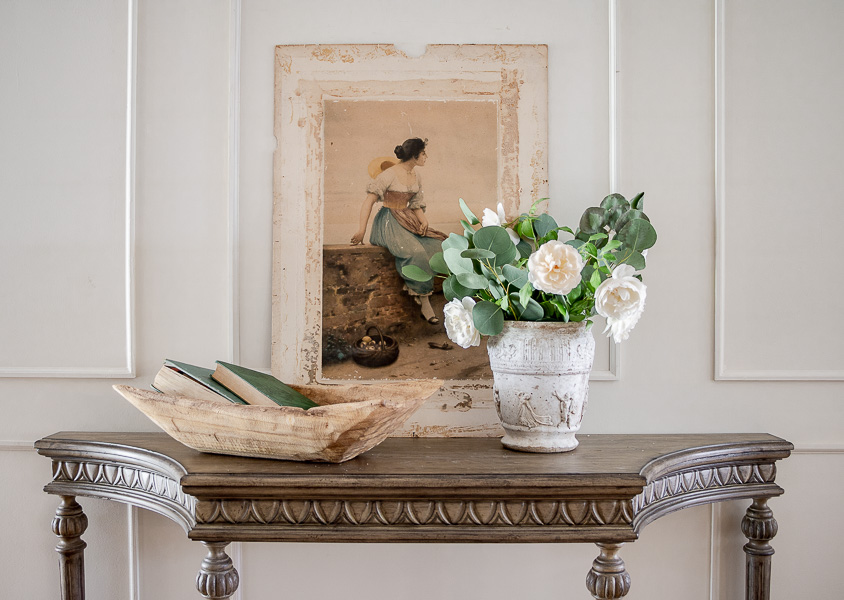 and last little bit of transitional  fall decor I did was in our hallway leading into the main house. I picked some roses and paired them with some eucalyptus for a transitional feel and added some green book and this bowl which adds texture. Simple but perfect for this table. More to come tomorrow, until then be sure to go check out the next amazing tour in today's line-up over at We are the Joneses 
Pin for Later
j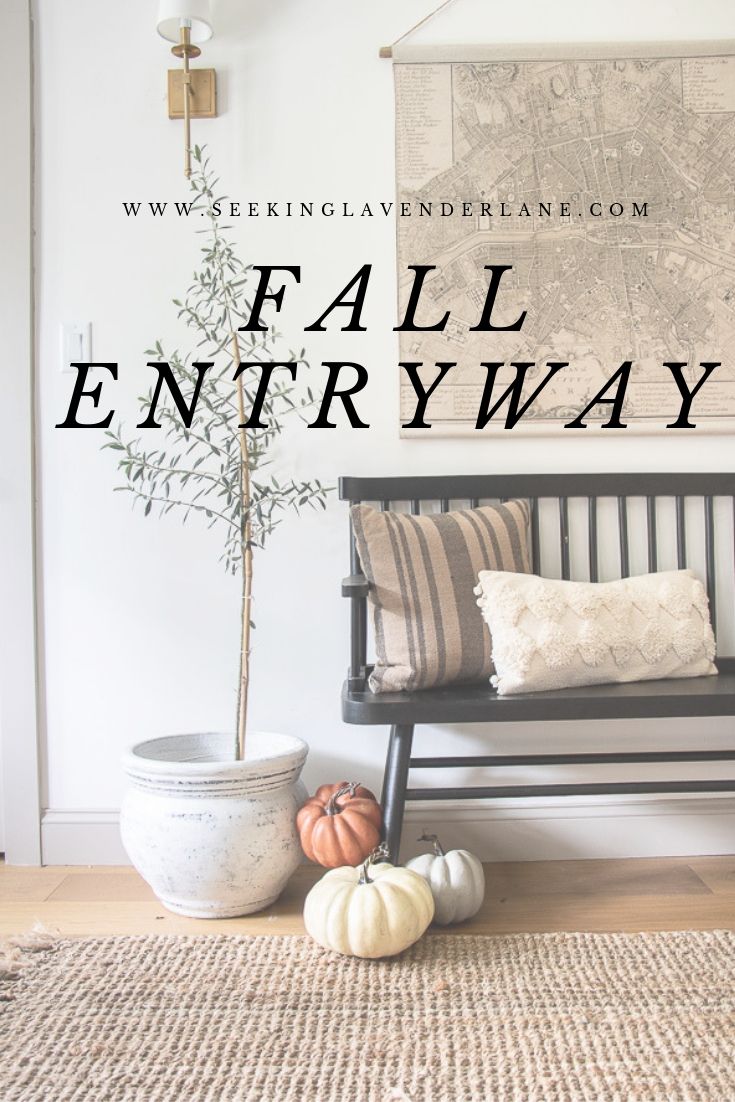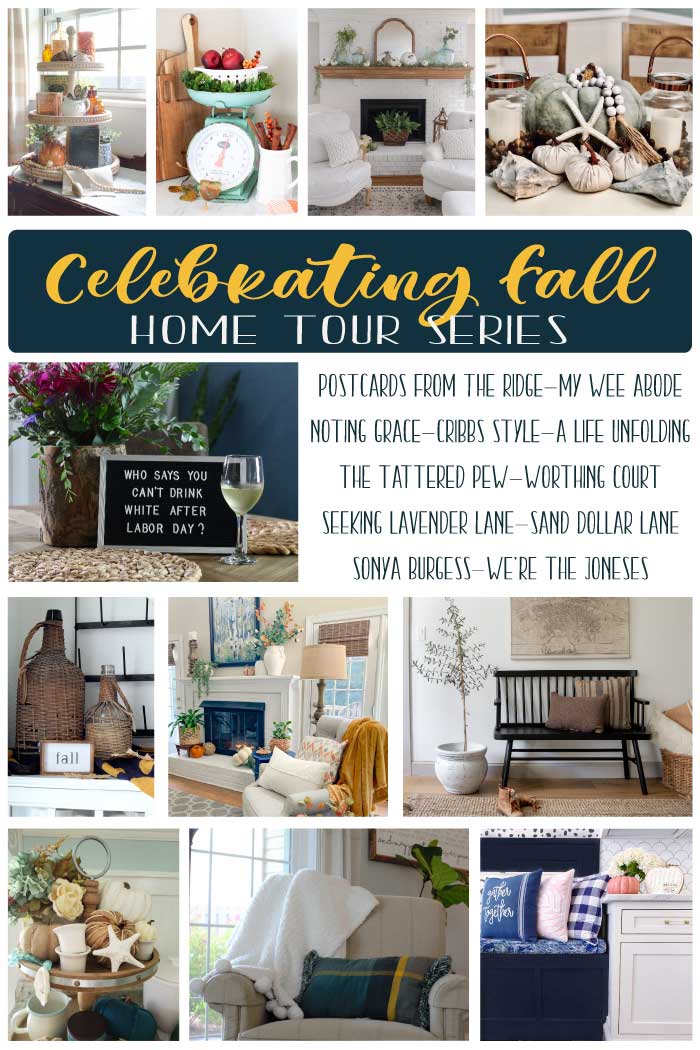 Tuesday
Sand Dollar Lane  //  A Life Unfolding  //  Postcards From the Ridge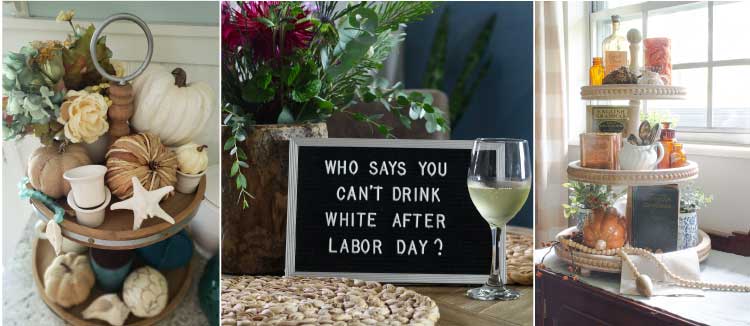 Wednesday
We're The Joneses  //  Worthing Court  //  The Tattered Pew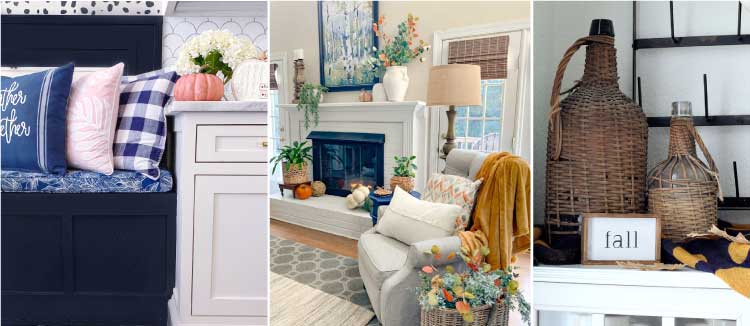 Sonya Burgess  //  Seeking Lavender Lane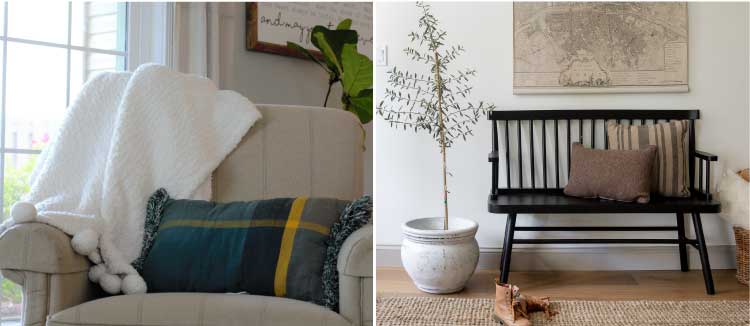 Thursday
Noting Grace  //  My Wee Abode  //  Cribbs Style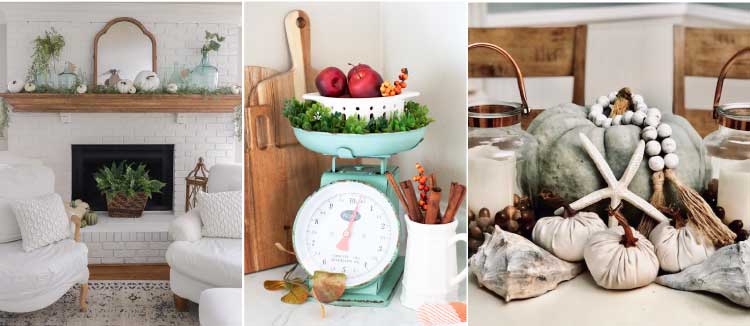 Wednesday
We're The Joneses  //  Worthing Court  //  The Tattered Pew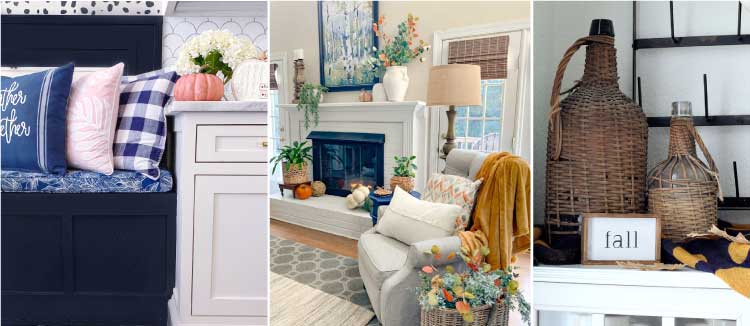 Sonya Burgess  //  Seeking Lavender Lane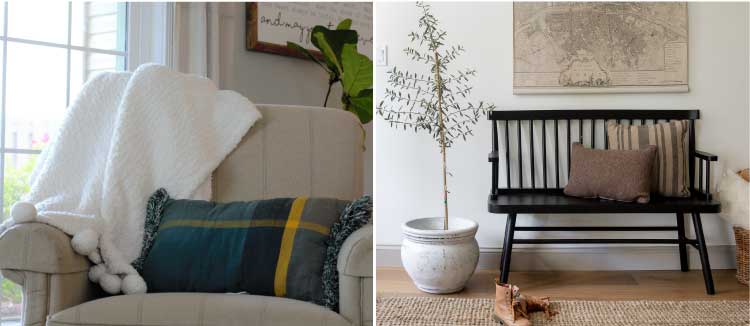 Thursday
Noting Grace  //  My Wee Abode  //  Cribbs Style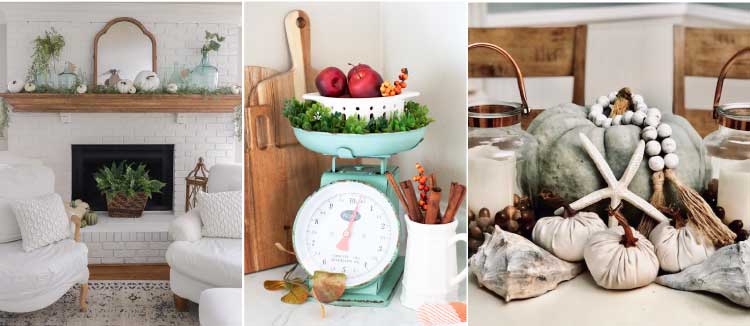 (Visited 4,192 times, 1 visits today)