Hi friends!
I decided I wanted to come up with a new post every week where I create design boards and represent great designs that I can not have in my own home. Don't we all love to be inspired by great design and as we know our homes are only so big and our wallets only so wide. This I feel will be a great creative outlet for me and hopefully help those who are in need of design help and inspiration.
Well the very first board I am going to share was one that I had made for a client. This was the very first design I had come up for them and they are currently doing something completely different from this now. Hoping I can share that here when that is all complete! This is a great rustic warm kitchen design that would be amazing to have done before the Thanksgiving Holiday ; )
Rustic Two Tone Kitchen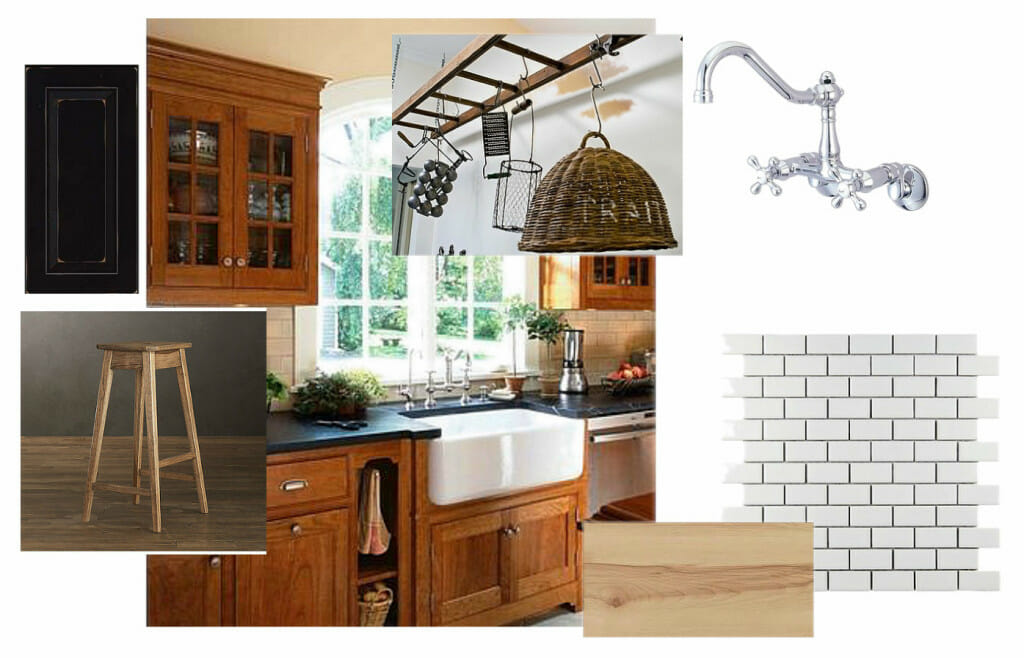 I love the combo of the rich oak cabinets and the soapstone counters. That white farmhouse sink with the black counters are just amazing, right? Of course subway tile is always a statement in any kitchen but definitely with the black counters and the rustic style here.
I added black cabinets to this photo to have the option of adding top black cabinets, or for a really great island that has contrast.
No better way than finishing this room off with a pot rack from an old Ladder. You know me, I love a rustic ladder ; )
Here are a few great accessories that would look fabulous in a rustic kitchen with these rich elements.
(Visited 167 times, 1 visits today)