Cheap home decor: how to update an outdated outdoor furniture to create a French rustic cafe setting in the backyard using old outdoor furniture.
That time I went to Paris for a week in college and the one afternoon we had some free time to enjoy a small outdoor French cafe where we had cocktails and I had the most delicious crepe with roasted duck inside. I have never felt so relaxed and poised at the same time. It's a moment I'll never forget (probably my favorite of the entire trip) and yet I long to have that feeling back again. What about having that every summer night in the backyard? The problem is…I have an outdated patio set…that needed a rustic makeover!
I decided to create a French rustic cafe setting in the backyard using the outdoor furniture I already have for a cheap home decor make-over. A spot that makes you feel as if you are on a vacation that won't end. A spot to enjoy coffee every weekend morning,  afternoon seltzer and magazine reading breaks, and where every summer night should end with a glass of wine and good music. I started with my outdated patio set and gave it a rustic makeover.
This post contains affiliate links that I make a small commission from with no added cost to your purchase.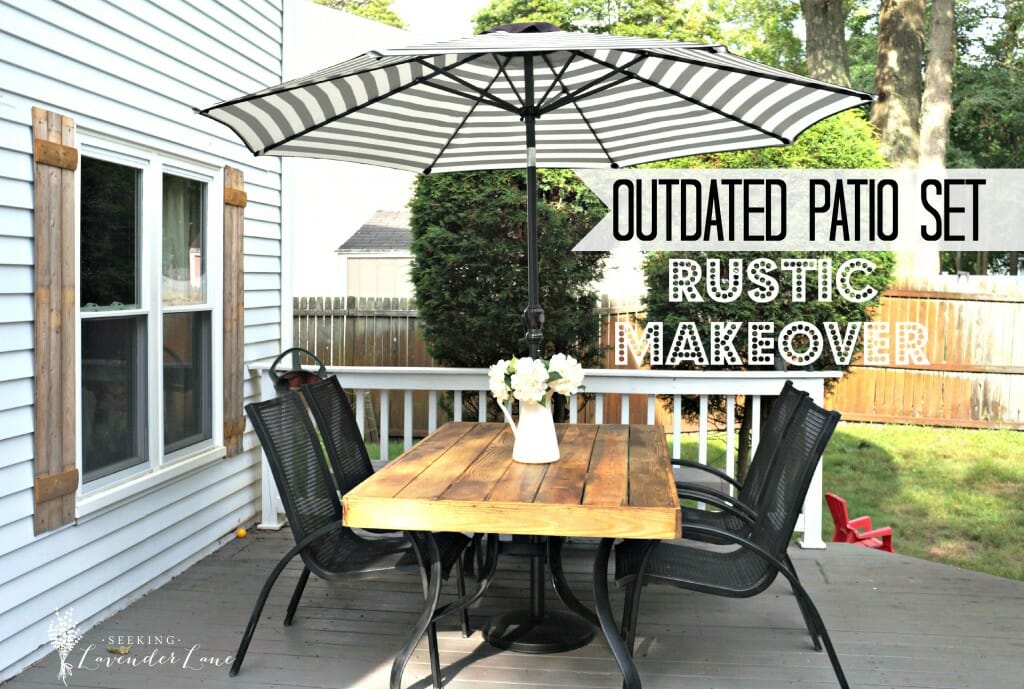 Our rustic gathering all began with 2 sets of $0 wood shutters that we created from some old fence wood. The wood just helped warm up the white siding and created a dramatic look to our very boring windows. That was just a start for this girl who loves rustic design I had an entire plan to update our very outdated outdoor furniture patio table that was a hand-me-down that was definitely not speaking to my style. The one good thing it was gray, but then I decided I had to have a black and white striped umbrella (which no longer worked with the gray and white striped chairs) so that had set the entire tone to the outside space.
BEFORE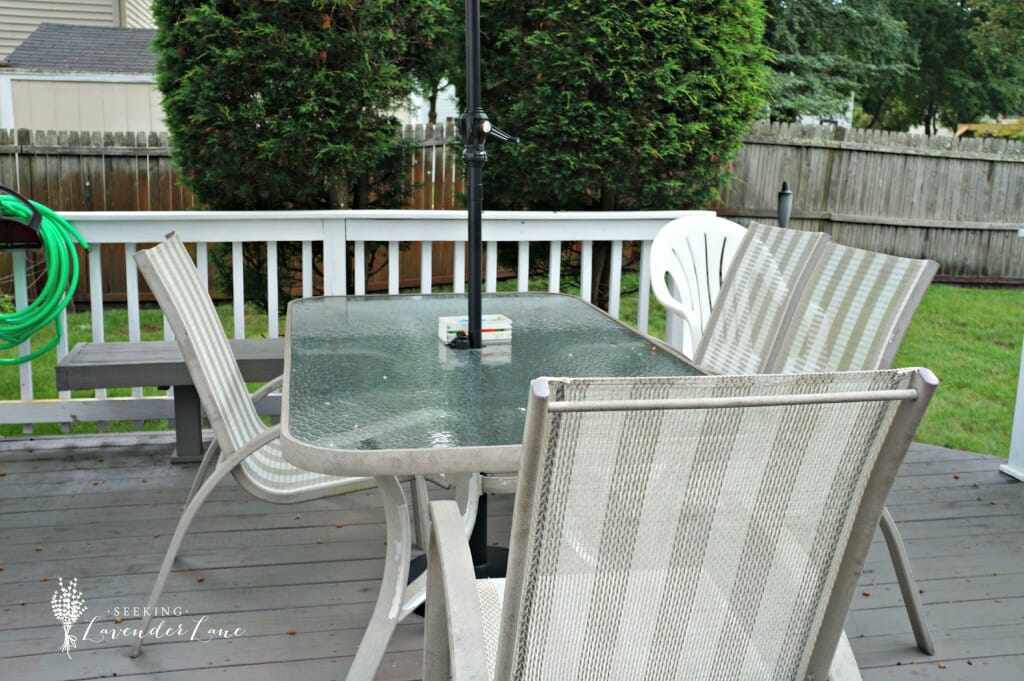 Well, the process began when I decided to spray paint the entire outdoor furniture set including the table black, helping the table match better with the umbrella. I used Rust-oleum Flat Black Spray paint (6 cans to update the furniture. The metal frame instantly popped better especially against the white siding and the gray deck. I have to say if it was not for the Rust-oleum Comfort Grip
this would have been a much more complicated process. I have spray painted many pieces in the past and usually prefer a brush since my hand cramps quickly, but this made such a difference in doing all four chairs and table.
MATERIALS FOR SPRAY PAINTING OUTDOOR FURNITURE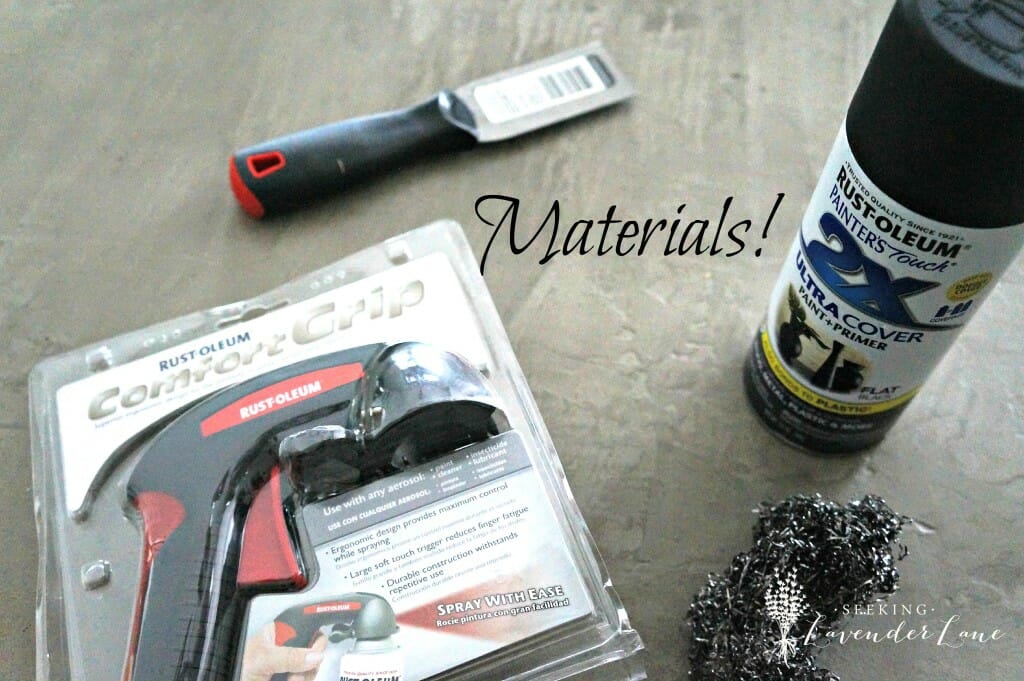 Before you tackle spray painting your outdoor furniture, be sure to chip away any peeling paint and clean up the surface. I had a ton of chipping on the table frame and I had to pick and choose which areas to pick off and the rest I just went over lightly with a brillo pad. I can not be sure that the paint will not peel off, but since the surface area was in pretty bad condition I could not take off the paint from the entire table. Fortunately, the chairs were in better condition and I did not have to chip away too much. I used the spackle knife to help lift some of the chipping paint away easily.
Materials:
Black Rustoleum Flat Spray Paint
Rustoleum Comfort Grip
Brillo Pad
Spackle Knife
I did take a before and after photo of the spray paint, but somehow it never stored in my memory card, so I have no photos to share the comparison of the before and after with the paint.
The spray painting was completed within a few hours and then I started to plan out how I would create the top of the table. I knew that I wanted to build the table top where it would slide on top of the current table without breaking the glass that is currently there. This way if the table gets damaged we would be able to simply take the top off.
We chose pressure treated wood since we would be using the table outside. Once we got home with the wood that's where all the problems began. From crooked wood to wrong measurements, too stubborn nails, and a not so happy hubby…this project was on a downward spiral fast. I really thought at one point that we were not going to be able to complete this project and that maybe it was best to just return the wood that we had not used yet and just wait til next summer to just purchase a new table. Fortunately, even when the hubby is frustrated with my crazy projects he does love to make me happy and so we kept on going (but waiting 24 hours until he cooled down and when we could get some new nails…since we forget that one small/very important item to buy)
The initial plan was to make picture frame cuts to have a seamless look. Though I wanted the table to be rustic, I still wanted the ends to be smooth without rough edges. I felt this would look best when paired with the metal base. Well…that turned into a disaster, one wrong cut and onto compromising the design to save money.
I have to say one of my biggest piece of advice for anyone who wants to get into DIYing and trying new projects at home…be ready for mistakes and have backup plans. We always make mistakes in our designs and I have to say sometimes they end up better than we had imagined when things go wrong.
Either way pre-plan B or how the table turned out we decided to cut 45-degree angles for the two (short) side pieces of the frame.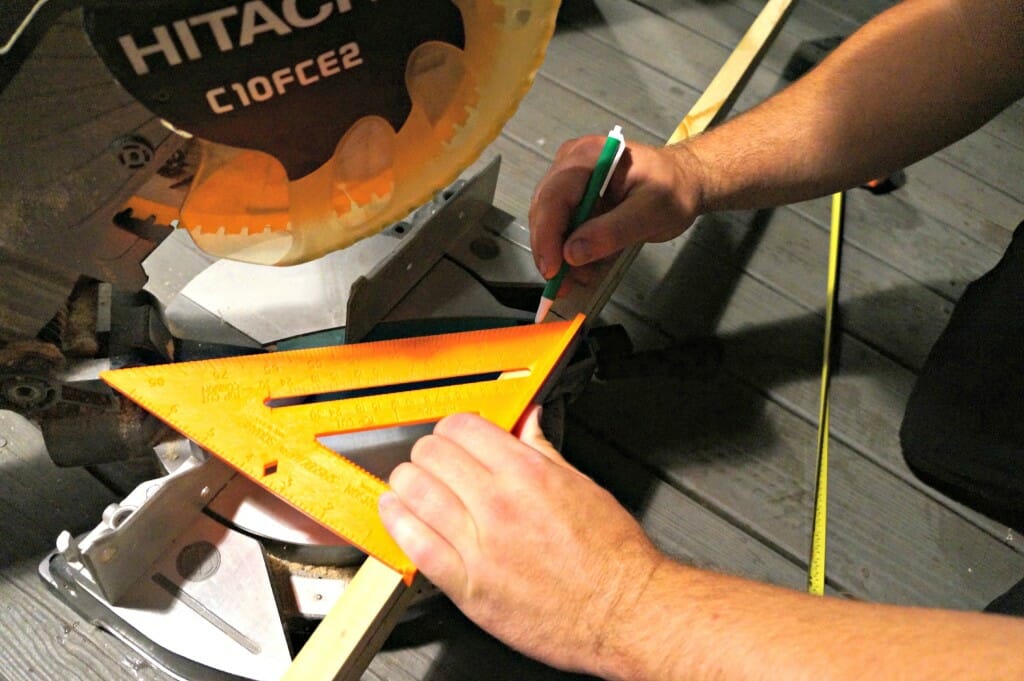 Once the angle cuts are made to the width of the table it time to cut the length of the table frame. We happened to buy the wood for the frame the same length of our table (6ft)
Once frame pieces are cut to size it is time to assemble!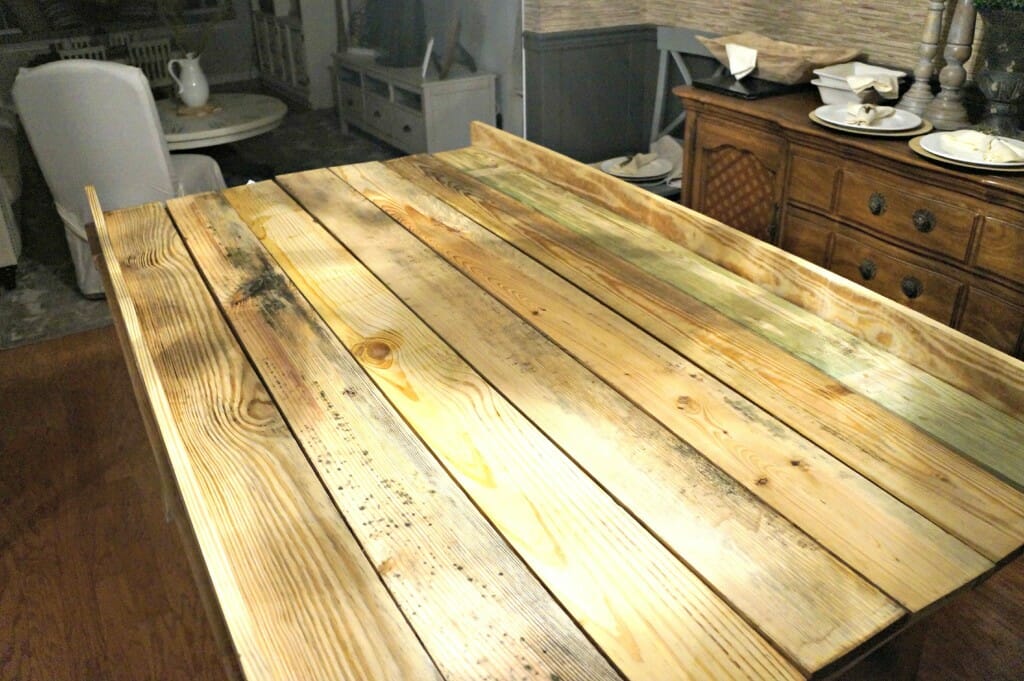 Start with adding liquid nails to the sideboard and nailing them together. Since we had messed up a measurement our side pieces have no 45-degree angle cuts..you will see in a second how our Plan B turns out.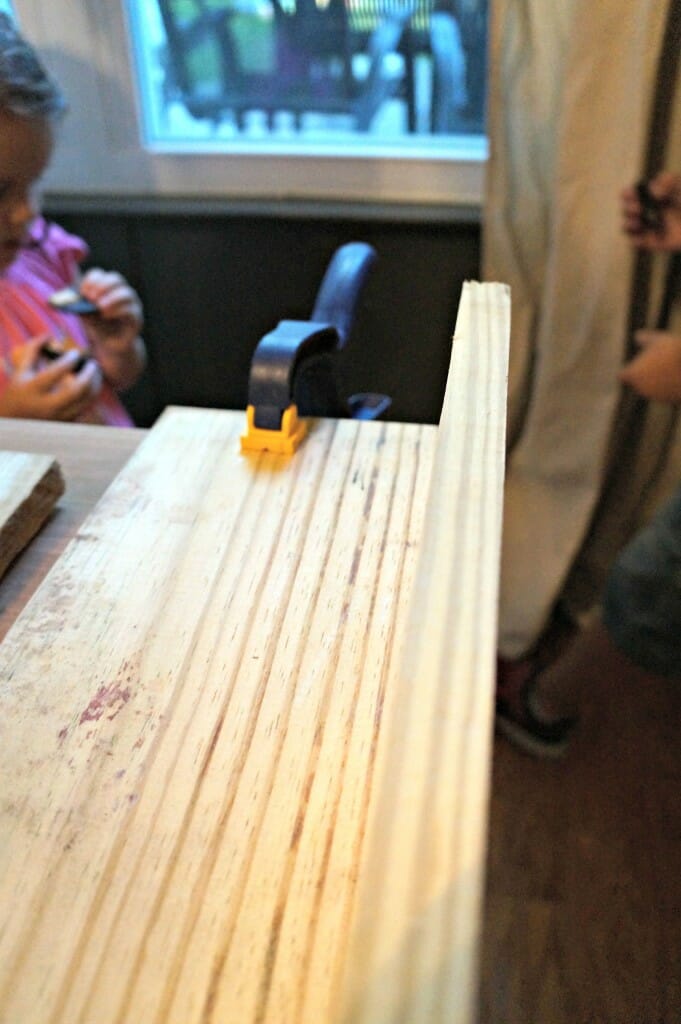 Add clamps to keep wood in place. (our little nosey girl was coming to check out what we were doing).
And onto another mistake! Lol, it just kept happening honestly this was a black cloud of a project.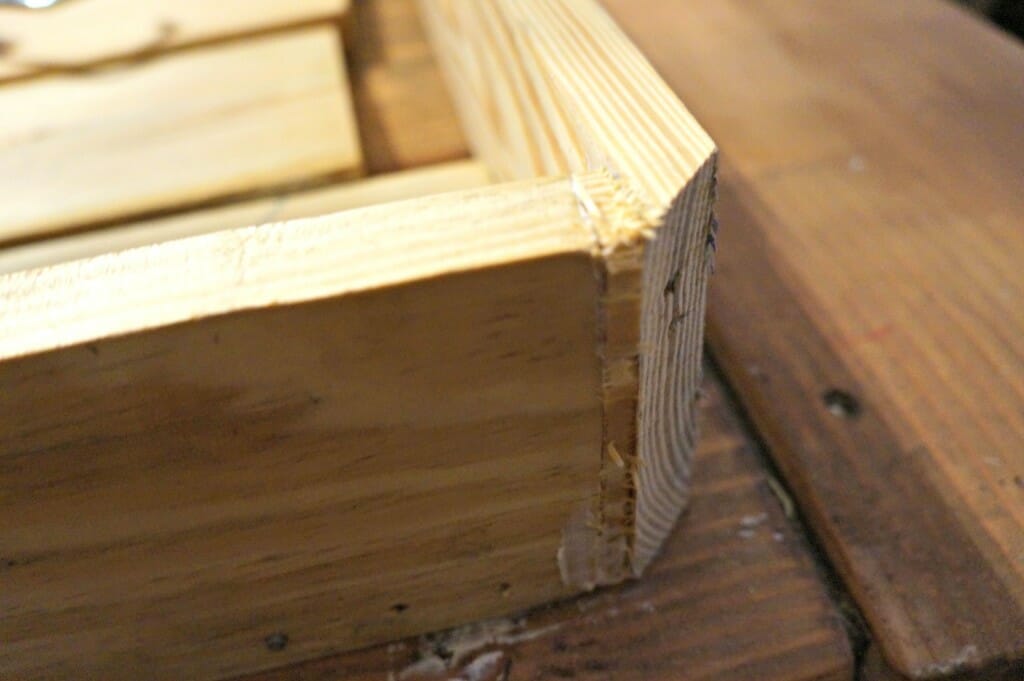 Yea that turned into an argument…let's just say we misunderstood the measurement cut. And so a little sliver of wood made it all better : )
Please keep reading…I promise after all this bad luck…it does turn out beautiful!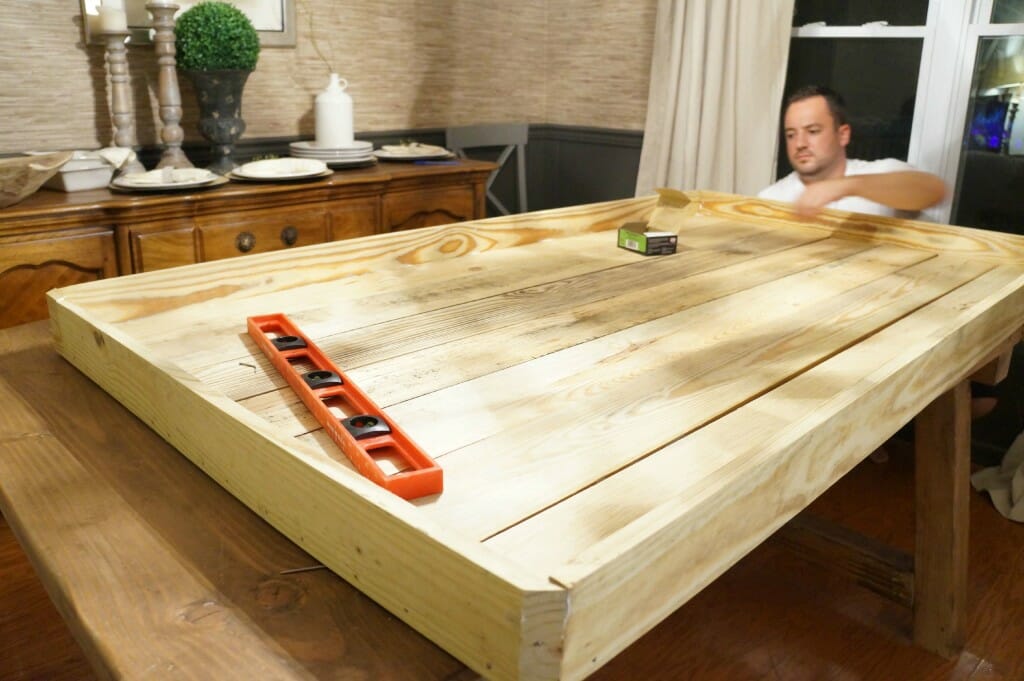 Once the two sides are put together, spread out the wood planks evenly and nail the rest of the frame together to the wood planks.
Notice: the 45-degree angles on the outside…makes for an interesting shape and detail.
Once the table is complete…it was time for the moment to slide it onto the table. Pretty nerve-wracking since the rest of the project was frustrating and working completely against us.
The moment of truth!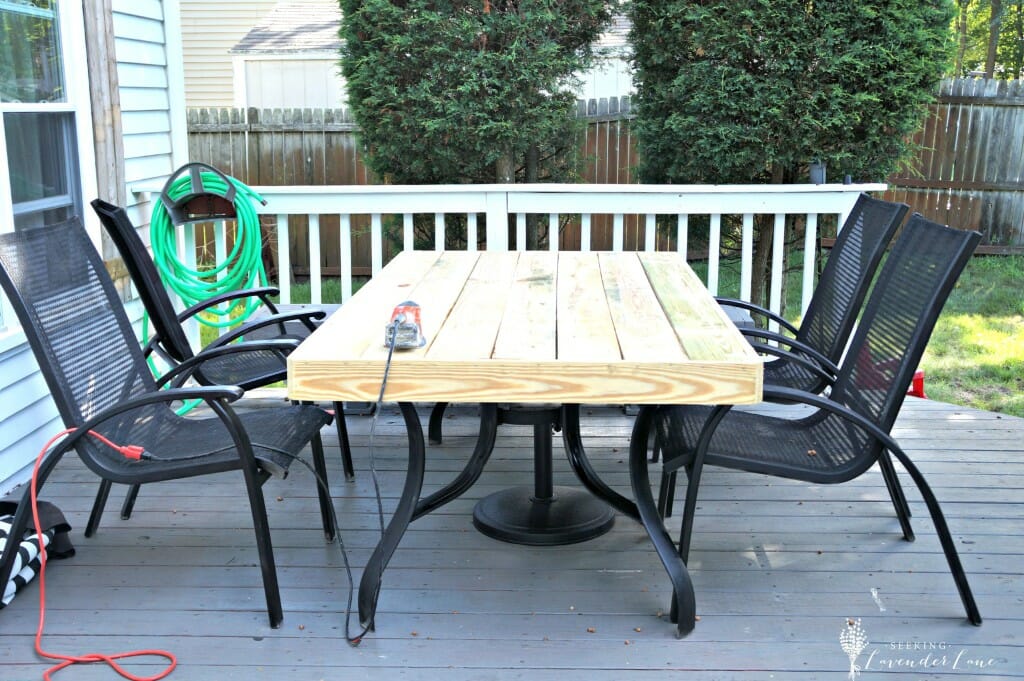 Wooo-hoo it actually worked!
So then the next day I began to sand the entire table smooth including that not so pretty corner that I happened to snap that ugly picture of on Instagram.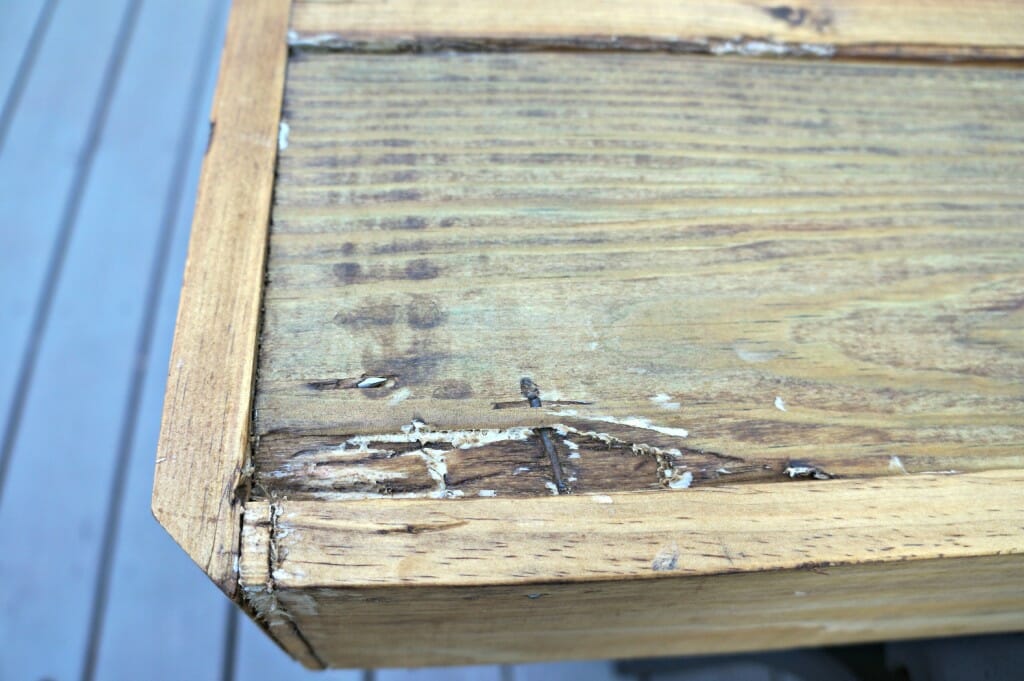 It is an unfortunate mistake that takes away a bit from the table, but looking at it as a whole it really is not that noticeable. Just to prove not everything ends up so perfect, but it still looks great!
I stained the wood with Minwax Golden Oak and added dark wax to add attention to the grain of the wood and the roughed up details.
Next, cut a hole in center of table for umbrella using a  2″ Lenox Hole Saw
And now I have a fabulous patio table that feels more like my style and looks beautiful even after our very black cloud of a project.
If only I could get myself a roasted duck crepe and a French waiter…and call it a day!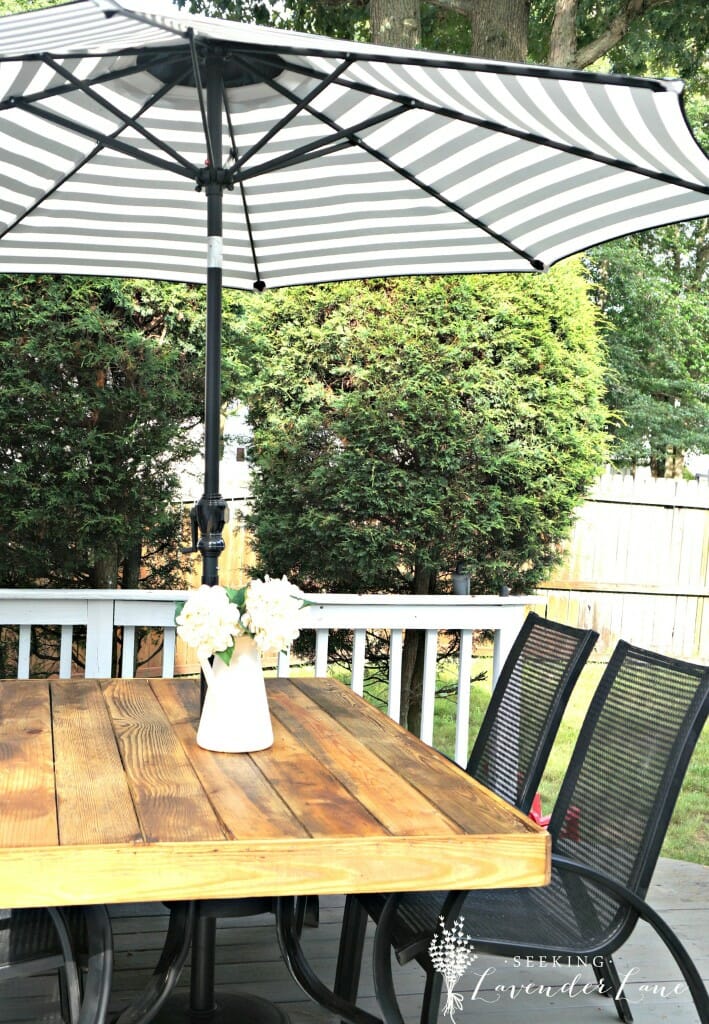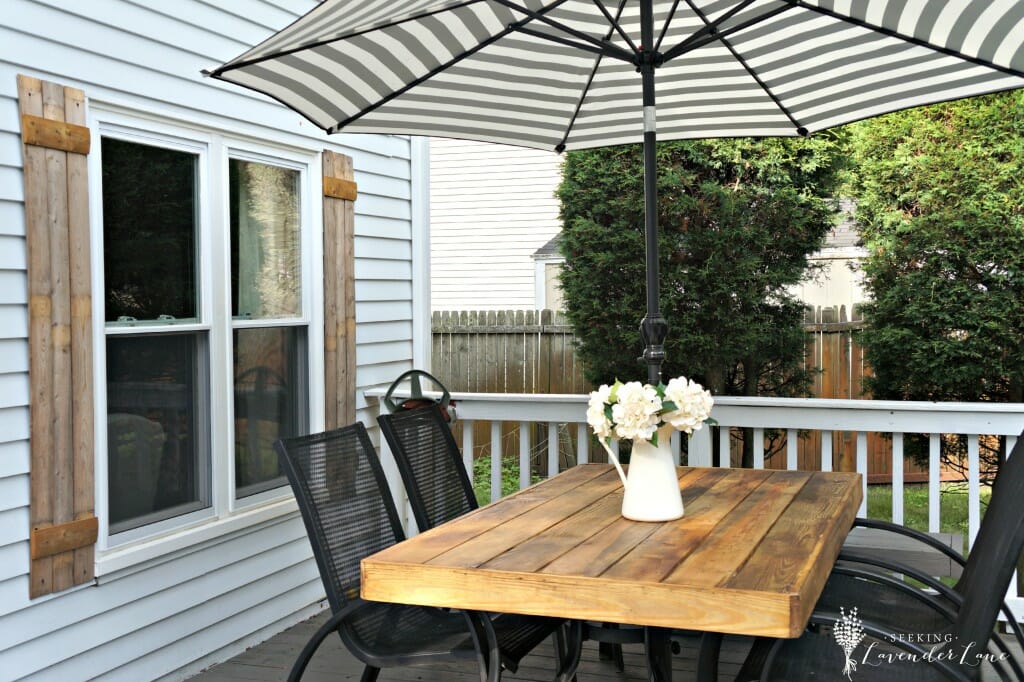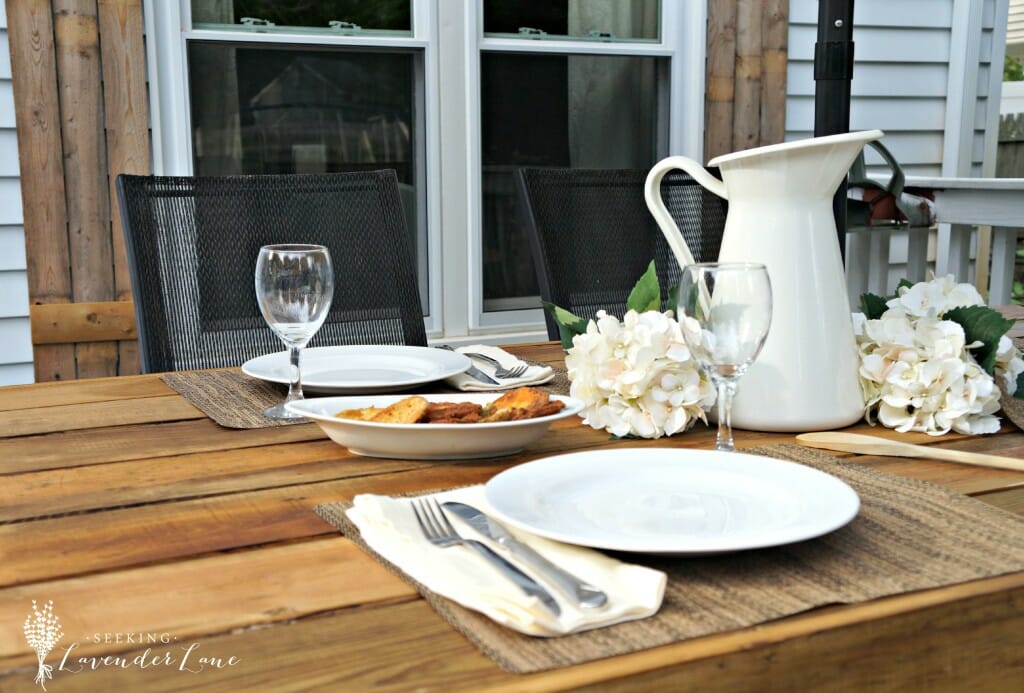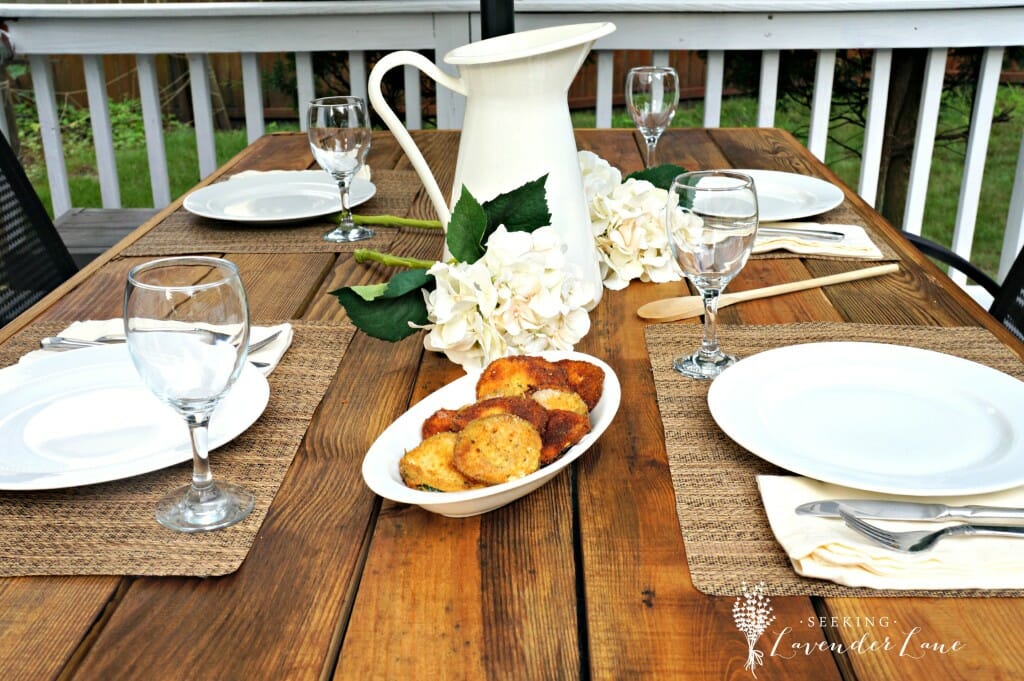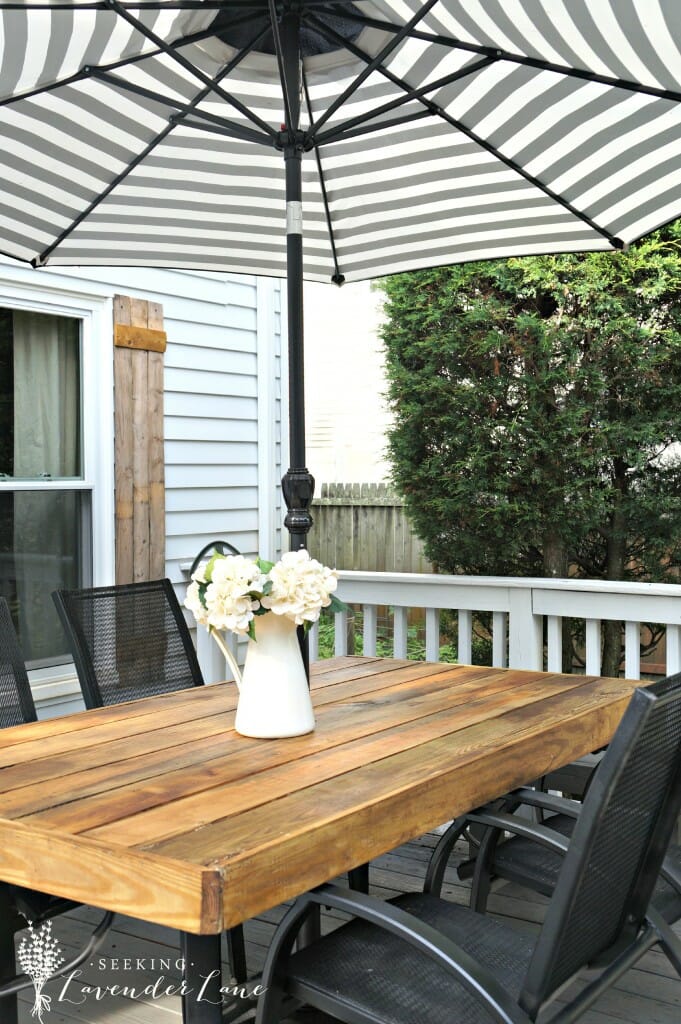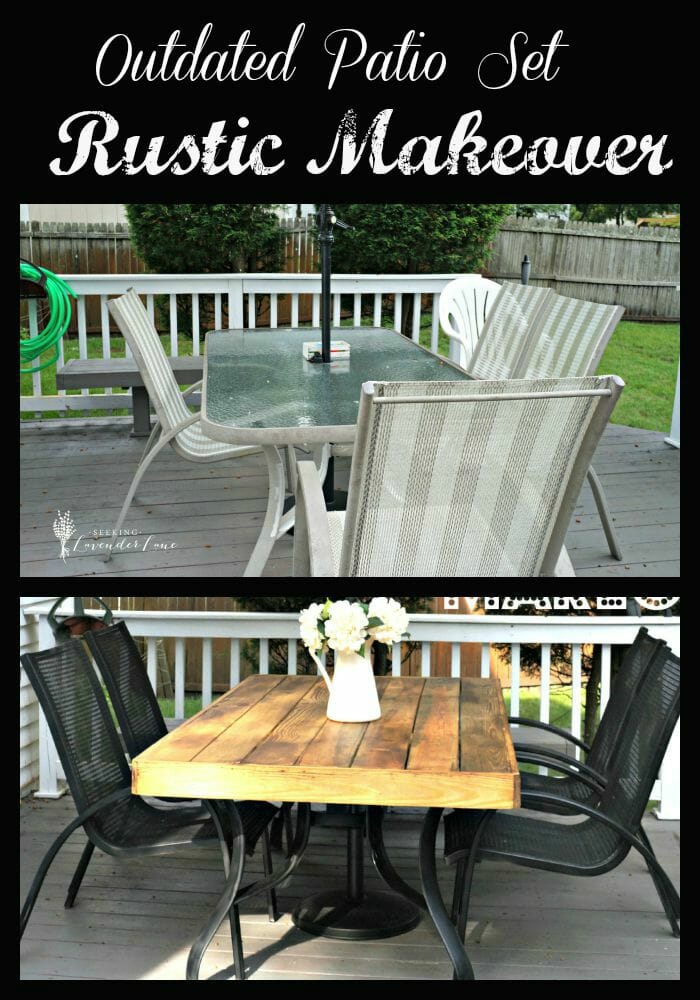 This is a sponsored post featuring Rust-oleum products. All opinions are 100% mine to help create an easier DIY life for all of you.
Get the LOOK: click images below!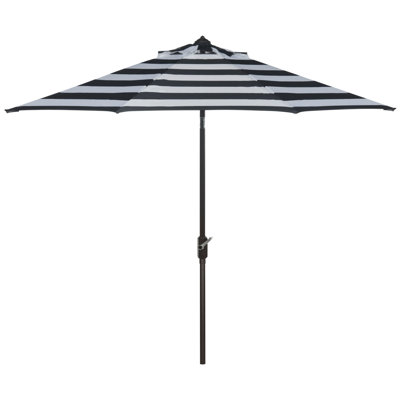 PLEASE STAY A WHILE: More Outdoor Decor Ideas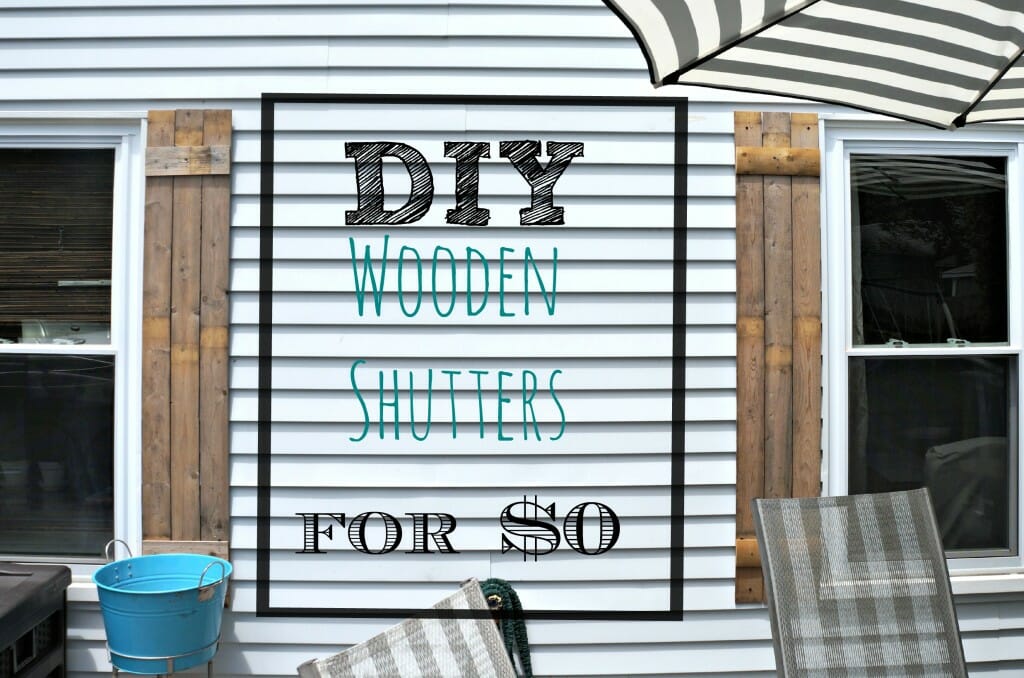 DIY Mason Jar Garden Chandelier

DIY Tile Tabletop: Patio Table Makeover
(Visited 53,062 times, 2 visits today)