Welcome back to another post for my little girl's room makeover.
I am really excited about this recent project we did to her room…something that started out simple  and then my imagination took over. The project overall was simple to do, but I took it a notch higher than the original plan.
Well…we have very large windows in our kids rooms, and unfortunately no window panes just plain plain windows. For my son's room we added dramatic long Ikea curtain which really hide the bare windows, but for my daughters room I fell in love with some balloon curtains from Target. It was a great idea at first..super girly, and adds such character to the space. Once I put them up though…I realized how naked the window was and the wall below it.
Plan A: Add trim around window frame to create a less "naked" feel. The hubby was on board and out to the store we go…
Then Plan B came to me just as I was gathering the kiddies and my bag to leave for Lowes to get our material…how about some dramatic wainscot below the window -ding-  (the light-bulb going off in my head)
Haha hubby went to the bathroom right before we were heading out to the store and as he comes out I have a sketch in hand for my Plan B. -he thinks I'm crazy…and a genius!-
Material


1.5″ trim for sides of window and top lip
3″ trim for top of window
Wainscot Board
Liquid nails
Caulk
Finishing nails
Paint (Simply White BM)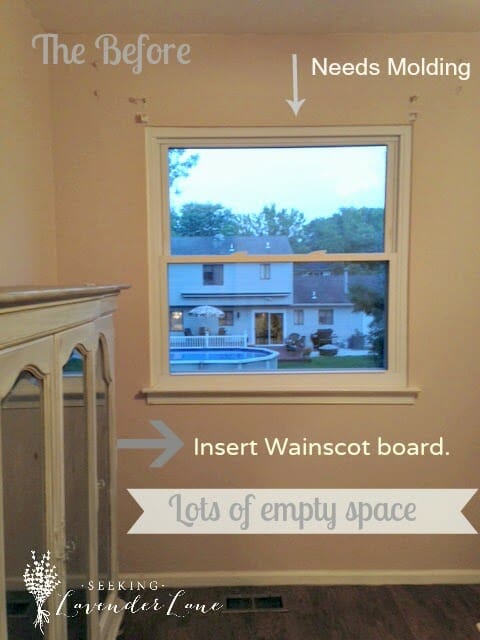 Super Naked Right?
Add top molding with lip already attached before placing above window.
For our Window, the molding did not match up with the wainscot, so we had to return to the store to get more molding to add to the bottom to make the top and bottom even.
I am going to be honest, it looks so much better in person than in these photos. It is just impossible to take a photo of a window…the lighting is just never right.
Thanks for stopping by, and have a great weekend!
PLEASE STAY A WHILE
and
Linking With:
(Visited 711 times, 1 visits today)