Happy Summer!!!! Those are seriously the best words I could say, I lovvvveee Summer! I also really love to decorate for Summer because it is so fresh and simple. I like bringing the outdoors in and the indoors out! Just enjoying that beautiful weather. I'm loving that the first day of Summer we are brining you a Summer post  with inspiration…we as in my talented bloggy friends and I. Hosted by my friend Sarah from
Grace in My Space
. If you  are stopping by from my friend Christina's amazing blog and
Summer project,
 welcome!
So, I've got a  very small problem, but I think you will be surprised to know that  this problem I think turned into a blessing. A design blessing! It's my fireplace you guys, I did not end up  with my dream fireplace because of budget and then the fireplace mantel my builder made for me was super shallow. I had such a problem with this at first  and after some tweaking  I think I have finally DIY'd a mantel that works for my design heart….at least for now. It still left me with one small problem though, a shallow mantel. I am not able to decorate the mantel because  of it and that could be really tough for a girl who loves switching up her decor every 10 minutes. BUTTTT…I think mantel decorating is on it's way out! I know that's crazy but I have this design trend hunch that simple mantel decor or no mantel decor is going to be trending in 2020. So my modern and sleek mantel may just be on trend and I honestly after 6 months of living without a "true mantel decoraintg" I can't say I miss the "stuff" on top of the mantel. It's kind of freeing and simple and I'm loving that. Well, that means there's other ways to style a Summer fireplace with Summer fireplace decor and this simple solution.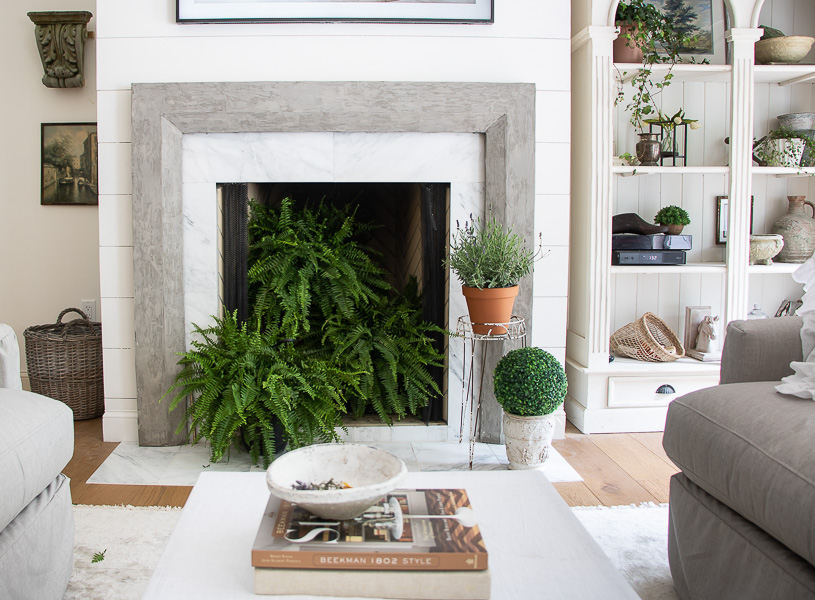 I've decided to fill the empty fireplace with some ferns stacked up inside. I love how much green it brings to the space and how unexpected it feels. Okay, you  all may think I'm a bit crazy…initially I added Christmas lights to the ferns and my husband came home and looked at me like I had two  heads, so that idea went but the ferns stayed. These ferns are super lush too I picked them up from Home Depot and wasn't sure 3 would be enough but once I added them here with one sitting on a plant stand, it was perfect! I'll save the Christmas lights for Christmas…which has my mind racing with ideas. I can wait, but how fun is it going to be to decorate our new home for  Christmas this year. Back to Summer decorating…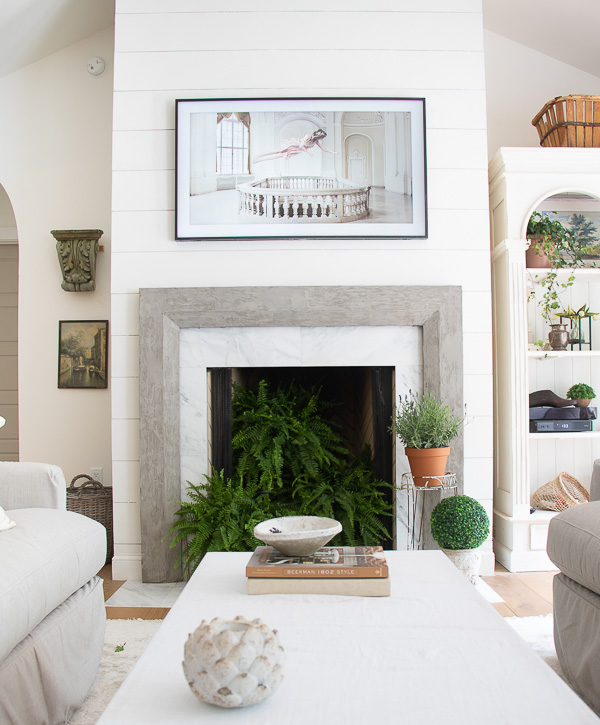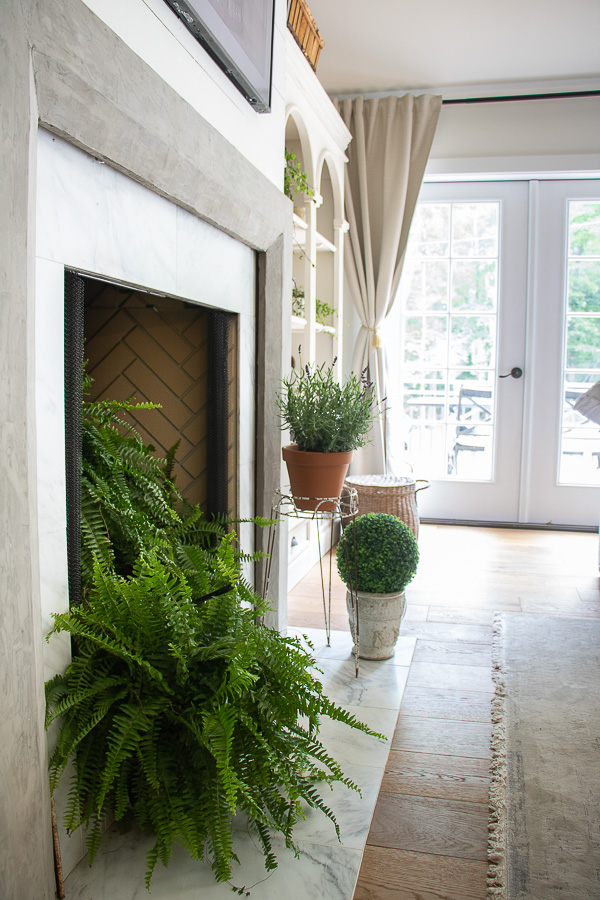 I also love how the marble and greenery look together, it's just a fresh feel for Summer, and a great way to add decor when you don't have a true fireplace mantel.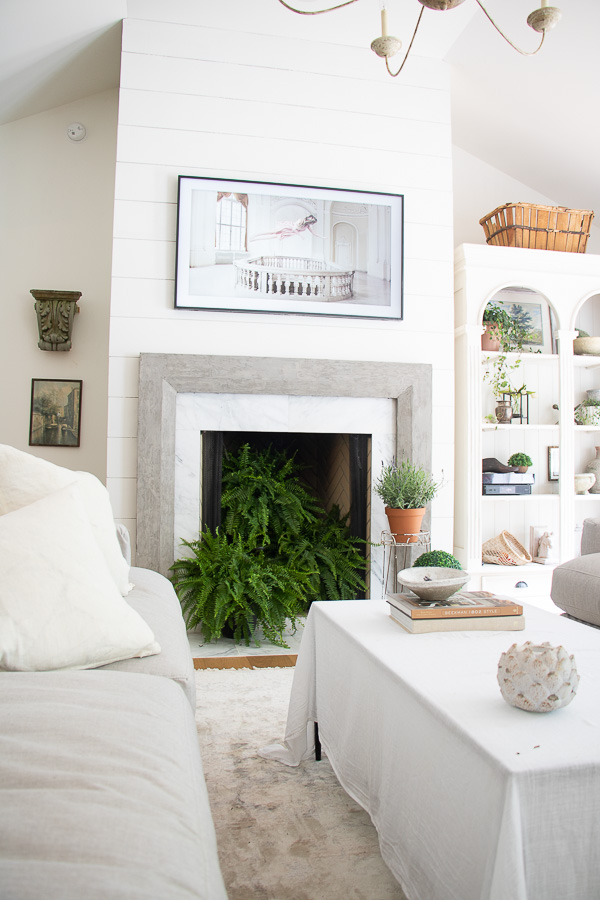 I can't wait to check out  all the other  pretty Summer ideas that my friends are sharing below, be sure to check them all out and pin what you love! Next up my friend Jenna's beautiful
Coast Inspired Tablescape
.
Simple & Stunning Summer Style Guides
Grace In My Space | Jenna Kate At Home | Thistlewood Farms
Zevy Joy | The DIY Mommy | Seeking Lavender Lane
(Visited 3,063 times, 2 visits today)