I have currently been obsessing over wood burning stoves and I am really loving how they add charm to these English cottage looks. Wood burning stoves are a great alternative to traditional fireplaces and adding a stove can help achieve an English cottage style in your space while warming up your home during the cooler months. Not only are these stoves super cute but they are better for the environment, efficient, clean and add value to your home or any space you put them in.
The stove adds all the coziness to this quaint style. How beautiful and serene to dine in front of the warm fire.
The combination of the white stove and bird wall paper in the arch add an unexpected twist to this inviting coffee/tea bar area.
A beautiful neutral story here where texture is the star making it anything but boring. I love the contrast of the black stove against the rustic stone.
Bursting with story book charm this stove sets the mood for a nice cozy evening. Wood burning stoves can be freestanding but a common trend here is to have it installed inside an existing fireplace.
The colorful wallpaper, portraits and light blue doors make this room exudes English cottage style. I just want to be that puppy hanging out warming his tail here.
Kept simple with just a basket placed nearby but the brick herringbone pattern, wood beam and slate in the fireplace really make this ensemble extraordinary.
This is such a cheerful and calming room!! The fire creates warmth and an inviting space while the purple accent chair and pillow add to the whimsical design of English cottage decor aesthetic.
Even if your home does not classify as a cottage you can incorporate elements like these wood burning stoves to achieve the English cottage style while warming and cozying up your home for fall and winter.
Please Pin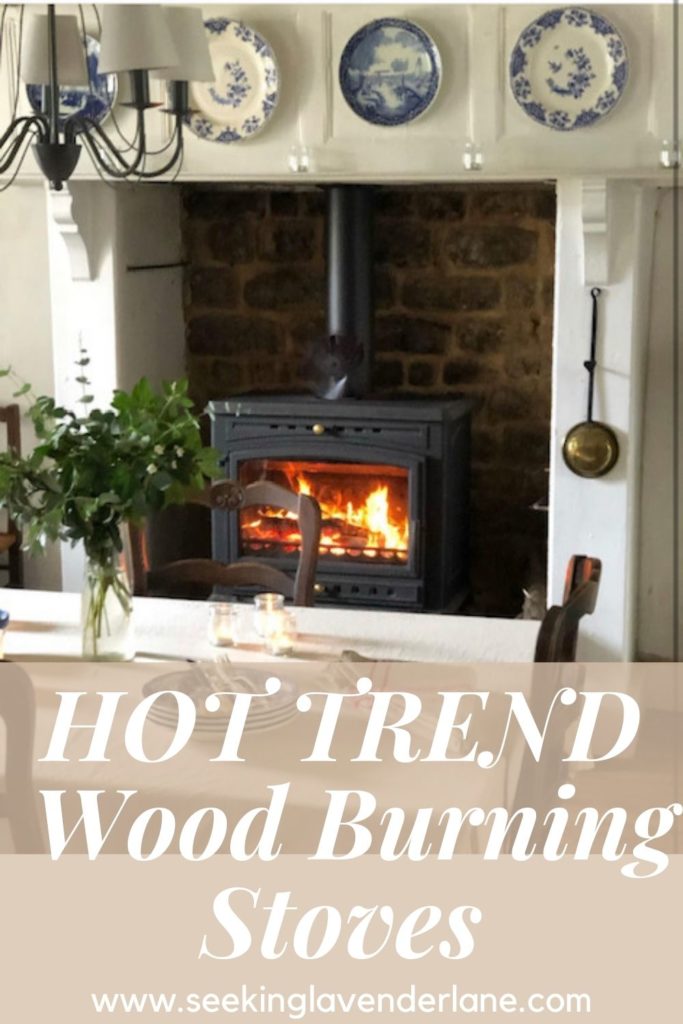 (Visited 447 times, 2 visits today)