Halloween Décor
Have you ever seen a décor piece from your favorite shop and thought…I could totally knock that off, or found something at the flea market and thought I know I can make something cool from this…but what???? Well both those ideas crossed paths as I passed up many bocce balls this summer at the flea markets (even shared how they were trending in Brimfield Antique Show HERE) but not until my knock off idea finally hit me a little too late this fall…until…I found the perfect set of bocce balls this past weekend at one of my favorite antique spots Canvas House in Point Pleasant, NJ.
This post may contain affiliate links that I make a small commission from with no added cost to your purchase.
So, yes, Bocce ball eye balls…who would have thought? I watched a few of my favorite Instagram accounts share about these really adorable Grand In Road eye ball Halloween décor and I kept almost hitting that buy button.
See inspo below: (currently sold out)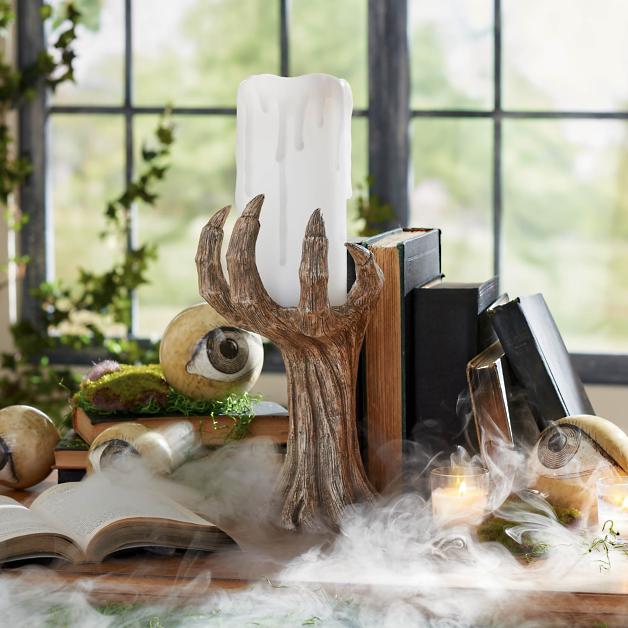 They looked like the perfect way to decorate any Halloween tabletop vignette and they were the perfect amount of creepy chic that I like for Halloween décor. The only thing I kept thinking was, how fun it would be just to try to make something like it. Then that light bulb moment went off in my head…that's what I could have done with all those bocce balls I passed up this summer. I figured I would have to wait until maybe next year to pull off this knock off until this past Friday I stopped in briefly at the vintage shop and as I turned the corner and there in a bowl were these perfect un-painted bocce balls. The perfect rustic wood finish that would be perfect for this vision of eye-ball chic décor.
See video:
So, I had two versions of this project, I could wing an eye ball and paint it…or I could decoupage. My only concern with decopage was it's round shape, I didn't want to attempt it and then my eye ball started peeling away. So I decided to take out my 8th grade eye-ball drawing lessons from art class and give it a go. Funny thing when I was in 8th grade I was totally obsessed with drawing eye-balls that I even entered a side walk chalk contest at school where I drew these big blue eye balls in my sidewalk square. So, this felt kind of funny to be here 20 years later drawing eyes on these bocce balls, who knew that skill would come in handy some day. I mostly copied the Grand in road pattern the best I could but I think you could go as unique as you want with these. Draw some cat eyes, or snake eyes, maybe different colors or try for the decoupage finish if painting doesn't seem likely.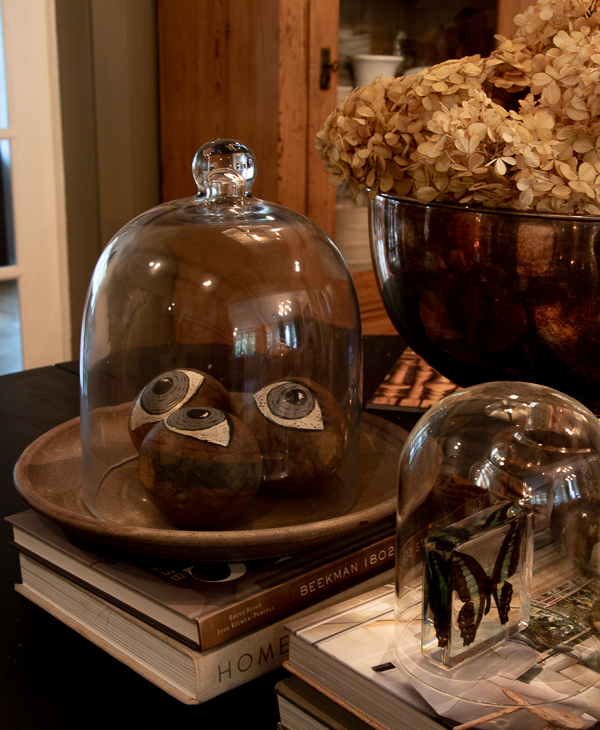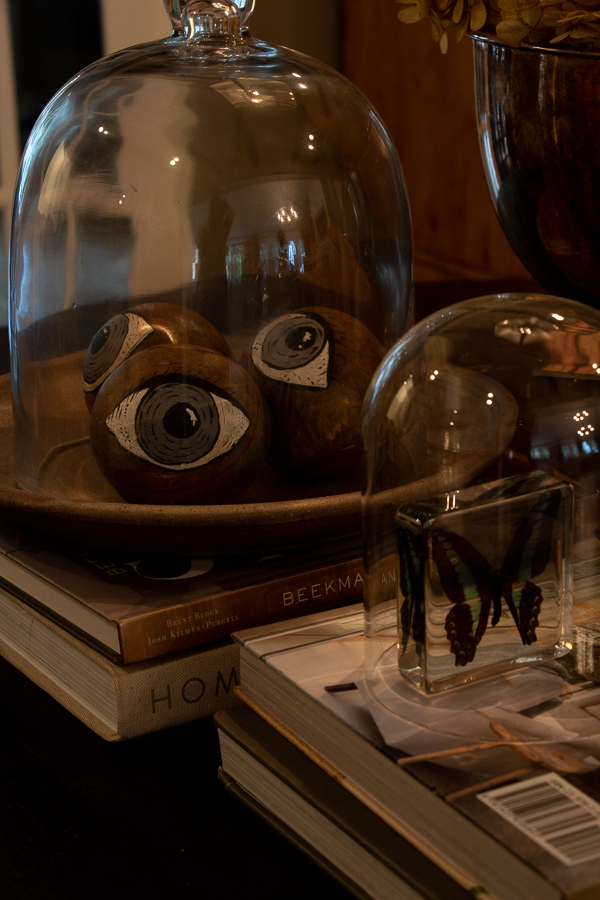 I placed these under a cloche but I could see them on a bookshelf spread out or even pair them with some moss in a bowl like my original inspiration.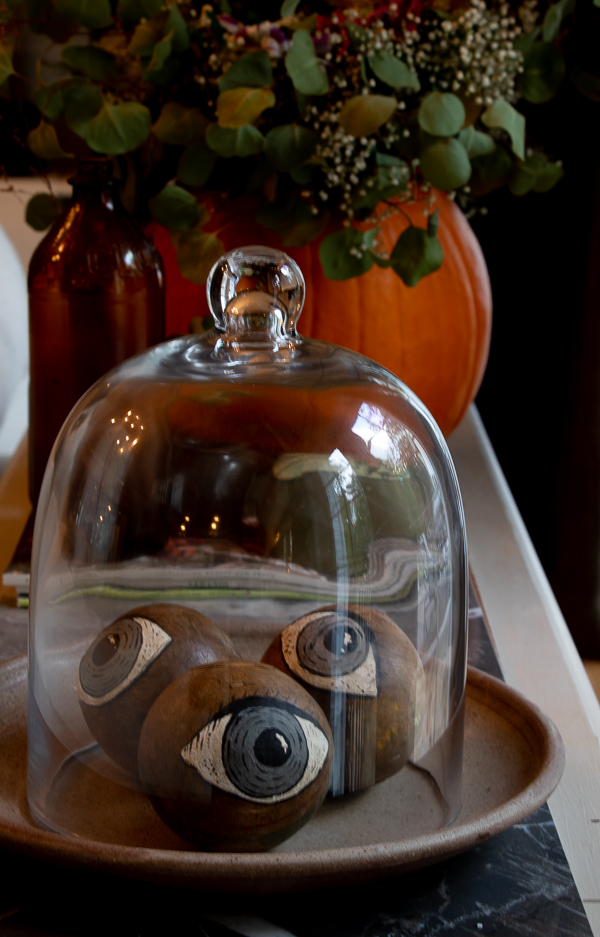 I hope you give this one a stab, it certainly makes for some fun, unexpected Halloween décor, and the best part it's vintage!
Shop more Creepy Chic Halloween Décor:

Please Pin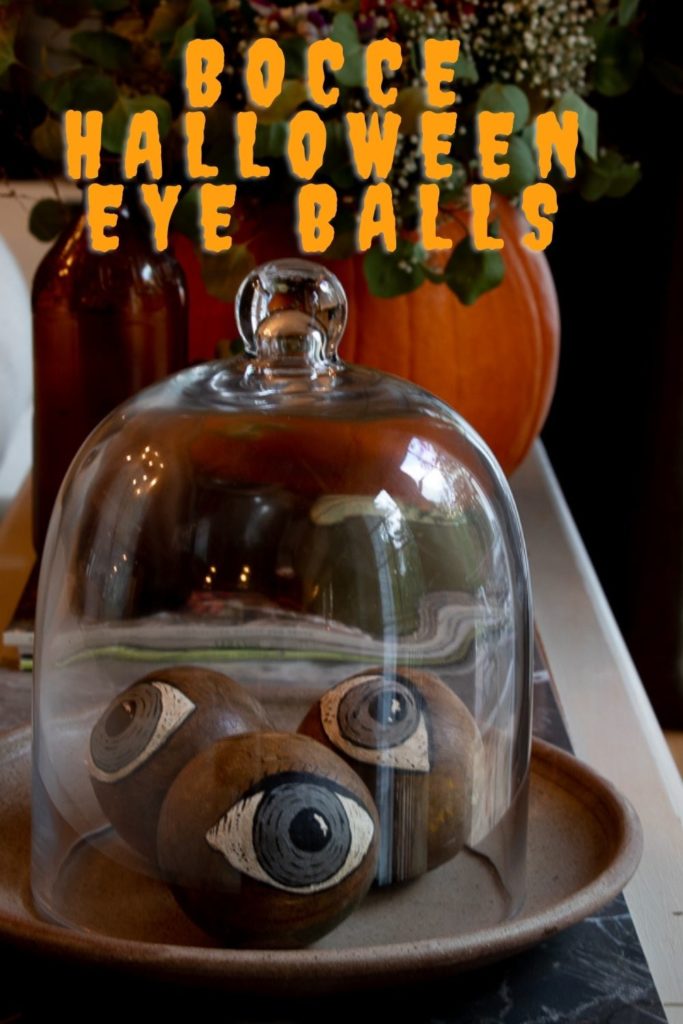 (Visited 383 times, 1 visits today)