That's right, holiday season, hosting season…we have to think about all those last minute projects that need to get done before we starting hosting again. What walls need a little touch ups, what towels need replacing, and how we can have an inviting house where guests feel welcomed and at home.
This is a collaborative post with Walmart Home, all opinions expressed are 100% my own. There may be some affiliate links listed in this post that I make a small commission from, with no added cost to your purchase.
We kind of have an awkward house when it comes to having guests over long term. Its' perfect for a party or catered event since we have an open concept space, but one thing our house lacks is a guest suite. We have no guest room since we chose to use our 4th bedroom as a craft studio (AKA the candle room) and our 2nd full bath is a Jack and Jill attached to my kids rooms. Usually I will have one of them give up their rooms for guests or the couch is second best. Well, I can't say its the best option but at least they both have full size beds and the honest truth…most of our guests live local (perk to living in NJ everyone lives within 2 hours of us). Well, that had me thinking though what would we do if we had guests this Holiday season and they needed to use our kid's bathroom???? How can I make this a more inviting space for them to feel welcomed and at home?
I turned to Walmart Home to find some quick items I could order and have delivered. Their selection for towels, bath trays, and glass canisters were supreme and made their way into my online cart. It was a quick and easy fix for me since again…time…I was able to get the bathroom feeling refreshed and ready for our adult guests. Some pretty in pink towels were the perfect compliment and would help me to separate the guest towels from the kid towels.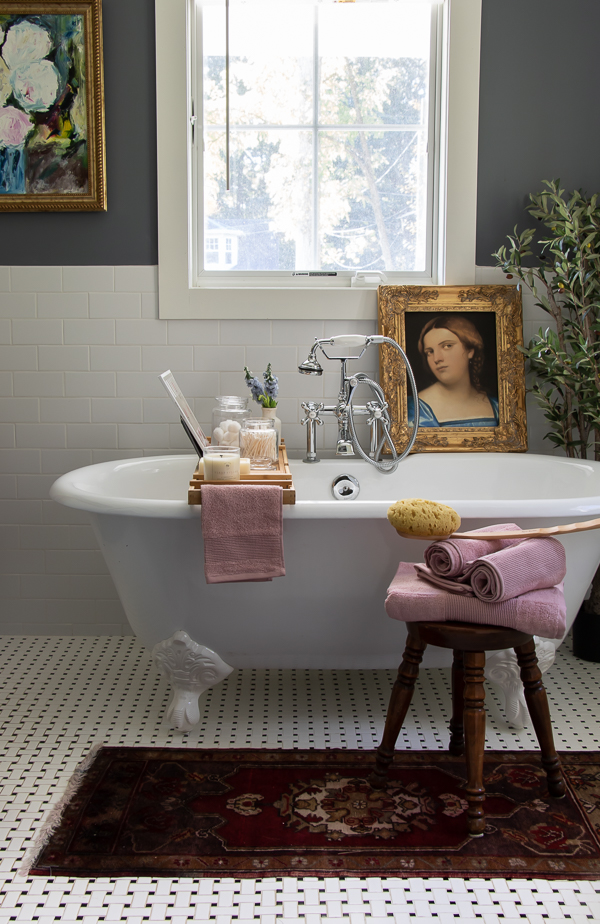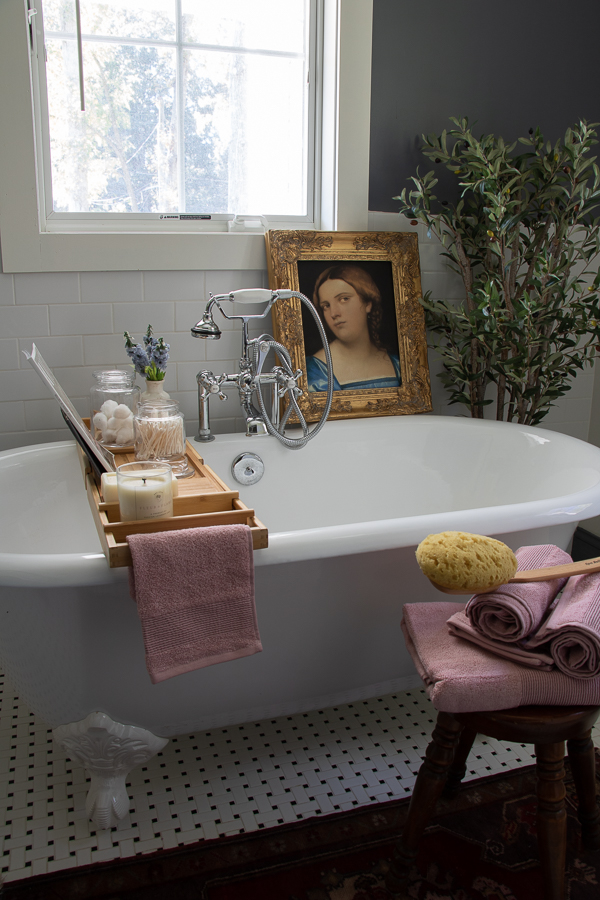 So maybe a creepy portrait on the edge of a tub is not everyone's way of making people feel welcomed, but for me I needed to add a little more charm to this bathroom that has had me stumped since the day we moved in. We have gone through quite a bit of shower curtains and painted the walls twice…I've thought about replacing the vanity and even adding some wallpaper….but the countdown is on!!!! You know what I mean right? Another year you didn't tackle that project because LIFE, so how to make a quick turn around to a space to make it feel welcomed, a little less childish, and feel guest ready?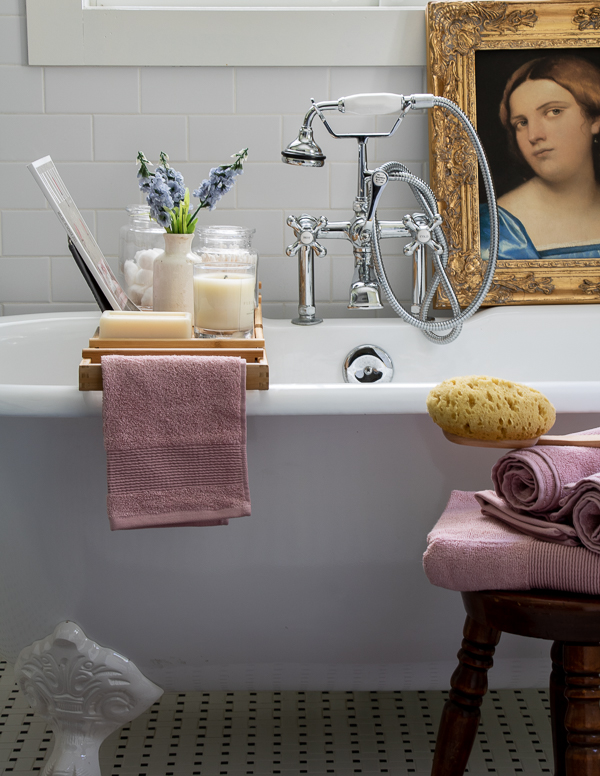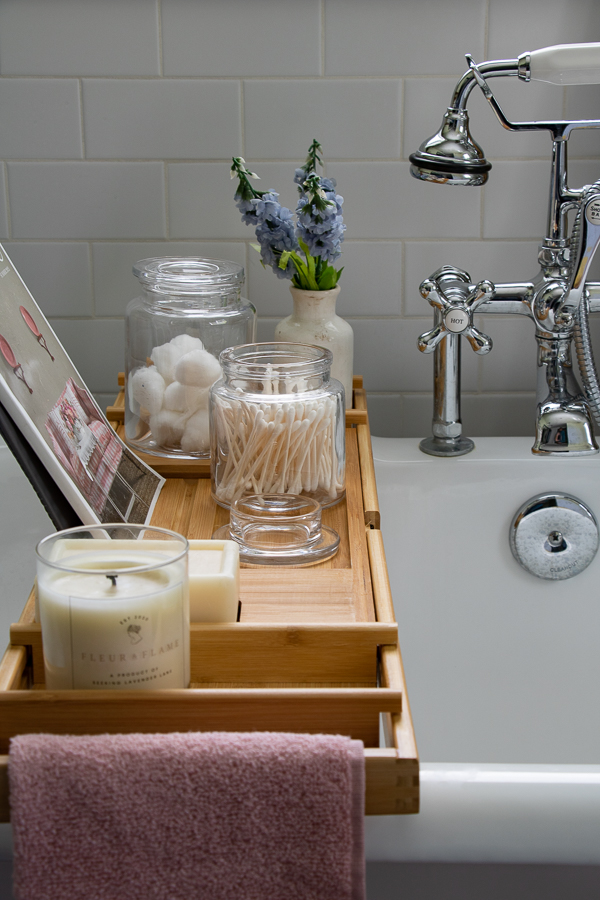 Tips for getting your bathroom guest ready:
#1 New towels! I think having a specific color for guests is a great idea especially if they stay long term. It allows you to wash their towels and know that they belong to them. This also, keeps things organized and will be a reminder to the kiddos "NOT TO USE THAT TOWEL" my kids like to play musical towels sometimes…makes me crazy!
#2 Set up an inviting tub space for when they need some time alone. Adding a bath tray, cozy candle, and wash cloth will be great! You can even add some bath bombs or bubble bath too. I love when people come to my house and feel like it's a retreat!
#3 Make sure to keep a jar with easy accessible bath necesities like cotton balls and q-tips. Nothing worse then having a guest look through your messy drawers or under cabinets. Keep them all right here on a bath tray or on a counter space.
#4 Keep things neat and presentable and why not roll the towels like a hotel? Again I love my guests to feel like this a special retreat when they come here. Think Bed and Breakfast…why not?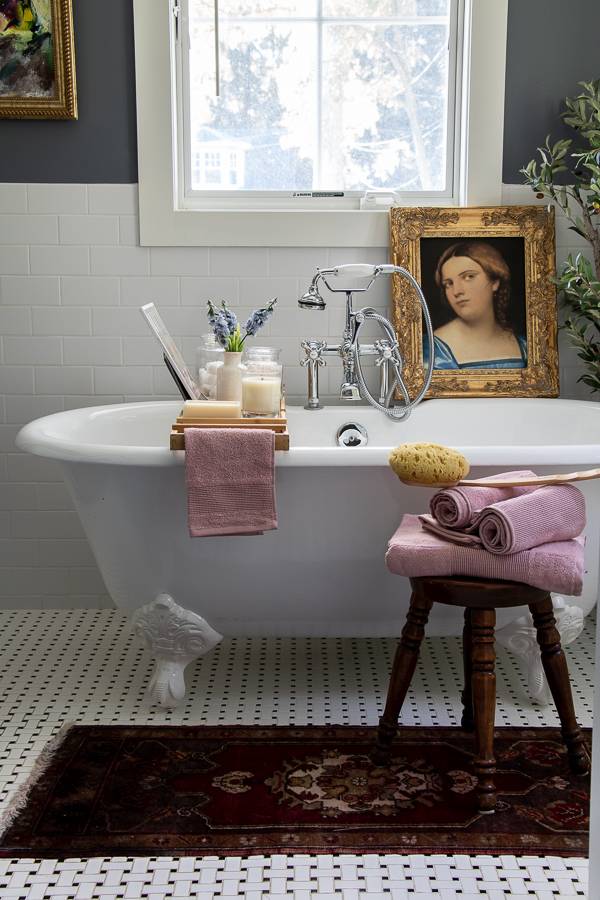 Hope these tips helps! As for the styling of this space I felt like pink towels were the perfect way to pull that contrast against the blue-gray walls and I love how it pairs with our vintage rug. I wanted something that felt a little different and unique and since I had no time adding that wallpaper or deciding on the right vanity still…this was the perfect solution to make the space feel styled and beautiful for the Holiday season. I added some faux flowers in a mason jar and an olive tree along the back wall….gives the room a little life!
PLEASE PIN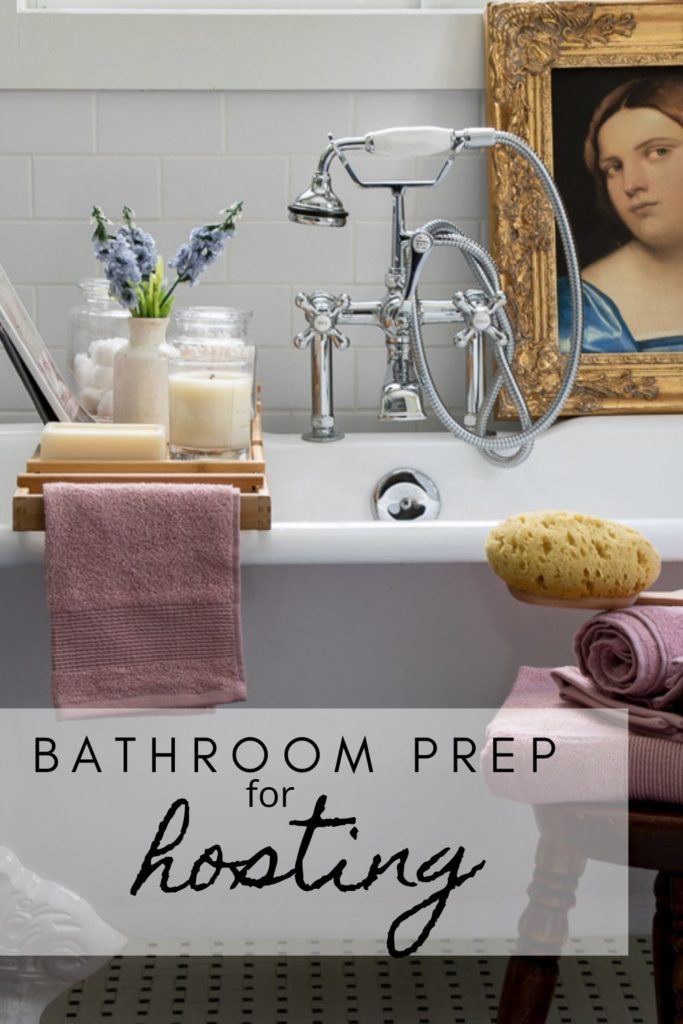 (Visited 822 times, 1 visits today)