I can't believe it but Christmas is just around the corner and in this post I am sharing the Top 10 Best Old World Christmas Trees. What exactly would make a Christmas tree have an old world vibe? Some elements to add to your tree that can create an old world feel are Paper ornaments, Garland, dried fruit slices, pinecones, ribbons and cinnamon sticks. Sometimes it's what you pair around the tree as well that will really pull the look together to create a certain mood.
I just love the way this green tree pops against the red carpet and walls. The paper topper and ornaments with the red candles are so dreamy
This is just the most magnificent tree in this amazing castle!! I love the grandness of the tree in this photo and the floors are just stunning. Although I don't think many of us live in castles, you can still draw inspiration from this photo. How could this be translated in your home? Maybe a harlequin area rug with beautiful lights and beaded garland and gold ornaments.
The dried orange slices and beaded garland make this tree so cozy along with this wood paneled room.
Paired with a red antique rug really made this tree stand out. Simple ornaments such as pine cones, dried oranges, and cinnamon sticks add a nostalgic touch. This is quintessential Old World styling
I love all of the pops of red in this image. The Red bows and baubles on this tree paired with red tartan armchairs and the red pop again in the portrait.
This is just the sweetest tree! I love how they placed the tree in the basket and hung the red and cream flag bunting behind it. The ribbons in red and cream paired with pinecones and rustic ornaments pull this charming look together.
I love the idea of a themed Christmas and in this case the portraits, candelabras and traditional baubles and angel on topper add to the Charles Dickens themed Christmas
Love this one with these beautiful ornaments, pearl strands, and that gorgeous back drop!
Or a castle with a snowy Christmas tree in front will do!
LOOOoved my friend Cami's Christmas tree from last year- it's quintessential Old World and so simple and fabulous.
And one final tree…this certainly is a Grand finale! Love its grand feel and fabulous decorations.
With nostalgia and maximalist being two design desires we are craving in the home currently, I think an Old World Christmas tree and theme is just what will make for a show stopper this year.
Please Pin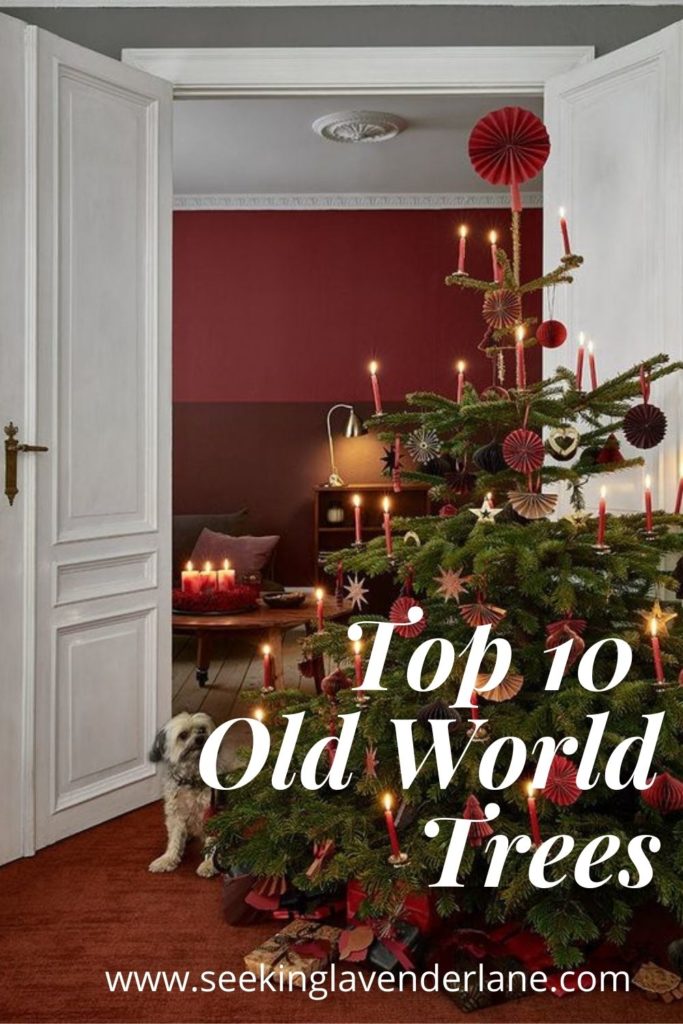 (Visited 2,986 times, 80 visits today)