Shopping Kirklands for Fall Decor
Happy Sunday friends! Who's excited for Fall? I feel like I can officially ask that questions without people getting angry! LOL I'm with you though it's hard to say goodbye to Summer, but Fall is one of those great seasons that everything seems cozier, prettier, and more relaxing. I love looking forward to the holidays again, the Fall fashion, and of course the decor! One of those stores that seems to always get Fall right, is Kirklands. We passeded my local Kirklands the other day and you can smell the fall fragrance from outside the store, it's definitely enticing and it's hard to keep things out of your shopping cart during the fall months in their store. I teamed up with Kirklands again to bring you some of my favorite fall finds and how I am incorporating them in my RV. I kept it more simple this year then years past because well, there's less places to decorate in here…and too much stuff just feels crowded in the RV. I decided to really stay focused on what I felt would add to the decor in here and I felt with these few touches I would not have to worry about shopping for real pumpkins this year (at least not right away). Here are some of my Fall favorites that I scored at Kirklands and how pretty they add to the look of our camper. I thought I loved this camper for Summer, but I am definitely loving the Fall decor just as much! Also more photos to come Wednesday of my Fall RV Tour.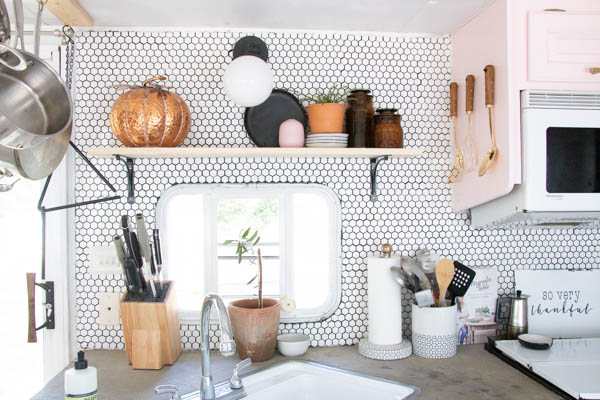 One of the ways I wanted to incorporate some fall into the camper is with mixing warm metallics such as brass and copper. I found this copper pumpkin on their website and knew it would work beautifully with my the pink cabinets. I love it also paired with the amber canisters and terracotta pots. I also found these brass utensils when shopping at my local Kirklands and I love the look and some how felt it added that warm touch to the kitchen area for Fall.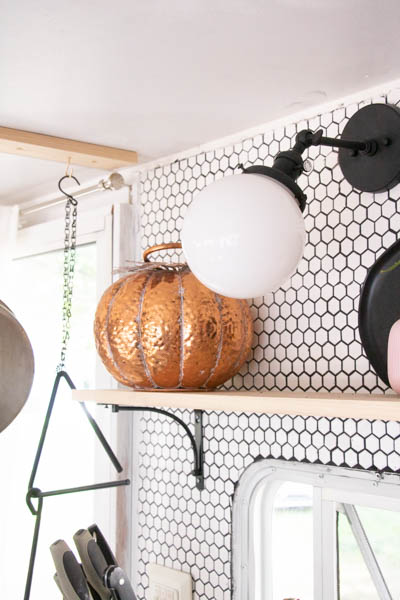 The next was this black and white enamel sign, that is perfect for Fall and I am sure we will still be here in the camper during Thanksgiving so it's perfect. It's also a reminder at how thankful we are to be where we are this year. Who knew we would be living in a camper and building a home. Something to be so thankful for this year. See how to win one at the bottom of the post!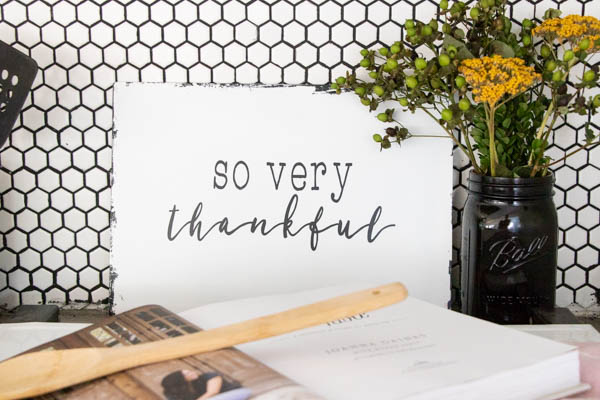 I also picked up this terracotta pumpkin too to finish this vignette we have under our window. It's a great piece that can pair well anywhere in your home. I love that its neutral and I like the metallic painted finish.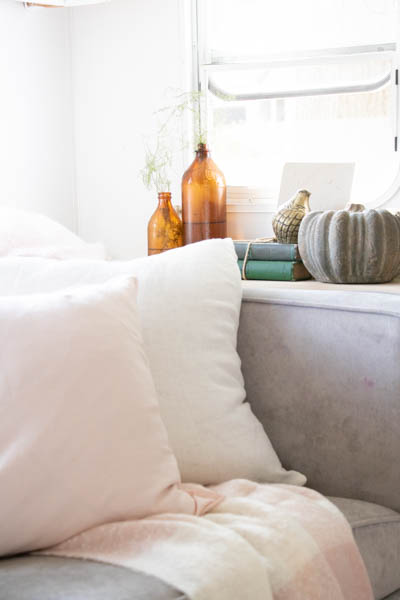 Some blush and amber and greenery and that kind of completes our Fall decor this year. Let me know your favorite finds at Kirklands and I have an extra So Very Thankful sign that I'll be sending out to a random winner. So be sure to comment below on what you found from Kirklands that you are loving this Fall. You must be a US resident and comment below to win! I'll be selecting the winner in a week from today (9/16/18) GIVEAWAY CLOSED!
(Visited 1,112 times, 1 visits today)