RV Bedroom Makeover, with Beddys Beds
Hello, it's an actual reveal here on Seeking Lavender Lane. I've shared a ton of our RV, but I haven't quite did a "Reveal" so today I am sharing our RV Bedroom reveal. Funny, I have no before photos of this room. I have no idea why I never took a photo of the before, but you can imagine it looked just like the rest of the camper…blue carpets, wood paneling, and pretty UGLY! So, we decided pretty early on in the process that this back room would be for the kids. They needed their kid space and have a place to go when mom has work to do (like while I'm writing blog posts) and since they go to bed at night before us it just made sense that they would take the back bedroom and hubby and I would just take the pull out couch. So, the space I had more of a children's bedroom in mind something that feels cheerful and bright. That was pretty much my main goal for the entire camper anyway, to have something that looked bright since the space is so small. I think I pulled it off pretty well, with the all white walls, black and white bedding, and yellow accents. The kids have been enjoying this space all Summer long and though it doesn't look this neat and clean most days (just like any kid's bedroom) it definitely feels so fresh and new since the days of blue carpets.
This is a collaborative post with Beddys Beds. I received product in exchange for my honest opinion on the product. This post also contains affiliate links that I make a small commission from with no added cost to your purchase.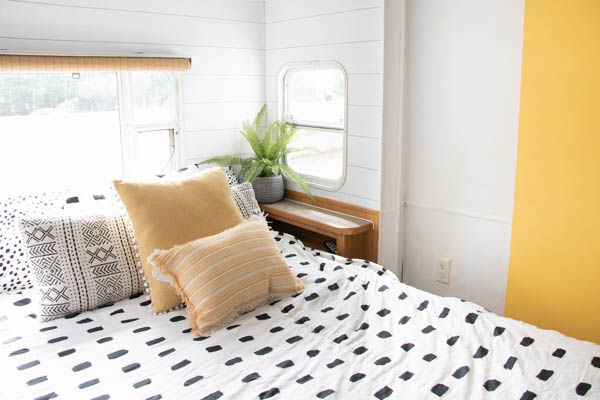 One of the biggest changes we did in the RV bedroom makeover was the bedding! I was concerned about what kind of bedding to do in here since the space is tight. As you can see the bed takes up basically the entire back room so making the bed would be hard to do with such limited space. Also, I did not want to be making the bed myself. I wanted the kids to really take care of this part especially since in our last house they were already making their beds (well making them look neat I wouldn't say they were making them like a pro). I had heard about this company Beddys Beds mostly on social media and had seen some of my friends using them for their children's spaces. I figured this could be a great way to try out their bedding and since they recommended them for RV's it was a perfect collaboration! So I wrote them and they were excited to work with me on this project and share with my readers their great invention of Beddys Beds. Seriously, if you haven't seen this product yet…be ready to be AMAZED! I know this is going under your kid's or grandkids Christmas tree this year! I'm already thinking about what bedding I want for my kid's bedrooms when our house is done. The print I chose was this one, and I went with something that felt neutral for boy and girl and had a modern print since I was thinking more modern in the camper then my typical taste. I knew the black and white would pair well with the yellow accents too I had in mind. So what's so neat about this product is that they created an easy way to make the bed without the traditional endless mornings of running around your bed to tuck and fold. The bedding fits like a fitted sheet and has easy pull zipper tabs. I keep calling it a sleeping bag for your bed! It's easy to make and easy to wash! The patterns are modern and fun for any kid's room or camper.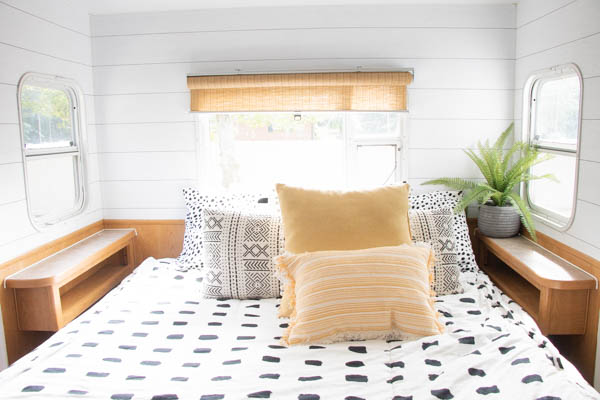 After finding the right bedding and painting the walls all white oh and of course replacing the blue carpets with some beautiful new flooring, read about that here, I wanted to change up the walls behind the bed. I had tons of options I was looking at. First, I wanted to do something yellow and flowery but then after painting the barn door we built in the camper, yellow, I knew it would be too much yellow. I found this wallpaper and it was peel and stick so we added it to the walls behind the bed which I felt was the perfect subtle pattern and texture that worked well with the bedding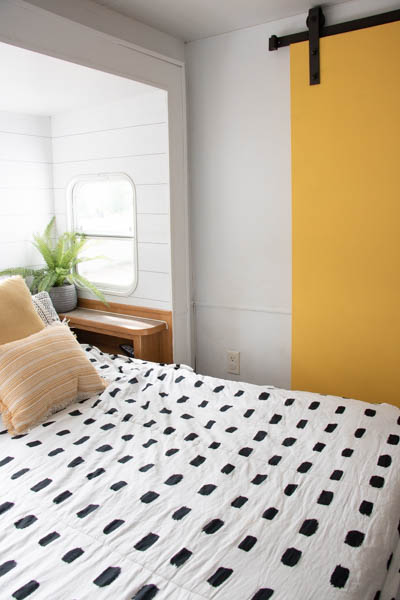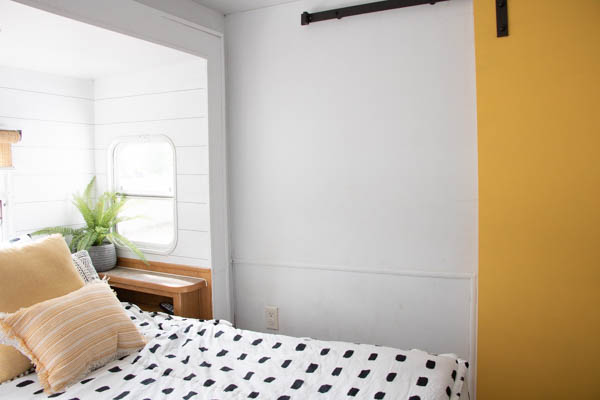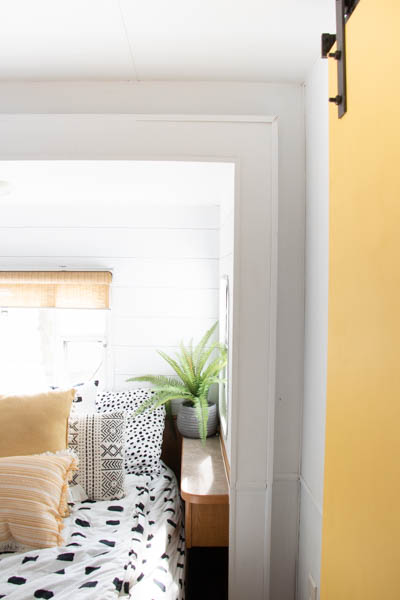 Any guesses as to what my favorite part is to the back bedroom????
Yep, that yellow barn door! We had gone back and forth about whether or not we could fit it into the RV. We weren't sure if the track would fit and if the slide-out would go over it when closed, also the weight and all that. It was an easy solution with buying this track that was shorter then standard and buying a hollow door that was light enough for RV travel. I had to paint it yellow to really bring that pop in here and I am so glad that I did.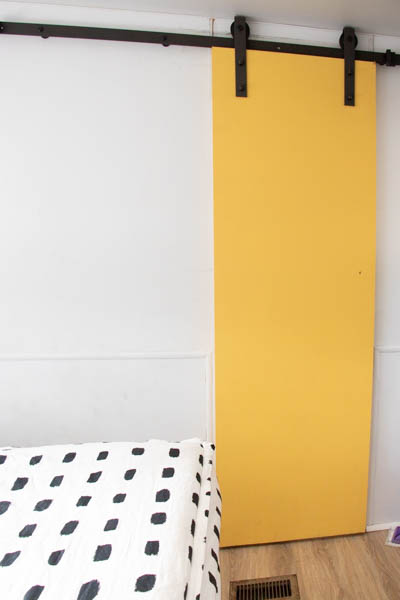 I did contemplate painting the rest of the paneling around the bed, but I stuck to the wood and I think it actually pairs well with all the colors in here. I bought a bamboo shade from IKEA and I think that tied it back to the wood so it made it work together nicely.
As I mentioned the room doesn't always look this neat but at least I can get my kid's to zip/ make the bed everyday. I think it's harder convincing them to put the throw pillows back on the bed and brush their teeth.
Source List
Bedding, Barn Door Hardware, Pillows (homegoods), Shade (IKEA), Shiplap Wallpaper
Please Pin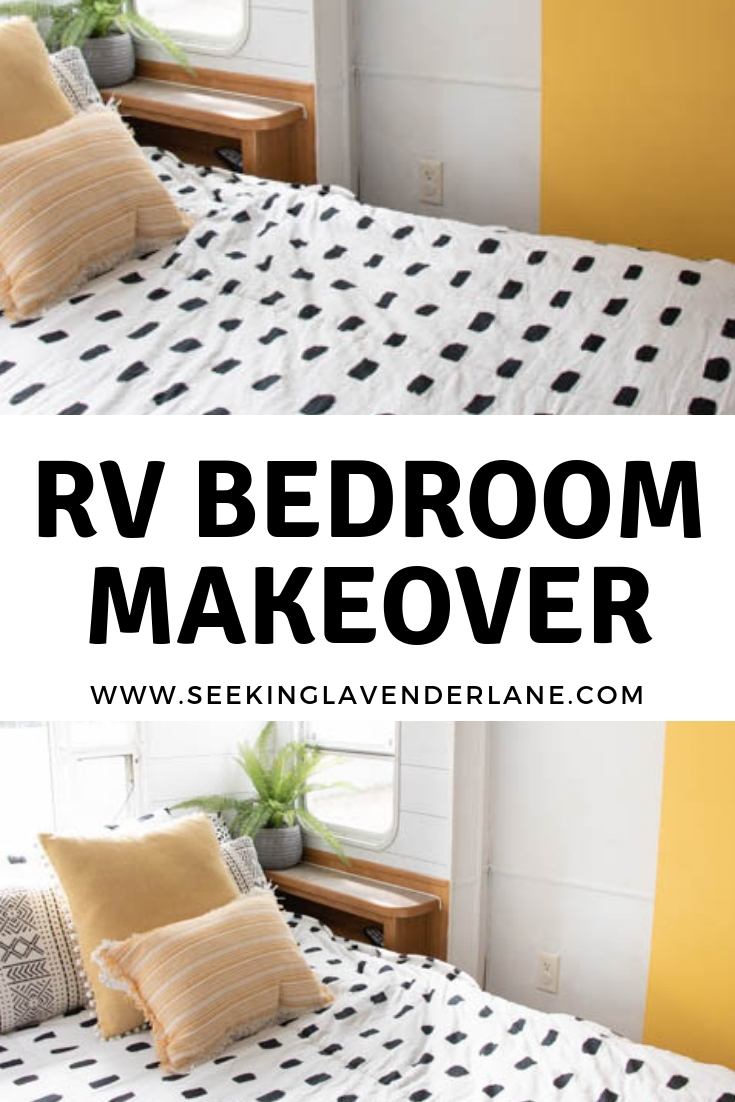 (Visited 71 times, 1 visits today)