This post is sponsored by Everywhere Agency on behalf of Tarkett; however, all thoughts and opinions expressed are my own.
Installing new RV Flooring
Well, I'm a little behind getting you all caught up on the process of our RV, but mostly because I've been waiting to get some pretty photos to share! So, we are all officially moved into the RV, but we have some finishing touches mostly with decorating and small projects. Once that's all done I'll be sharing the reveal here. One of the biggest projects we took on before we moved in was getting the new flooring down. If you remember the before photos of the nasty blue carpeting and ugly vinyl that the camper had was pulled up immediately. We decided to prime the floors with some KILZ to kill some of the smell since removing the carpet brought out an odor in here. We thought it was just a bagel that went bad in our garbage, but once the smell wasn't going away we knew it had to do with removing the carpet and whatever had seeped through must had left an awful fragrance. So, once we primed it was time to select some pretty flooring that not only would compliment the design and style of the RV but also be easy installation and work for the RV quirks like the slide out.



Let's take a look back at the BEFORE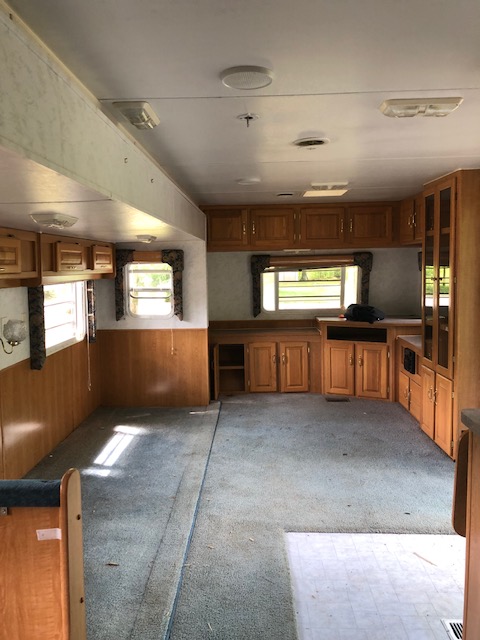 After the Demo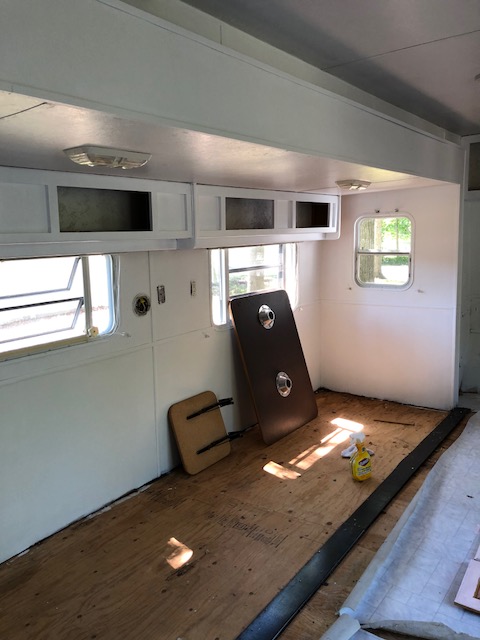 I was approached by Everywhere Agency for Tarkett for our makeover and after browsing their beautiful selection of ProGen flooring I knew this was going to amazing! This luxury vinyl flooring has a stunning finish and the planks are a great thickness that allows the slide out to slide over and also easy for cutting with a razor blade as well. It's also temperature control, 100% reclaimable, requires no acclimation time (woo-hoo), and you can use your standard razor blade to score and cut flooring. It's a great product for that DIY flooring that we could take on ourselves which gave us less anxiety especially since all our anxiety was already up at this point in our makeover and living situation.
I chose the Vista Oak Limed Natural color because it was light enough for the RV with a hint of gray and white which I knew would work with the pink, gray, and white color scheme in the camper. It truly is so pretty and I so happy with my choice.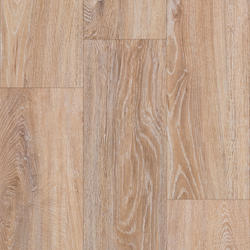 Directions for Installing Laminate in an RV
So, I would be lying if I told you we were pumped about installing the flooring. Though we have done laminate in the past it's fairly simple to install we just were getting tired by this point of the RV makeover. We were also racing the clock for our move out date of the rental and into the RV. That added additional pressure and before you know it we would need to be living here. So flooring had to get done and that required late nights and after work and after school trips here to get it done. Oh did I mention we had no AC still at this point and it was getting HOT!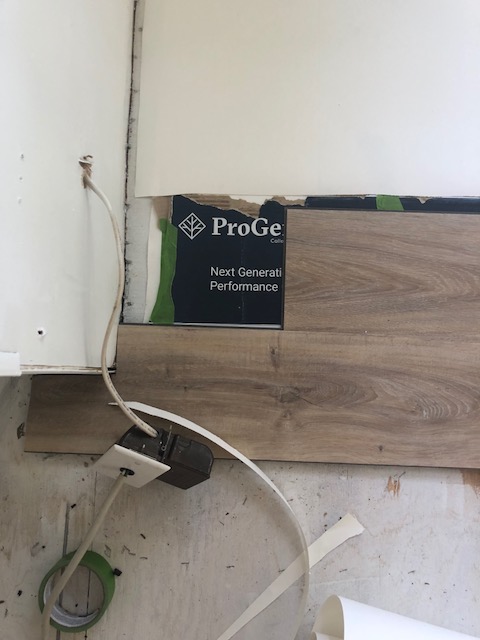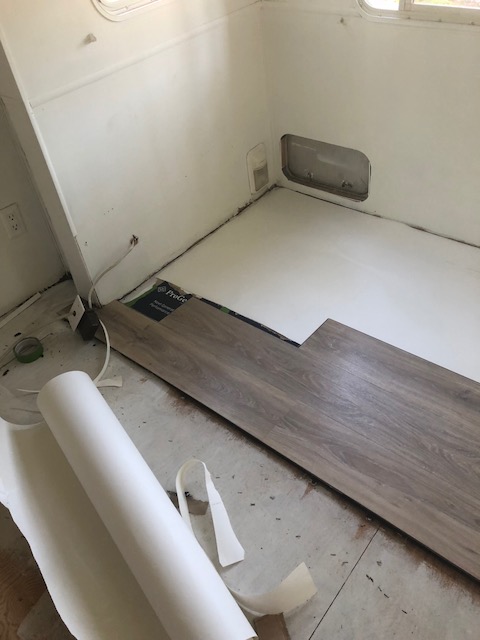 The easy lock-in system made the process surprisingly so fast. We had a few angle cuts that were a bit tricky, but other than that the process went quickly. We started with the slide out first. Its the largest wall and we had all straight cuts here. We had to be clever when working over the metal piece that separates the slide out from the rest of the RV. Hubby decided to just use some cardboard underneath to make for an easy transition overtop.  We chose to use a razor blade here and score the flooring which made for an easy cut.
Then we moved onto the rest of the RV. The easiest way to transition from the slideout to the permanent flooring is starting from the kitchen cabinets. We worked our way from there to the slide out and then worked our way from the cabinets to the exterior wall. This way there were no odd slivers in the center. Fortunately hubby thought of that because if I was doing the work I probably would have started with the slider and had no idea what I was doing (that's what I got him for lol)
I truly loved working with this product and couldn't be happier than to share this product with you all. It's a great laminate for the first-time home buyers or those first time DIYers! I promise it's easier than it looks and is like installing a great big puzzle piece. It was a great option for our camper, but I would love to see this in our new home and we already thinking about ordering some more for our basement makeover. It's a great durable product so when the kid's and dog are playing on it, I'm worry free!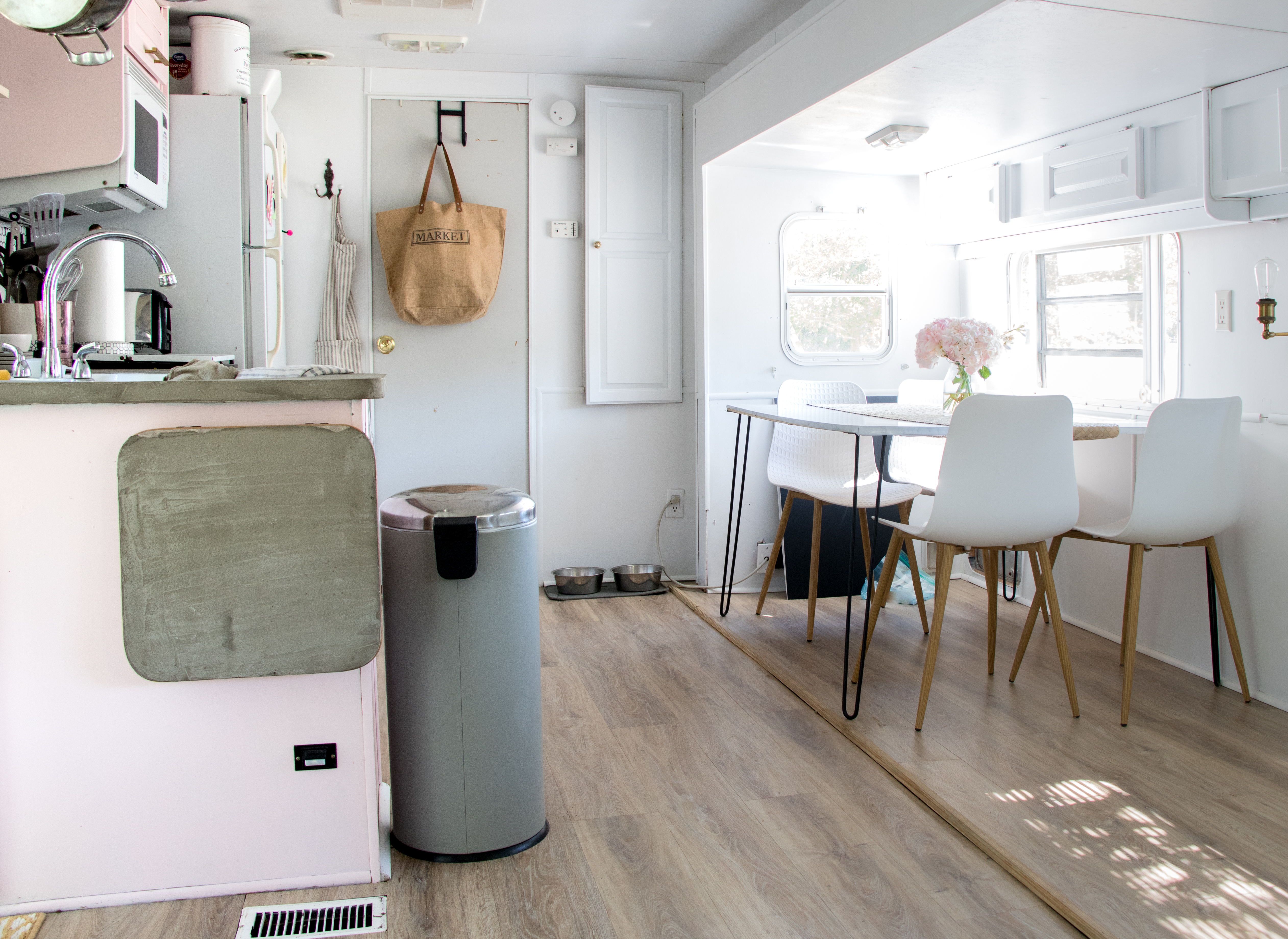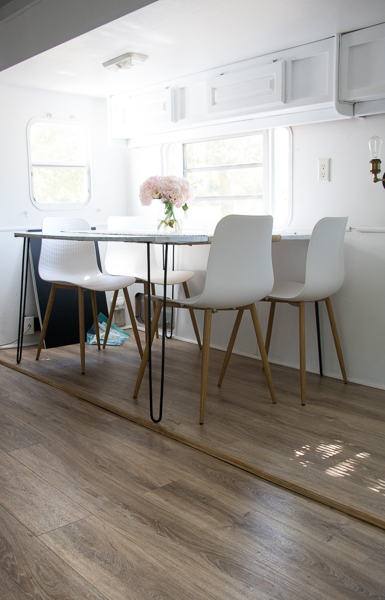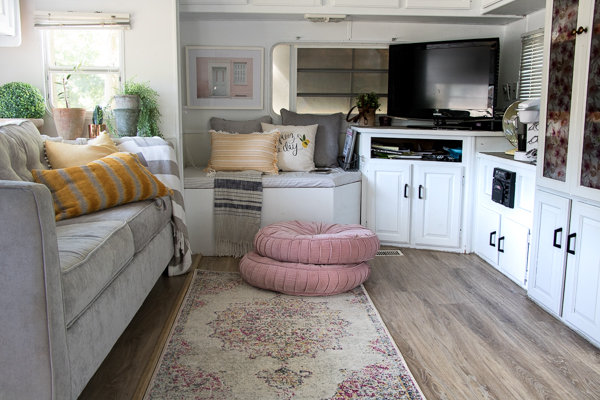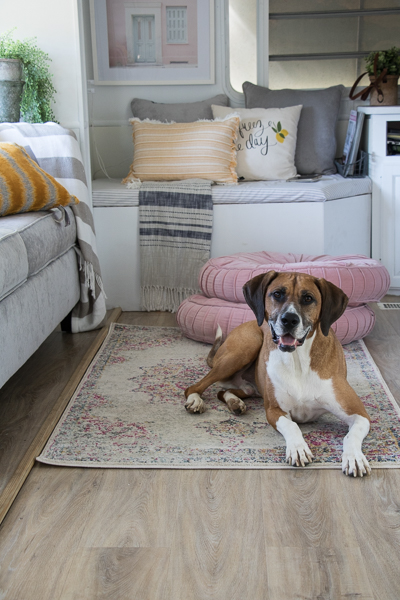 The Rv is not quite done yet…but we are getting there and I am certainly seeing the light at the end of the tunnel. Mr. Luca is getting comfortable here too!
Please Pin