Welcome to #Weeping Willow Home
Well, I've had so many of you writing me about seeing our new house, and I appreciate your patience. I wanted this to be special and really give you a good look at what it looks like without sharing just some UGLY photos. So, I reached out to Corey that works at my Church (New Beginnings in Brick, NJ) He works in the creative department and does the video editing for them. After seeing so many of the amazing videos they coordinate I figured I would ask if he could do the same for me. I really wanted to bring some video content here and I knew that you would all appreciate it as well. So, though we are in the process of the work on the house (about a month in) I wanted to share the BEFORE of our home that we are calling #WeepingWillowHome you can follow along with the hashtag as I'll be sharing more on that process. Of course, the RV is still in the process of getting done and once I have a few more details to fix and be done with I'll be doing an entire tour of that for you as well.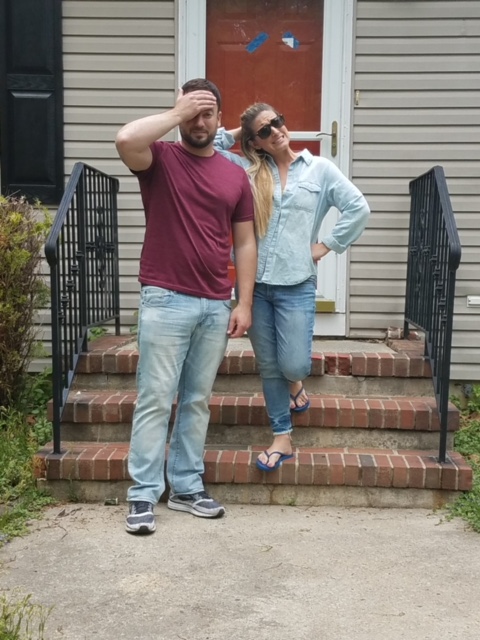 What are we in for???? #WeepingWillowHome
Just a little background on our house, so it's in Farmingdale, NJ just about 10 mins away from our last house. We purchased this HUD foreclosure home back in May but originally came to see this home in January. I can't believe we are 6 months into the process of when we first saw the home, dreamed up what it could look like, worked with an Architect (PDR Designs) and now working with Monach Construction to build the house of our "dreams". Though I'm sure the house of my dreams would have a few more details this is as close to making that dream come true. I've always wanted to either build a new home or buy a really old home with tons of Character. With this house we are doing just about both. Well, maybe not an old home with character being this was a modular (pretty boring) home built in 1994, but we get to expand on it and make it our own. The idea of building from scratch was just impossible with our budget. The amount of money you have to put down for a new build just wasn't going to work, so we went this direction and decided to take a construction loan out. I'll go more into what a HUD foreclosure is another time, but for now here's what she looked like just a day before the Demo team showed up and our construction began. You can follow along more on my Instagram to see the behind the scenes. We are currently seeing the construction process of the Mason team working away and you can also hear my perspective on the time frame and the waiting and when the guys don't show up for the project. I get quite real on there because I want to make sure to share that it's not just a Cinderella miracle of how our house got built, but def a long drawn out process of waiting on others and I'm sure the good, bad, and ugly that will occur over the next few months. Our contractor said the process should be anywhere from 3-4 months so that leads us to October 2018! I pray that the time flies and that all will be done in that time period because we are already getting antsy to be in our new home. Though the RV we made bright and pretty it does get cramped in here and feels so temporary. One thing we learned in this process so far, is there's no place like home! I miss the feeling of being in a home and though we aren't really missing our last house we long for the days of the comfort and convenience of having a house again.
So come on in and take a look at our the BEFORE of our #WeepingWillowHome
(Visited 11,287 times, 5 visits today)