Candle Subscription
I am so excited to officially announce one of my newest products that I get to share with all of you. I love to be able to do more then just write posts and share ideas. I want to connect with my readers by bringing you something special to your homes. I am a candle LOVER! I mean…LOVE me some candles. It truly changes my day the second I light a candle and watch it either cozy up the home or create a dreamy escape. It's part of one of many essentials that make a house a home. I truly believe the entire mood of the home changes when you light a candle.
So, introducing my Candle subscription line: Fleur & Flame a monthly 12 oz candle that you receive at your doorstep every first week of each new month.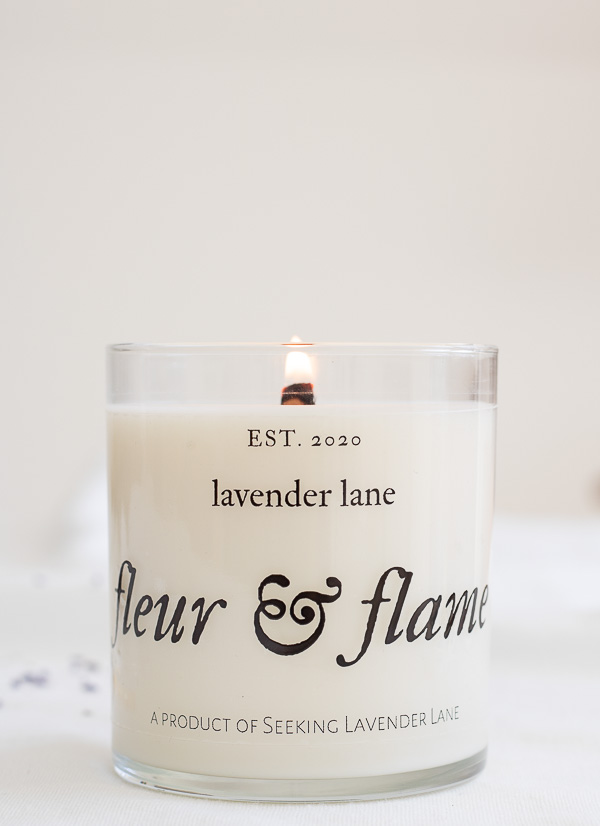 I have come to recognize something this past year that the home is more then just pretty decorations. To really create that oasis, the place of healing, and peace…you have to make sure that you are tapping into all those senses. That's why I launched my Home Healing group. Your house may be temporary, outdated, small, HUGE, lacking, etc. but there are so many ways to make your home your oasis. To enjoy it to the fullest and one of those ways is with smell.
It's like my entire mood changes when I lite a candle in my home, so that's why I decided I wanted to have more control of what I was burning and how I could inspire everyone else with my favorite fragrances and simple vessels.
This candle is hand poured right here in New Jersey, by a local candle artist. I partnered with a mom-entrepreneur to not only make sure my candles were in the right hands (not ending up with wax all over the stove- read more here about that), but to also bless another woman and her family. Also, proceeds from this candle will go back into my Home Healing group to provide resources that will allow me to continue to help women with loving and finding healing in their homes. You can read more on my home healing group here.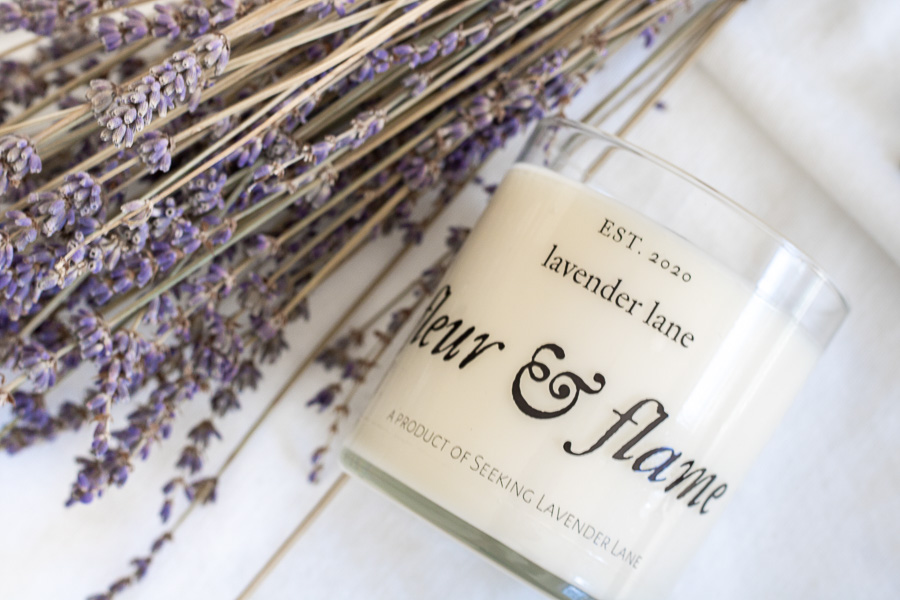 With my home-lovers here at Seeking Lavender Lane, I knew I could create a product that you love. The best part, you get to gift yourself with a new fragrance every month. This won't be your typical pick up a candle from the store or have to order a scent that you're not too sure about from an online dealer. Instead, trust me to create the perfect scent that reflects each month's feel and receive a surprise scent the first week of each new month.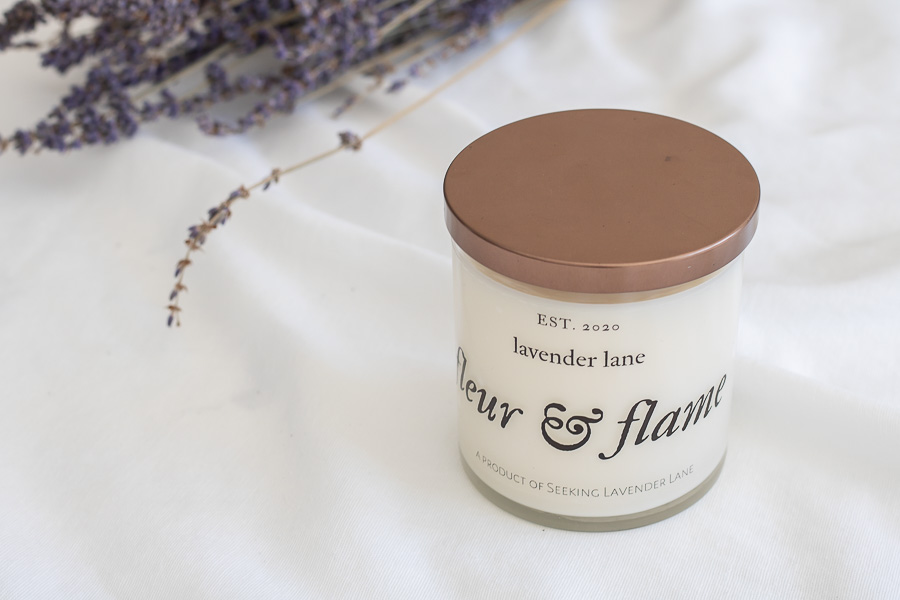 Candle background:
Each candle is made of the very best products with an all natural soy wax, wooden wicks (for that crackling flame), no harsh chemicals, 30-50% longer burn time than paraffin wax, & hand picked fragrances by Deb herself. To give a nod to my "french" passion each candle's fragrance will be a French female name, except for our signature scent "lavender lane". I plan to eventually carry this online at all times for those that are french lavender fanatics like myself.
Each candle is retailed at $32 but for the subscription you pay a price of $29.00 + FREE shipping (that's a 12 savings). Must commit to at least 3 months of subscription. Orders placed before the 25th of each month will be filled for that following month and receive first week of each month, so you can burn your new fragrance for that entire month until your next one arrives. US residents only!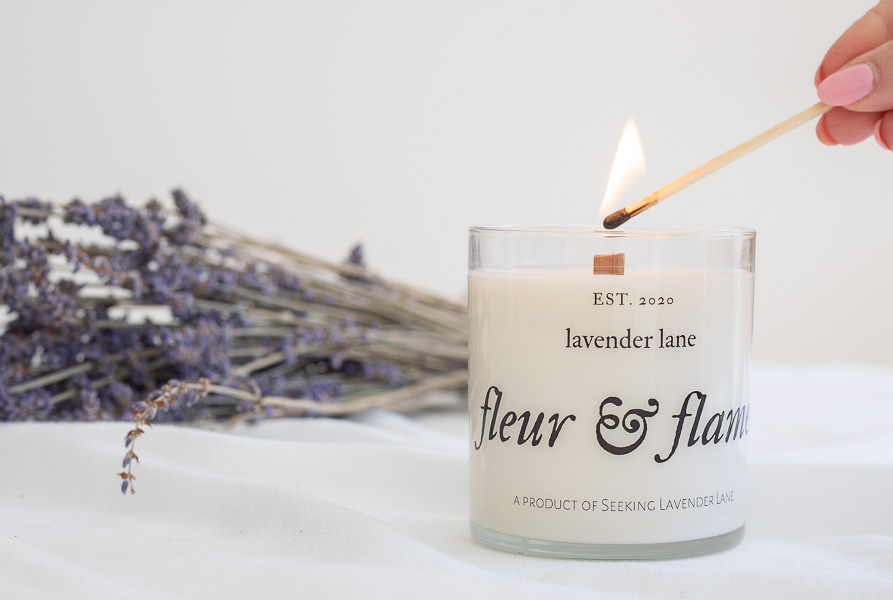 Tag me in your IG post #fleur&flame @seekinglavenderlane
Sign up NOW for your candle Subscription HERE
Please Pin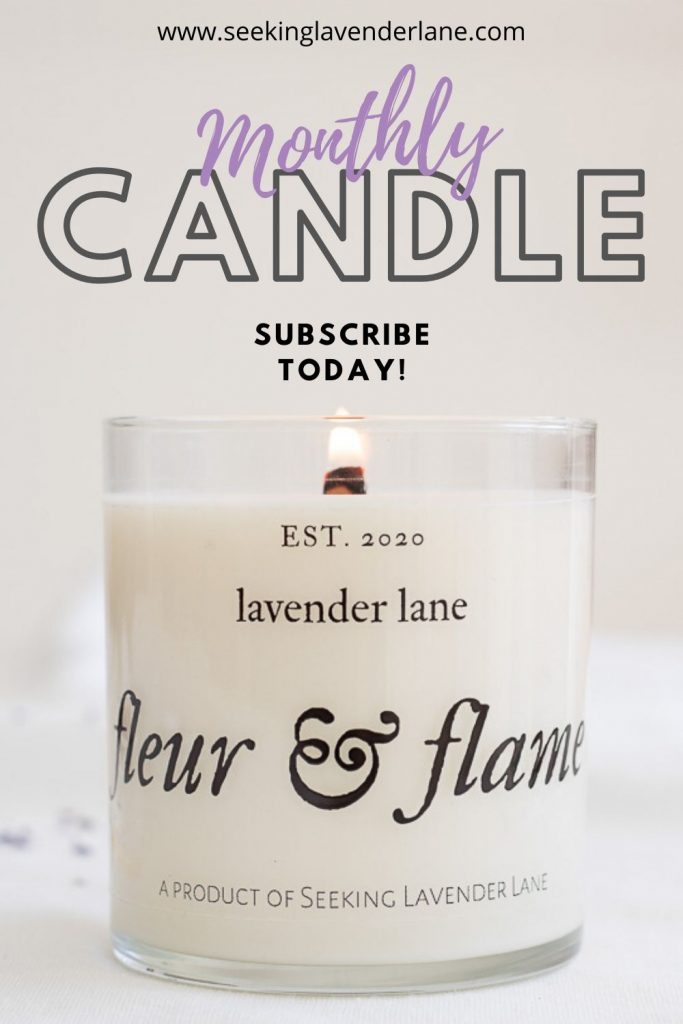 (Visited 1,661 times, 1 visits today)