I have shared in the past my favorite paint colors, predictions for paint colors, etc. Its one of the best ways to stay on trend and get a little refresh for the home for an affordable weekend makeover! I haven't had as much time on my hands lately as I did in previous years, but when I did or do I always consider myself an impulsive painter! Get my hands on something to paint and see that immediate gratification is so great! or shall I say "so green!" Because this year we are going to see more and more green paint emerging across exterior and interior projects.
When I say green I don't just mean the green we have seen in the past couple years…that dark dark green or even the muddy green colors (though I still love both and don't see them going anywhere) I mean minty-sagey-olivy-pistachioy-green! Its this great European pastel kind of green. It's actually a really hard color to describe, but you'll know what I mean in a second when I share some great inspo. pics and color sources.
I realized I needed to write a blog post about this new love for this green shade since I have been considering an exterior project to paint green orrrr lighten up my dining room with a lighter green shade (yes I know its not even two years old the color in there- which seems like perfect timing for a paint change) I can't say I'll have THE SPOT for this color, so why not share the information and maybe you have been getting ready for a new shade to your home or garden gate and need that perfect green inspired shade!
Below I have color resources!
This is one of the most interesting spaces on Instagram for me! I just absolutely love this collected feel of this shop, but lets talk about that shade of green! Its the perfect minty-pistachio and the lattice work just pops so beautifully. Like the perfect indoor-outdoor garden feel.
The most dreamy of courtyards! This has been such an inspo for me as we build our current courtyard space. though ours might not be anywhere near the budget this space must have had, I can see taking the ideas behind this most charming courtyard and add some details to our backyard. The green sitting area and again some minty-green-sage lattice work is just superb!
This is one of my favorite kitchen pics on the internet! Its more on the warm green but the combo with the terracotta flooring and dark counters really make this an exceptional space.
Green and marble, yes please!
Another amazing green kitchen with dark counters! I love the way green looks on any molding or detail its a great color for backsplashes like bead board or the lattice work we saw above.
More green lattice work, I think I'm just obsessed!
Green on green, this designer kitchen has high impact for a small space!
So fresh and so green! That's what this kitchen is! Add a scalloped brass hood and some detailed cutouts to the cabinets and it say English country with a twist.
This picture was one of the inspo pics that had me paint my front door green. Loving this refreshing shade on all the trim work and with the cedar roofing.
Okay green cabinet or lattice work I seem to have shared a ton of both! Its all so good add a little brick flooring and again some beautiful dark contrasting counters and it's a win!
Here are some beautiful green paint colors I sourced for you from Benjamin Moore paints!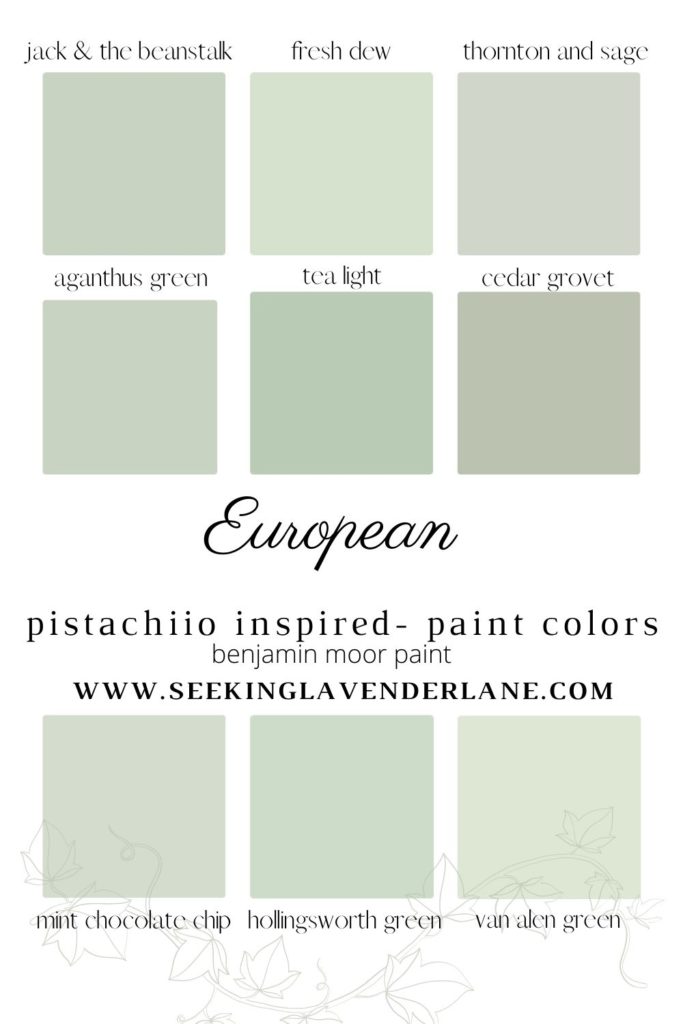 (Visited 1,451 times, 1 visits today)