Engineered Hardwood Flooring and More
Do you all remember when I shared the post of our engineered hardwood flooring and tiles choices that we had picked and how Avalon Flooring had all the amazing choices for our home and for what I had dreamed up for this space? Well, today I am sharing a little more with you as the flooring has been the main feature of our home. We have a ways to go with decorating and furnishing, but the floors are the show stopper. Instantly when you walk into the house you are greeted with these warm toned wood wide planks. They feel straight out of Europe and they bring ultimate cozy-ness to an open floor plan. I think one of my fears with having an entirely open floor plan, was that it would lose it's cozy factor. Well, the floors are what warm the space up and for sure add cozy back into the home.
This is a collaborative post with Avalon flooring but all opinions and photos are my own. 
Engineered Hardwood Flooring
Not only was I impressed with the sample when shopping, but the second the packages for our flooring arrived and we unpacked them I was wooed by how each board was different. One warmer than the other, some more knotty, and a true wood grain…which truly you can only get with pure hardwoods. These floors are engineered hardwoods and the color is called Thornbury. I shared more about the flooring choices and description of each that we chose in this post here.
The install of the flooring took about 5 days total and 8 days total for all the tile in our house. With the engineered hardwood everything was glued and nailed in and the flooring is a lock in system which I had never seen with hardwood. So it should be fairly easy if you were going to install yourself, but we did leave this up to the professionals.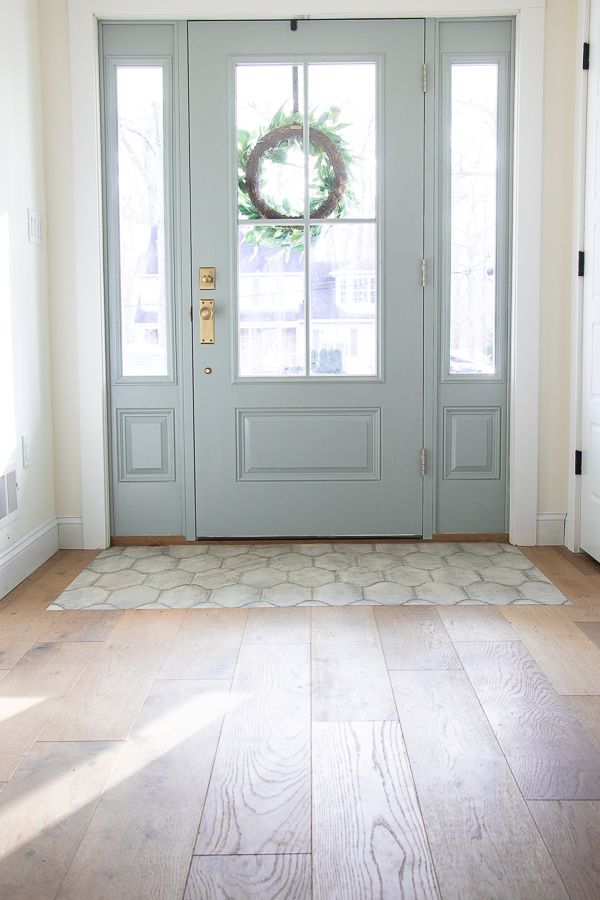 One of the decisions we made when laying out the flooring was to have the floors all go in one direction, but to switch the direction in the front entrance and front office. It just made sense since I think when laying flooring it should run in the direction of your focal point. Since the door is the focal point from our entrance they should draw you to the door or draw you into the house. My builders questioned that idea at first and that just reminds me to always stick to your gut when it comes to design. I wouldn't want the direction of the flooring going any other way. Very happy with our decision with this and the change of direction flows beautifully still and looks amazing!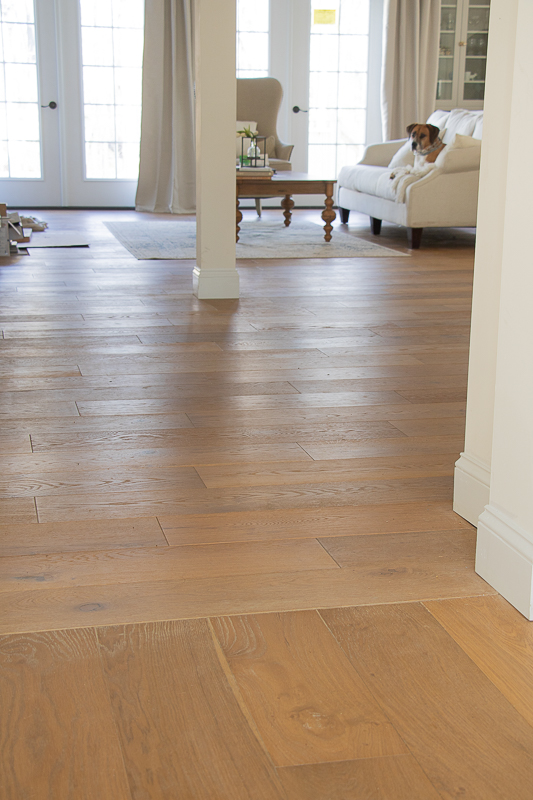 As you all know we were accomplishing the "French Farmhouse" feel to this home so other choices we brought in were brick porcelain tile that we ran in a herringbone pattern for our pantry (I'll be sharing more on that when the pantry is completed) the checkered gray and white cement tiles that we chose for the laundry room, and the entryway tiles that I didn't share initially, but they are this pretty curvy pattern that fits with all the arches in our home. All tiles declare that the room is separate and has it's own personality, but all make for a smooth transition and added character to the home.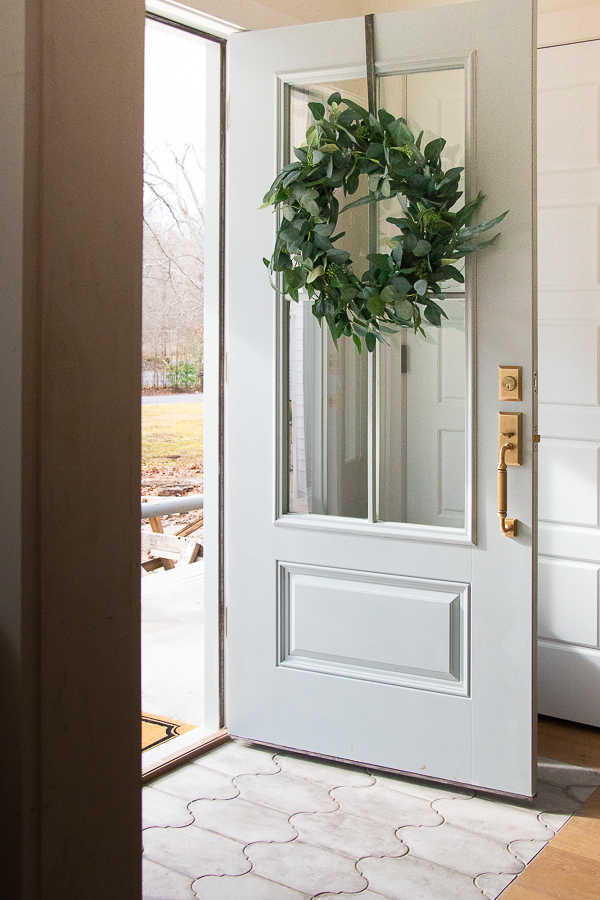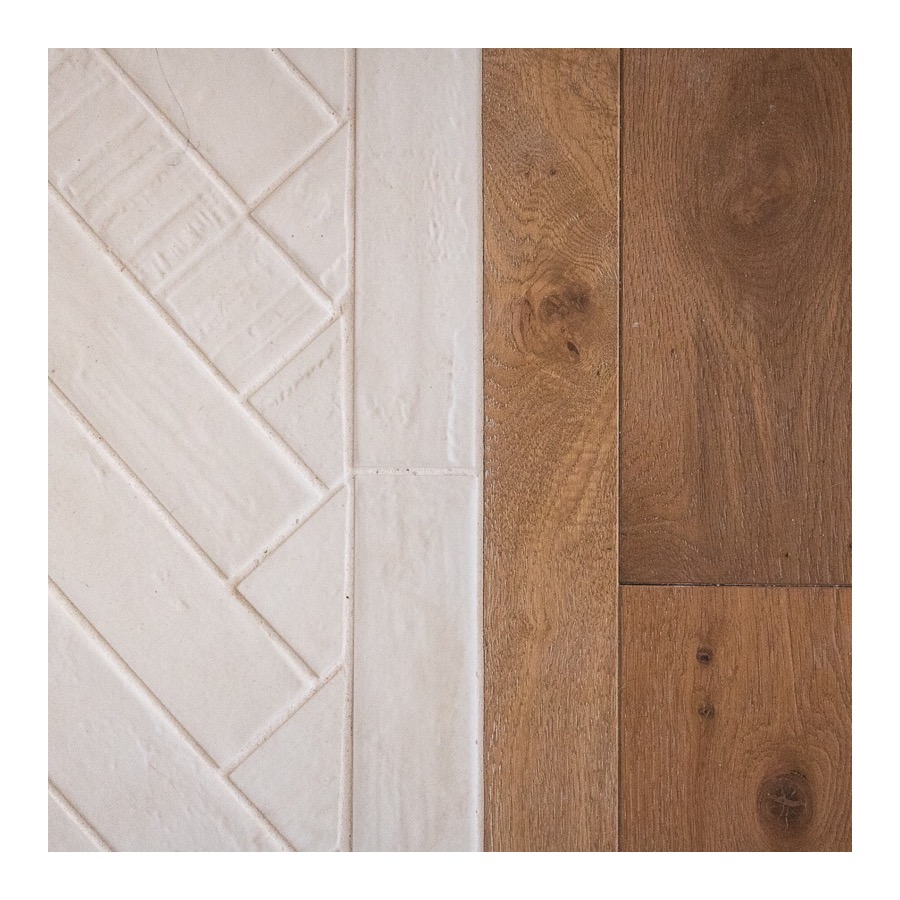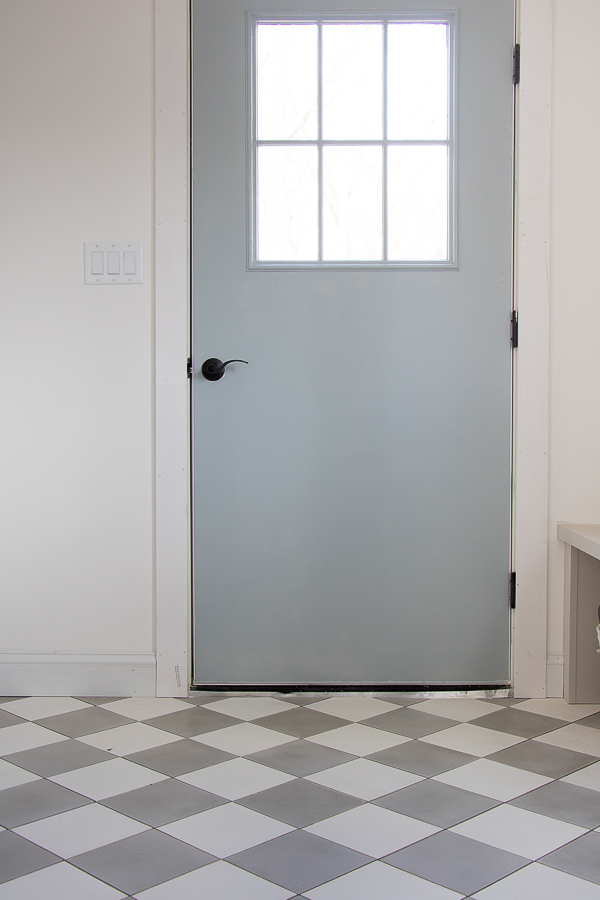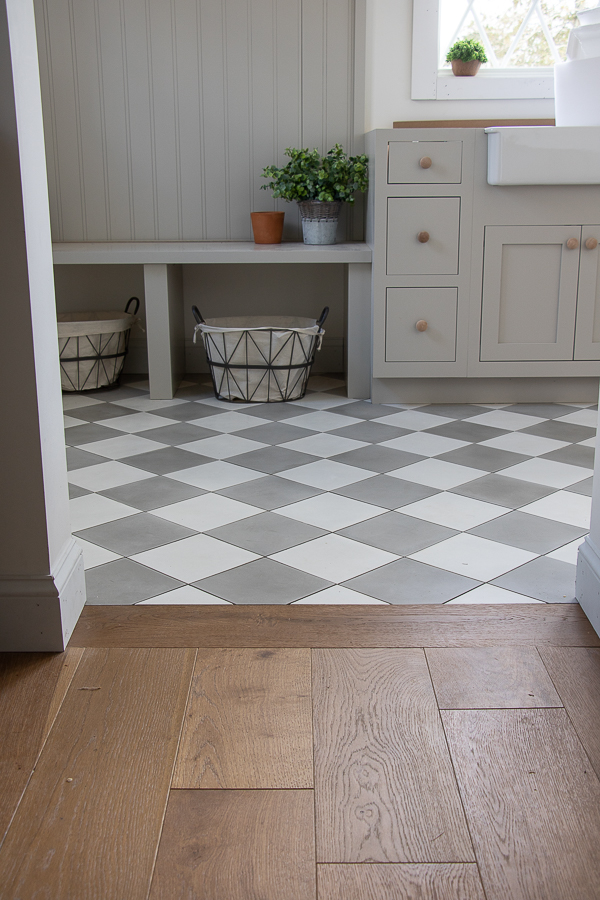 I made sure to choose finishes that I truly love. I wanted to always look at my floors and think I can live with them forever. Something timeless and subtle that would never need to be replaced unless of course they get ruined down the road. The quality and the color and finish on everything has exceeded my expectations.
Cement Tiles
I will say when it came to the cement tiles they do absolutely 100% need to be sealed. I noticed when we had the sample how just the oils in my hands were creating marks on the tile. They are definitely high maintenance but well worth it for the beautiful look! Did I mention that I chose not to grout the tiles. High risk again, but if it was in a high traffic area I would have definitely grouted, but because they are in the laundry space I felt I could get away with no grout. So, you are probably wondering why would I want them un-grouted then…well I love the look of the tiles feeling more old world this way and I truly love how they look not grouted.  If you're unsure what cement tiles are, well they are probably what you have seen around with pretty patterns. Instead of being made of porcelain or ceramic these are create from cement. I chose to instead of using a pattern to just create a pattern with the gray and white check style. Cement tiles have been around for 1,000's of years and are common in Europe and Spanish countries. They are highly durable, but the finish is at risk for stains if you don't seal it. Find more out about sealers and cement tiles at Lili tiles. 
*Tip: When sealing your tiles wipe immediately in circular motion, this seemed to do the trick when sealing. You don't want to leave the tile too wet for too long. Also, be sure to apply multiple times.
We are truly loving each tile and pattern in our home and the hardwoods, add such a European Farmhouse feel and everything has been easy to clean and fortunately the color also hides the dirt well. I think the greatest discovery was the fact that the flooring I chose is the same color of my dog's hair-WIN!
I hope all my choices help with your next home reno. I think it's good to know you can mix flooring but do it wisely. Select styles and designs that coordinate and be sure there's a good distance between the change in flooring. I can't wait to share more with you as we are winding down on this renovation and I will be able to take more photos that capture all of our home finishes and of course years to come with changes and making this house a  place we love. Best part our floors will be something we will love forever!
Please Pin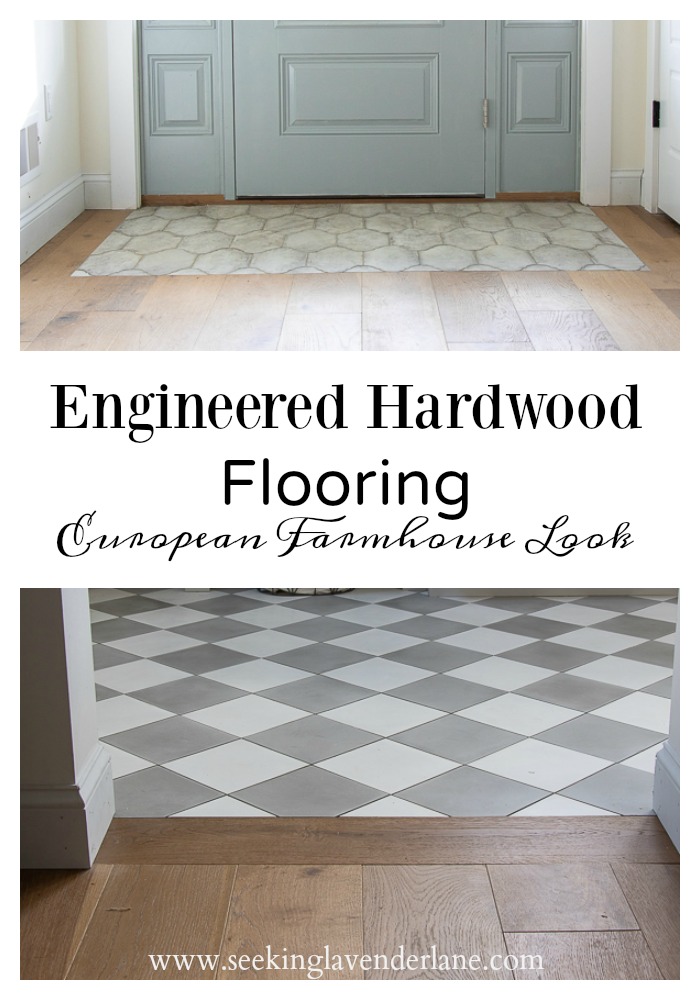 (Visited 30,311 times, 1 visits today)