Hello  Friends, today  I am sharing all about products I am loving right now. I got  a chance to review a few items that are meant to make cleaning the Home easy, and a product to make refinishing cabinets cost less but with a professional and durable finish. I was really impressed with each item and can not wait to share them with you all. I think you are going to love what each has to offer and how you can use them in your home.
j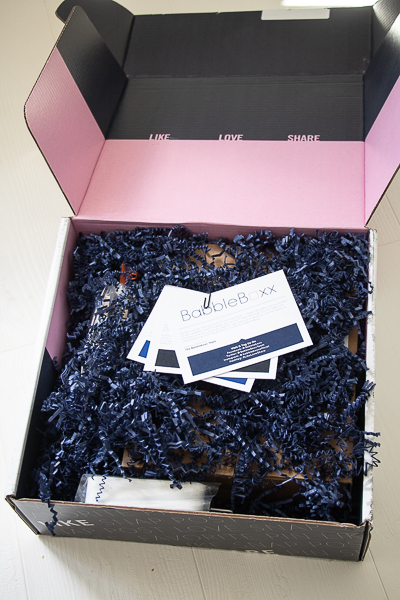 This is a collaborative post with Babblebox though all opinions stated are my own. This post also contains affiliate links for your convenience.
Okay,  this  first product I can tell you I was really, really, impressed! I wish I knew about this sooner, with all the cabinet painting we did in our last house. It's a true kitchen remodel on a budget, but with a beautiful finish that is crazy durable. Nhance is a cabinet refinishing company that has durability at it's best. They offer multiple paint colors options for your cabinet. The finishing process that makes their product and company unique and amazing, is the process where they cure the paint with an ultra-violet light which makes it exceptionally durable, beautiful, with a hard rock finish. I received a durability kit so I can talk  specifically about this with you all, and I was more then impressed. The product I sanded, banged with a hammer, and even tried scuffing with a penny. The cabinet that was refinished with latex paint, chipped, scuffed, and felt nothing like the finish of the Nhance cabinet. If you look at the photo below you will see the top cabinet scuffed from the ware test and the bottom…without a dent, scratch, or scuff.  Even to the touch it feels stronger and more durable. Nhance finishes over 8,000 cabinets a year, a true kitchen remodel company with 100% quality durability guaranteed. With the money you save on just painting your cabinets it will leave money for items like new counters, backslash, and appliances for your kitchen remodel. To see the paint durability test click here for video! To learn more about their product and check out their website, you can  click here.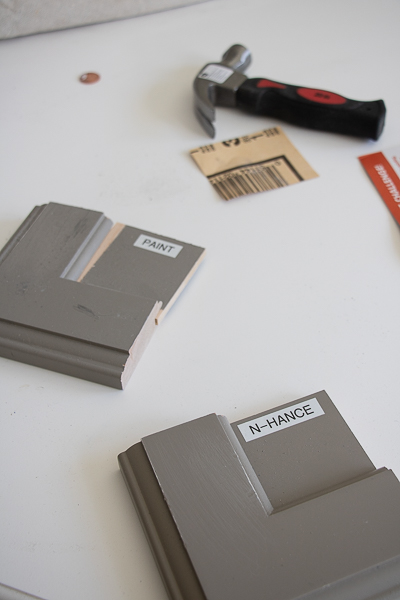 Okay, now lets talk about  the product that's changed my life! ECOVACS Deebot 600, I can't brag on a product more! I've never had anything make my life so easy. I'm one that doesn't hire a house cleaner, and between my husband and I we do all the cleaning and upkeep ourselves. Working from home, sometimes makes it even more difficult as I try to balance the house work and work and sometimes I don't know how to divide my time. I get swept up in housework where I ignore my projects and computer time to keep up with it all, or vise versa I work so much I can't get the house together. So, when I received this product a true "maid on wheels' I felt completely spoiled. I set the Robot to clean up  just as I'm sitting at my desk in the morning and I usually toss her on again after dinner to keep up with the dust, dirt, and dog hair. It's fantastic and I can't tell you how life changing it has been. Not only do I love how easy it is to work and helps  me out, but the look of the robot is beautiful and I have to say I LOOOOVE the white! (go figure). You can also use the app too when not home to schedule and set your Deebot to clean when you're away. Another great feature is the scheduler so your vacuum can clean as you sleep, it's a dream! The Deebot also works with google home and Amazon smart home system. It's fabulous and has seriously been wonderful! I can't express how much I love this product, it is truly the best Robot Vacuum! Also, today only you can shop here and the Deebot is discounted from $379 to $189, that's a STEALLL, today only so take advantage!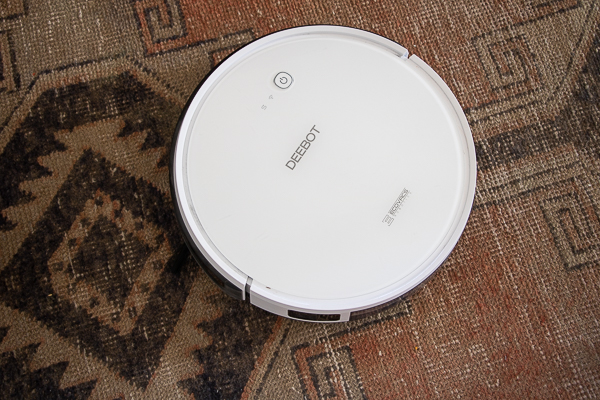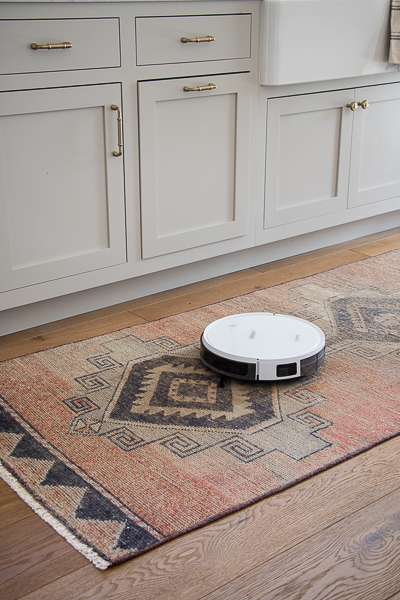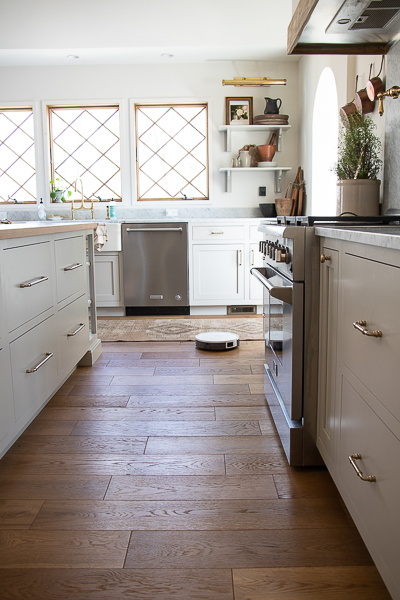 The next cleaning product that should end up in your Adult child's Easter basket this year, is the Scrub Daisy. This is seriously so cute! I love the Scrub Daddy for years, so receiving the Scrub Daisy, I was eager to use the product for those hard to get dish cleaning. One of my least favorite items to clean is my kid's water bottles. I can never truly scrub the bottom, so receiving the Scrub Daisy dishwand where it can scrub the inside of the bottle thoroughly, is going to make such a huge difference. It has interchangeable heads for different scrubbing purposes for items  like baby bottles to tough to clean baking pans. This product is scratch free, odor free, and also has an easy to use soap dispenser brush for easier clean up.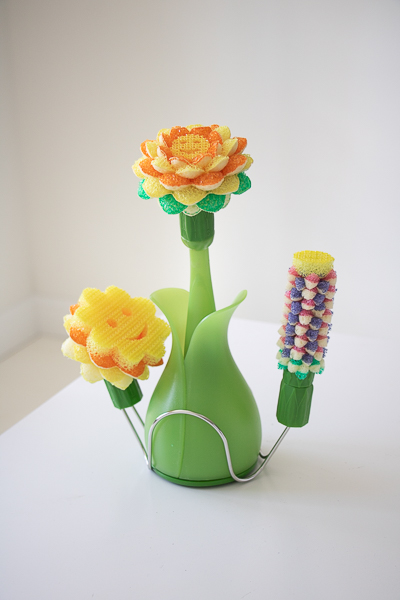 Okay, so those are some really awesome cleaning products on the market and with Spring cleaning…I love finding new products to clean my home with. I don't think you'll be disappointed with either product. You can also click here to order your scrub daisy and receive $1 off or any Scrub Daddy products.
This was my first time receiving a Babblebox to talk to you all about some fabulous products on the market. I can not say how much I enjoyed reviewing them. I felt 100% satisfied with each company and product, and I think you all will definitely love each in your home or with your next kitchen/cabinet remodel.
(Visited 1,115 times, 1 visits today)