Countertop Review!
I have been getting more and more  questions about our countertops in our new kitchen. I am going to be sharing my honest 100% opinion on my Carrara Marble Countertops and my butcher block counters. Why I have both and how they are doing 7 months into living with them. This of course is my countertop review and does not mean everyone will be happy with my choices. I do believe they are both timeless classic looks for that French Farmhouse kitchen style that I designed. I wanted a casual feel to our kitchen but also wanted something that never felt outdated. Considering I change my mind every ten seconds I needed to select a kitchen that I wouldn't get bored with and since we are tapped out on moolah I needed to make sure they were finishes that would last too. This post contains some affiliate links for your convenience.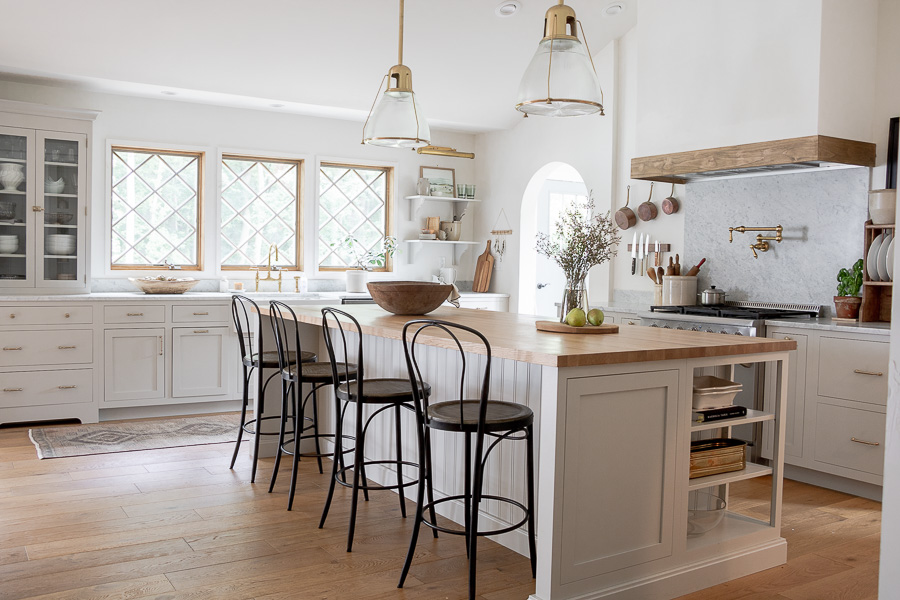 Well, Carrara is a scary word to most people! I remember a year ago when we were planning for our  kitchen how many people tried talking me out of Carrara. I did my own research about  it, talked with my kitchen designer about it, and tried finding the best match of quartz (since that  was the durable material) or granite (a little more durable than marble but still natural) that I could. I even considered soapstone since I absolutely love it as well, but ultimately decided I would get less sick of light counters than I would dark counters so I swayed back to the Carrara. I also considered Calcutta which I fell in  love with too, but it felt "fancier" to me and Carrara just felt more timeless, subtle, and paired well with the Farmhouse vibe of my kitchen.
j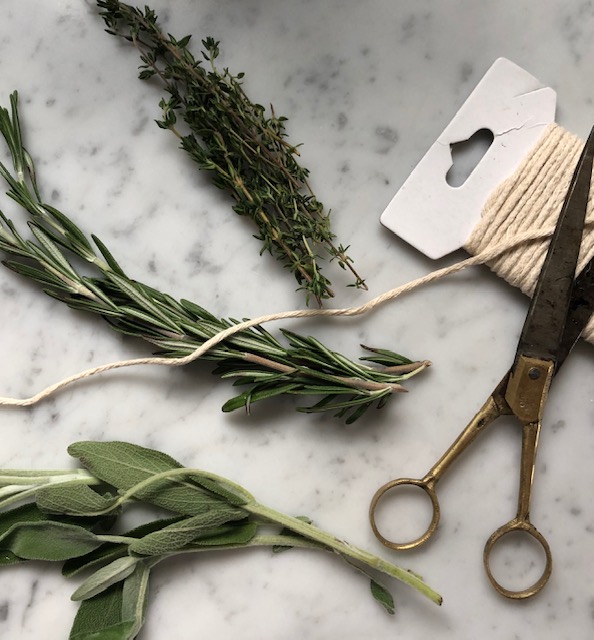 Pro's to Carrara:
So, let's talk a little about the pros to Carrara that I have personally found with having them in our home. The look! I mean this alone sells me every morning when I wake up. I love the veining, the timelessness, and the pureness of Carrara. There is nothing quite like that true deep veining, color, and simplicity. The color is a true white and a true cool gray. I wanted that contrast with my greige color cabinets, that I felt quartz was just not going to provide. The more I looked at quartz the more I kept falling more in love with marble. Not to mention real stone is trending again!  So, yes the look is what sells me every day! So, what else??? The coolness to touch is also something I appreciate about the marble. The price was also wayyy better than quartz. Quartz being on high demand is now more expensive that real stone. How can that be? I thought that was nuts when I first heard about it, but it totally makes sense. I'm not quite sure the percentage of kitchen renovations that prefer quartz over real stone or other material, but I am sure it's quite a bit. So, knowing I was getting a more luxurious product for cheaper was another selling factor for me.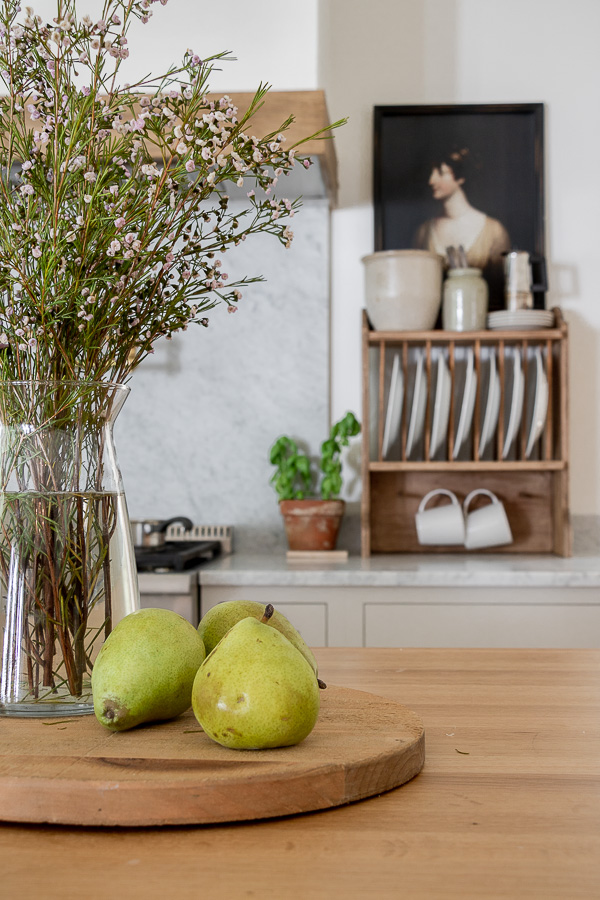 Pro's to Butcher Block:
Well, with the Carrara being a cool and more luxurious product, I wanted something not only to balance my bank account but also my fancy meets casual kitchen. The room needed something that would warm up the space and having the warm wood butcher block feel would definitely create that balance. Our island is 9′ long so the counter was going to be a big chunk of money too. We looked at a few options but I kept coming back to images of kitchens with butcher block counters. We chose white oak so it has less "yellow or red" in it and would mesh well with our flooring. One of the questions I get all the time is how durable is my butcher block. Well, we had ours sealed through the countertop company for long lasting wear and tear. It makes  it super durable where I can clean it with just about anything and do just about anything on it. I needed that balance because Carrara was not a durable surface so it was important to have a surface space in the kitchen that was. Having an island where the kids eat meals, snacks, and do homework on without flinching was important. I love the look of the wood for that Farmhouse feel and it also acts as a large table for us too.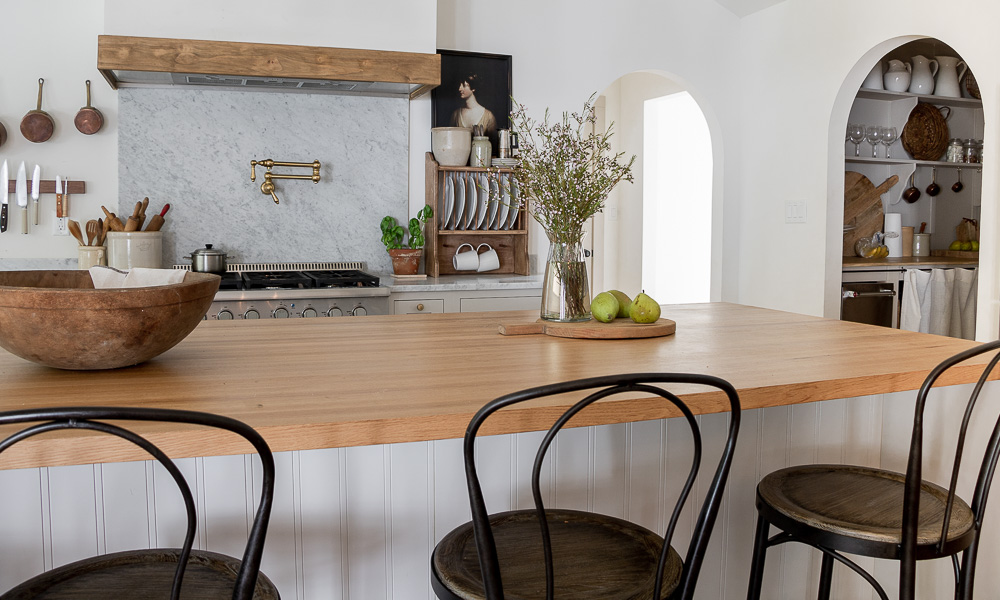 Cons to Carrara Marble:
Well, as you all heard and I've been told Carrara is not durable. Guess what…it's not! But there are ways to make it work.
#1. Seal your countertops with what your counter supplier suggests ( I sealed mine twice already and plan to seal them once more this year- so 3x's a year is good). This is the one I use!
#2 Have a mix of counters so prepping and food items that ruin marble can be avoided. That means no wine on my marble and no lemon! The two products I am always most concerned about. We have a few lemon marks already but fortunately as time goes on they seep into the marble a bit. The soda my son spilled last month, not much I can do about them cup rings (I lost my mind a bit that night).
#3 Clean with marble and stone countertop cleaner ONLY! Here's the one I use!
#4 Make sure never to use the sponge you use to clean dishes on the counters. There could be left over acidic juices and we've learned this the hard way too.
#5 Avoid moving items around on counter or placing anything abrasive that can scratch. We have one good scratch also from my son- clearly the rule "stay off the marble" gets broken here and there.
#6 Be careful with edges o f counter. We have had some slight chipping from taking items out of sink and placing into dishwasher.
So, yes this is a lot of upkeep…probably annoying for most people, but if you are a marble lover like myself having those scratches and marks on your counter still make it worth it. Remember marble has been around since forever embracing the imperfections is what makes for a timeless look. I do agree though this is not for everyone. You totally have to babysit it, and let go of every ding and stain. I will say I would never have an entire kitchen with marble. The marble works because I have the two materials (Carrara and butcher block) to help with less wear and tear on the marble. I have become that crazy lady to put up signs during a party like no wine or keep off the marble. Some stains do fade over time and if they aren't in a ring form you may not ever really notice. I also have the honed marble which helps best with etching where polished marble etching is more noticeable. I believe it taking care of the products in your home and this just means you have to take extra care.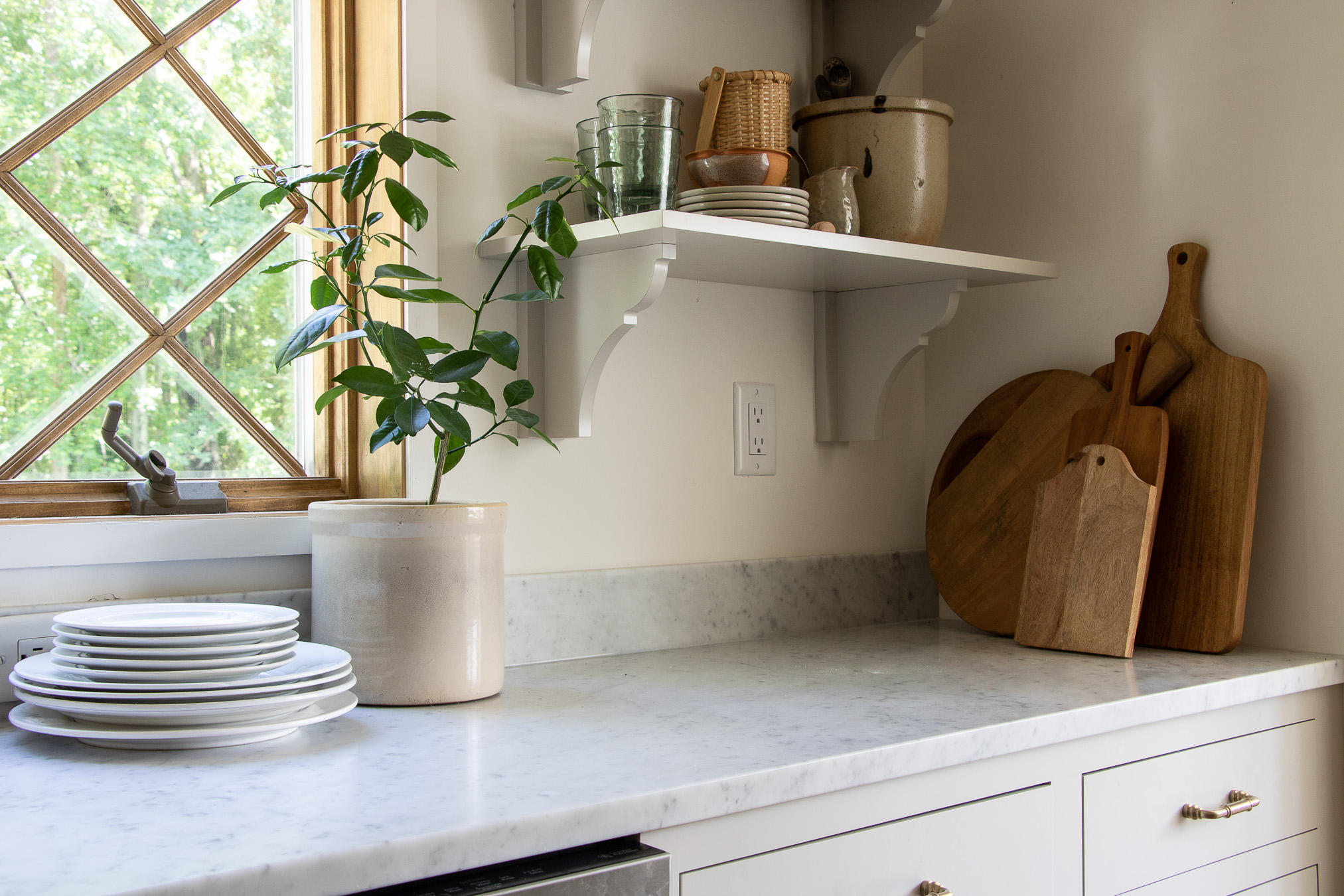 Cons with Butcher Block:
There really is not that much cons when it comes to the butcher block unless you just don't love the look of it. We have some splintering and if you choose not to use a cutting board to cut something you can get dents and scratches. Other than that I have nothing bad to say about it. I love the warmth and the casual feel it brings, but if you do want a fancier or glamorous feel to your kitchen butcher block may not be first choice.
I hope this was very helpful for  those of you that are considering one or both of these materials for your kitchen. I wouldn't have it any other way. Only last bit of helpful tip I would say is if you consider doing a marble backsplash as I've done behind our range, keep in mind the color darkens when it's vertical. That has been one little issue that I've had with my marble because it does look a little more blue gray than I had wanted-so keep that in mind!
Please Pin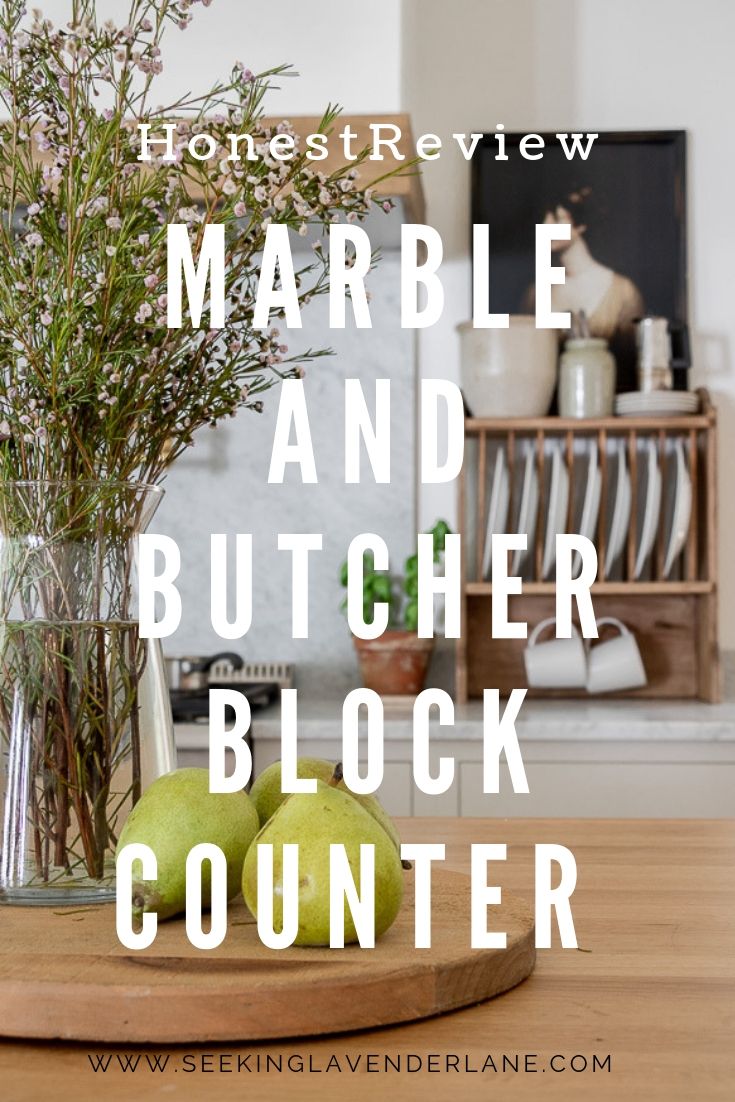 (Visited 5,801 times, 1 visits today)