Our official Kitchen Remodel Reveal
Well, this post has been a long time coming. I've been wanting to share just about my cabinets solely but with other content I needed to share first I am finally getting around to sharing this kitchen cabinet reveal. Also, it took me a bit to get the kitchen to look just how I wanted. Now, I feel like it's more so what I had envisioned the entire time and then some…just the only thing left is the stools so I am hoping to invest in some within the next few months these just don't fit the space. Anyhow, I have had so many questions on my kitchen cabinets so I wanted to first remind you to take a look here at our inspiration board, then check out all about our install. Today, it's about the color, the company, the compartments, the all lower cabinet style kitchen, and the company that I ordered the cabinets from. I seriously could not be happier with my selection and these Omega Kitchen Cabinets were the dream, and now I get to live it! (God is good)
This post was a collaboration with Omega Cabinetry and Merit Kitchens. There are also affiliate links used in this post for your convenience.
So, let's walk you through the kitchen and you can scroll and read as we go.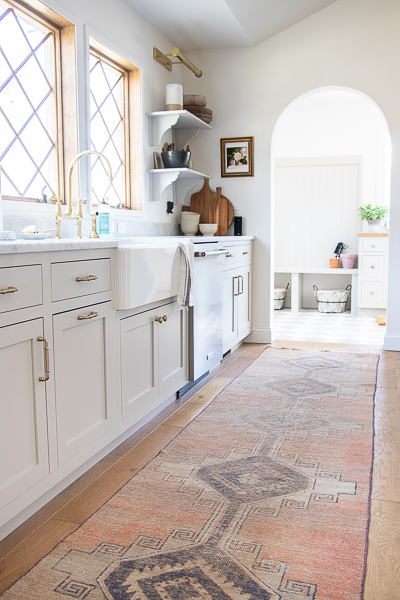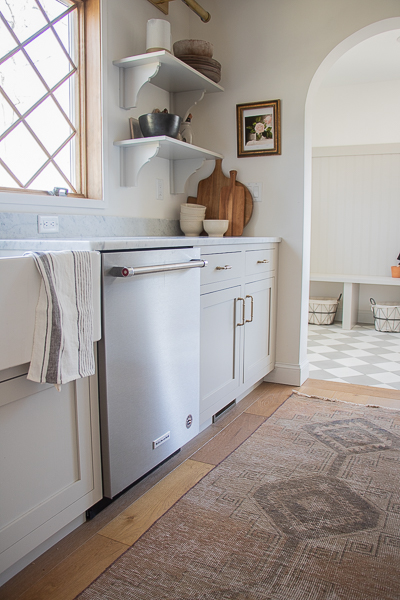 Our kitchen I wanted to have a timeless and old world feel. So, I wanted the kitchen cabinets to feel like furniture. The best way to accomplish this look with new cabinetry is with the inset look. It was on my must have list and I just absolutely love them. The custom line from Omega Cabinetry offers this options for a fraction of the price from most custom brands, though it's still considered an upgrade and comes with a larger price tag then the overlay cabinet (It's a good thing I did an all lower cabinet kitchen). It's why Merit Kitchens and my cousin/kitchen designer Amanda had me thinking Omega and it's one decision I haven't questioned yet. Lol if you follow me on IG you probably have been hearing all my indecisiveness so yes this was  one that I felt I made the right decision on.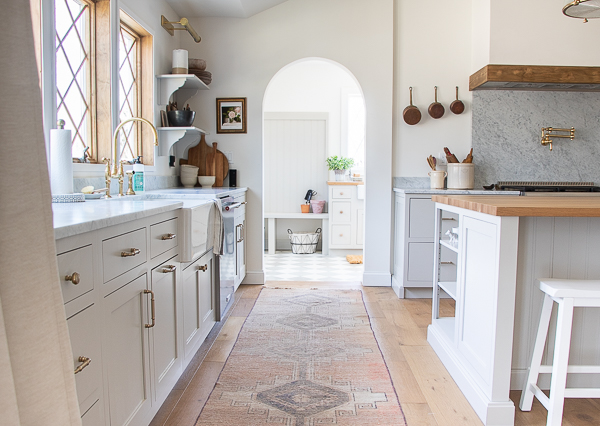 The color is probably the number one question I get questions on. Since I worked with Omega Cabinetry with this makeover I wanted to be sure to select one of their finest colors something that is trending but timeless. The color is called Meteor and it's a beautiful gray/taupe or what I like to call greige. The color truly has a different look depending on the lighting and so during the day you get this cooler hue and at night it takes on more of a warm neutral. Both look amazing and I like that it can compliment a warm style or a cool style kitchen. See our walls are White Dove a creamy white so having this color not only brings coolness to the color but then having a gray Carrara counter top that too balances beautifully and makes the cabinets appear more warm. All together working beautifully.
j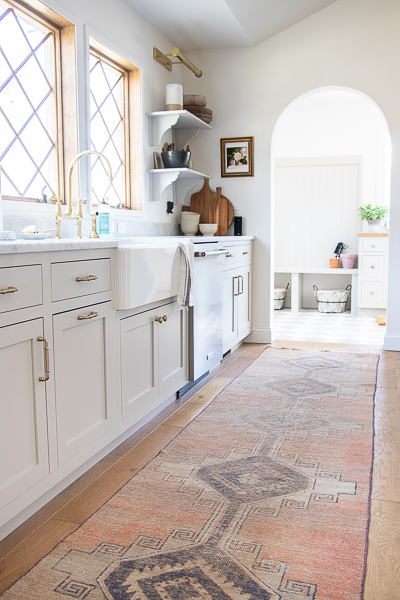 Let's talk about the team at Merit Kitchens in New Jersey. They have 5 locations and are a family owned business for over 50 years. Not only are they a family owned business but my lovely family works for them. I have my Uncle, and 3 cousins that are all part of the Merit team, so I knew my cabinets were in great hands. Not only were they in great hands because they were family but they went above and beyond for this project. Their expertise, customer service, and patience make quite the difference especially after my hectic year of cough cough; non-professional contractors and builders. So, this was a breath of fresh air and any issue or obstacle that appeared they handled it with grace and never once did I have anxiety in the process. If you are local and looking for cabinets I highly recommend them. They serve the Delaware through New England area.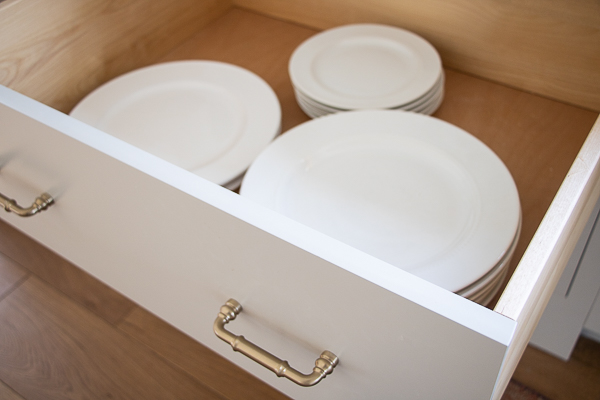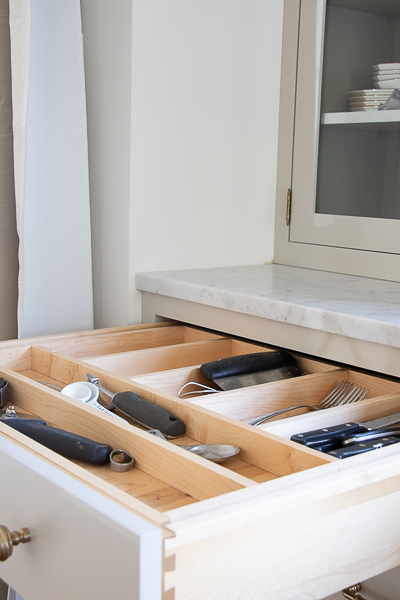 My cousin Amanda was my design leader and she heard every detail, scrolled every photo, and listened to every bit of my design preference. She understood that I did not want a traditional layout for my kitchen and helped me not only find the Omega cabinet manufacturer but also helped me narrow down the color, make a custom style island (if you're looking for the same ask for the Deb style island lol- jk but that would be fun) and the organization part of the cabinet. This was one of those areas I was not really thinking about because, heck I've been dealing with my 1985 kitchen for 5 years and then a trailer kitchen any bit of extra room seemed like more then enough organization. Nope, she created a must have deep drawer style cabinet (since I would not have upper cabinetry) and the extra drawer and of course a double utensil drawer, cutting board slots, and utensil caddy next to the stove.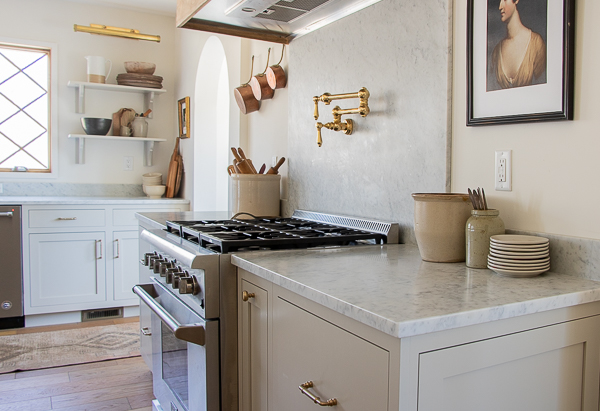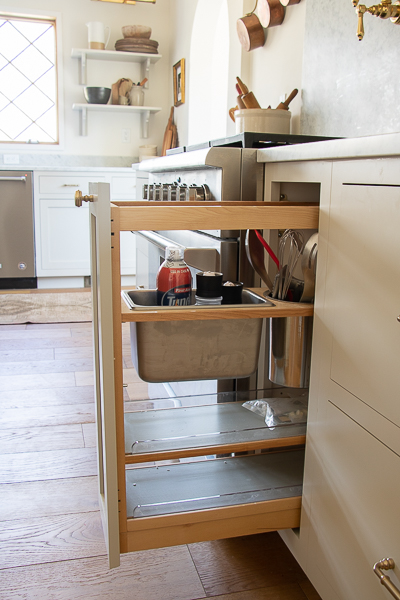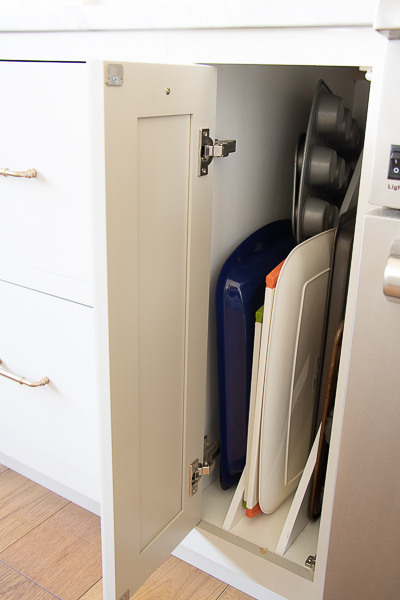 If you saw my initial post on our cabinets then you saw the fabulous 3D rendering that is part of the experience. I was able to see my kitchen before hand without an extra fee. Nothing like being able to see the kitchen ahead of time so you know exactly what to expect.
j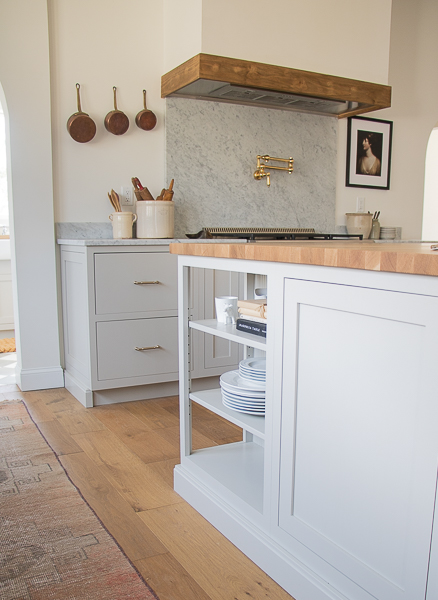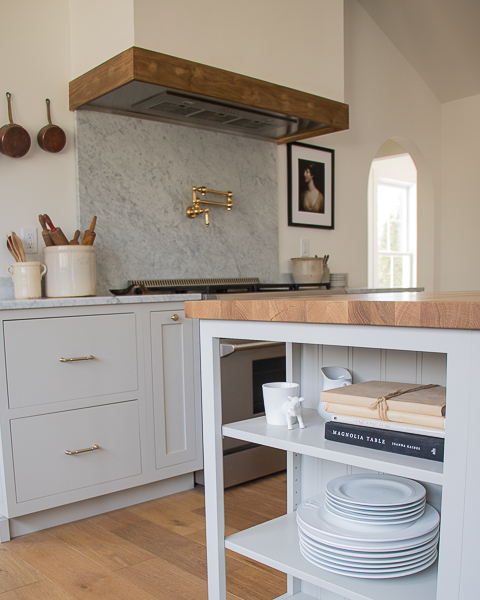 I love the options that Omega offered for some of the details we selected like the wider bead-board, the small nooks that we added to the refrigerator, and the special counter top hutch. We designed it to look like a piece of furniture so with details like the exposed hinges and the interested toe-kick valance.It's all about those small details to really make for a unique kitchen. When designing your dream kitchen you need a qualified designer who understands the cabinet lines and the added details they can apply to give the kitchen that special character. Also when applying the hardware we made sure to add knobs to the top drawer for an even more furniture like look. Our hardware we purchased through Top Knobs,  I love the look because they create a timeless kitchen feel. My absolute favorite part is the appliance pulls we added to the island drawers. The photo does it no justice they are truly beautiful in person.
j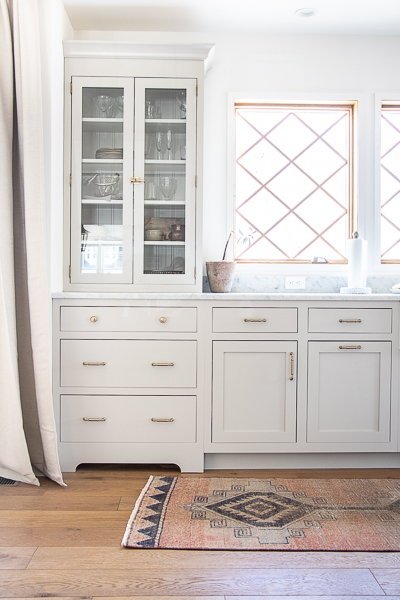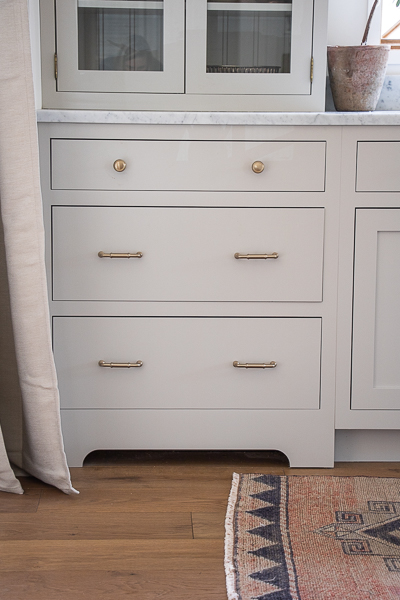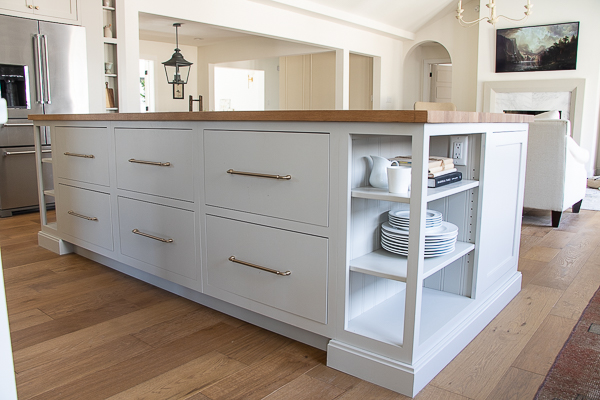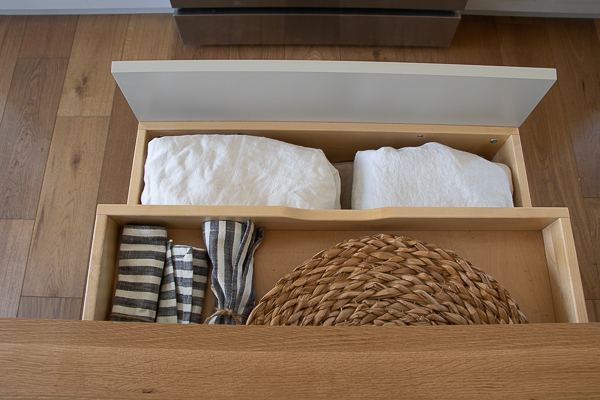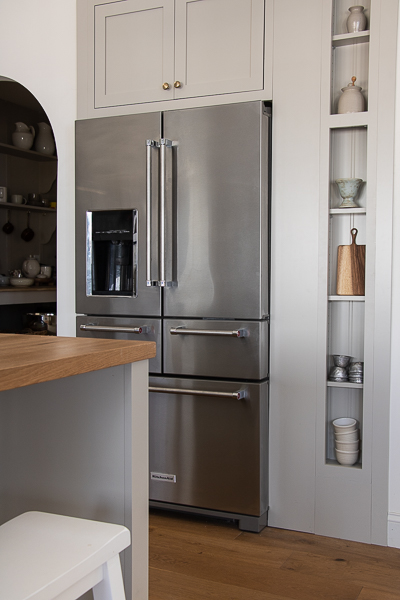 The deep set drawers add for all that extra storage space for items like dishes, cups, small appliances, pots and pans, and of course place mats and tablecloths.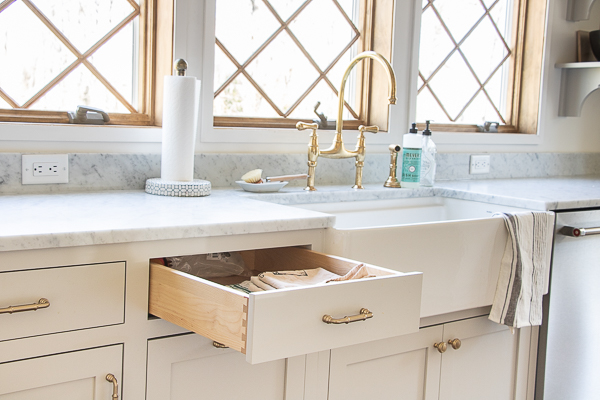 I have so much space I don't even have enough things to fill all the cabinets in this kitchen!
Some other details I have been getting questions on and I want to make sure to answer in this post is the countertops, backsplash, and island butcher block. So, all of this was ordered through Merit Kitchens and their vendors.  The Carrara we did to keep that timeless and French feel. We added a 4″ backsplash to keep with a minimal style and make it all about the cabinets. Then behind the range we added a larger slab in place of a backsplash. I wanted the style of the kitchen to feel like a casual French kitchen but also have a few details that made it rich feeling. The butcher block island definitely helps with low maintenance since the rest of the kitchen is Carrara. As you may or may not know Carrara is a porous material and can stain easily. So, I wanted to make sure we had an area that we could do most of the prep work on without chancing the Carrara too much. The butcher block is a solid white oak and it is fabulous. The color matches so well with our floors and I love the warmth it brings to the space. You can read here if you are curious about our appliances at all.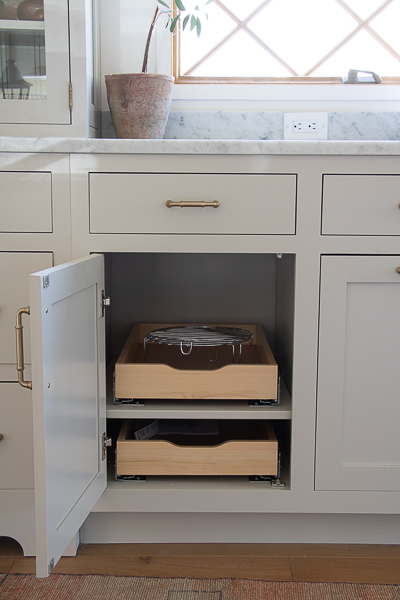 Overall, the kitchen is my dream I feel so blessed to be able to make this the heart of our home. To have storage, and the aesthetic I love and to cook and spend so much time in here with my family is ultimately what this entire renovation was about. We are so grateful for that open concept feel. If there's any questions at all about our kitchen please leave it below I'd love to help answer them. Also, sources are linked below and if you are looking to get in direct contact with Amanda my designer from Merit Kitchens her contact is here for you: amanda.n@meritkitchen.com
Bon Appetit!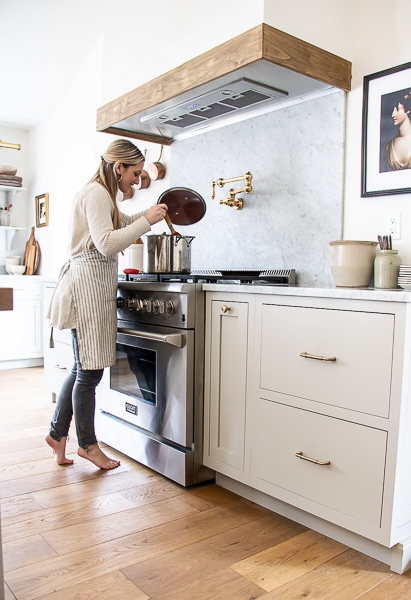 Sources:
Cabinets: Omega Cabinetry
Designer/Showroom: Merit Kitchens
Knobs and pulls: Top Knobs
Sink: Blanco
Faucet: Fergusons/Rohl Faucet-unlaquered brass
Pot Filler: Fergusons/Rohl Faucet
Cabinet Color: Meteor
Counters/butcher block: Merit Kitchens
Lighting: Hudson Valley Lighting- see post here!
Rug: Revival Rugs
Please Pin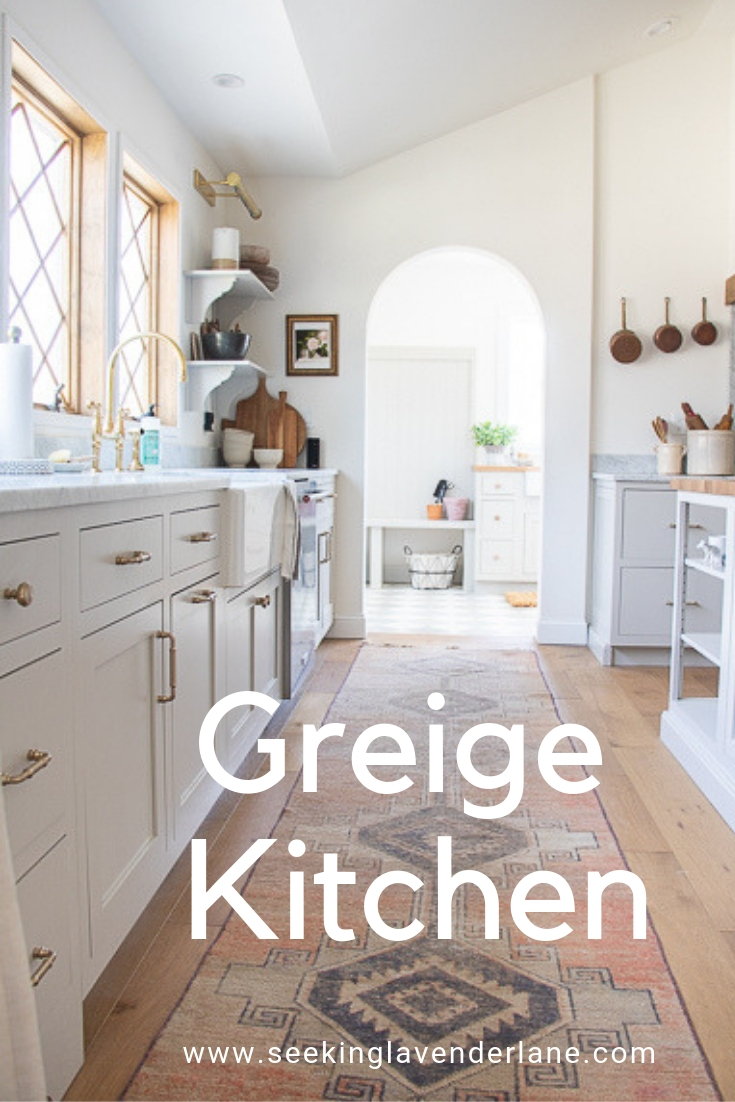 The Truth behind Marble and Butcher Block Countertops!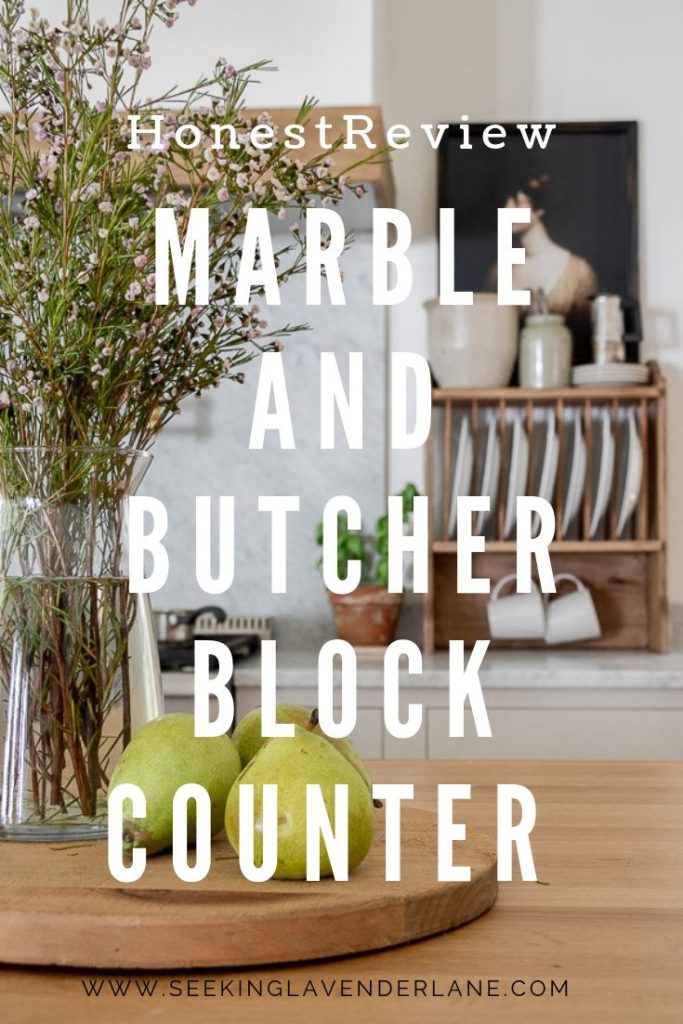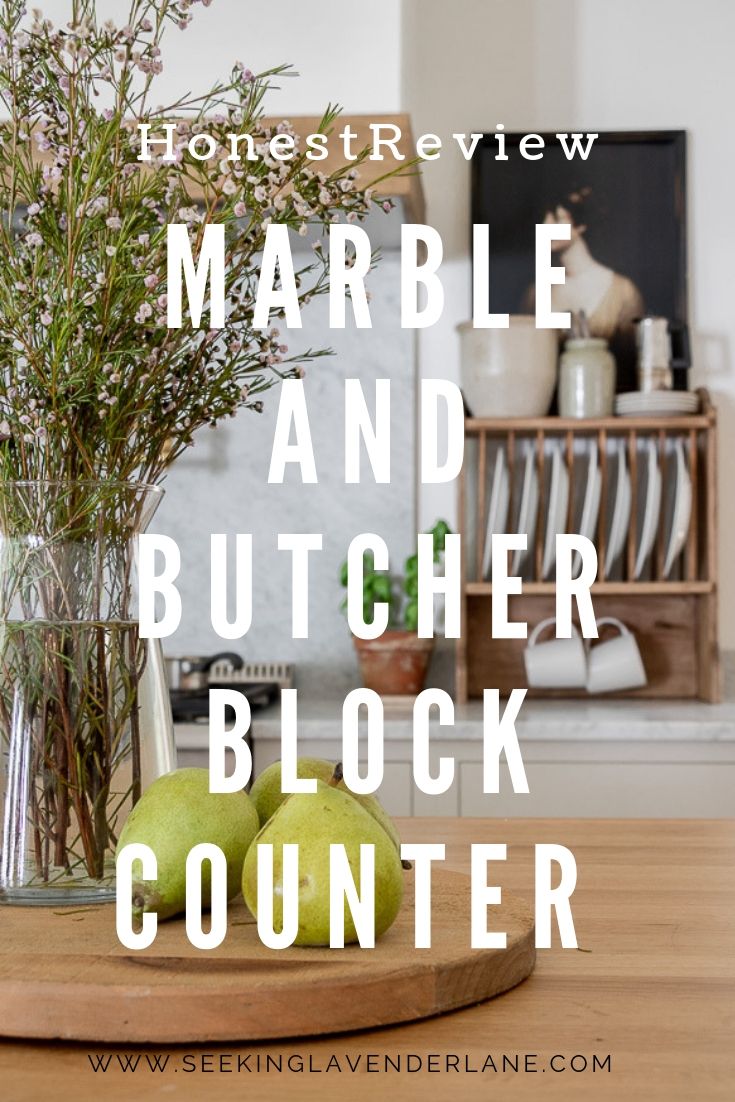 (Visited 10,753 times, 11 visits today)