We all can't deny a pretty white cabinet piece is always appealing. it can fit with every style whether you like more shabby chic and everything white, moder and clean, french farmhouse, rustic, boho…you get it! It's always an easy piece to incorporate and white is neutral and fresh especially when updating an old piece of furniture. So, I'm sharing my newest furniture makeover using white chalk paint. I scored an outdated but perfect size cabinet for $20 last week on Facebook Marketplace, and I couldn't help myself but to make it over and use it for my evolving office space. It truly is the perfect piece and fits right into my little corner in my office so I can store some decorative piece but mostly for my paperwork and items I want to hide and keep off the desk.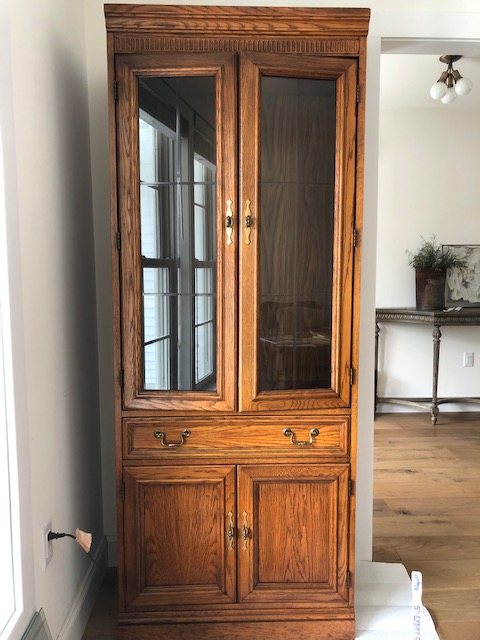 White Chalk Paint Cabinet Products:
Clear Wax
Sand paper
I've been painting furniture for about 6 years now. I started getting into it right before we bought our first house and then needing furniture to fill the new house, I chose a lot of craigslist finds and curb side pieces and restored them with some chalk paint to give the piece a new look. It's honestly one of the best ways to not only save a ton of money on your furnishings, but also to add personality, character, and uniqueness. I've used a ton of different chalk paints and really I've liked working with all of them. I've even made my own chalk paint and you can read about that here. This time I used some easy to grab Kilz since they sell it at Target and to be honest it's really good!
So, this is how easy it is to chalk paint. I've gotten quite a bit of questions since sharing a bit on my Instagram. Don't panic, chalk paint is way easier then you think. You don't have to sand with chalk paint because it adheres to the piece. That means almost all materials this is going to stick to. So if your piece is like this cabinet and half wood and veneer it's going to stick to all of it. It most definitely applies better over wood but with a few coats you should be good and fully covered over your multi surface piece.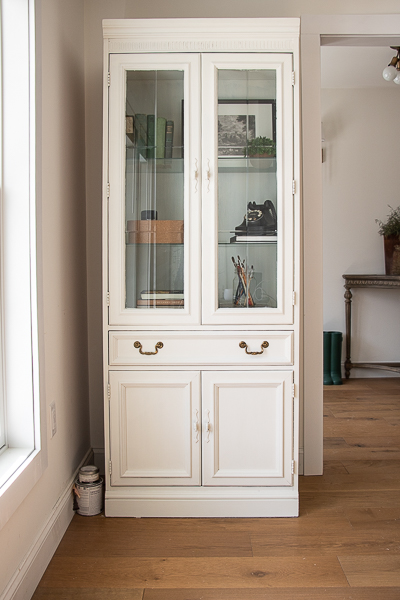 I would always recommend using a good brush, I am loving the zibra brushes currently and I did just share more about them in a recent post. They are great not only for your trim work and tricky areas in your home, but they are also great for painting your furniture too. Another great thing to know about chalk paint you don't have to worry too much about direction. The piece usually dries smooth, but definitely be neat about your application. Usually the first coat I'm a little less focused on my neatness because you most likely have 3-4 layers so just worry about decent coverage. You could use a roller for large surface areas the only thing it does waste more paint, but you will get a smoother look for that side of a cabinet or back of the cabinet. I did not do that on this particular piece but I was also trying to conserve paint so I had more for another project that I'm planning to paint for my daughter's room.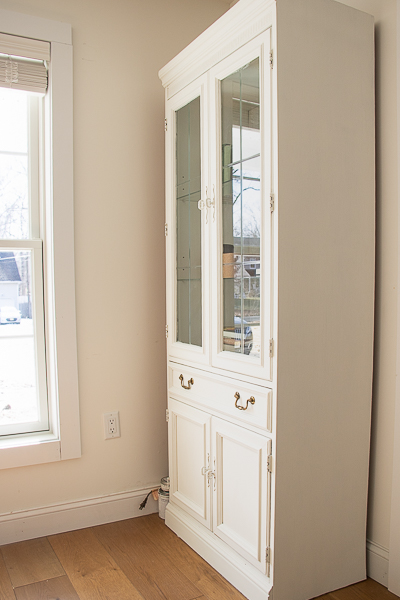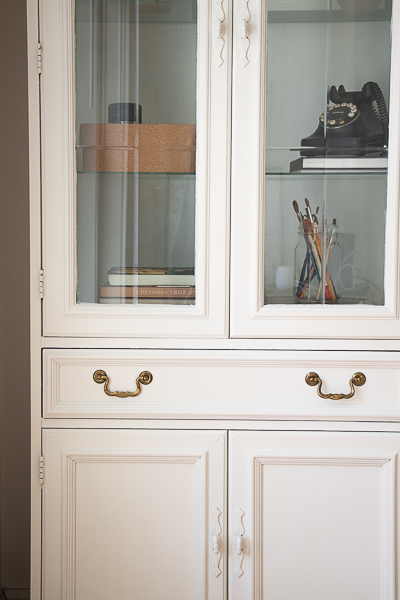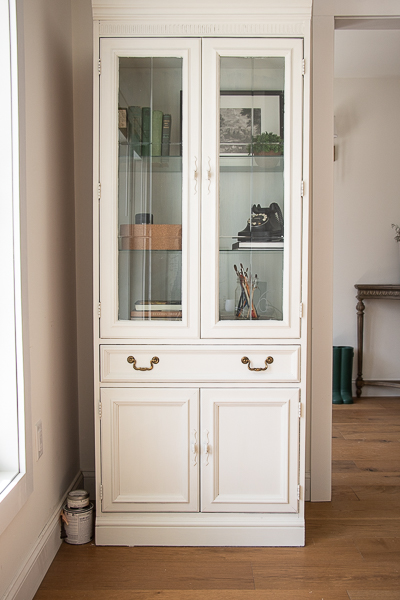 I chose to paint over hinges and hardware, but left the brass handles in their aged brass finish. I always feel when hardware is painted over it gives it more of an antique feel, it's also my lazy way of not having to worry about taping off.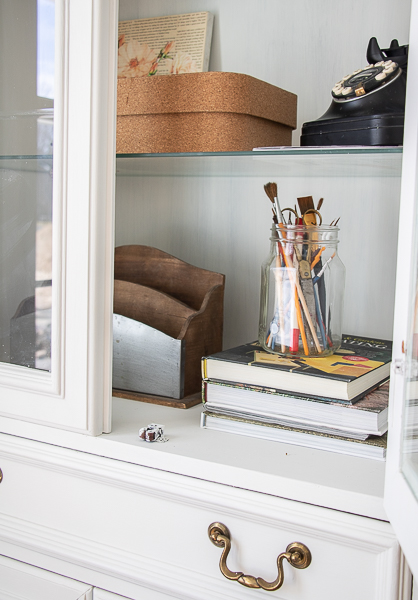 Once the piece is dry then apply the clear wax to finish. This will protect the piece and also give it a smooth finish. I use a cloth (dish towel does the trick or old Tshirt) Paper towel I've used in the past but they do tend to make a mess and you'll have to go through a lot, so I would suggest just an old clothe to do the trick.
So, $20 for the piece, less then $40 for paint and about 4 hours of work, this piece is now the perfect solution to this corner and I can hide all my office supplies in the cabinets and drawers below. I may eventually replace the glass, I've always wanted to do a chicken wire cabinet and I think this piece would look adorable and a little more casual for the office space that way.
Please Pin