DIY Chalk Paint- Make your own chalk paint with plaster of Paris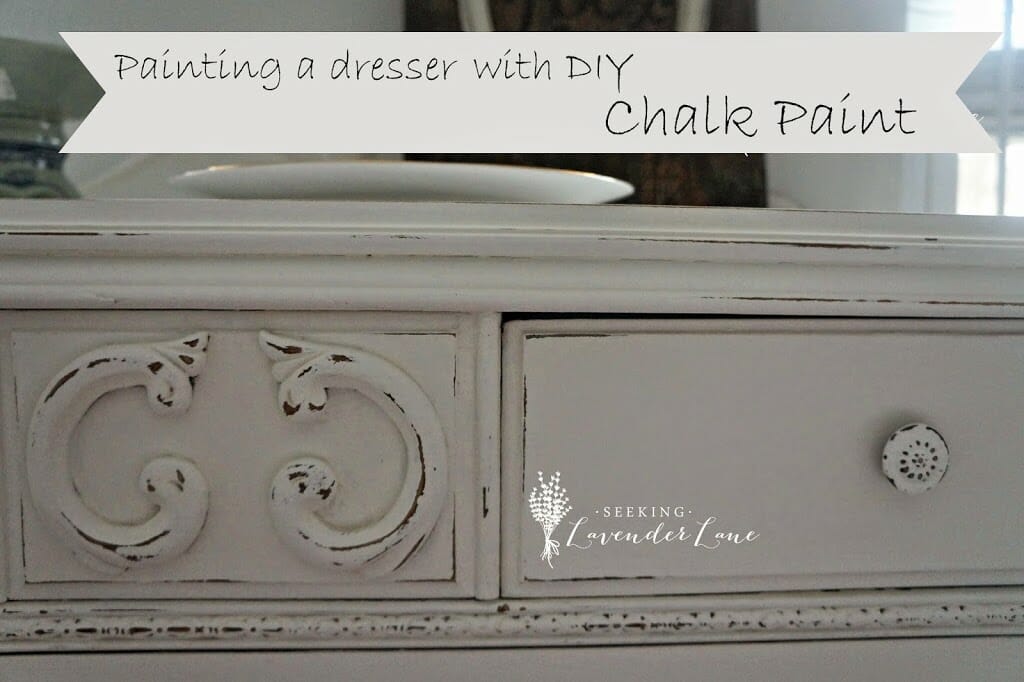 So happy to have gotten through my 3 day stretch at work and so ready to be back blogging again.
Last week I told you how I was busy, busy, busy working on a few projects and potty training. Well, this week I am back to showcase what I was working on….DIY Chalk paint for my new bedroom furniture!
It has been a long time coming, but after my one drawer breaking in my dresser (the one I have had since I was 16) it was time to officially look for some great vintage finds for my master. I found two beautiful and very opposite pieces from a great little antique shop down the road from me here in Jersey. I got quite the good deal to buy them both so I could not pass up this opportunity….and since my clothes were falling out of my drawers from my current dresser, this had to be an impulse buy!
Here is the photo of the dresser still at the vintage shop (only a camera phone shot)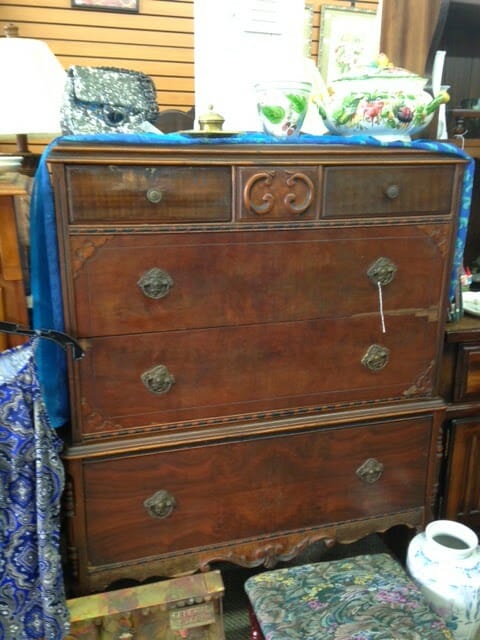 After having them both delivered I decided to definitely give this one a chalk paint finish, and the other to leave in its natural wood state. This one had more dimension and intricate style so I thought it would look best painted in white. Remember I am going for a 
Blue and White French Vintage Room
.  I thought we would finish this room wayyy back in this summer, but looks like we are just getting started on this 6 months later. Haha I definitely have a false sense of time when it comes to the timelines for our projects.
Any how, so I decided to finally test out making my own chalk paint. After reviewing some tutorials on Pinterest and reading a few blogs on this I decided to give it a try. What do I have to lose? except saving myself a long trip to the furniture boutique that sells Annie Sloan, and a whole lot of money!
So off to Lowes I went for
Plaster of Paris
and Flat Latex paint. This was quite the fun experience at Lowes since I had a whole conversation with 3 employees in the paint aisle about what I was making and what chalk paint is. They were intrigued hahah!
Back home I began the 1 part Water, 1 part Plaster, and 2 part Latex paint in a salad bowl lol. Yea of course I had forgotten to pick up a bucket while there and was not heading back out once my little one fell a sleep. I could not pick a better way to spend two hours of freedom than painting furniture and listening to Zac Brown Band…definitely my type of afternoon.
Mix the mixture until all the clumps are all gone, and start to paint just like any chalk paint. This piece did take me 3-4 coats, I can not decide if it was because of the homemade mix or just due to the furniture…I would definitely have to test this out on another piece before deciding on the overall quality of it.
Fortunately, I did not use much of the Plaster of Paris and had plenty leftover for future projects. If you have existing flat paint that you plan to use that would save you more money on this too. I did not have anymore white flat paint, so I did have to purchase…but I have plenty left over for a project we are working on now (my
DIY Fireplace Mantle
for the Master).
Well…let's back track a little bit, before mixing the paint together I definitely needed to give this dresser a good wash with some Murphy Oil Soap mixed with water. Then I chipped the top layer that was peeling from the top left drawer just by using a flat head screw driver.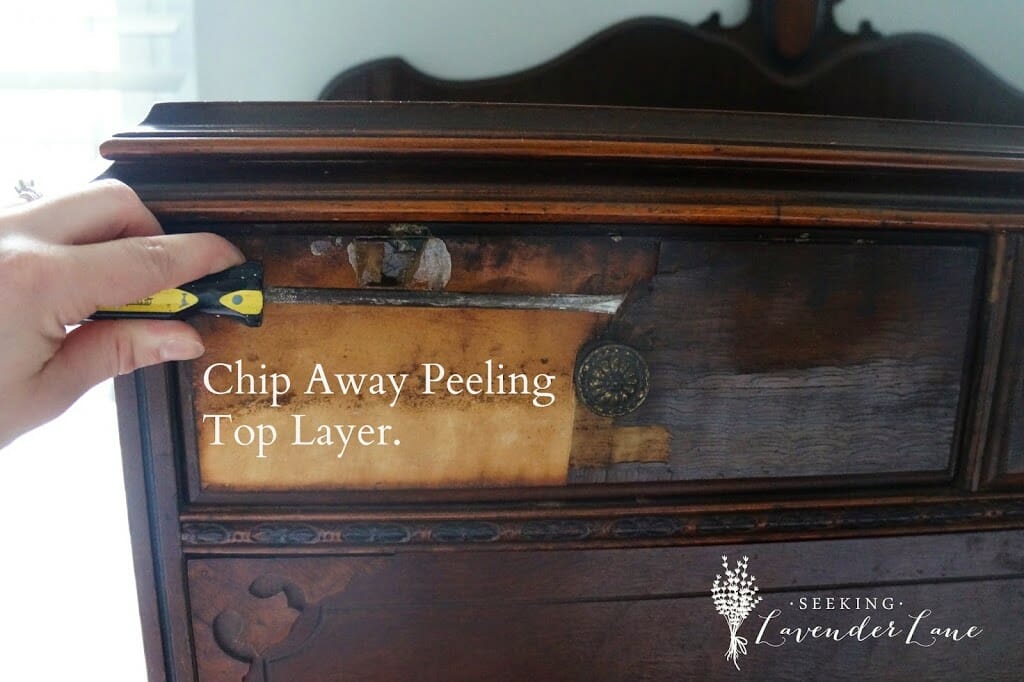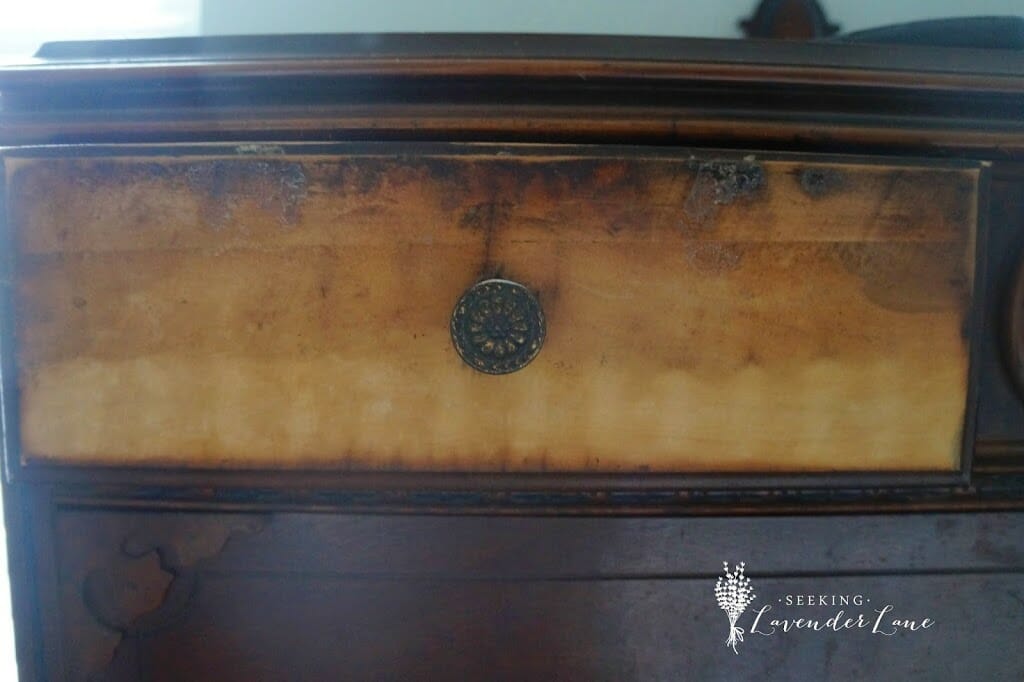 Once finished I sanded down all the details and knob to keep them accented. The piece sanded just as easily as any chalk paint I have used : ) I will probably finish this piece this week with some clear wax paint to protect it.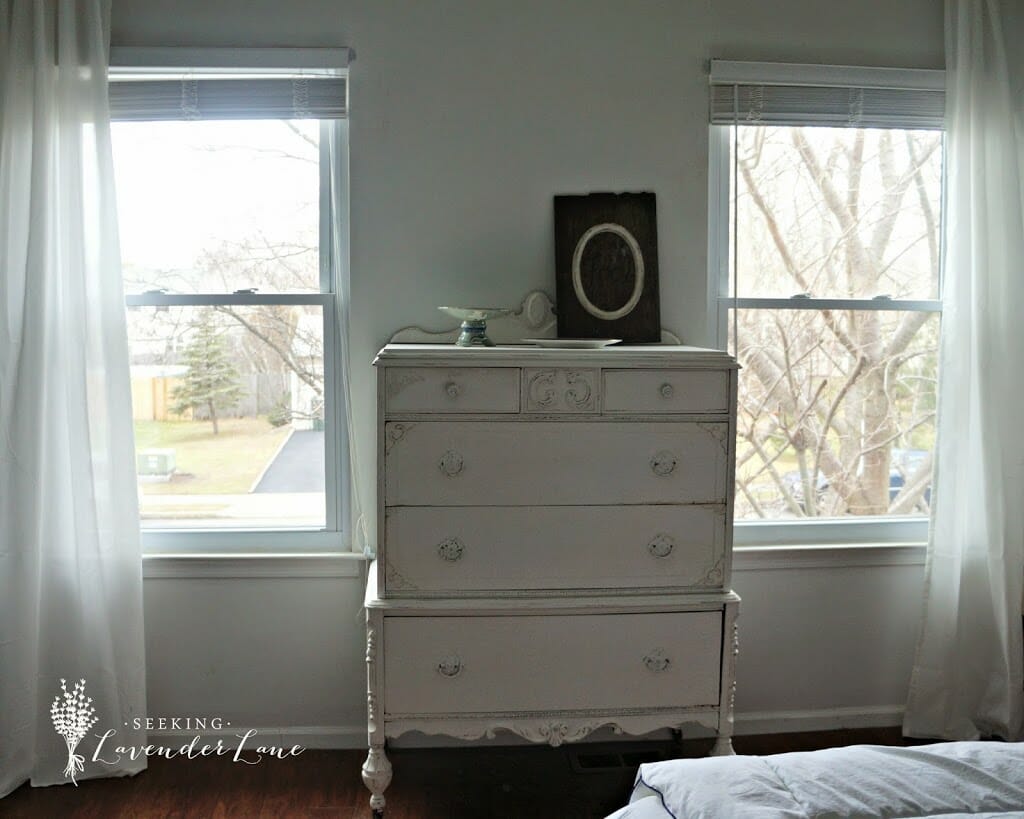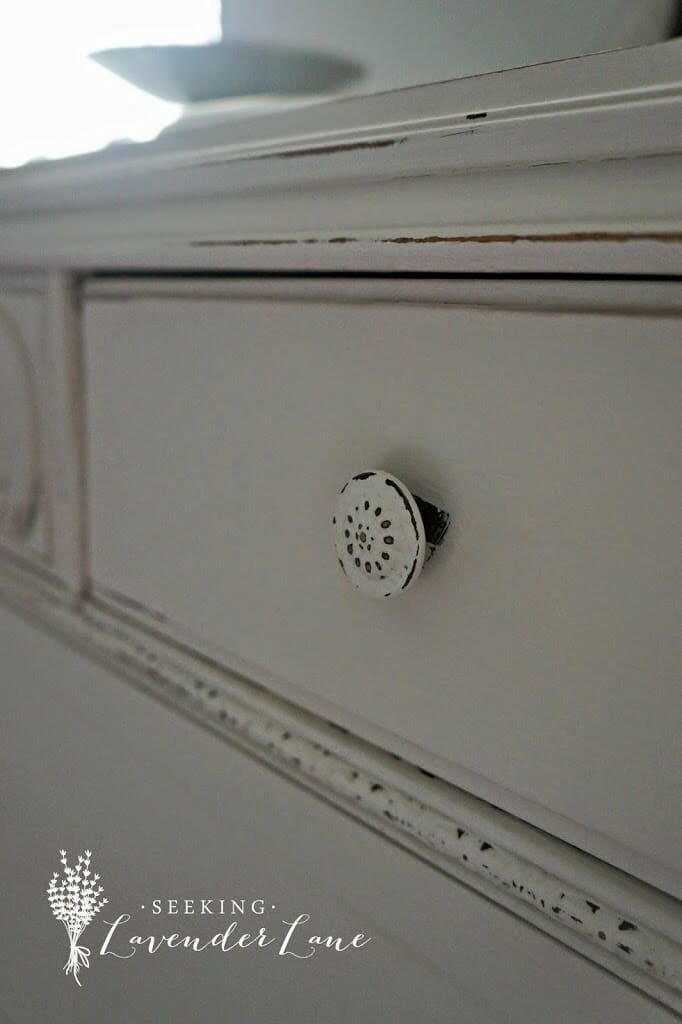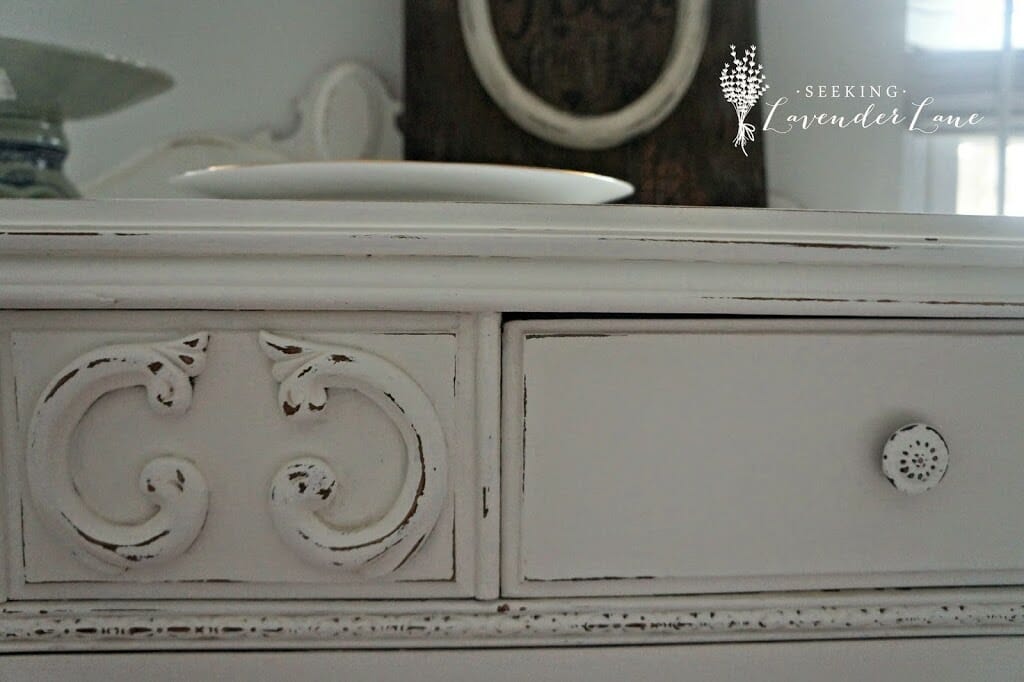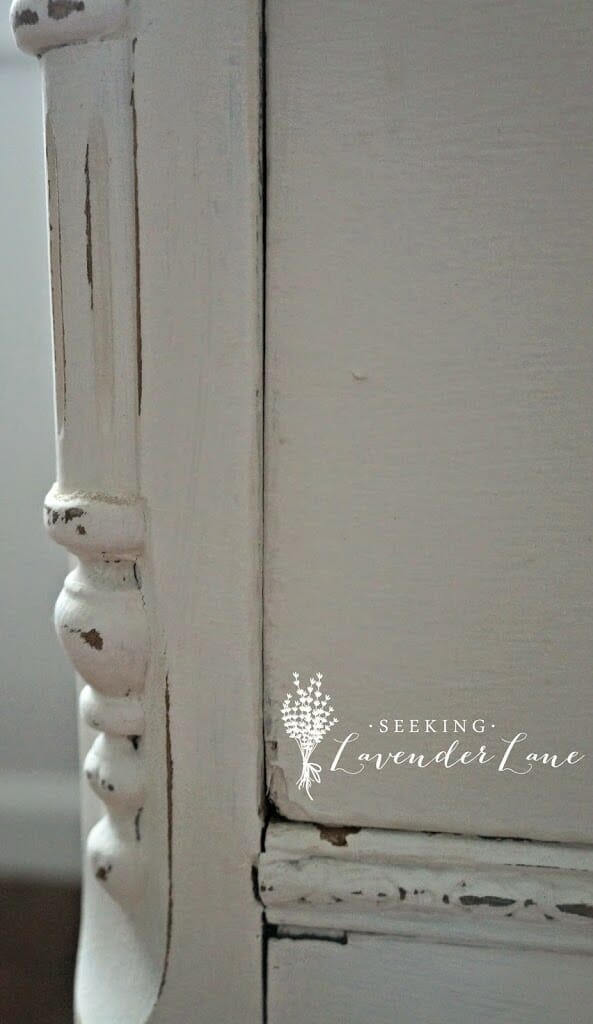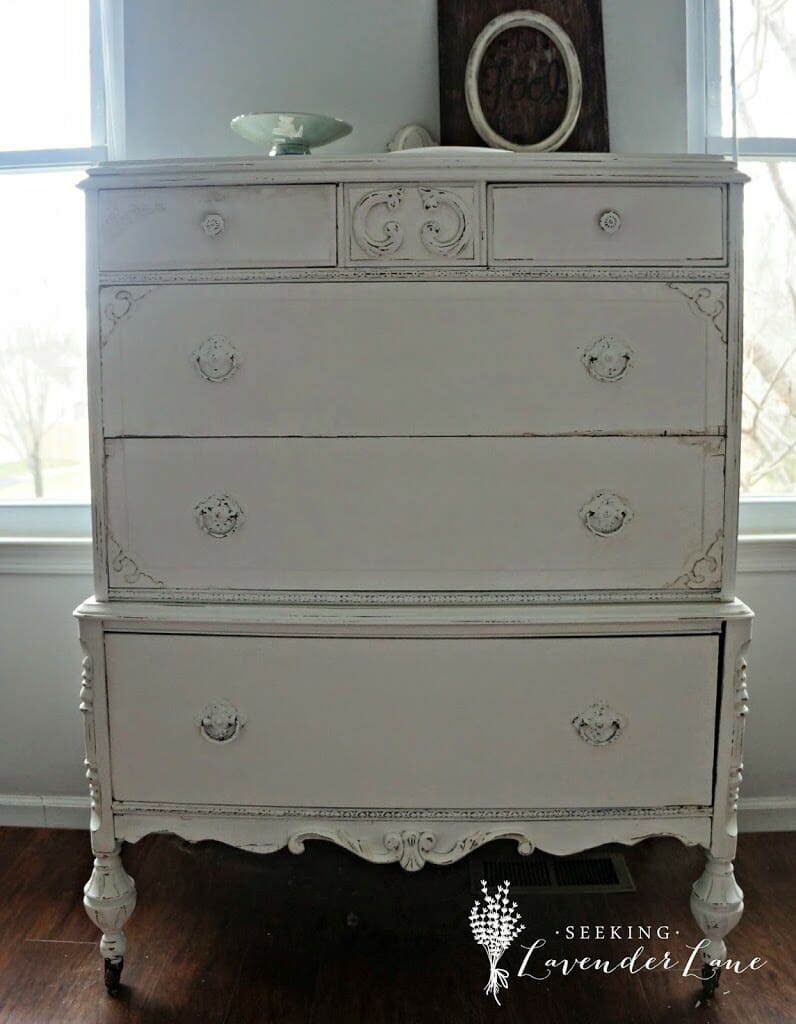 So grateful I got to try out making my own chalk paint. I have been so hesitant about this for so long. I can only imagine all the colors I can make too! Probably a great idea if I want to start a side business painting some furniture ; )
 Loving the white dresser on the white wall, but considering maybe adding a printed curtain now. My initial plan for this wall was to add a dark dresser and then another white trunk next to the bed, but once I found these two pieces I reversed the plans. What do you think of the white on white? Would you add a printed blue and white curtain?
If you liked this post please check out more painted furniture posts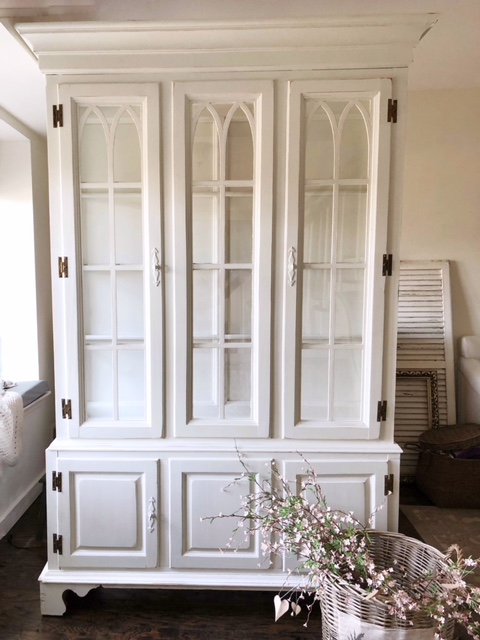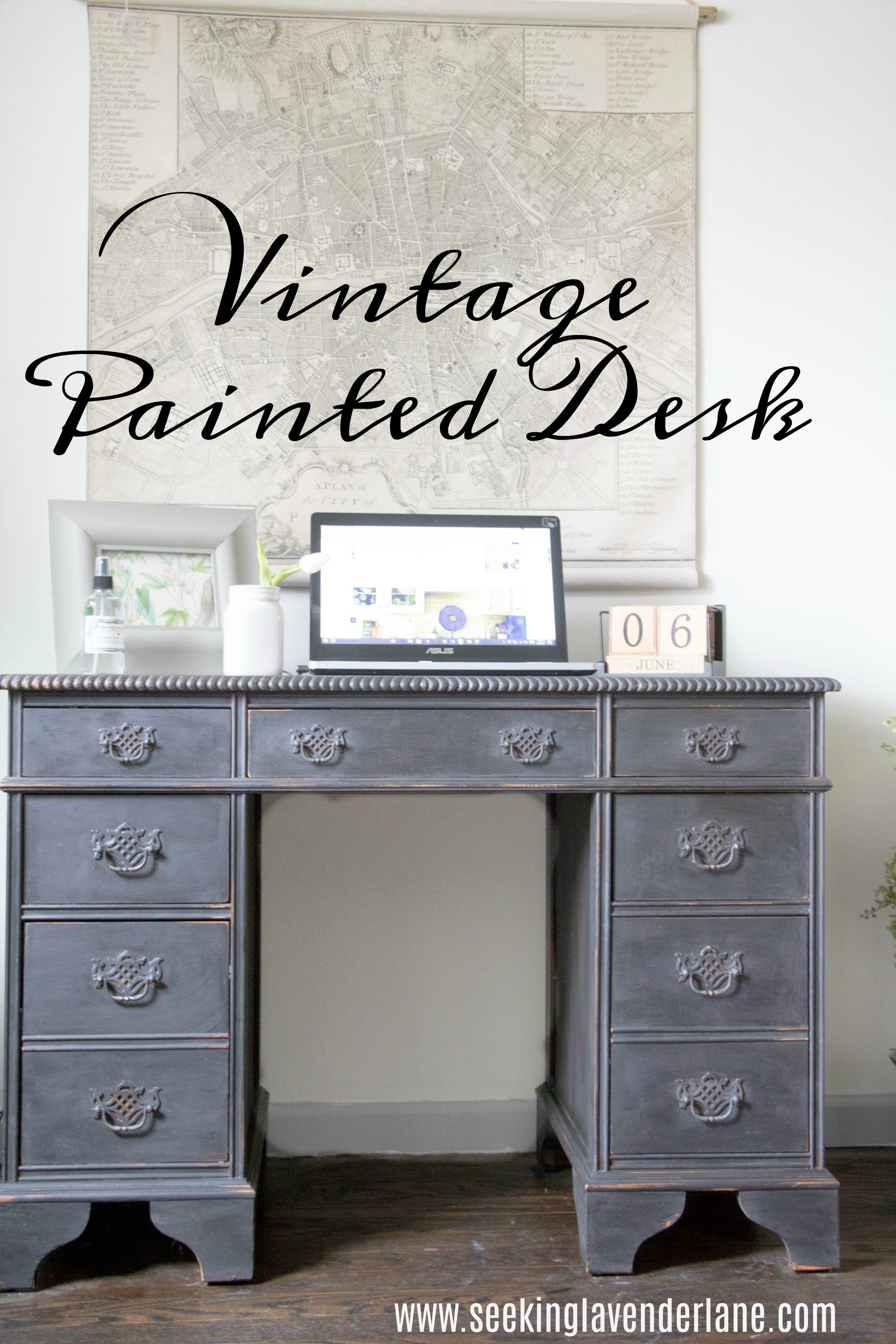 (Visited 1,636 times, 1 visits today)