Remember the Faux Brick Exposed Chimney, I posted? Remember how I said that would be part 1 to the makeover?? and how this was going to add loads of character in our 1980's bedroom?

Well…welcome to part 2!

Exciting right? Well…I know I am excited. Not only do I have a centerpiece to our Master Bedroom now, but it feels like something I stole right from a Vintage space and placed it right here. The best part it cost less than $150!!! Woohoo…those vintage Mantels usually start around $400, or at least the ones I've seen.

This project started out with a lovely little sketch. The sketch turned into me taking the measurements and picking out the wood. Love my man, but he left me alone on this one. He couldn't get inside my brain and it was up to me to figure out the cuts and measurements…as long as he did the cuts (in our very cold New Jersey garage) and put it together for me.  This point in the project he likes to call me "Heidi" Do you have any clue where that's from? You probably do if you're a big 90's fan like us. Remember the heart throb JTT? oh yea it's connecting now…Home Improvment. I'm the blonde helper on "Tool Time". Not gonna lie Dan does a pretty good Tim Allen impression (hoo-hoo-hoo-hoo-ha).

So back to the assembling of the mantle. Since we had the Brick Chimney we had to work around it so that the sides were covered as well. If you have plans on making your own mantel without the "chimney" this will be much easier. You can create the box so it is even on all sides. Considering, we had to work around it…this step took a little more thought. This being so, the top of the mantel is done in 3 pieces. The long strip of wood on top and the two short pieces that are the same width of the brick but match together with the front piece.

The idea to creating the frame is coming up with a box…and using your desired measurements. Make sure to assemble with liquid nails, and finishing nails to create a secure piece. Once the box is completed the mantle will look less of a mantle and more of a very plain shape. Don't doubt it yet…here's what mine looked like.


The worst part was…we had to live with it like this for about a week. I kept doubting that it would not work…even though I had an image of what the finished product would look like. Keep in mind ever mantle has dimension and this is where it is still lacking. There is still hope!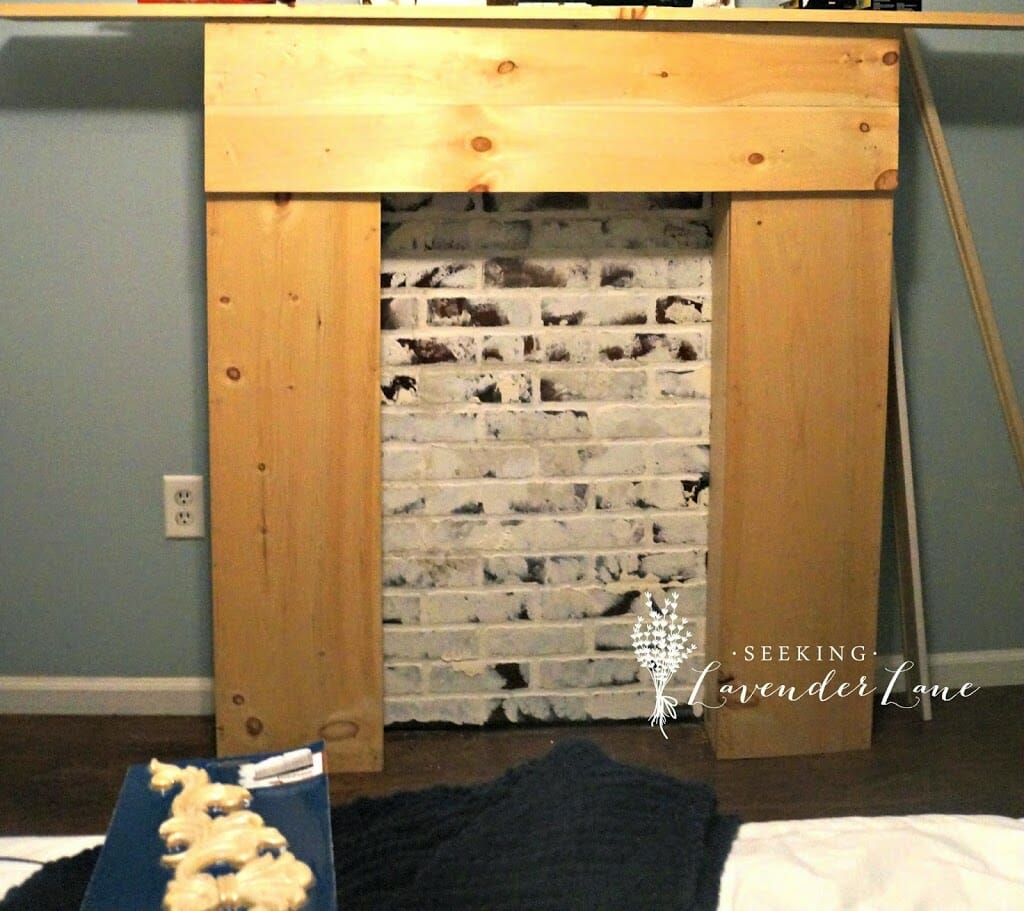 Once your frame is complete time to fancy it up! That's where molding comes in handy! Molding is probably one of my favorite DIY tricks. Honestly it makes a difference no matter what you use it on. Furniture, Walls, Ceilings, Windows, Doors, etc. It can make something so simple become a custom look. Remember the difference it made in my daughters room underneath and around her 

window.
I'm not gonna lie…I stayed cheap on this one. Some molding can get very costly…beautiful, but costly. I did not feel it was necessary to do intricate molding here. I wanted to go vintage, but I also wanted to stay with a classic but simple farmhouse feel. The only piece I got a little fancy with was the middle decal…which was on sale for $6.99! Can't beat that! This piece really brought it all together.
So we chose 3 separate moldings (besides the wooden decal) a thick piece to frame the sides, see how plain and large they seem in the above picture? and we also created a small rectangle to frame the decal and add dimension to the top. Lastly, the molding that frames the ledge of the mantle. This is important because it really adds dimension to the piece. I chose only a two inch thick piece, but you can definitely go bigger. To really add the finished look to the molding is to add a top piece of wood, which becomes your ledge. This is where your decorative accessories will sit on. If you really want to get fancy stack another piece on top to give it even more dimension. Make sure when doing so you have a slight overhang from the last piece. Maybe if I did not have to wrap around the brick I would have gone with one more layer.
Please stay a while
(Visited 4,938 times, 1 visits today)