Are you stalking Pinterest for ideas on Christmas Cards? I feel like I do this every year for new ideas to take photos of my kids. It's one of my favorite things to do each year and I'm always trying to find ways to top the year before. One thing is for sure I always strive to make each card I do completely different from the last. So here's some great tips for styling your photos, making them different each year, and picking the right card style for your photos.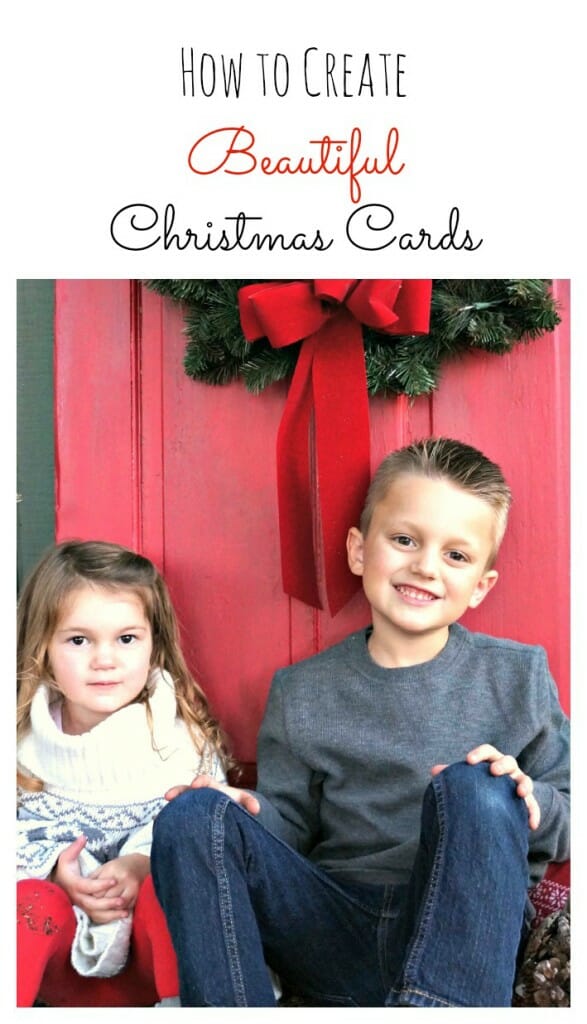 First, as I mentioned I like each card to be very different from the year before. Meaning I usually pick a different theme or at least color combination.
Last year (2014) was all about Blue and cream for me. I chose blue tones for my kids to wear and combined it with cream. I wanted a "wintery" feel so I did the photos outdoors and had them wearing hats. I think it's very important to start with the "theme/color" and choose coordinating clothes for your children to wear. If you are including the entire family then that is just the same. My husband and I never hop in the photo usually because we are never home together and I am the one taking the photos. Maybe one year we will. I also feel everyone wants to probably just see the kids anyway. I love a full family portrait though and it definitely makes it very memorable. In 2013 we went for the PJ look. I had red and black be the color scheme and had the kids dipping cookies in milk with their jammies. It was really adorable. In 2012 I had the kids in Cream and gray…I loved that combo and may bring that back again one year (maybe because I love cream and gray combo period.) This year I went for RED and GREEN. It was definitely a Christmas statement. I am not usually a red and green person, but I just wanted to go more traditional this year. It worked out perfectly since I had just painted a vintage door red for my family room decor, so I used that as a prop and leaned it up against my green shed. I did not choose to dress the kids in red and green though but had them casual and coordinating with guess what gray and cream lol.
Once you find a coordinating color scheme it's time to figure out where you want to take your photos. The last two years I chose outdoors and I tend to like that best. You get the best lighting for your photos and you have more options. Now I use my DSLR, but you can use your cell phone cameras since the cameras are so great today. Just make sure to be in natural light to capture the best photos and edit them with a free photo editing site such as picmonkey.
Set up your scene…last year we chose our front porch that we already had our Christmas tree outside and had the kids sitting in front. I chose to do a snow theme where I had my son blowing the snow in the air and had a touch of plaid in the background.  SEE BELOW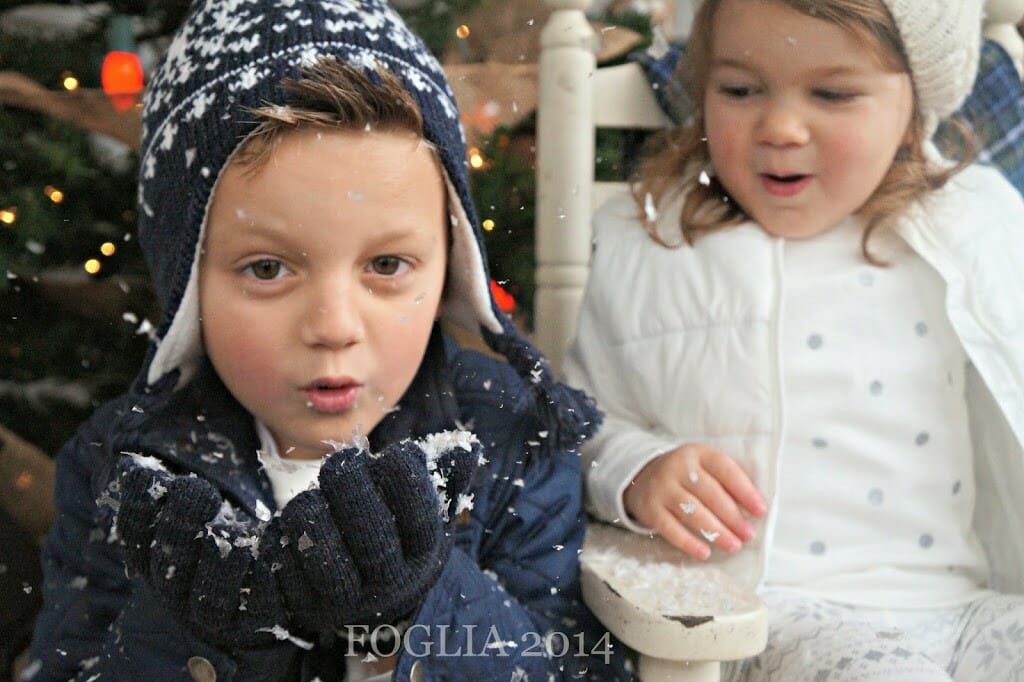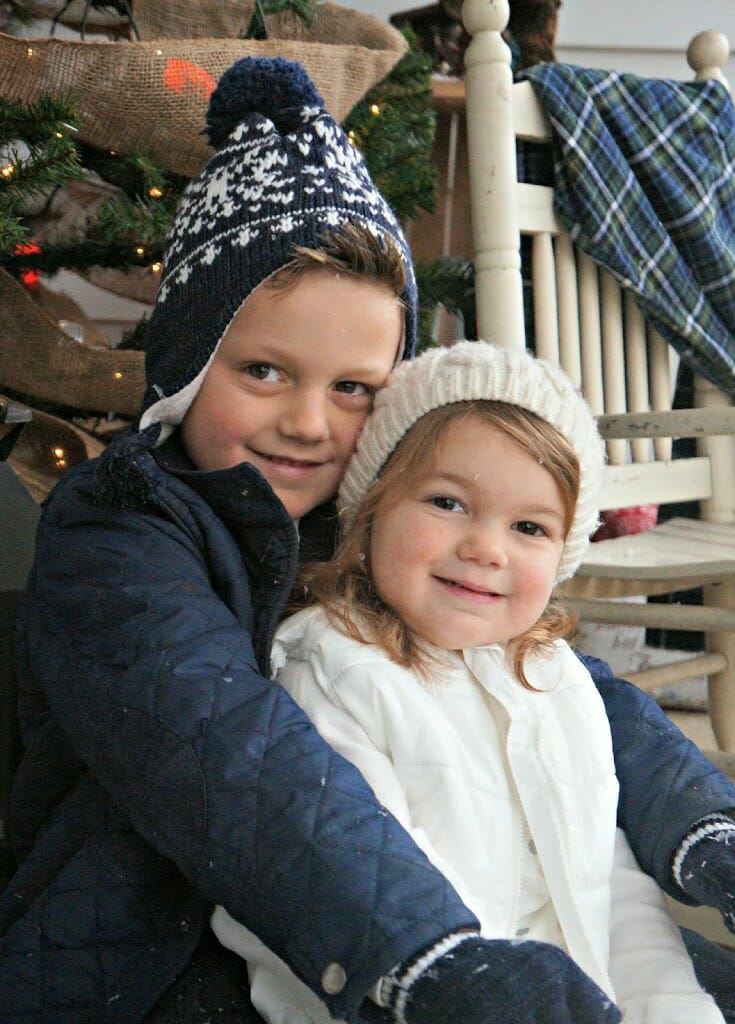 These were 2 of the few photos that we chose for the card. Psst..see that plaid "throw" in the background? That's my husbands PJ pants haha
I also love action photos especially if you are going with a collage card. Those are probably my favorite since you don't have to just choose one photo, but this year I went for one photo only. The past 3 years I've done collage photos so I wanted to go for a cleaner and bold look this year. Nothing crazy just a straight up "Merry Christmas" with one great photo of the kids.
Props! So key to taking great photos. Make sure to have props in the background such as my above PJ pants as a plaid throw and the white rocking chair. This year I went with pinecones and a rustic lantern…some christmas trees and a wreath. Just play around with what you like so that way you get some Christmasy in there. You do not have to get every bit of the prop in the photo but just having a small corner filled with a piece of the pine cone or the red firetruck I had in the background is what makes for a great photo.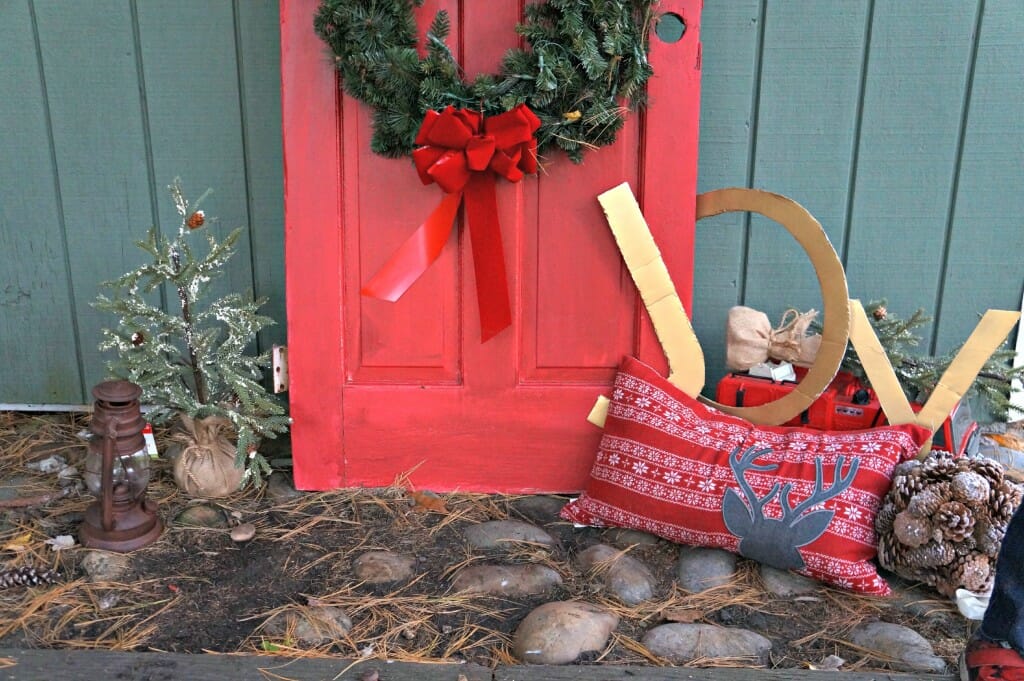 Here is my photo scene, everything coordinates it says rustic traditional Christmas, but since you're not seeing everything at once in the actual photo it isn't too much.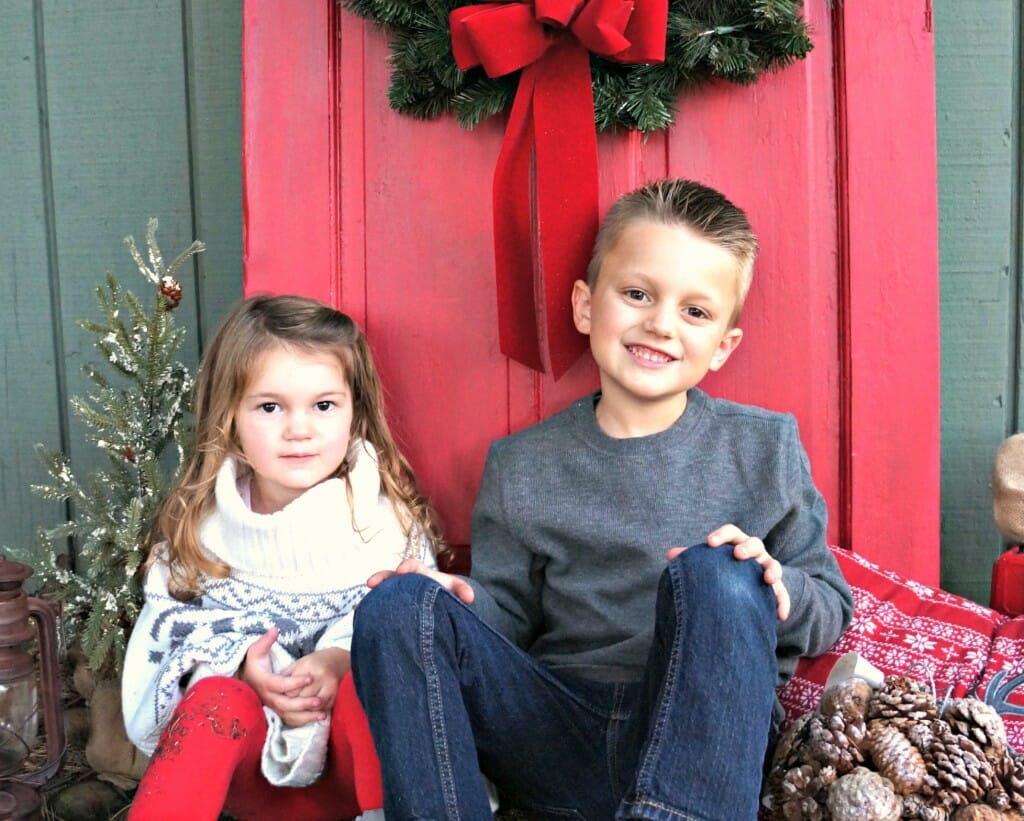 Here is what the actual photo turned out like. I love how it's them looking directly at the camerra and you have bit of the props in the background and the colors coordinate perfectly. If I had my daughter smiling it would be better, but she barely smiles at the camerra and if she does it's usually goofy lol. My son has always been the ham when it comes to photos so I usually get a great photo of him right away and then work with whatever my daughter will give me haha. I love how her hands are folded perfectly here and of course the dirt on her pants lol. So I really wanted to get some JOY gold letters in here, but since I could not get them to cooperate perfectly with the props I decided that I would add some of the foiled press from MINTED's collection (sponsored post with all opinions 100% my own) to finish off the look on the card.
Have you all been to Minted's site? They seriously have some of the best cards and styles to offer and they were perfect for what I was going for this year. A classy, traditional card, with no fuss, but a clean look with the photo being the main focus. And their foiled pressed cards are beautiful!!!! I ordered the cards on a Thursday and received them on the following Tuesday…fast right?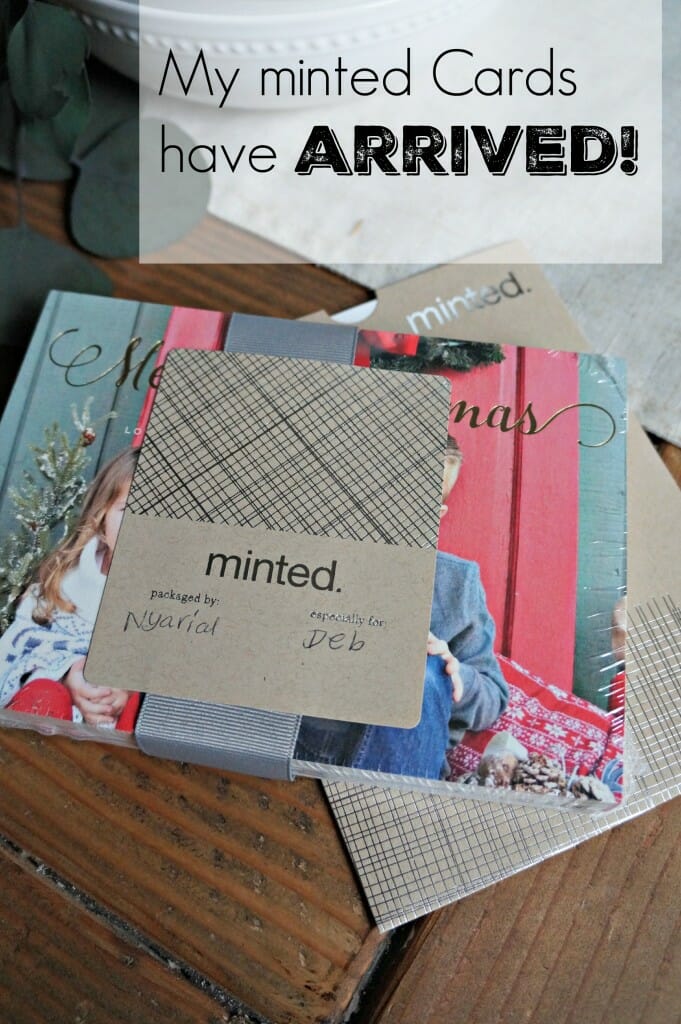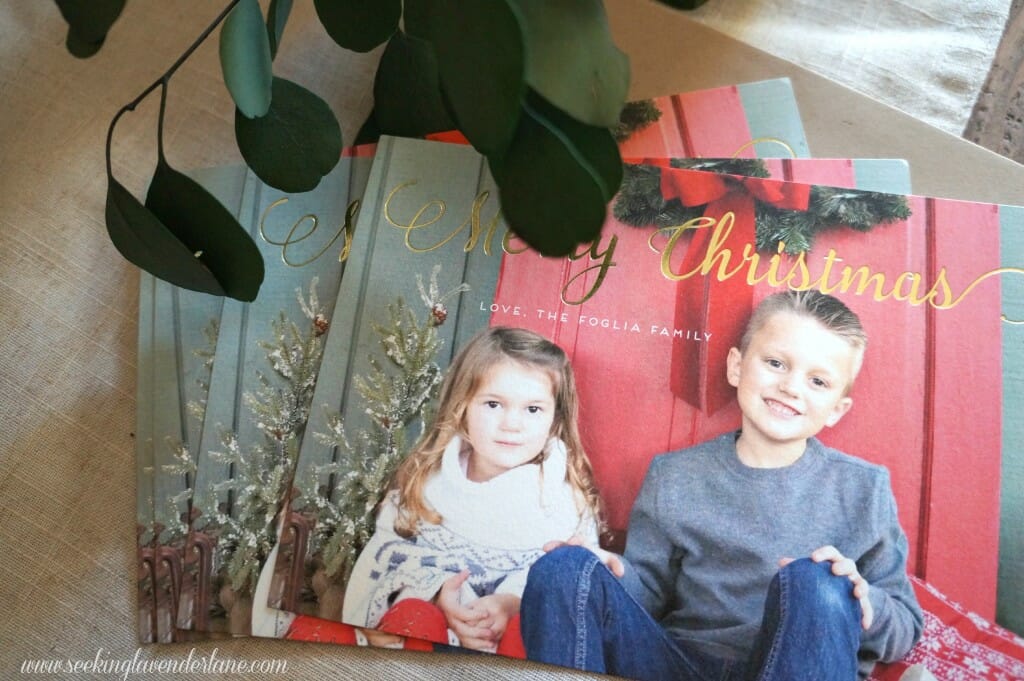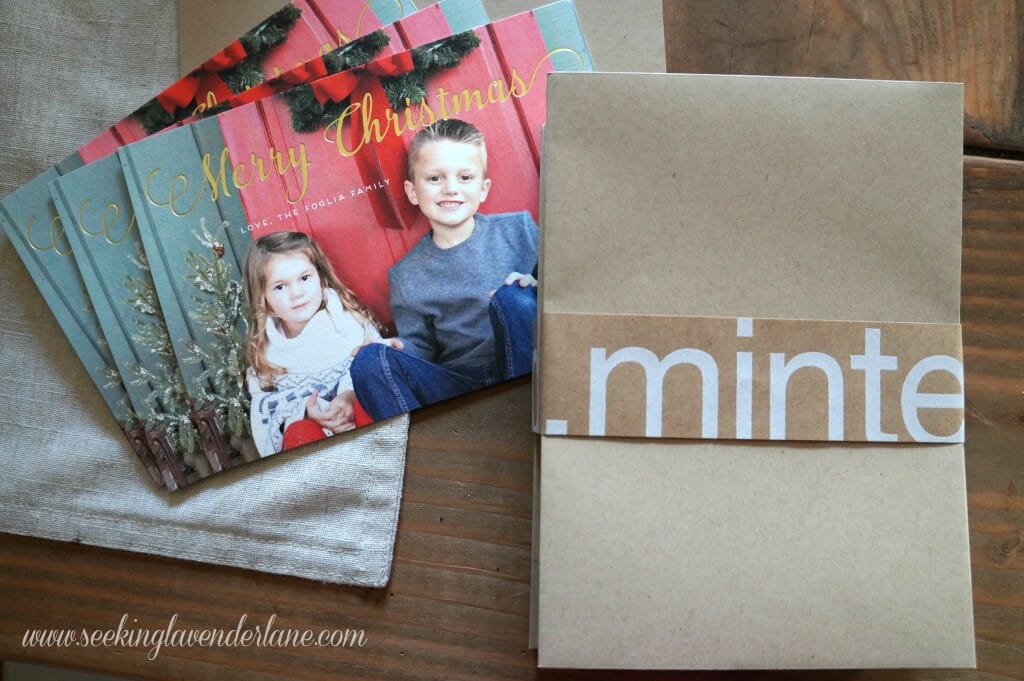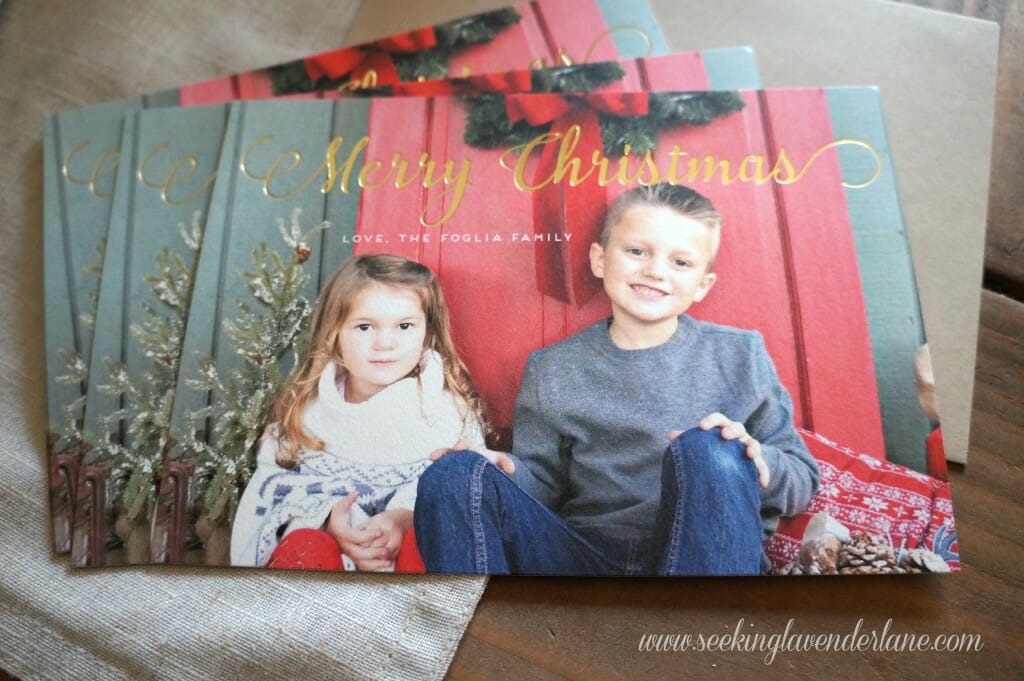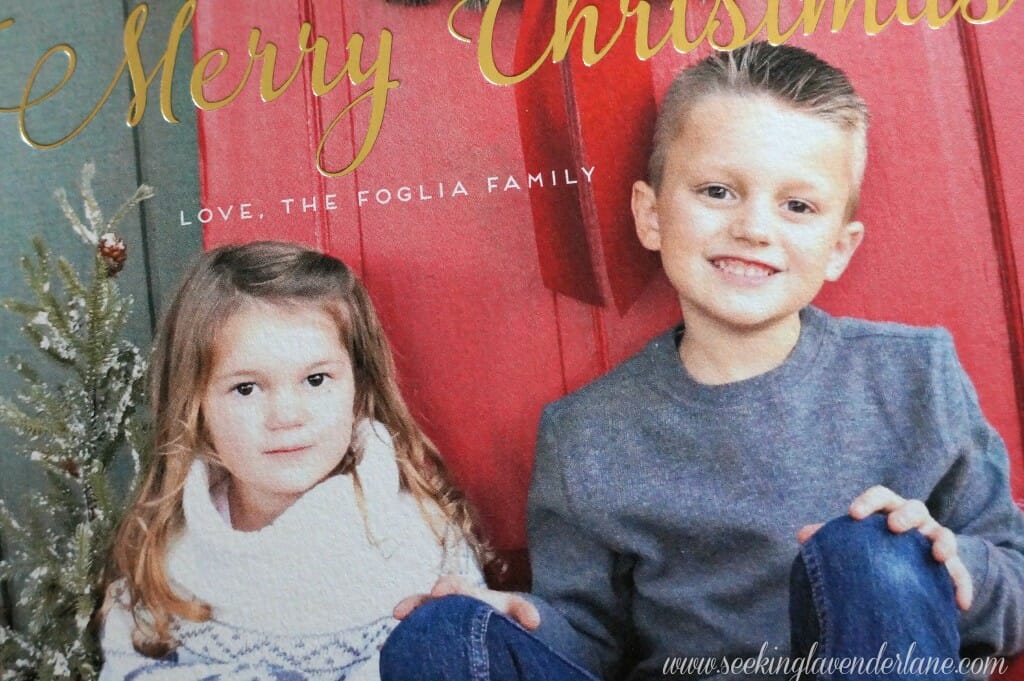 They look even better in person…sometimes it's hard taking a photo of a photo
See how perfect the foiled pressed "Merry Christmas" just finished that photo off perfectly? I really love how they turned out and you can really tell they are good quality photos. I even chose for the option to have my return address printed on the back of the envelope, saves my hand a bit from cramping.
The paper I went with was their signature (only reason is because I am always afraid of the upgrades and how they will turn out)
and I went with the speckle tone envelopes (love that they have that option)
Now through November 24th MINTED is offering 15% off of their cards with the Promo Code: CHEER15 
I hope this helps with your photos this year and love to see how they turn out, send me an email if you have any questions or just want to share your photos or cards.
dfoglia413 (at) gmail (dot) com
BLOOPERS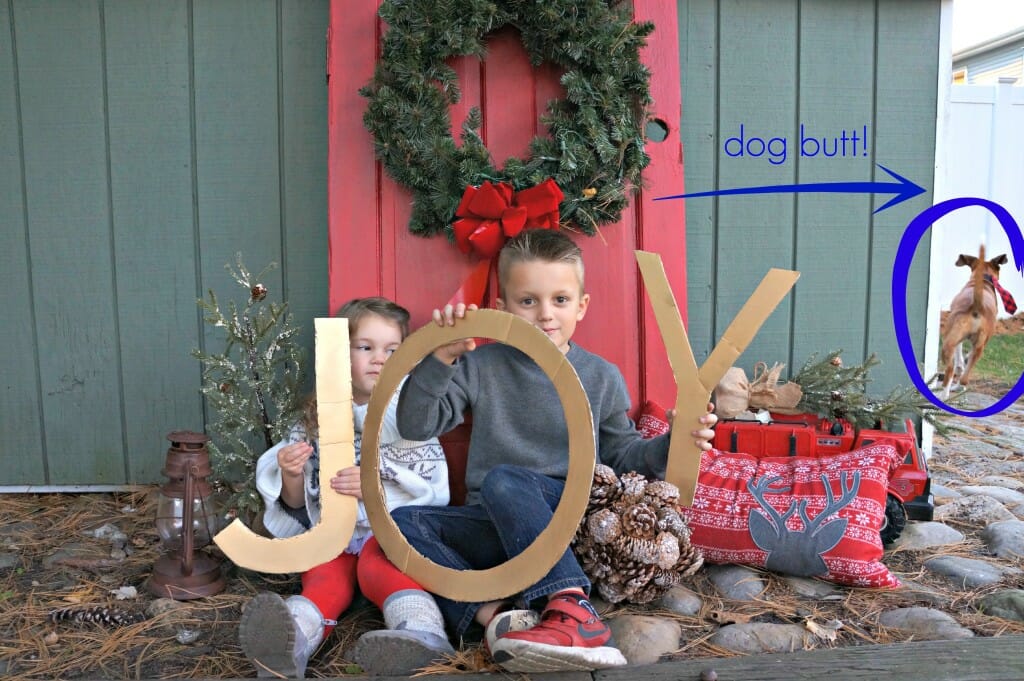 See they're not all perfect I think I had about 3 our of 50 photos I took that were usable. Did I mention I as hoping to have the dog in the photos and yes he is wearing a tie…that did not work out well…any tips on getting the dog in the photos for next year I could for sure use that!
PLEASE STAY A WHILE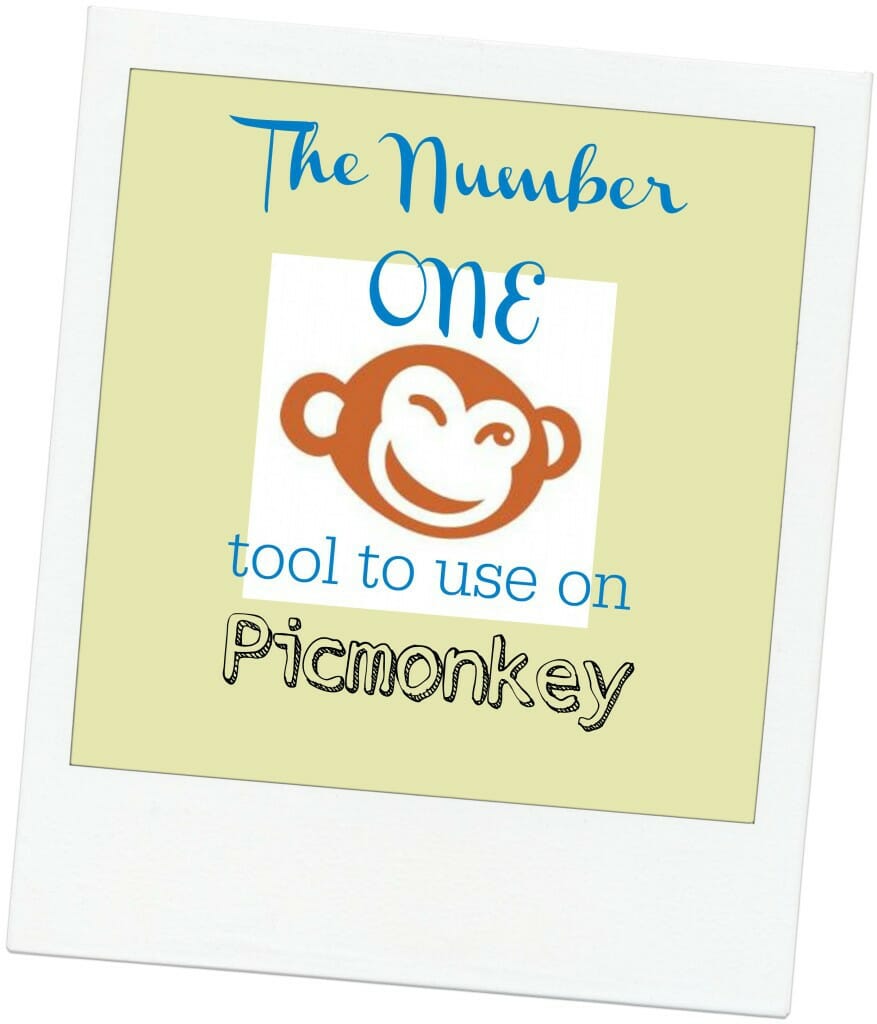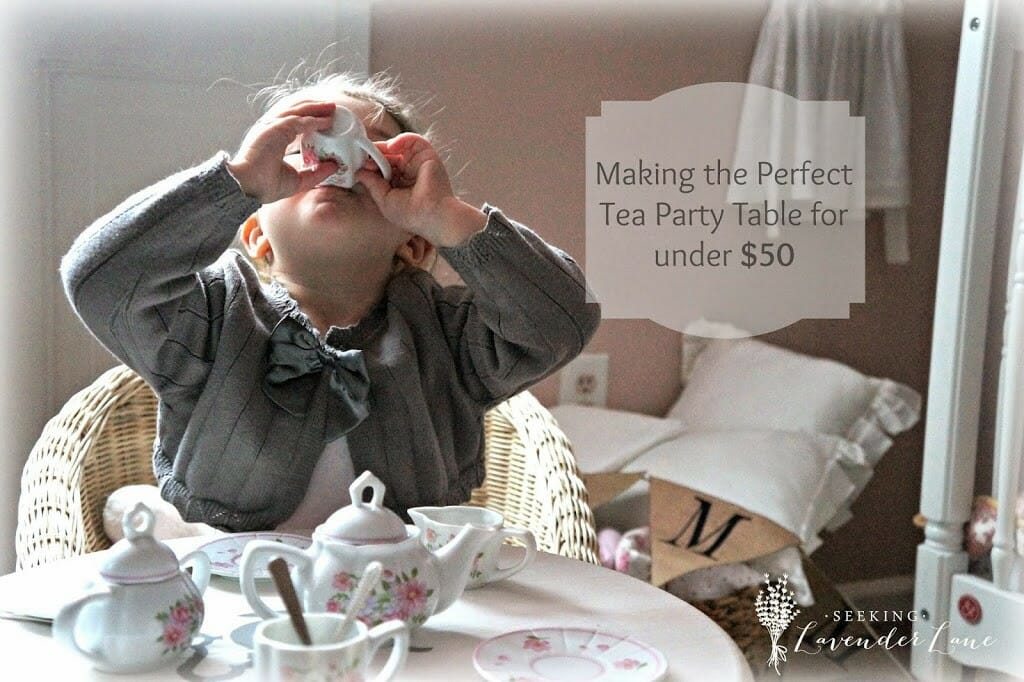 Making the Perfect Tea Party Table for Under $50 for Christmas