Moody Home Office
Our office has been an on going process. I first wanted a cabinet that I painted, then a DIY built-in for the nook, then finally a peel and stick wallpaper mural for the finishing touch. Oh but wait that wasn't enough, then I had this wacky  idea of painting the entire office all a charcoal for a moody look…with possibly painting the ceiling. So many of my IG followers talked me out of it. Well, I went for it and then decided not to paint the ceiling as I had initially intended. Mostly because of pure laziness, but then I thought I was crazy because after painting the room I still wanted to paint the ceiling. A week later we were rolling on a rainy miserable Sunday a black ceiling to match. oh and the baseboards too, because in my design gut I felt that was right. Well, after all of that on and off work and a new light fixture, the room is officially done and ready to share!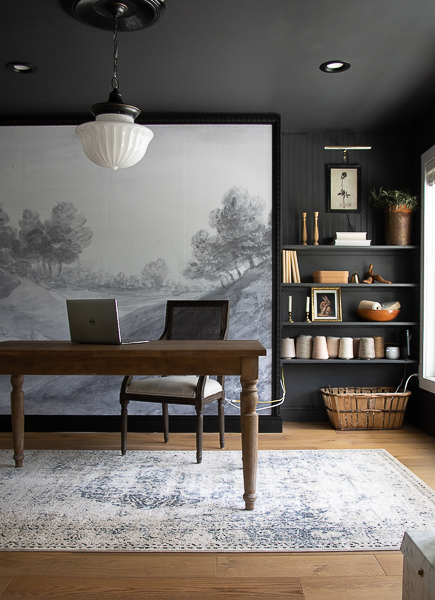 One of the ways I thought the ceiling would  looks best, was to paint the medallion black and to paint the high hats black also. I did not want them to contrast but felt the tone-on-tone look would be best for the space.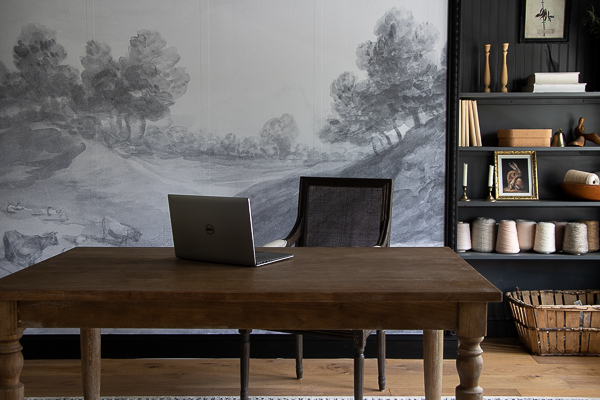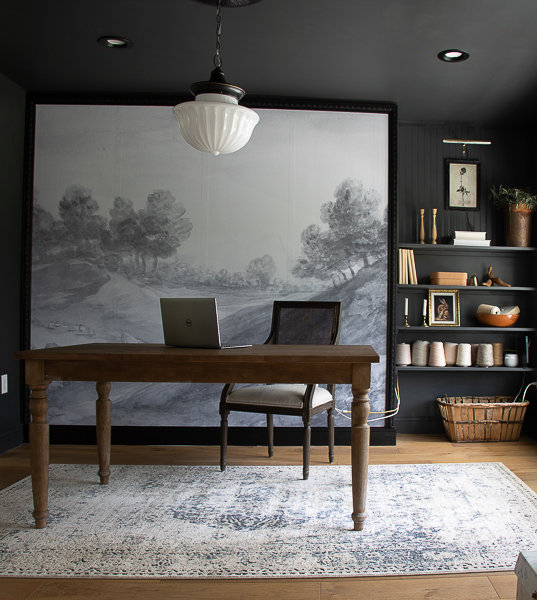 I just love how well the mural really stands out with all the dark paint surrounding it. My gut tells me to change the carpet out, but for now since I moved  this from the living room it's serving it's purpose. I just keep envision a red Turkish vintage rug in here that will be the pop of color this monochromatic space needs. I also plan to eventually build some "cabinets" at the bottom of the built in so we can hide those cords better. Hiding cords is some of the hardest design dilemmas we all seem to run into today.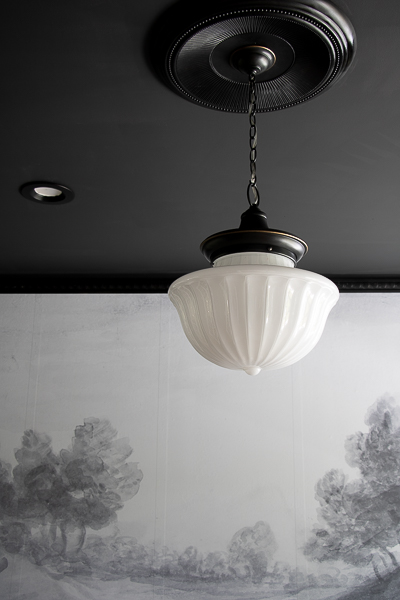 Can we talk about this light fixture? I'm not sure which is more the star i n the room, the wallpaper or the light fixture. Either way I feel like they both kind of need each other and make this space the dramatic room that I  was hoping for. After all, it's the first room you see when you enter the house, so I wanted it to be bold and phenomenal.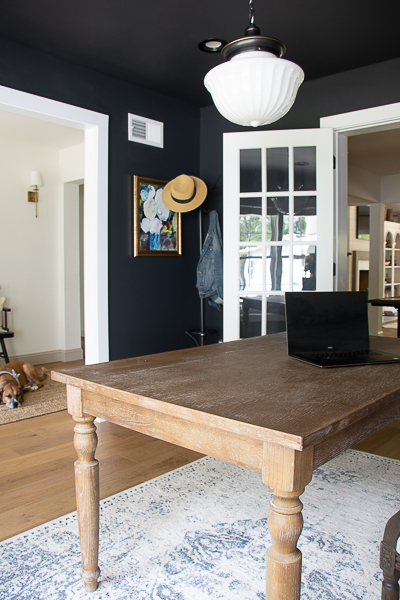 One, of the only complaints I have about the room is how this one wall looks more navy then charcoal. For some reason the way the sun hits this wall, it just feels so blue. Not much I can do about it, since it's just how it is…but I will say this beautiful painting I picked up from Bloom Market a few weekends ago was the perfect way to play off the blueish tone. It just looks beautiful how it pops off of the moody color.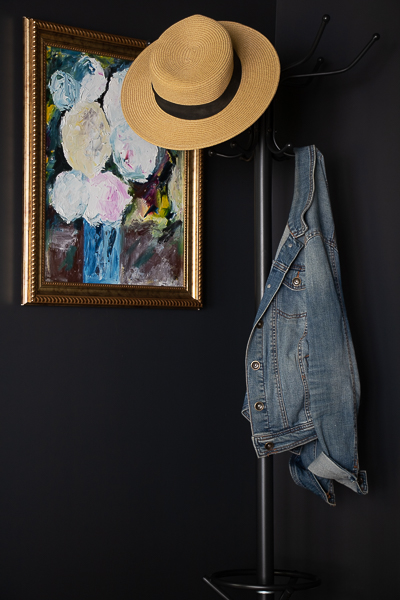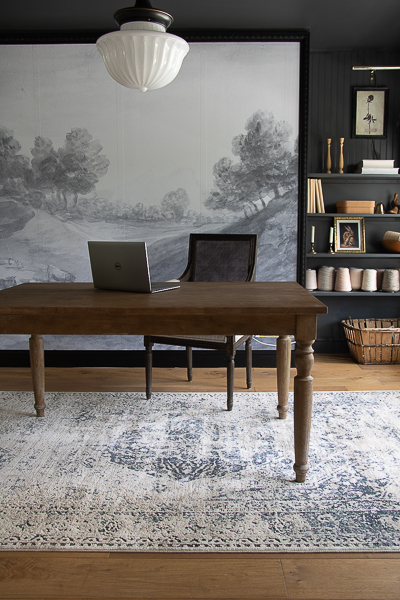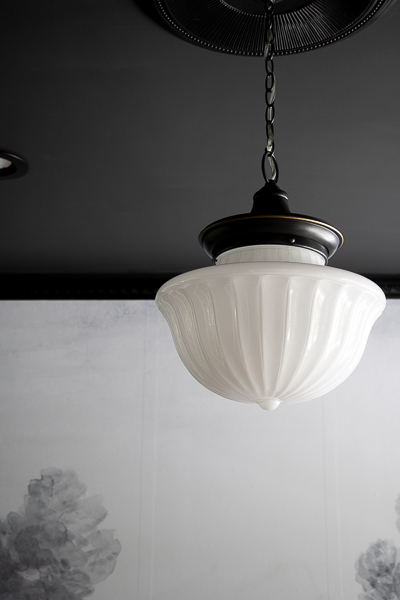 I love how this space feels kind of masculine, vintage, and whimsy. It makes its own statement in the house and after having all bright and light room, it's good to have  one room that feels moody and dramatic. The best part is this room gets a ton of light so I never have to worry about it feeling too dark. Sometimes going bold and taking design risks pay off…and I would say this one most definitely did!
Source List:
Wall Color: BM Wrought Iron
Trim Color: SW Tricorn Black
Light Fixture: Hudson Valley Lighting- Dutchess
Wallpaper: Anewall- Shaded Landscape Mural
Rug- Wayfair-Modern Farmhouse Rug
Coat Rack– Bed Bath and Beyond
Desk/table– Wayfair
Please Pin